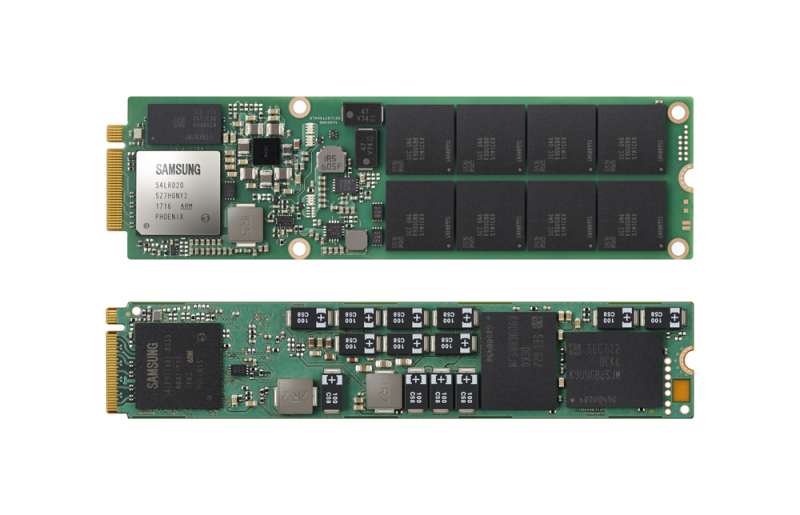 For FMS 2017, Samsung shared several new releases along with its SSD/NAND flash roadmap for the coming years. Among the new releases include Samsung's 96-Layer QLC (Quad Level Cell) NAND and a few new enterprise SSDs.
64-Layer 3D V-NAND Transition
Samsung is already transitioning its entire line of products to utilize 4th Generation 64-layer 3D V-NAND. Their 64-Layer 3D V-NAND has been in mass production since June of this year and promises to be 30% faster, 30% more power efficient, and 20% more reliable than previous generation 48-layer 3D V-NAND.
This could potentially mean that Samsung's successor to the 960 Pro and 960 Evo series is in the works. Samsung did not go into details of when these new drives could be released, but given that Samsung generally announces new drives two quarters after a new NAND goes into mass production, we'll likely hear about something new in a few more months.
96-Layer QLC 3D V-NAND
For the first time ever, Samsung announced the introduction of 4-bit per cell QLC technology along with their 5th Generation, 96-Layer 3D V-NAND. Samsung is looking to launch QLC in parallel with its 96-layer 3D V-NAND technology to enable storage densities of up to a whopping 1Tb (128GB) per die. By using the new 1Tb dies, Samsung expects to be able to drop as much as 2TB of NAND on a single 16-die NAND package. This would give drives with just the standard eight NAND packages a total capacity of 16TB.
According to Samsung, QLC will feature lower performance per die than TLC, but due to the increased number of dies per package with denser packaging technology, the increased parallelism can help raise the overall performance to exceed that of today's SSDs.
Samsung expects to begin shipping the first QLC 3D V-NAND SSDs in 2018.
Samsung PM983 NGSFF
Samsung has also showcased a new M.2 SSD based on a form factor they call NGSFF.  Like M.2, which was formerly known as NGFF, NGSFF (Next Generation Small Form Factor) uses the same connector as M.2/NGFF however, is 30mm wide rather than the more typical 22mm wide. Samsung showed off the 30mm x 110mm PM983 SSD which features a maximum capacity of up to 16GB.
Samsung plans to begin mass production of the PM983 in the 4Q2017.
Samsung SZ985
Not to be outdone by Intel and Micron's 3DXPoint SSDs, Samsung is also launching their first Z-SSD product, the SZ985. The new drive boasts read latencies of just 15 microseconds, which is just 1/7th of the read latency of a NVMe PCIe SSD. According to Samsung, the new drive is capable of reducing system response times by 12x compared to a NVMe SSD.
No information is available on pricing or availability of the Samsung SZ985.
Key Value SSD
For enterprise applications, Samsung also introduced a new technology they call Key Value SSD. The new technology allows processing complex data sets by using keys to specific locations enabling direct addressing of data rather than having to take in data and converting them into blocks. According to Samsung, this will help reduce redundant steps leading to better performance and longer SSD lifespan.
Source: Samsung