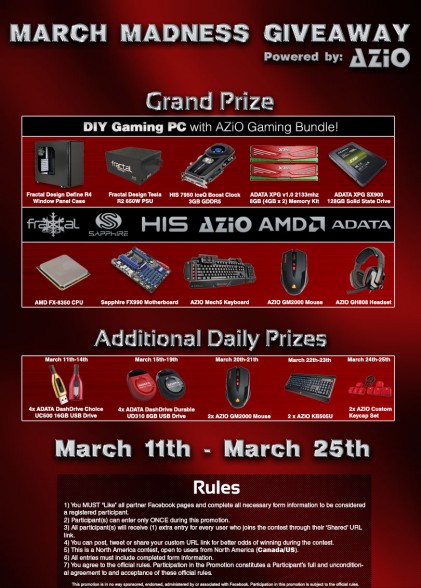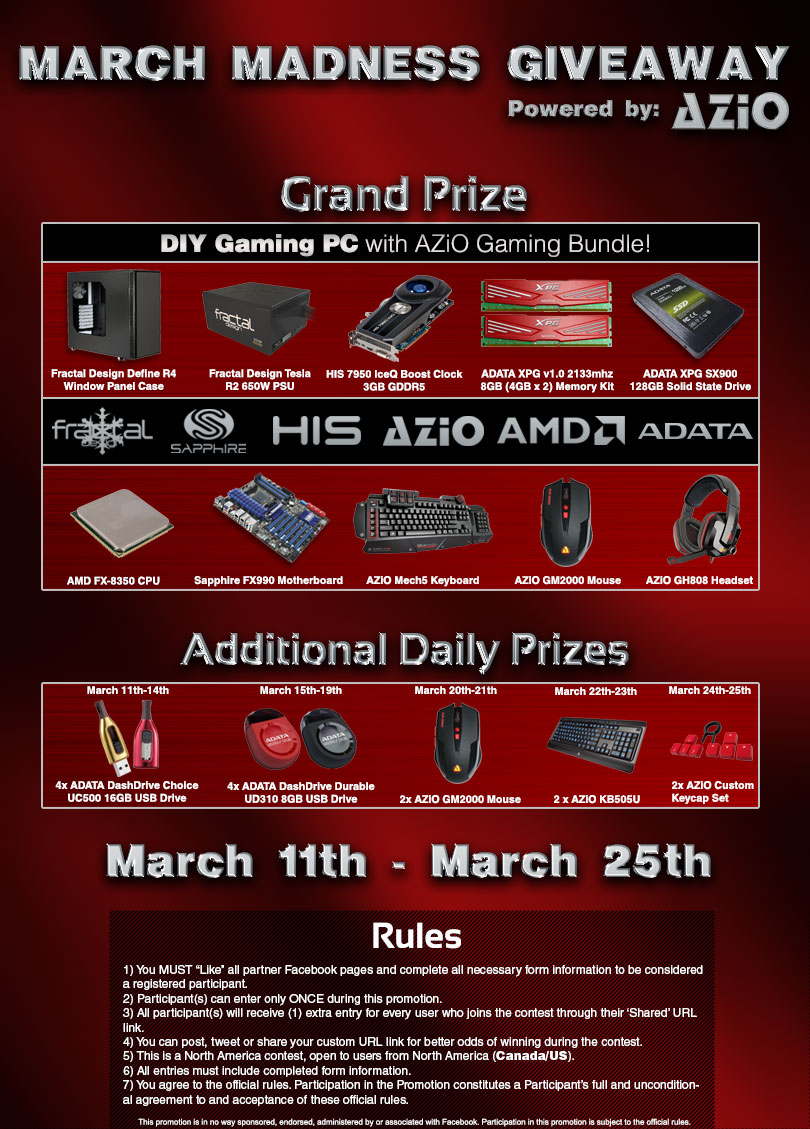 Press Release
March Madness has arrived with AMD, Sapphire Technology, ADATA USA, AZiO Corporation & Fractal Design celebrating the month with a full DIY PC Gaming Rig, valued over $1,300. On top of this, these tech-savvy, and performance-enthusiast sponsors have provided daily PC swag prizes to give individuals more opportunities to win a prize during the month of March.
The DIY PC Gaming Rig has been equipped with top of the line technology ranging from the dominant and new AMD FX-8350 8-Core processor, driven by the Sapphire Technology AM3+ 990FX motherboard which has received multiple awards for being one of the most energy efficient yet powerful motherboards in the tech market. You will also notice ADATA has provided their XPG series of 8GB (4GB x2) DRAM Modules and SX900 128GB SSD for increased uploading/writing performance so your gaming or computing experience has no delays from start to finish. Your computer graphics will be running the new HIS HD 7950 IceQ Boost 3GB GPU, one of the fastest overclocked VGA cards out there. These performance components will be housed under the sleek and innovative case developed by Fractal Design, The Define R4 w/ a side-window panel, powered by their new R2 Tesla 650W power supply unit to keep everything running smoothly. Lastly, AZiO will bundle their top gaming peripherals to complete this rig, deeming it a must have for any game lover out there!
Our daily prizes will vary with multiple 16GB ADATA USB Flash Drives to AZiO gaming mice, headsets and keyboards. You only have to enter ONCE to be able to win an individual prize, the grand prize OR even both, if you get that lucky!
If you would like to enter this giveaway and have a chance of winning a DIY PC or PC products, be sure to enter here!