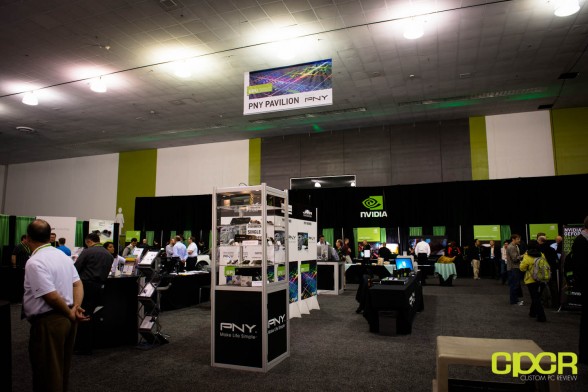 As one of Nvidia's biggest GPU partners, PNY also claimed one of the largest booths at Nvidia's annual GTC event. Being one of the only companies out there with product lines for pretty much every type of consumer from gamer to enterprise, PNY had a ton of products on the show floor, one of which was a highly promising prototype of an all in one (AIO) CPU/GPU cooler.
Those familiar with PNY's line of XLR8 graphics cards will also be familiar with the fact that water cooled graphics cards aren't necessarily new for the company. Back when the GeForce 500 Series graphics cards were the hot new thing, PNY already brought to market an AIO water cooled GeForce GTX 580. Additionally, I also had a preview of the AIO water cooled GeForce GTX 670 at LSI's AIS conference last year as well as an upcoming AIO water cooled GeForce GTX 680 at this year's CES.
However, in addition to the standard AIO water cooled GeForce GTX 680 with the 120mm pre-attached radiator, PNY also showed off a demo PC with one of their XLR8 GeForce GTX 680's and what's unique about this system isn't the graphics card, but rather the cooling solution PNY is using. On the surface, the unit looks like it's running the usual AIO GPU watercooler we've seen in the past, but if you take a closer look, it's actually something a bit more interesting.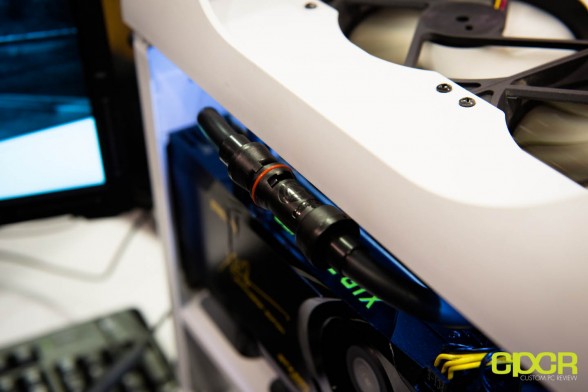 As you can see, the water cooler itself is an AIO design, but it has quick disconnects pre-installed making the entire system a modular one. This allows for easily adding of radiators, CPU blocks, graphics cards and reservoirs to the setup – something that's never previously been done in the consumer industry. With this new modular AIO water cooler, building a full watercooling loop between the CPU and the GPU with a 240mm resevoir in-between can be done by simply connecting a few quick disconnects. It also allows for possibly the easiest way to create a watercooled SLI setup as well, which gives the system versatility – something that's been lacking with AIO water coolers on the market.
Additionally, PNY is also confident that the cooling system is safe. While it feels like the quick disconnects could be a point of failure for the system, I was assured that there would be no problems as the modular watercooler is actually based off of proven Asetek designs from Asetek's enterprise server watercooling solutions.
So far, this modular all in one water cooling solution seems to be a PNY exclusive and is being jointly developed by PNY and Asetek. All parts required to create full loops such as the radiator, the CPU block, and the GPUs are expected to be sold through PNY. Unfortunately, PNY doesn't have launch dates or pricing on the yet unnamed modular all in one watercooling solution at this point, but they're hoping to be bringing the products to market sometime next year… or sooner. Can't wait!