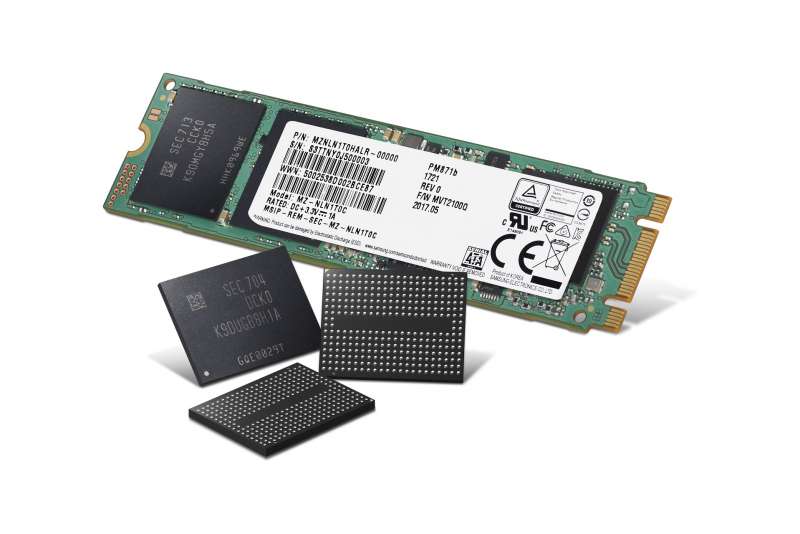 In a recent announcement, Samsung has begun volume production of its 4th generation, 64-layer V-NAND. The new 3D NAND flash chips are the successor to Samsung's existing 48-layer V-NAND.
Storage capacity of the 64-layer V-NAND remains at the same 256Gbit density as the 48-layer V-NAND it's designed to replace. The major difference with 64-layer V-NAND is the size of each chip as it's physically smaller, allowing more chips to fit on a single wafer. This improves production efficiency as well as internal parallelism when it's ultimately implemented on SSDs and other storage devices.
In addition to greater areal density, the new 64-layer V-NAND also boasts improved performance, power efficiency and reliability. The new V-NAND is 30% faster than its predecessor, boasting up to 1Gbps in transfer speed and a 500㎲ programming page time making it the fastest on the market. Operating voltage has also been reduced from 3.3V to 2.5V, a power efficiency improvement of 30%. Further, the new V-NAND cell is also 20% more reliable compared to the preceding generation.
Samsung aims to replace 50% of its current NAND production with the new 64-layer technology by the end of the year. No announcements have been made on when new products carrying the new flash will arrive however, if history has been any indication, expect to begin seeing announcements for next generation products within the next 1-2 quarters.
Source: Samsung