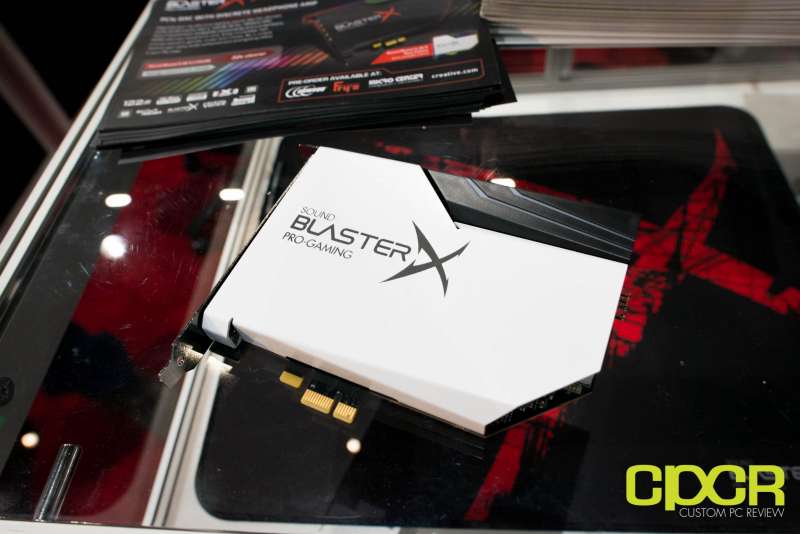 At E3 2017, Creative launched a new gamer oriented internal soundcard, the Sound Blaster X AE-5.
As with all of Creative's new sound products, at the heart of the Sound Blaster X AE-5 is Creative's quad-core Sound Core 3D audio DSP. The Sound Core 3D chip is then paired with a Sabre 32 Ultra DAC making it capable of delivering up to 32-bit, 384kHz playback with a 122dB DNR (Dynamic Range). The Creative Sound BlasterX AE-5 is also the first soundcard to feature dedicated amplifiers for each headphone audio channel. This allows the Sound BlasterX AE-5 to support even ultra high end audiophile headphones with an impedance of 600Ω.
To ensure top sound quality and tolerance to high heat, the Creative has opted to exclusively use the German-made WIMA capacitors. As a result, the ultra low 1Ω output impedance also allows it to capably handle even sensitive monitors.
As expected, the card fully supports Creative's entire suite of audio processing algorithms including virtual 7.1 surround sound. Physically, the card support stereo and dedicated 5.1 surround sound. As a PCIe card, it also requires a PCIe 1x slot.
Nothing screams 2017 like RGB lights, and the Sound Blaster X AE-5 aims to be loud. In addition to the RGB lights installed on the card itself, an RGB lighting controller has been built in to allow for up to four LED strips to be connected. The regular version of the card comes with a single 10cm LED strip, but the Pure Edition (the version with a white casing) will come with four strips of LED strips.
Both the regular and Pure Edition of the Creative Sound BlasterX AE-5 will be available for purchase in July. MSRP is expected to be $149.99 for the regular edition and $179 for the Pure Edition.