Intel's next generation Ivy Bridge processors are just about a little more than a month away and it seems like a whole bunch of engineering samples are already making their way around. Earlier this month we've already had a good glimpse of what kind of graphics performance improvements to expect as well as what kind of cpu processing performance improvements to expect, so it comes natural that we finally find out what kind of overclocking capabilities to expect. I mean, what else is there?
Well, thanks to the guys at BSN, we finally get to know that i7 3770K is one insane overclocker. According to the screenshot below, the i7 3770K was pushed up to 7.06GHz at 1.889v with a multiplier of 63x and a bus speed of 112.11MHz. The system was cooled with dry ice, so it'll probably be out of reach for most of us, but just knowing it's capable of being pushed that far still gives me a warm, fuzzy feeling inside.
Time to sell those Sandy Bridge processors guys…. Ivy Bridge is coming.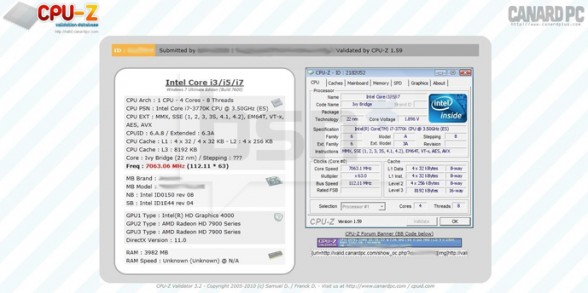 Source: BSN