Warning
: Undefined array key "width" in
/var/www/vhosts/custompcreview.com/public_html/wp-includes/media.php
on line
1381
Warning
: Undefined array key "width" in
/var/www/vhosts/custompcreview.com/public_html/wp-includes/media.php
on line
1386
Warning
: Undefined array key "height" in
/var/www/vhosts/custompcreview.com/public_html/wp-includes/media.php
on line
1386
Warning
: Undefined array key "width" in
/var/www/vhosts/custompcreview.com/public_html/wp-includes/media.php
on line
1381
Warning
: Undefined array key "width" in
/var/www/vhosts/custompcreview.com/public_html/wp-includes/media.php
on line
1386
Warning
: Undefined array key "height" in
/var/www/vhosts/custompcreview.com/public_html/wp-includes/media.php
on line
1386
Warning
: Undefined array key "width" in
/var/www/vhosts/custompcreview.com/public_html/wp-includes/media.php
on line
1381
Warning
: Undefined array key "width" in
/var/www/vhosts/custompcreview.com/public_html/wp-includes/media.php
on line
1386
Warning
: Undefined array key "height" in
/var/www/vhosts/custompcreview.com/public_html/wp-includes/media.php
on line
1386
We love performance and as we all know by now, a sure fire way to speed up the pace of your system is to install a SSD. With so many SSDs on the market there's a choice for everyone, from the most budget oriented to the extreme enthusiast.
Today we'll be reviewing the OCZ Agility 3 120GB SSD. This SSD is targeted towards customers who want the performance gains and power savings of an SSD, but can't afford to shell out north of $500 for an uber speed enthusiast level SSD. So why is OCZ able to offer lower pricing on the Agility 3? I mean, it uses a SATA 3 6Gb/s interface and it uses the powerful LSI SandForce SF-2281 controller similarly to OCZ's own blazing fast flagship SSD, the Vertex 3 MAXIOPS. Well, the difference is in the NAND. In order to save on costs, the Agility 3 uses more affordable asynchronous NAND instead of the more expensive, but higher performing synchronous NAND.
Is the cost savings worth the performance hit? Lets find out in the review.
Specifications
Available in 60GB to 480GB Capacities
MLC NAND Flash
Interface: SATA 6Gbps / Backwards Compatible 3Gbps
Native TRIM support
Seek Time: .1ms
Slim 2.5″ Design
99.8 x 69.63 x 9.3mm
Lightweight: 77g
Operating Temp: 0°C ~ 70°C
Ambient Temp: 0°C ~ 55°C
Storage Temp: -45°C ~ 85°C
Low Power Consumption: 2.7W Active, 1.5W Idle
Shock Resistant up to 1500G
RAID Support
Compatible with Windows 7, Vista, XP 32-bit/64-bit, Mac OSX, Linux
MTBF: 2 million hours
90GB – 180GB Max Performance
Max Read: up to 525MB/s
Max Write: up to 500MB/s
Random Write 4KB: 50,000 IOPS
Maximum 4K Random Write: 85,000 IOPS
A Closer Look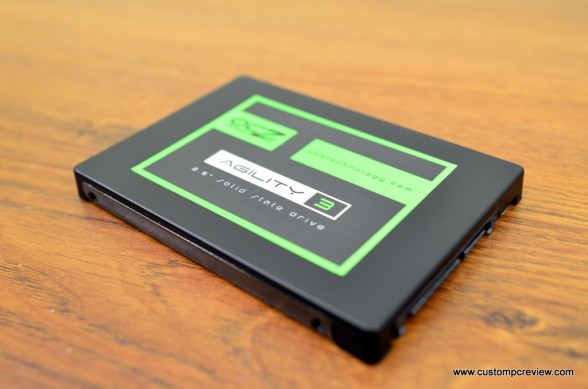 Here's a look at the SSD itself. The SSD comes in a 2.5″ form factor, which means it'll fit in most desktop and laptops on the market. The black and green color scheme looks pretty good especially for the Nvidia fans out there.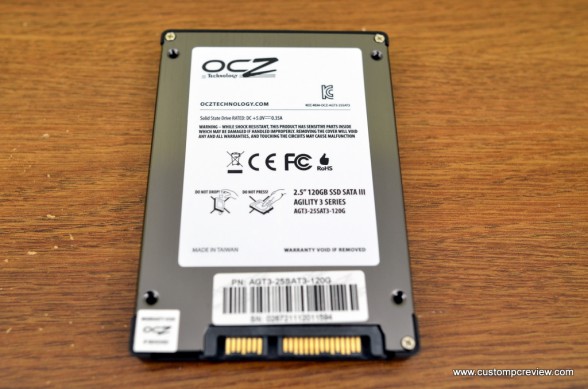 On the back of the SSD, you get some information about the drive. Only the back side of the enclosure is metal. The top part is plastic.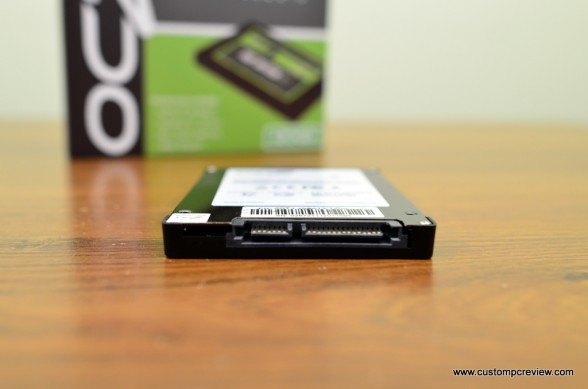 The SSD includes a SATA 3 6Gb/s connector, which means you'll want to connect the SSD to the SATA 3 6Gb/s header on your motherboard to fully take advantage of the SSD's performance.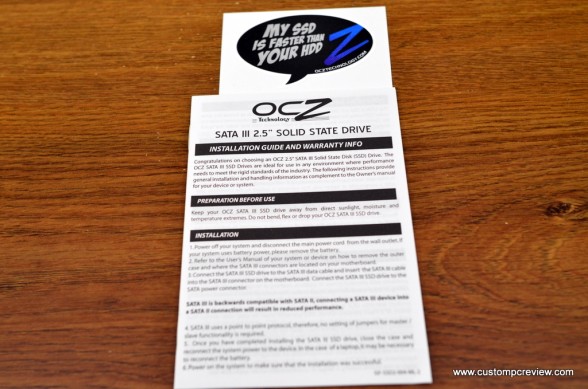 The Agility 3 also comes with some documentation as well as a case sticker. Unfortunately, no cloning software is included.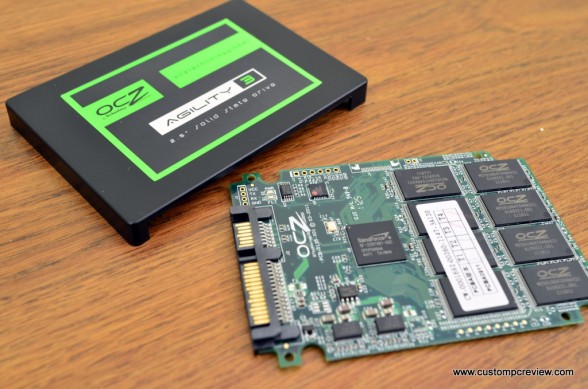 Opening up the SSD, we see the SandForce SF-2281 controller along with 8x 8GB 25nm OCZ branded (most likely Micron) MLC Asynchronous NAND.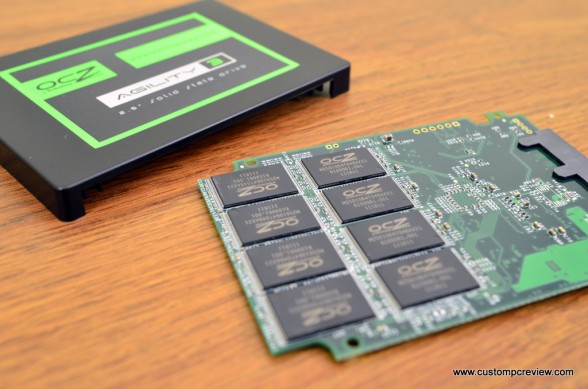 Along the back, we have another 8x 8GB 25nm Micron MLC Asynchronous NAND. In total, we have 128GB of Micron NAND with 8GB reserved for SandForce over-provisioning.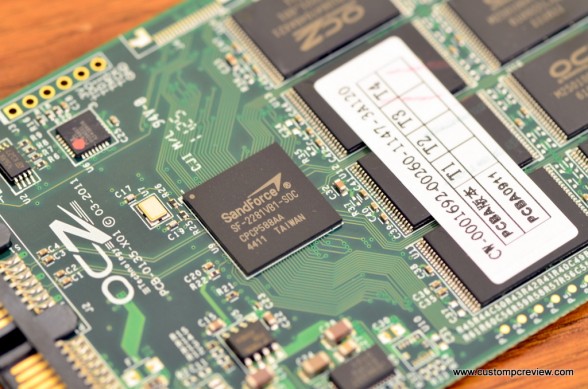 Here's a closer look at the SandForce SF-2281 controller. It's so beautiful!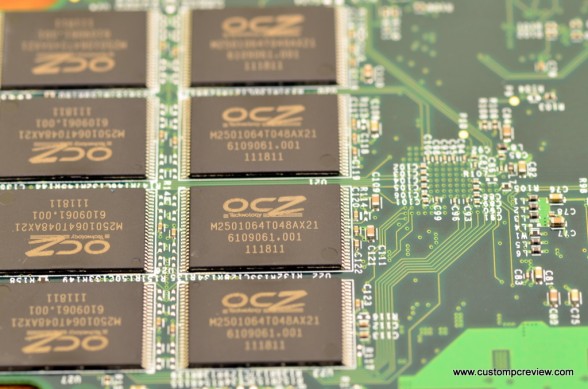 Finally, here's a closer look at the NAND chips. It's interesting to see that these NAND chips are branded using the OCZ logo instead of the Micron logo.
Test Bench
Intel Core i5 2500K (Overclocked to 4.7GHz)
Asrock Z68 Fatal1ty Professional Gen 3
Gskill Sniper 1866MHz DDR3 1.5v
Patriot Pyro SE 120gb
Corsair HX650
HSPC High Speed Tech Station
Special thanks to HSPC for providing us with the High Speed Tech Station (large) for our test bench.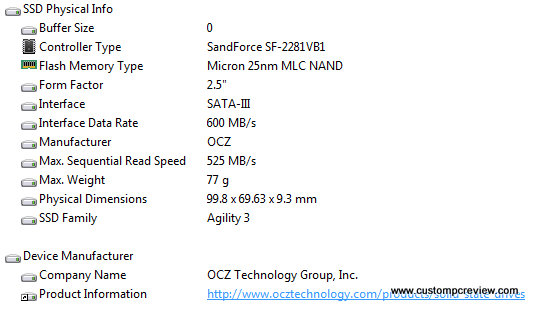 Performance
ATTO Disk Benchmark
ATTO Disk Benchmark is one of the industry's most popular benchmarks for testing SSD read/write speeds. This benchmarks allows read and write testing using predefined block sizes and gives us a good idea of read/write speeds with different sized files.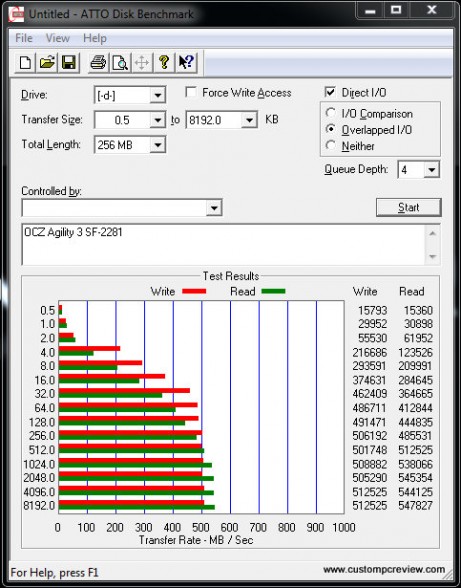 The Agility 3 performed very well in this benchmark as expected, outperforming its rated speeds of 525MB/s read and 500MB/s write with files larger than 4MB.
Crystal Disk Mark 3.0.1 x64
Crystal Disk Mark is another popular benchmark which allows us to measure both sequential read/write speeds as well as random read/write speeds. With this benchmark, tests will be run using both random fill (incompressible data which simulates music, video, pictures, etc.) and 0 fill (compressible data).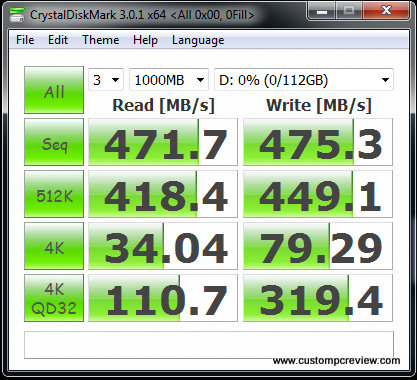 As expected, the SF-2281 based Agility 3 performs very well with compressible data, scoring 471.MB/s writes and 475.3MB/s reads. This number is quite similar to the Kingston V+200 120GB SSD we reviewed very recently.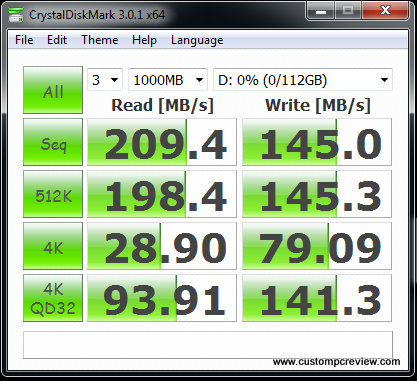 Since the Agility 3 is in OCZ's budget friendly line of SSDs, it uses less expensive asynchronous NAND. While it's easier on the wallet, the asynchronous NAND isn't able to handle incompressible data as well as synchronous NAND. That being said, these numbers are very much in line with what we typically see in other asynchronous NAND based SF-2281 SSDs. 4k performance is still very good, so any operating system running on the drive will still feel very quick.
AS SSD Benchmark
AS SSD is a very commonly used benchmark used to measure SSD performance in a number of categories. Here, tests are run using incompressible data, which most simulate real world usage. It also outputs a final score at the conclusion of the test based off the read and write performance of the drive.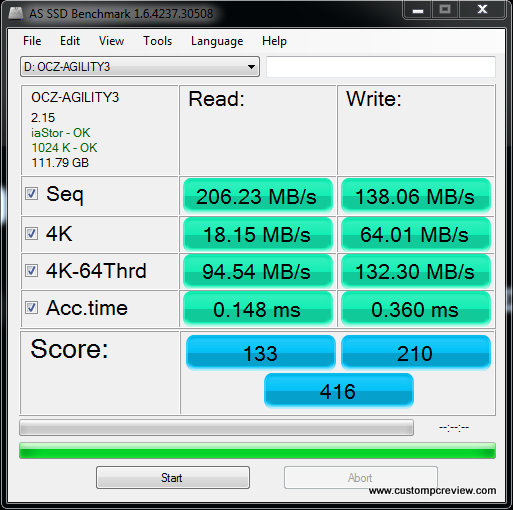 Since HD Tune is a bit confusing, we've decided to remove that from our SSD benchmark suite and replace it with AS SSD which, as its name implies, is a very commonly used industry wide benchmark for SSD benchmarking. AS SSD uses incompressible data for its testing,  and similarly from what we've seen from Crystal Disk Mark, we see a pretty serious performance dip when compared to the Crystal Disk Mark 0 fill test. Again, we still see good 4k numbers and very low access times, which translates into very good performance during day to day use.
PC Mark 7
The PC Mark 7 storage test tests the SSD under many different real world tests such as gaming, video editing, etc. This is most representative of the SSD's performance under real world situations.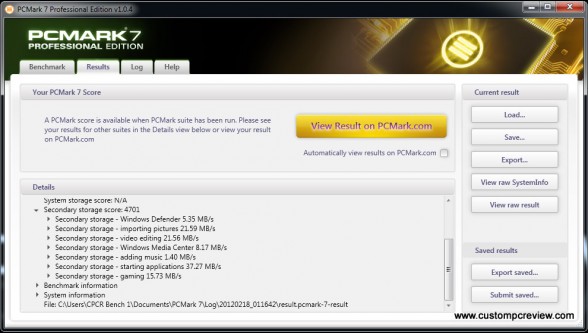 | | |
| --- | --- |
| SSD | PC Mark 7 |
| Crucial m4 128GB | 5214 |
| Patriot Pyro SE 120GB | 5042 |
| Kingston V+200 120GB | 4711 |
| OCZ Agility 3 120GB | 4701 |
| Corsair Force 3 180GB | 4615 |
| Seagate Momentus XT 750GB | 3247 |
| WD Scorpio Black 250GB | 1727 |
The OCZ Agility 3 120GB with a score of 4701 scores right above the Corsair Force 3 and right below the Kingston V+200, but these scores are within 1% of each other, so it could easily be attributed to the margin of error. That being said, this drive is still miles and miles ahead of our traditional hard drive, the WD Scorpio Black 250GB.
Conclusion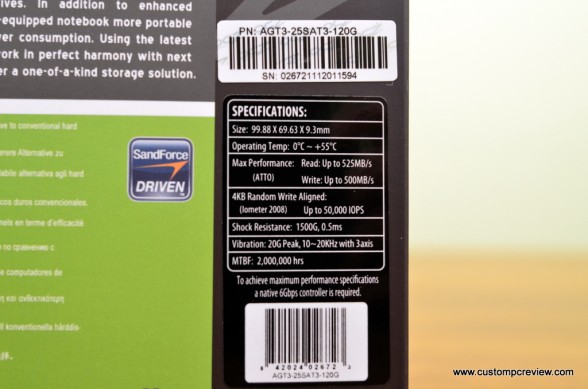 Overall, the OCZ Agility 3 120GB SSD performed admirably. It scored very well in 4K reads and writes which means as long as you aren't copying large movies or entire music collections around all day, you aren't really going to see much of a difference between the Agility 3 and a higher end SSD with synchronous NAND. That being said, it did perform very similarly to its asynchronous NAND based competitors, so unless there's a price incentive somewhere, there's no reason to purchase the Agility 3 over say a Force 3 or a Kingston V+200. However, if you do plan on copying large amounts of incompressible data around (music, movies, etc.) your money might be better spent on synchronous NAND based SSDs such as the Vertex 3.
Speaking of pricing, the Agility 3 120GB is currently priced at $159.99 on Amazon. Compared to other 120GB SSDs in its class such as the Kingston V+200 120GB at $186.15, Corsair Force 3 120GB at $169.99, and Patriot Pyro 120GB at $159.99, the Agility 3 is priced very competitively, as it should.
Its real competition however, does come from OCZ itself. The synchronous NAND based Vertex 3 120GB is priced at only $169.99, making it only $10 more than the Agility 3. With this marginal difference between the prices it may be a good idea to drop the extra couple bucks on the Vertex 3 rather than the Agility 3. Given the Vertex 3 does use synchronous NAND, it will perform better than the Agility 3 when it comes to working with incompressble data.

Bottom Line
When it's all said and done, the OCZ Agility 3 120GB is an excellent SSD that offers great performance at a price point similar or lower to competitors in its class.  If you're looking for that first SSD and you really want save every dime possible, the Agility 3 is definitely worth a look.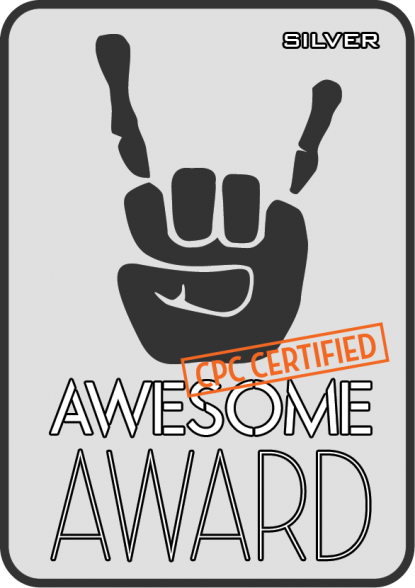 Special thanks to OCZ Technology for making this review possible.
The OCZ Agility 3 is currently available at Amazon.