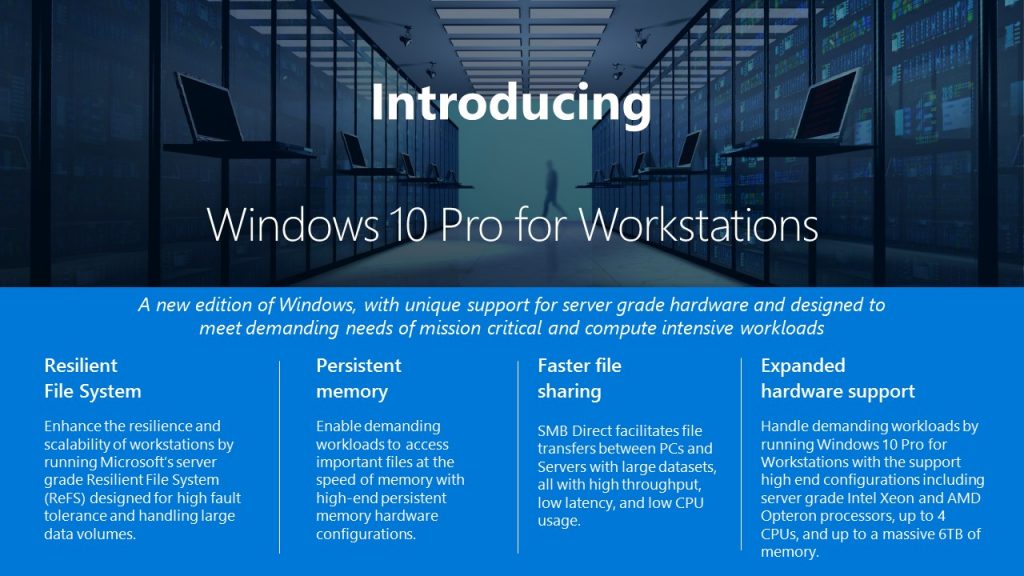 Microsoft has recently slotted yet another addition to its already populated Windows lineup. The Windows 10 Pro Workstation edition brings some trickled down features from the enterprise edition, namely resilient file system support, persistent memory, faster file sharing, and support for server grade hardware.
Resilient file system (ReFS) uses a host of techniques to make data more fault tolerant. It can automatically perform auto correction using mirrored storage space and integrity streams. It's also optimized for handling large data volumes.
Persistent memory uses non-volatile memory modules (NVDIMM-N) to store data and is designed for applications that need absolutely the highest access speeds possible. NVDIMMs are magnitudes faster (and more expensive) than even the fastest PCIe SSDs we use today.
Faster File sharing comes in the form of SMB Direct, which lets Remote Direct Memory Acess (RDMA) network adapters access the memory directly. This method of access allows data to be directly transferred onto the network without needing to go through the host's operating system and CPU. Benefits of SMB Direct include lower latency, high-throughput, and less CPU utilization.
Windows 10 Pro Workstation can support up to four CPUs in a single cluster (Windows 10 Pro can support two), 6TB of memory, and Xeon or AMD Opteron processors and their respective motherboards.
We can see how Windows 10 Pro Workstation can be a cheaper alternative to than shelling out the license for a fully fledged server operating system for users who just want a powerful productivity setup. Microsoft didn't mention in the blog post if Windows 10 Workstation also includes any management features from the Enterprise and Server edition of Windows.
Source: Microsoft Blog