[section label=1. SteelSeries Apex and Apex [RAW]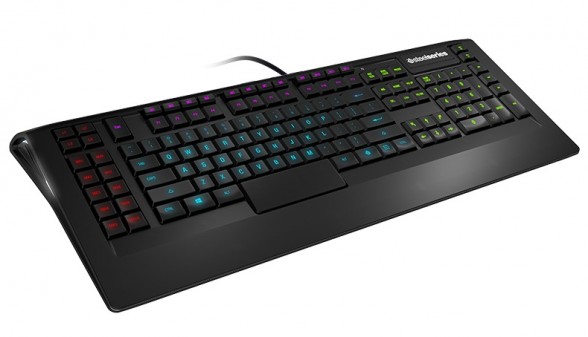 Despite the recent trend of companies announcing mechanical gaming keyboards, SteelSeries has decided to break the mold to instead announce two brand new membrane based mechanical gaming keyboards they're dubbing "the world's fastest".
The first of the two gaming keyboards being introduced is the SteelSeries Apex, which sports pretty much everything you'll need these days on a gaming keyboard such as backlit keys with fully customizable colors, 20 key anti-ghosting, dedicated media keys, an extra large spacebar, USB hub, and more.
The second product being introduced is the SteelSeries Apex [RAW], which is essentially an Apex except with a longer name and fewer features such as white only backlighting, fewer macro keys, and the loss of both dedicated macro keys along with the USB hub.
Both the SteelSeries Apex and the Apex [RAW] are expected to be released in Q2, 2013 and should set you back $100/$70 respectively. For more information, check out the product page here.
[section label=2. Press Release]
Press Release
STEELSERIES INTRODUCES THE WORLD'S FASTEST GAMING KEYBOARDS DURING CES 2013 – THE APEX AND APEX [RAW]
The New Keyboards Deliver a Superior Design Made Up of Sleek Lines and Low-Profile Keys with an Optimized Layout and Smart Illumination
Kicking off the Consumer Electronics Show in Las Vegas, SteelSeries, the leading global manufacturer of gaming peripherals today, announced the Apex and Apex [RAW] Gaming Keyboards. Made up of beautiful form and carefully optimized functions, the Apex and Apex [RAW] feature unique enhancements to the keyboards layout from low-profile keys, specially designed raised macros rows for quick access, and multiple layers of customization in colors and intensity. Built to deliver the world's fastest reaction time and key combinations, the Apex features SteelSeries ActiveZone – a unique combination of programmability with visual support to better navigate the keyboard to win.
"We're introducing a range of new gaming functionality with the Apex keyboards, including the new SteelSeries ActiveZone which allows for easier and faster access to advanced customization and features than ever before, " said Bruce Hawver, SteelSeries CEO.  "The SteelSeries Apex and Apex [RAW] have been designed to enable users to react quickly, move strategically, and adapt how these keyboards perform for every game."
Superior Design & Optimized Layout
The Apex and Apex [RAW] strategically combine an adjusted layout with key enhancements that bring fluidity to the way the user moves around the keyboard. These enhancements include:
Raised macro-keys along the top and left side, which provide faster and more precise macro-combinations.
The addition of two small tactile bumps on the W-key to provide a faster return to WASD.
Superior anti-ghosting that supports simultaneous key presses in 20 of the most used gaming keys on the Apex and Apex [RAW}.
An enlarged space bar and added directional keys that support features that improve comfort and reaction time.
A SteelSeries key that allows the user to easily adjust brightness and disable the Windows key with no software required.
Two swappable feet that allow the user to adjust the keyboard's angle to what is most comfortable.
The Apex Keyboard – $99.99/€99.99 MSRP
The SteelSeries Apex Gaming Keyboard goes beyond just choosing from 16.8 million colors; it features SteelSeries ActiveZone illumination, a visual support tool that allows the user to independently customize colors – up to 8 levels of illumination intensity in each of its 5 zones – with up to 4 different customizable layers per zone. With the ability to program every key, including the 22 macro-keys along the top and left side of the keyboard and up to 4 layers per key, users of the Apex now have 504 more ways to win. The Apex also features independent media and volume keys that provide instant access to media control.
The Apex [RAW] Keyboard – $69.99/€69.99 MSRP
Defined as the "essentials" keyboard, the SteelSeries Apex [RAW] brings users advanced, but not complex technology in an optimized design at an aggressive price point. The Apex [RAW] features brilliant white illumination with 8 levels of intensity. Users can also program every key on the Apex [RAW], including its 17 raised macro-keys along the top and left side of the keyboard, and up to 2 layers per key, to a total of 250 programmable keys on the board.
SteelSeries Engine Technology
Supported by SteelSeries Engine, users have the technology support to easily customize, save, and perfect their gaming keyboard set-up. With advanced macro capabilities that are unique only to SteelSeries Engine, users have the ability to  "Copy and Paste" macros optimized for entry in command lines for MMO games as well as to create key-press macros with programmable timings and delays.
Users can create an unlimited number of profiles and define original features for each. Apex users can define 4 layers of macros, while Apex [RAW] users can define 2 layers per profile, allowing for advanced configurations per game profile.  Profiles can be defined so that they automatically open based on the game that is being played. In addition to supporting illumination and/or intensity settings per layer per profile, users can also record statistics via a keyboard heat map to analyze game sessions and to improve gameplay.
The SteelSeries Apex and Apex [RAW] Gaming Keyboards will be available to consumers in early Q2 2013.