[section label=1. Introduction]
The Scorpion's Sting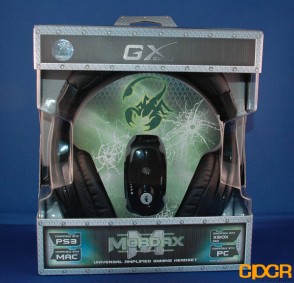 In a crowded gaming peripherals market, today we'll be taking a look at a new gaming headset from Genius. Having never having heard of the company before, I did a little research into their product catalogue. Genius has built up an array of technological devices from audio peripherals, digital photo frames, and even children's tablets.
Today, we'll be specifically reviewing the the Genius Mordax Universal Gaming Headset. The Mordax falls into their newly developed GX line of gaming devices and peripherals, and being a universal headset, the Mordax aims to take on the likes of Tritton, Turtle Beach, and Sharkoon by offering a headset that is designed to work with the PC, Mac, XBox 360, and Playstation 3.
With a street price at under $50, Genius is aiming this new headset at the casual gamer who wants an all-in-one device that sound good, but doesn't completely break the bank. Does the all new Mordax stand a chance against other gaming headsets? Or is it just another company trying to cash in on an increasingly growing market? Let's dive deeper and see what they have to offer!
Genius Mordax Technical Specifications
Headphone
Driver Unit Dimensions: 40mm
Frequency Response: 20Hz ~ 20KHz
Impedance: 32 ohm
Sensitivity: 117dB
Cable Length: Headphone: 3M (10 feet); RCA cable: 2M (6.6 feet) 2.5mm cable: 1M (3.3 feet)
Microphone
Sensitivity: -54±3 dB
Directivity: Omni-directional
Frequency Response: 100Hz~10KHz
[section label=2. A Closer Look]
A Closer Look at the Mordax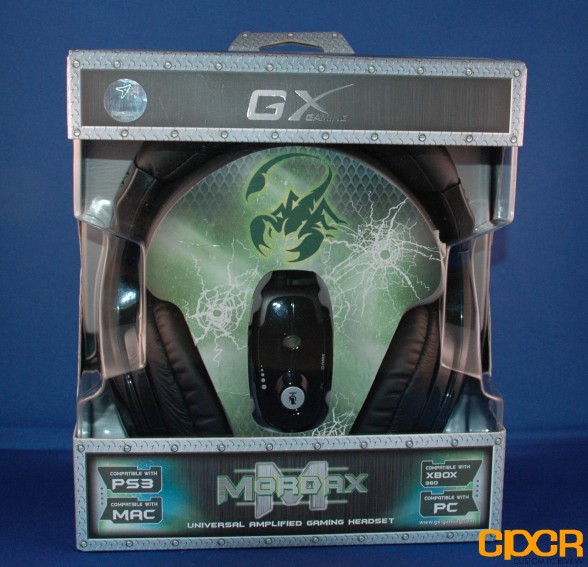 Here's a look at the headset in its packaging with the inline controller in the center.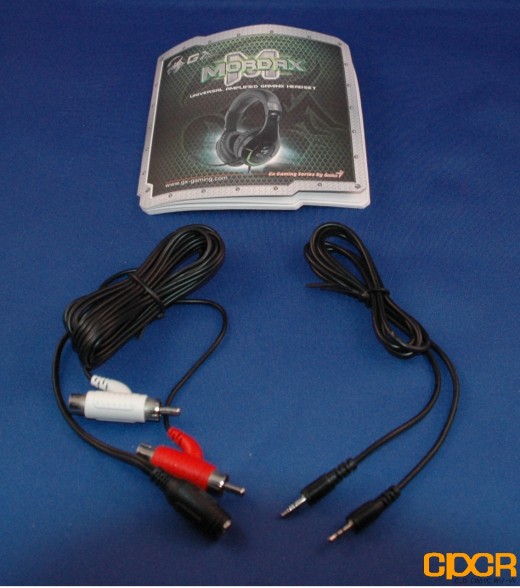 First, let's take a look at the included accessories. Above, we've got a 3.5mm to 3.5mm cable and a 3.5mm to RCA adapter.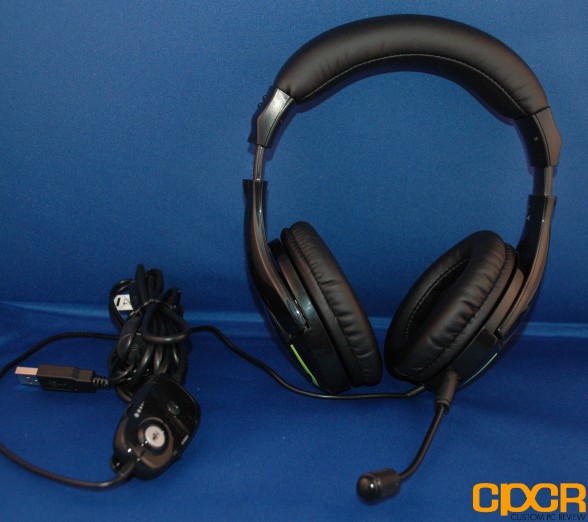 Here's a look at the headset itself with the inline controller and output connectors – USB and 3.5 mm.
Aesthetically, the Mordax has a glossy black finish with green trim. On the left earcup, we get an adjustable microphone. On both earcups we get a cool looking scorpion logo. Personally, I really like the design of the scorpion.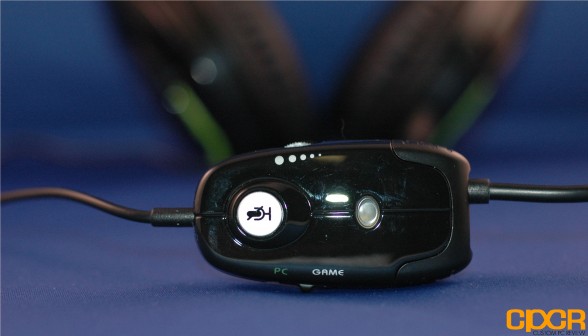 Here's a closer look at the inline volume/mic controller. The microphone mute button is displayed here along with a LED indicating if the headset is muted or not. The volume control is located on the top and the PC/Game modes are located on the bottom which are used for different connection types (PC/Console).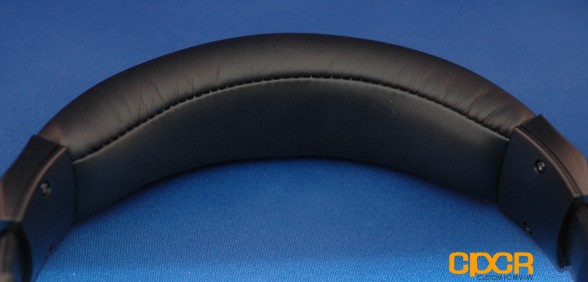 The top of the headband is covered in a soft, pleather material for increased comfort.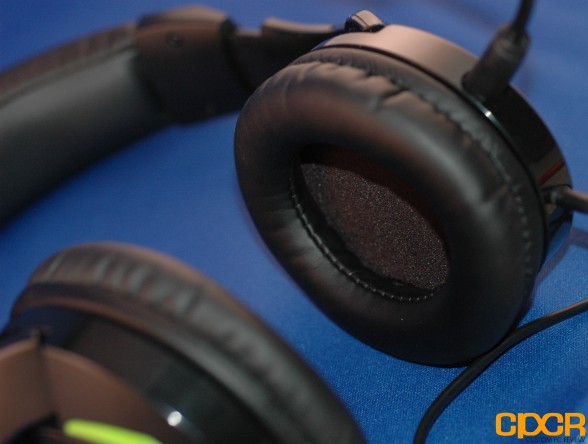 A look at and inside the earcups. Like the headband, we get a similar soft, pleathery material. The oval shape is relatively spacious and should be enough to hold most ears without any discomfort. As far as the drivers used in the Mordax, Genius has opted to go with 40mm drivers rather than 50mm found on some competitors. This may result in a lower bass response depending on driver quality.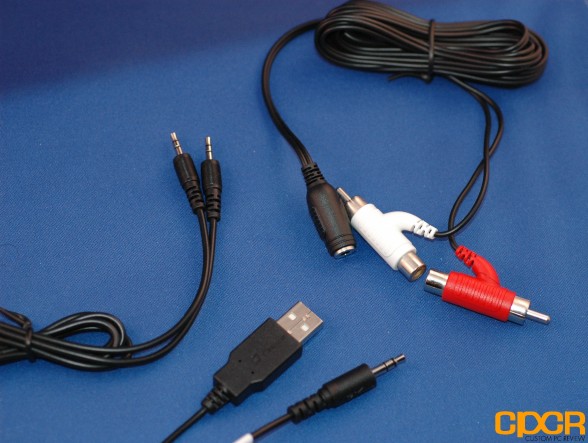 Here's a closeup of all of the cables and connection types. There's everything you'll need for a connection to PS3, Xbox 360 and the PC.
[section label=3. Performance]
Genius Mordax Performance

Gaming
PC Gaming: Battlefield 3
Battlefield 3's use of sound effects are truly amazing in the world of gaming. Every last detail really comes into effect and it is really a shame when people play this game without experiencing all the audio minutia this game has to offer. Leaves, planes, bullets; all were heavily worked on by the DICE staff in order to produce a realistic environment that blurs the line between reality and game. This headset does a good job at picking up a lot of the details that my Beyerdynamic DT770 pros pick up and misses little-to-none. Gaming really is where this headset was intended to be used and a game like Battlefield 3 shows it. The clarity and quality of this headset was really amazing for only being an $80 price point.
However, when judging a gaming headset in a game like Battlefield, one of the most important elements is to judge its ability to hear distance of sounds. While not as full and wide a soundstage as audiophile headphones, the Mordax really offered a high level of positioning and, most importantly, a good ability to discern distance. I could often tell how far away people where and, as long as too much wasn't going on, it was pretty easy to sneak up on somebody running into the fray. When talking about voice communication, my party members were able to clearly hear me without any static of feedback coming from the background. The microphone also did a pretty good job at neutralizing the sound of my room's fan that blows into my direction for cooling. Pretty impressive considering most entry level headsets hear this fan all too well.
PC Gaming: Skyrim
The experience in Skyrim was a bit more lackluster and I'm not entirely sure as to why that was. Don't get me wrong, everything sounded good but there was a huge sound proof wall after things would become a certain distance away from me; about 10 in game yards. It was a very strange and disappointing experience and it may have something to do with Skyrim's sound processing because this was the only game I noticed where this happened. It also may have been due to something on my personal setup as well since my Skyrim is heavily modded. That being said, when I was in close combat or in a dungeon, the experience was well enough but traversing the open fields left a lot to be desired. I could see things happening in the distance but could not hear them at all. Overall, my Skyrim experience was very disappointing.
360 Gaming: Halo Reach
I am feeling that this headset favors shooters because Halo Reach was an equally awesome experience to Battlefield. Running and gunning on large open areas in multi-player was a delightful experience and everything came through clearly. They rivaled the Tritton Detonator headset in terms of quality and positioning. Everything came through clear and even chatting on live was clear to my teammates. In fact, those I played with regularly couldn't tell I had changed my setup (I usually use an Antlion Modmic for communication). Definitely a plus. Surprisingly, in Halo Reach I had the opposite experience from Skyrim as I was able to hear very far into the distance. This was a great help as I could often hear snipers that I normally wouldn't be able to hear running around in the tower of Spire. The only drawback to this was retraining myself to realize that I was hearing a larger distance away than I was used too!
360 Gaming: Gears of War 3
Gears of War 3 was another very fun experience with this headset. The darker tones of the headset enhanced the gritty, dark theme of GoW3 allowing for that much more of an enjoyable experience. The growls of the Locust and Lambent were almost frightening in this headset as they boomed in my ears, giving me a feeling of impending doom. In Horde mode, I found myself a tad overwhelmed as I heard baddies surrounding me and, while my brain took some time to process it, I really enjoyed the feeling of actually feeling surrounded. Overall, a great treat to play GoW3.
PS3 Gaming: Star Ocean: The Last Hope International
Changing things up a bit, I loaded up a fine Japanese RPG, Star Ocean. Often gaming headsets are based solely upon positioning and gauging sound-effects but too seldom are tests run on music heavy RPGs. Star Ocean was fun to play and, surprisingly, these headphones lended themselves well to positioning in the battlefield and in the general field. Hearing which way enemies were coming from helped with the somewhat clunky camera system and allowed me to dodge more naturally, not needing to look around for the incoming attack. Music came through clean and Motoi Sakuraba's more synthesized soundtrack really came through positively on this headset. While the experience wasn't spectacular, it was definitely a lot of fun.
PS3 Gaming: Soul Calibur 5
The Soul Calibur franchise has always been a fun 3D fighter. Popping the Mordax headset in was a slight improvement to normal gameplay as the intricacies of each hit came through clearer than on a normal sound system. Position is really a mute point in fighters but, to say the least, I could definitely tell where my opponents were as my right ear tended to get more action. Playing on PSN, albeit a laggy experience in game, was fine for communicating over the headset with. No problems with voice chat and setup was definitely a breeze.
Music
Though this is a headset made primarily for gaming, I wanted to see how it held up to a variety of music tests. Being the classical music enthusiast I am, I decided to first test it with Rachel Barton Pine's recording of the Devil's Trill Sonata by Giuseppe Tartini. Everything was clean and clear, even at high levels. The higher notes tended to sound a tad subdued, giving a different overall listening experience to the music as the headset tended to favor the lower register. My main complaint with this headset on this sonata was an overall muddying of the middle section, losing some of the depth in the piece. Not a bad experience but not as full as I have heard in the past.
I decided to switch to some bass-heavy music and loaded up the Silent Hill 3 soundtrack. Akira Yamaoka's "Letter – From the Lost Days" has always been a great track to test the overall effect of bass of a sound system. Again, a muddying of the middle section was immediately heard but definitely didn't detract from the piece in the slightest. It felt more like a different rendition of the song rather than a lessening of the song itself. It was an odd experience, to say the least, but I rather enjoyed the change. As for the bass heavy portions, there was definitely a lack of "boom" in the reproduction. The bass was clearly heard but it never felt vibrating or incredibly powerful. As this is a more bass-heavy song, it was a tad disappointing listening to this song through the headset.
I have had an itch for Linkin Park's album, Hybrid Theory, lately and decided to load up "In The End". My goodness, this song rocked in this headset. Everything came through perfectly and there was a more prominent level of bass here than the previous track. The percussion really stood out the most and pleased my ears immensely. The vocals came in clear and there was no muddying in any of the sections at all.
Following up on this, I listened to the next track, "Place for my Head," and was equally pleased. Most prominently pleasing in this piece was the electric guitar. It really came out clearly defined rather than blurring into the music as it often does in this piece. I was really surprised at the contrast to my earlier tests.
Jumping away from rock, I loaded up the original Doom soundtrack to test the reproduction of entirely synthesized music. My favorite track to test headphones on has always been E2M8, The Tower of Babel. The music bounces back and forth between the left and right channels, creating the effect of the music moving and on low-end headphones, this effect tends to become blurry and lost. This headset produced it excellently and distinctly played each track, making it a wonderful listening experience. The high and low voices were each distinctly placeable and never muddy at all.
To switch back to something more (somewhat) mainstream, I loaded up some Japanese Pop music with Ayumi Hamasaki's "Seasons". This wasn't the best track for this headset as the majority of the song felt dampened and not as vibrant. The overall warm and dark tones that the headset likes to reproduce didn't quite fit this softer, light ballade. Nothing really stood out and everything become a bit muddled through the song. Definitely not the best for lighter and softer music.
Lastly, I loaded up the Diablo II soundtrack and loaded up the theme for Lut Gholein. This was another wonderful track heard in the song as, I believe, it consists primarily of highs and lows. The intended ambience of the piece is brought out very well in this headset due to its ability to finely reproduce the droned bass notes with the trickled high notes. Of all of the pieces I tested, this one stood out the most as if it were almost tangible. It didn't feel or sound like a recording and made me take my headset off a few times, making sure I wasn't listening to it through my speakers on accident.
Overall, I was immediately very surprised by how warm and dark the timbre of the music sounded. The overall texture of the music was very earthy and deep. To be described in colorful terms, everything was a deep maroon or the dark purple of a winter sunset.  I noticed that adjusting volume with the inline volume control to maximum and then adjusting my computer's volume to a comfortable level allowed me to hear all of the intricacies of the music more clearly. Adjusting it the opposite way left more to be desired in the music. It isn't without its problems, though. It was definitely picky on which pieces it liked but if you are more of a rock-head or like darker music, this headset will not disappoint.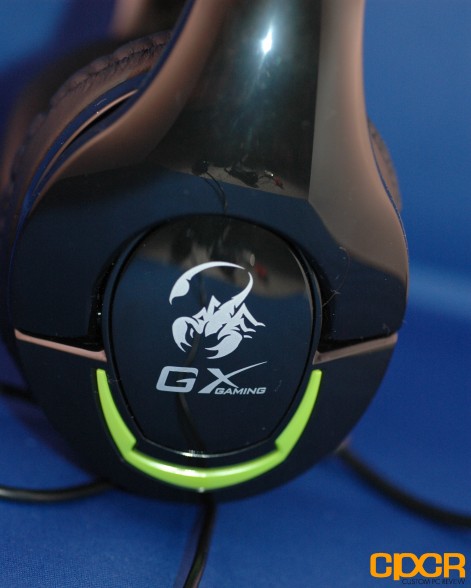 Comfort
Pulling the headset out of the packaging, I was surprised at how light they felt in my hands. I know for some people, light equates to a lack of quality but these headphones felt stable and flexible in my hands. The light plastic they opted for was welcome in the weight as I am used to heavier headphones. Putting them on initially they easily slid into place and fit comfortably around my larger head. The top headband was well cushioned with a pleather-covered foam and provided ample support for the top of my head. The ear cups themselves have a similar material that comfortably fit my ears inside of them. Feeling around in there, though, I could imagine how somebody with larger ears than myself may experience some discomfort as my ears just fit inside of the cups. They form a loosely tight seal around the ears that is intended to prevent sound leakage/interference but more on that in the sound tests.
Having tested these headphones for quite a few hours, I was overall impressed with how comfortable they were. After a few hours of usage I would notice my ears being a bit toasty and a little tension built up on them but they definitely were a far throw from the worst cans I have ever tried. Plus, the heat or discomfort would be quickly alleviated after few minutes rest from wearing them. Being incredibly light, it was very easy to forget I was wearing the headset after the first few minutes which is always a great benefit for long gaming sessions.
[section label=4. Conclusion]
Genius Mordax Conclusion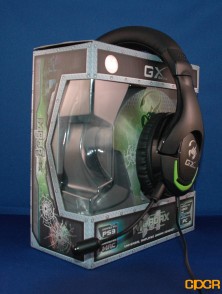 Overall, if I had to describe this headset in one word, it would be "fun". The Mordax is a fun, casual headset to use for most applications and while it doesn't perform well in all ranges of music, it does perform quite well for most games on the market, so it does fulfill its purpose as a gaming headset. I had a lot of fun in FPS games and, if that's your genre, I could definitely see this headset working out very well for you. Of the consoles/operating systems, I noticed the headset tended to favor the 360 more than anything else in terms of overall quality and performance. This headset really gave out more than I expected it to in the gaming arena.
The one major gripe I had about this headset was its lack of ability to completely isolate outside sounds. Being a circumaural headset, I was expecting a bit more performance in this category. As long as I was playing a game I was usually okay but it was still easy enough to hear a sound coming from somewhere in the real world that would distract me and pull me out of the game's immersion.
The overall ease of connectivity offered an affordable solution that the most casual users would be able to quickly set up and go. Are there better sounding alternatives on the market for the enthusiasts? Of course, but I don't think this is what the Mordax is really going for. It's not trying to rival a $150-$300 headset that requires a ton of setup and preparation in order to get it just to work with all of your systems. This headset is intended to be user friendly and provide an overall excellent gaming experience for the casual gamer. Does that mean enthusiasts won't enjoy it as well? Not at all! I had a blast with it and can definitely see it acting as a backup or traveling headset when I don't want to lug around my DT770 pros, amp, and cables around.
Currently priced at around $48 on Amazon, the Genius Mordax is definitely going to be a headset aimed at the budget category, and in my opinion, I do think it gives you your money's worth. Like the scorpion on the logo, the Mordax snuck into the gaming peripherals market and has left a lasting impression.
Bottom Line:
If you're a multi-platform gamer looking for a no-hassle headset, the Genius Mordax is certainly an option. While it's not the best multi-platform headset or even the best sounding headset on the market, it's certainly worth considering for the casual gamer. After all, at under $50, why not?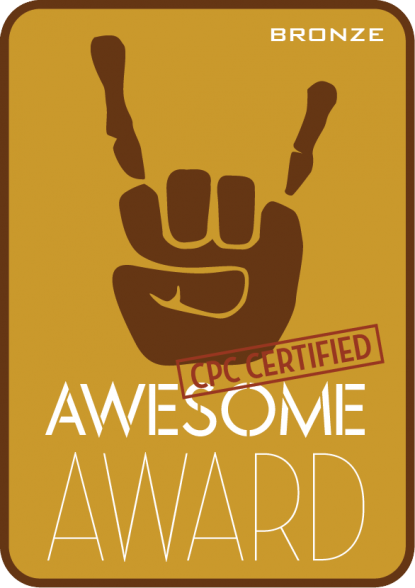 Special thanks to Genius for making this review possible!
The Genius Mordax is currently available on Amazon.