[section label=1. Introduction]
All Barebone, No Frills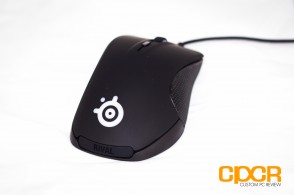 While the gaming peripherals market is saturated with all the mice one could possibly want , we always welcome a good blend of price and performance. Introducing the SteelSeries Rival, a basic, bare-bone mice from SteelSeries that has a few nifty surprises under its hood.
There're several interesting specs worth mentioning. Instead of using AVAGO sensors like many of today's gaming mice, the Rival touts the Pixart PWM 3310 Optical sensor with max DPI of 6400. Since it uses the tried and true optical technology, in theory, it should have very little to no acceleration. The sensor isn't the Rival's only highlight; It also uses the new SteelSeries Propietary Switches. These custom designed switches have been optimized for all type of gaming and are rated with a lifespan of 30 million clicks.
Though the Rival's solid specs already draw attention, the Rival's trump card lies with in its price. With an MSRP of $59.99 and a street price of $52.99. SteelSeries is looking to open new territories in the world of budget gaming peripherals.
[section label=2. A Closer Look]
A Closer Look At The SteelSeries Rival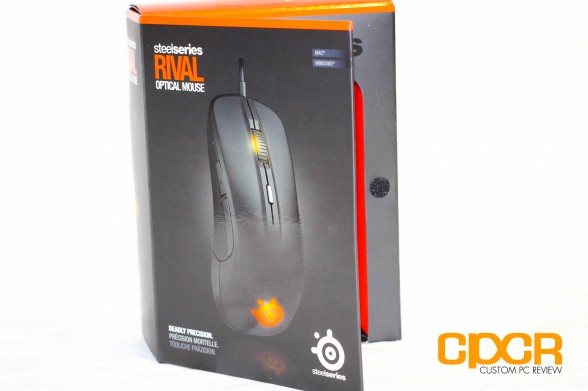 The box is pretty simplistic clamshell design. It feel sturdy enough handle some tough bumbs,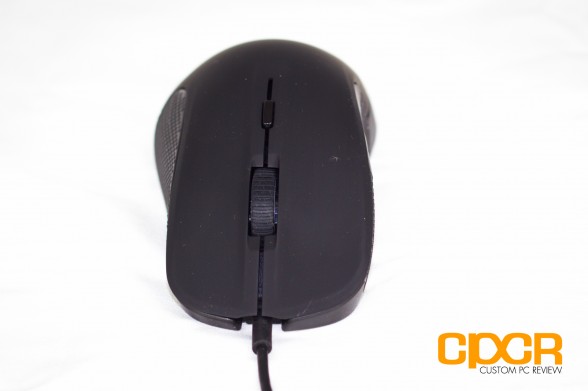 Since the Rival is a right-handed only mouse, you can see from the front that the mass is distributed heavily towards the right side. The left side is curved in-wards to give the thumb more resting area. The entire mouse is coated with a matte anti-slip coating. Embedded below the primary and secondary mouse buttons are SteelSeries' proprietary switches, so it'll be interesting to see how they perform.
Both sides of the SteelSeries Rival have a patch of textured grip added. There are two large side buttons on the left side for the thumbs. Also, the back of the mouse is raised quite a bit, indicating that it more suits palm grip gamers.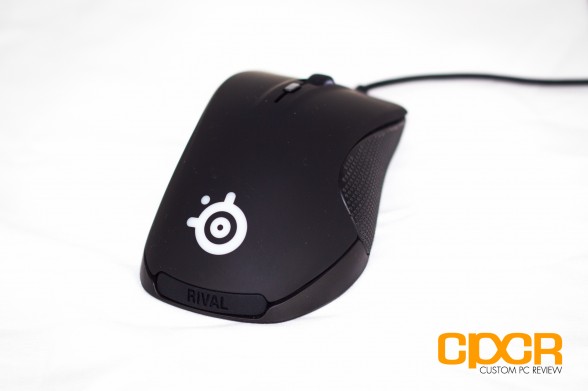 The back of the mouse has a light-up logo and a rubber nameplate that can be swapped out for a custom design. The back section is quite large, so it may not be suitable for users with smaller hands. The rubber nameplate is quite useless. Unless you're planning to go to a LAN tournament where everyone's using the same mouse, there's no sense in investing in a customized nameplate.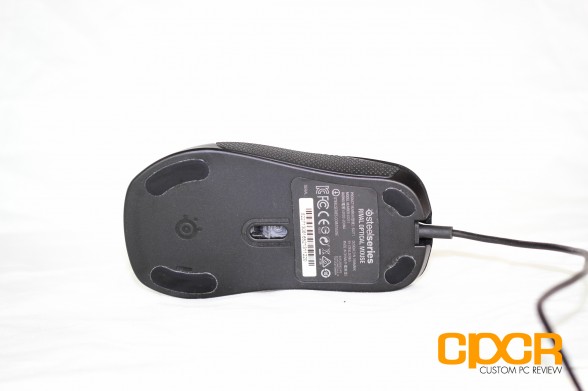 The bottom of the Rival is home to the Pixart 3310 Optical Sensor rated at 6400DPI. The mouse feet seems a little small, but should glide just fine. There's a little canal carved out around the sensor to help prevent dust from covering up the sensor.
The logo and scroll wheel lights up when the mouse is plugged in. You can customize the LED color using the SteelSeries Engine Software.
[section label=3. Software]
Software
To fine-tune the SteelSeries' Rival, you'll need to download the SteelSeries Engine 3 software. What's neat about SteelSeries' Engine is that it only require a one-time installation and is compatible with all devices.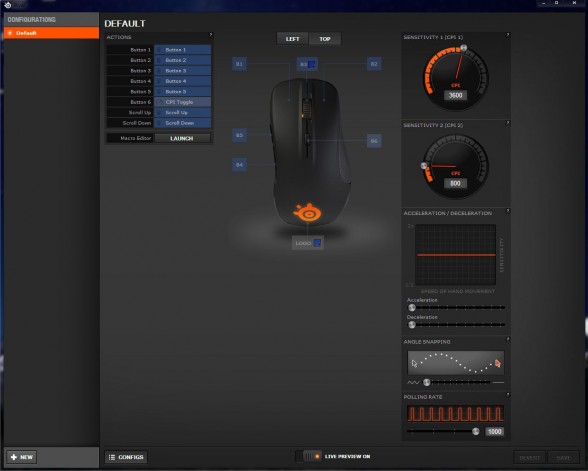 The SteelSeries' Engine provides a clean, modern interface. This feature rich software not only has a plethora settings to tweak, but also keeps things simple by condensing everything onto one page. The SteelSeries' Rival has two DPI settings and a 16.8 million color options. And as expected, all buttons are programmable to perform specific macros.
[section label=4. Performance]
Performance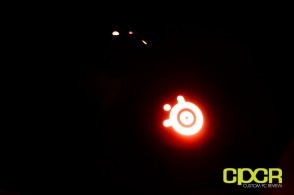 Running the Rival through Battlefield 4 (raw mouse input enabled) proved to be a pleasant experience. I had the sensor set at 4000DPI and it was dead on accurate; no jitter or acceleration was present throughout testing. Despite its large size, it didn't feel too bulky as my movements felt natrual and precise. The only thing I wasn't fond of was the lift distance. On my Epicgear hybrid mouse pad, the Rival had a lift distance of around 10mm. Using it on my white table-top was able to reduce it a little, but not by much.
To get a visual indication of sensor jitter, I drew a few shapes in MS Paint at varying DPIs. The new Pixart PWM 3310 sensor was incredible stable across all ranges. As show in the MS Paint test below, it had almost no jitters at its max DPI of 6400 on 1000Hz polling rate.
The SteelSeries Propietary switch was interesting. It had a stiff, tactile feel and produced a quiet, damp click sound when pressed. For some reason, even though both the primary and secondary buttons use the SteelSeries switch,  it felt like the secondary button was noticeably softer than the primary button. Similar to the primary and secondary buttons, the scroll wheel was also dead silent, but its tactility resembled the side buttons. And though it felt solid to the touch and was great to use, its axle sometimes squeaked under pressure.
The Rival's ergonomic design definitely caters to gamers with large hands with an elongated base. The spine of the mouse has a significant arch, which seems like it's designed with palm grip style in mind. Despite being shaped a little bulky, the Rival was relatively light weight of 128g which helped its manoeuvrability. Embedded within the thumb grip on the left hand side were two large side buttons. They were easily within reach and were very tactile.
[section label=5. Conclusion]
Conclusion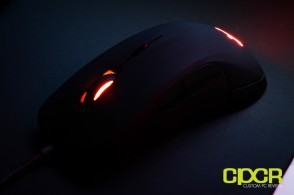 It's been a while since SteelSeries created a right-hand only mouse, and it did so marvellously. Featuring a simple, modest design, it's a mouse that just works.
For starters, the Rival brings excellent performance to the table. The Pixart PWM 3310 Sensor was very stable and had no acceleration throughout testing. FPS players with twitch-based aim will appreciate its stability at higher DPI settings. Unfortunately, the Pixart PWM 3310 sensor produced a very high lift distance when used with my black hybrid mouse pad. Since I play a lot of first person shooters, I prefer the lift distance to be as low as possible. Since there's no way to adjust this setting through SteelSeries' Engine 3 software, I would recommend a white mouse pad with a hard, smooth surface if you are looking for a lower lift distance.
The proprietary SteelSeries switches applied under the primary and secondary buttons have a firm, beefy click and are very tactile. In addition of being fantastic to use, they're also incredibly silent. They also boasts a lifespan of 30 million clicks, typical of SteelSeries's renowned build quality. The scroll wheel is also silent except for the occasional squeaking coming from its axle. The two side buttons are well-positioned so they're easily within reach. Despite their size, there's still a large area below them reserved for your thumbs to avoid any misclicks.
The Rival's tall, curved back provides a lot of support for the palm while the long base accommodates for larger hands. For someone with smaller hands, I feel like the Rival was a little bulky, but is still very comfortable. The matte-rubber coating on the shell remained grippy throughout long gaming sessions.
For everything mentioned so far, one may happily fork over $70 for the Rival. But with a price-tag of just $52.99, the Rival is an even more mouth-watering bargain. Its exceptional value pushes it straight into the price-to-performance territory currently dominated by the Razer Deathadder, and it definitely packs the hardware to give it a run for its money.
There's very little to dislike about the Rival. But if you are a hypochondriac, it's worth noting that the Rival becomes dirty quite easily. I was surprised to find a ton of visible finger marks on the shell after gaming (yes, I do wash my hands). The marks dissipated after a quick wipe with water and microfibre cloth, but they came back as easily as they went. Also, there's no LED indication for the currently set DPI setting, but since there's only two, distinguishing between them was easy.
To sum it all up: the SteelSeries Rival is a great mouse. Though it doesn't stand out much amongst its competitors, there's absolutely no complaints when it comes to its performance. If you are a right handed gamer, the Rival should be on the top of your consideration list.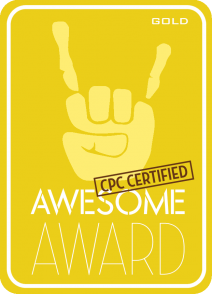 Samples provided by: SteelSeries
Available at: Amazon