[section label="Introduction"]
The Best Just Got Better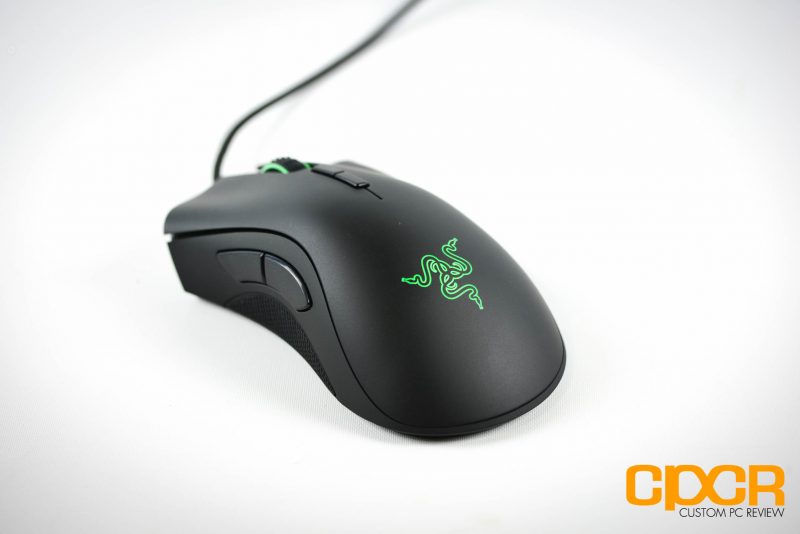 When it comes to gaming mice, the Razer DeathAdder is easily one of the most popular of all time. Unveiled back in 2006 and rebooted in 2012, it's Razer's most iconic product introducing thousands of gamers to the wonderful world of gaming peripherals. While the Razer DeathAdder received the Chroma refresh back in 2014 giving it RGB backlighting, Razer introduced another new iteration of the DeathAdder, the DeathAdder Elite, with several new improvements earlier this year which we'll be reviewing today.
Razer DeathAdder Elite Specifications
| | |
| --- | --- |
| Manufacturer | Razer |
| Model | DeathAdder Elite |
| Sensor | Razer 5G Optical Sensor |
| DPI Range | 100 – 16,000 |
| Switches | Razer Mechanical Mouse Switches |
| Backlighting | Yes |
| Polling Rate | 1000 Hz |
| Interface | USB 2.0 |
| USB Cable | 7ft Braided |
| Weight | 105g (0.23 lbs) |
| Warranty | 1 Year |
| Check Pricing | Click Here |
Looking at the specifications, the the biggest new features for the Razer DeathAdder Elite is the new Razer 5G Optical Sensor and new Razer Mechanical Mouse Switches. Razer claims that their new 5G Optical Sensor is capable of a resolution accuracy of 99.4%, sports a true 16,000 maximum DPI, and is capable of tracking up to 450 IPS (Inches Per Second). As for the switches, Razer claims that the new Razer switches are co-designed with leading mouse switch maker, Omron, and are now rated at up to 50 million clicks.
Sounds impressive. Let's take a closer look!
[section label="A Closer Look"]
A Closer Look at the Razer DeathAdder Elite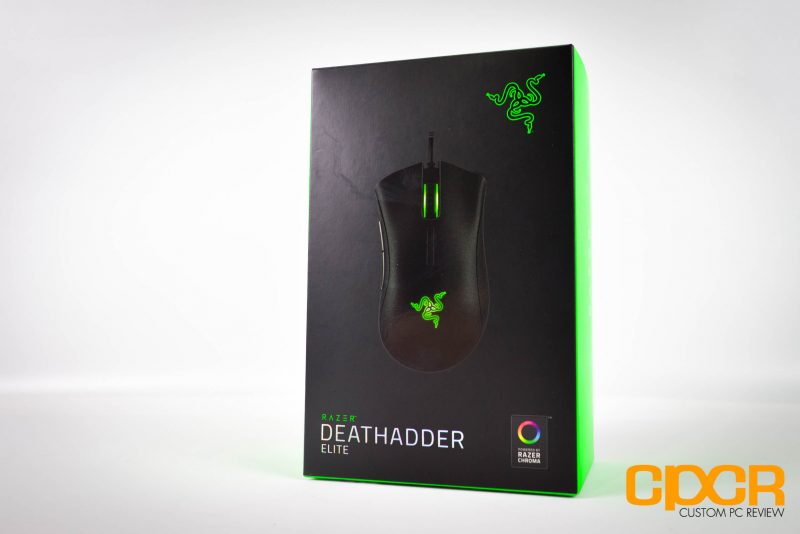 Here's a look at the packaging for the Razer DeathAdder Elite. It's pretty Razer themed, as usual.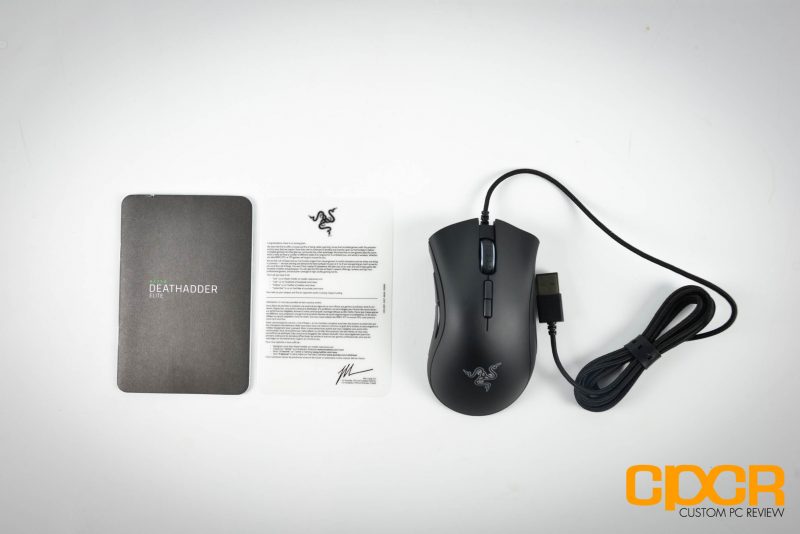 Inside the box we get a couple pieces of documentation and the Razer DeathAdder Elite.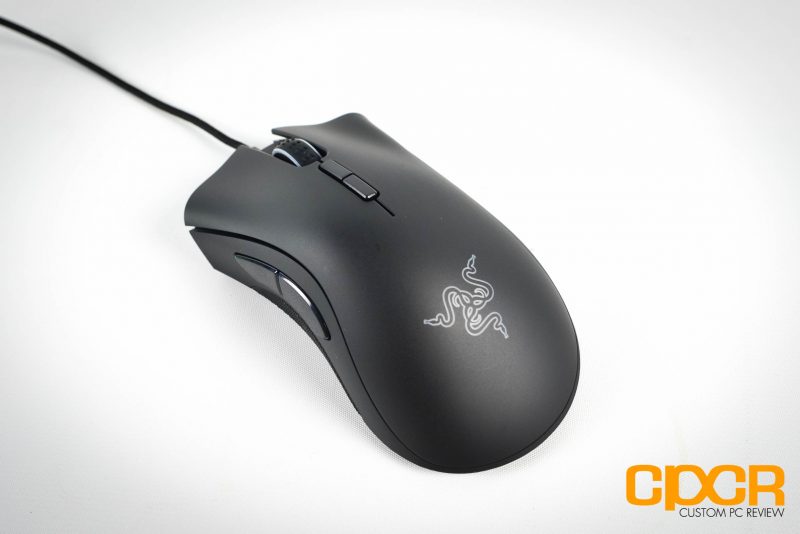 Here's a look at the Razer DeathAdder Elite. The physical differences between the DeathAdder Elite and previous versions aren't exactly huge, but there are definitely some changes. The biggest change with the DeathAdder Elite is that there's now sensitivity adjustment buttons which allow sensitivity changes on the fly. The bottom of the mouse now also features bigger Teflon feet which allows the mouse to better glide over its surface. The hump shape has also changed slightly to be slightly flatter, but still retains the ergonomic DeathAdder shape we all know and love. In terms of weight, not much has changed as well with the mouse weighing in at 3.4oz.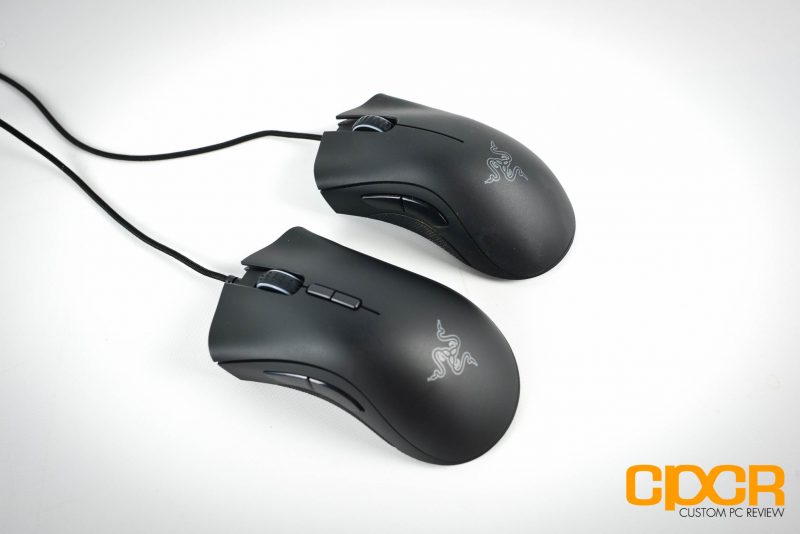 Here's a look at the DeathAdder Elite side by side next to the DeathAdder Chroma.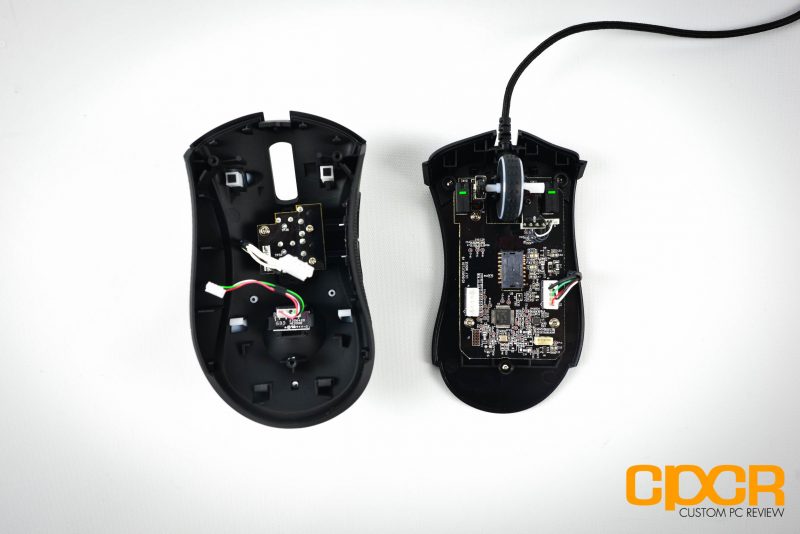 Opening up the DeathAdder Elite, we can take a look at some of the components onboard.
The primary left and right click switches are Omron D2FC-F-K(50M)-RZ switches which are a joint development by Razer and Omron. The Omron switches used on the Razer DeathAdder Elite are rated at 50 million clicks.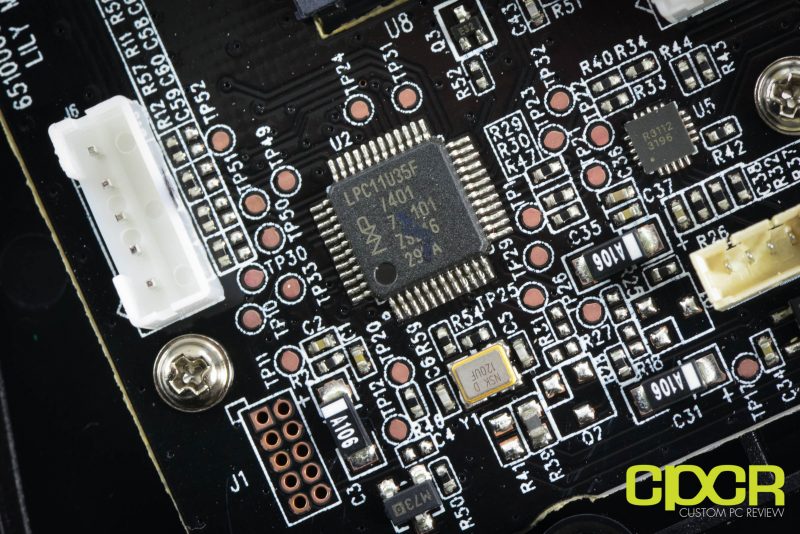 The onboard microcontroller used here is the NXP LPC11U35F which is a ARM Cortex-M0 based 32-bit MCU. This provides onboard computing, handles control of LEDs, etc.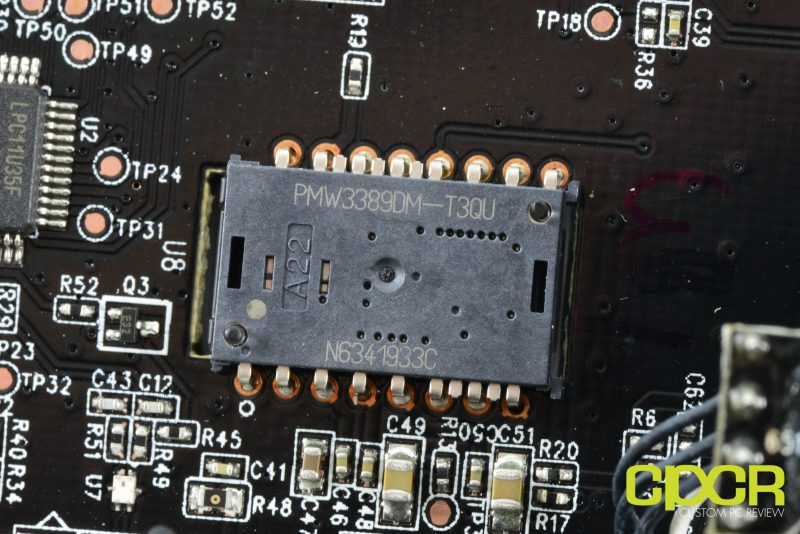 The sensor onboard is Razer's special PMW3389DM-T3QU which is what they refer to as their 5th Generation Optical Mouse Sensor. Razer claims that it's capable of true DPI up to 16,000.
As a Chroma enabled device, the DeathAdder Elite's logo and scroll wheel lights up when the mouse is plugged in. You can customize the LED colors using the Razer Synapse software.
[section label="Razer Synapse"]
Razer Synapse Software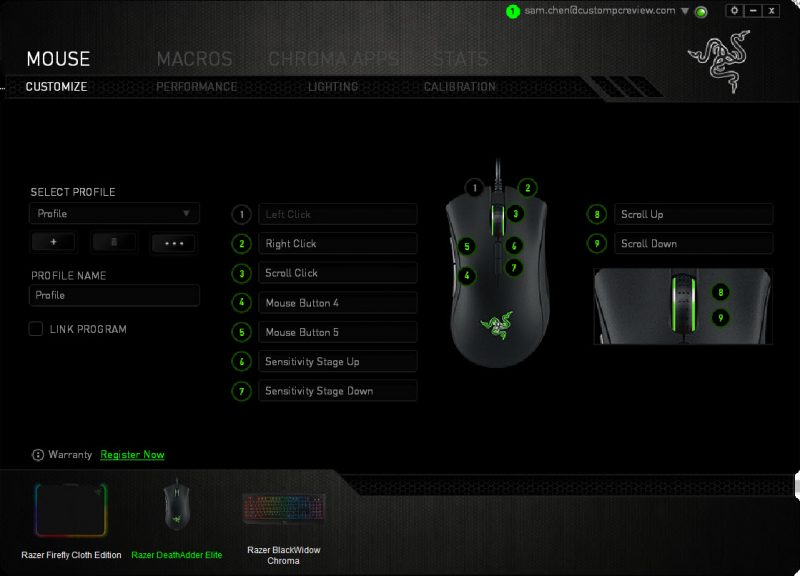 No surprises here, usage of the Razer DeathAdder Elite requires the installation of Razer's Synapse software. That said, Razer's Synapse software package is still the best gaming peripherals software package in the market, so it's not a huge issue.
Once the Razer Synapse software is installed, numerous settings can be changed such as profiles, macros, DPI, sensitivity stages, lighting, calibration, etc. Since we've covered Razer Synapse quite a bit previously, I'm not going to cover it more here as nothing has really changed.
[section label="Performance"]
Performance
Testing the Razer DeathAdder Elite, I played several FPS games including CS:GO and Battlefield 1. The experience on these games were very good. The sensor is very accurate and I detected very little to no smoothing or acceleration. I also detected very little to no jitter or prediction as well which was expected given my previous experience with the DeathAdder Chroma and even older DeathAdders such as the DeathAdder 2013. It's worth noting that I keep sensitivity somewhere between 800DPI-3200DPI, so if that's your sensitivity range, you should have fairly perfect sensor performance.
For some more technical info, here's a look at results from Mousetester 1.5.3 when quickly swiping to the right at different sensitivity stages at 1000Hz polling rate. Overall the sensor performed well here with no major issues.
Here's a couple shapes I drew at different sensitivity stages to get an idea of jitter and prediction. No major problems to report here. There does seem to be some smoothing at the 6400DPI sensitivity stage and beyond so if you use ultra high sensitivity ranges, there will be some sensor smoothing.
For the DeathAdder Elite, Razer claims to have a custom developed switch with Omron for the primary switches and overall they feel relatively similar to previous DeathAdder switches. The primary button on the left does feel a bit more springy and the click is a bit crisper feeling than the button on the right. The scroll wheel now has a slightly more grippy texture which is very nice and the middle mouse button is fairly stiff, so accidental clicking while scrolling is unlikely. Side buttons are also fairly stiff as well and give off a solid click feel when actuated.
As for ergonomics, it's a DeathAdder so it's very comfortable for me and I can use it for extended gaming sessions without feeling fatigue. The high arch makes it very good for those who primarily use the palm grip.
[section label="Conclusion"]
Conclusion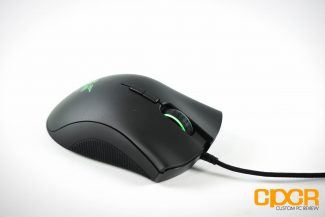 Since the DeathAdder is probably one of the most popular gaming mice on earth, I really don't need to say much about it. If you liked the older DeathAdders, you'll definitely like this one. If you haven't tried a DeathAdder, the DeathAdder Elite is a great place to start.
As for pricing, the Razer DeathAdder Elite is priced at $69.99 which is a competitive pricepoint for a premium wired gaming mouse. It also happens to be the same pricepoint the DeathAdder Chroma was launched at so no major price hikes occurred here.
So the big question, should you get it? Of course. It's a DeathAdder and it happens to be the best one yet. However, those who already own DeathAdders may not find the DeathAdder Elite to be much of a worthwhile purchase. After all, the biggest improvement to the DeathAdder Elite is the new sensor which really isn't all that much of an improvement as nobody actually plays games at 16,000 DPI. The only really useful new feature is the sensitivity adjustment buttons and other slight changes such as a better scroll wheel design, but there's really no reason to dump a perfectly good DeathAdder Chroma for that.
Overall the Razer DeathAdder Elite is yet another solid addition to Razer's gaming mouse lineup and is without a doubt the best mouse they've produced this year. While those who already own a DeathAdder may not find it worth the upgrade, those in the market for a new mouse will find the Razer DeathAdder Elite an excellent choice. Highly Recommended!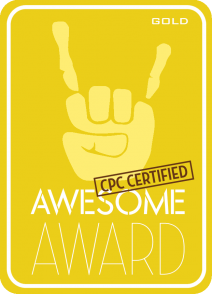 Samples provided by: Razer
Available at: Amazon