[section label=1. Introduction]
The Speed Demon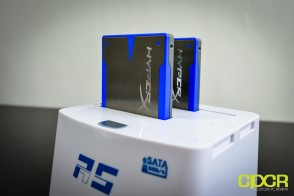 Over the past couple of years, hard drive docks have become increasingly common in the marketplace because of their versatility and ease of use, especially for those working in IT departments where it's simply not efficient to have to deal with opening and closing computer cases simply to add and remove hard drives. A couple months back, we reviewed the Ineo I-NA321U+ USB 3.0 drive dock, which is a fantastic drive dock; however, those who need to take full advantage of the performance from an SSD will find that current implementations of USB 3.0 simply aren't able to meet the level of performance SSDs currently offer. Fortunately for those who might benefit from SSD performance, there are external interfaces such as Thunderbolt or eSATA 6Gb/s that are capable of meeting the challenge.
Today we'll be reviewing the HighPoint RocketStor 5322 eSATA drive dock. This is HighPoint's latest 2 bay drive dock which not only features eSATA 6Gb/s, but it has two eSATA 6Gb/s controllers onboard. This allows each individual bay on the RocketStor 5322 the capability of up to a 6Gb/s theoretical transfer rate. Because of this, the dock is fully capable of simultaneous transfer of up to 12Gb/s, which may be especially beneficial for those looking to run the setup in a RAID configuration.
Ready to find out how well the RocketStor 5322 performs? Flip the page and let's take a look!
HighPoint RocketStor 5322 Specifications
Dual-Dedicated 6Gb/s eSATA Storage Dock
2 x SATA 3.0/ 2.0 HDD/SSD supported
Compatible with industry standard eSATA connectivity
2.5″ and 3.5″ HDD/SSD Compatible
Designed for PC and Mac
[section label=2. A Closer Look]
A Closer Look at the HighPoint RocketStor 5322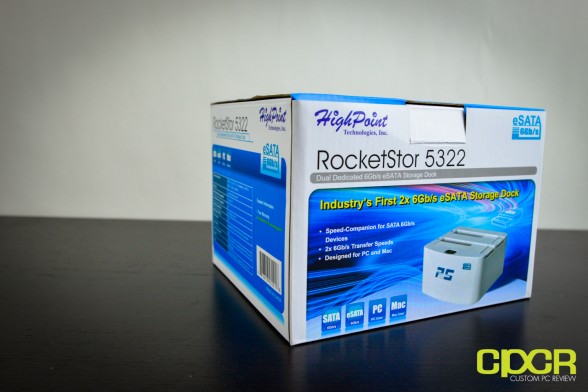 Here's a look at the packaging for the HighPoint RocketStor 5322. HighPoint seems extremely proud that the RocketStor 5322 is the first 2x 6Gb/s SATA storage dock.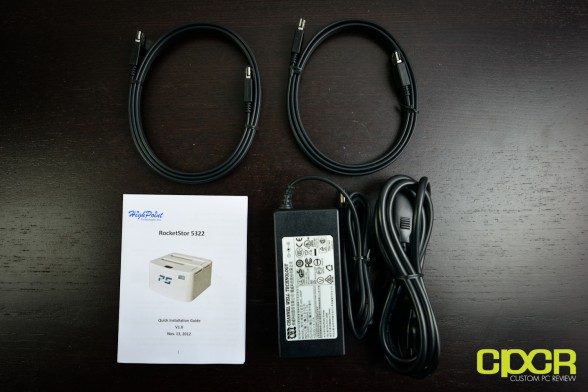 Digging into the packaging, we get some documentation, two eSATA cables, and a power adapter.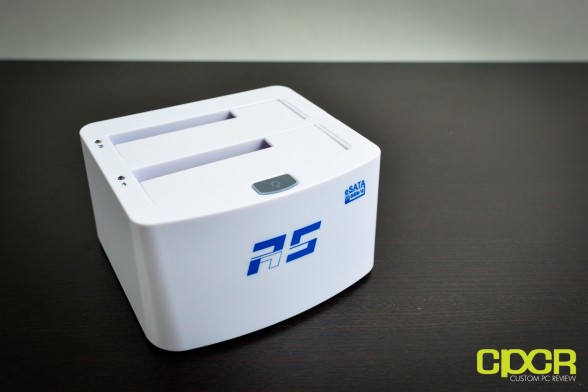 Here's a look at the HighPoint RocketStor 5322. Basic design here is pretty much the same as what we'd come to expect from a drive dock. The only real controls here is the on/off button right at the front of the top of the unit. Once turned on, the on/off button glows blue.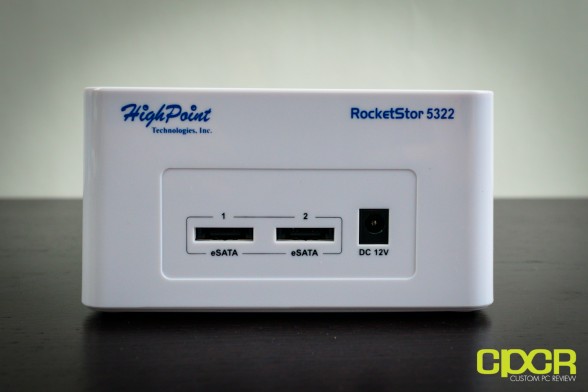 At the back of the unit, we get two eSATA 6Gb/s ports along with a power port. Each of these eSATA 6Gb/s ports has its own controller, so the dock is capable of a theoretical maximum of 12Gb/s. In order to take full advantage of the dock's performance, an eSATA 6Gb/s port on the motherboard or a 3rd party RAID card must be used.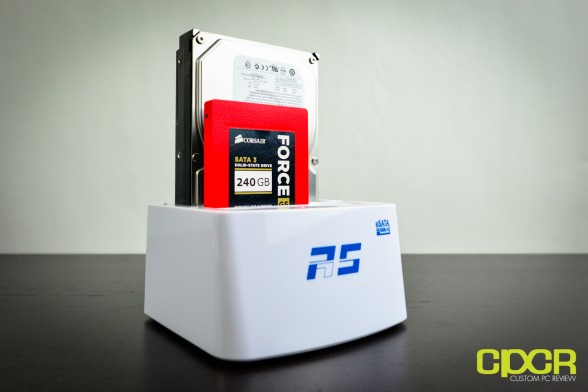 Here's a look at the RocketStor 5322 with both a 2.5″ SSD as well as a 3.5″ HDD installed.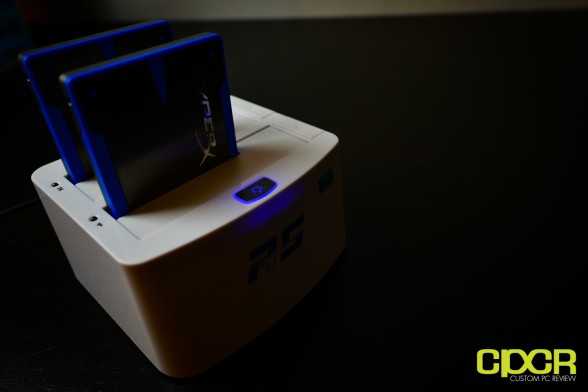 Here's a look at the unit powered on. A single blue LED indicator lets you know if the unit is on.
[section label=3. Performance]
HighPoint RocketStor 5322 Performance
Ivy Bridge Test Bench
Special thanks to Gigabyte, Kingston, and HSPC for sponsoring our test bench!
Since one of the main features of the HighPoint RocketStor 5322 is being capable of transferring up to 12Gb/s simultaneously, we'll be using a HighPoint RocketRAID 642L PCIe RAID card for our testing today. The HighPoint RocketRAID 642L utilizes the Marvell 88SE9235 controller, and natively supports 2x eSATA 6Gb/s and 2x SATA 6Gb/s.
Since we're dealing with SATA 6Gb/s, all testing today will be conducted with 2x Kingston HyperX 240GB SSDs.
HighPoint RocketStor 5322 Performance
ATTO Disk Benchmark v2.46
ATTO Disk Benchmark is one of the industry's oldest and most popular benchmarks for testing disk read/write speeds. This benchmarks allows read and write testing using predefined block sizes and gives us a good idea of read/write speeds with different sized files. Most SSD manufacturers these days prefer using this benchmark when advertising SSDs as it tests using compressible data, which tends to yield better performance.
Single Drive Performance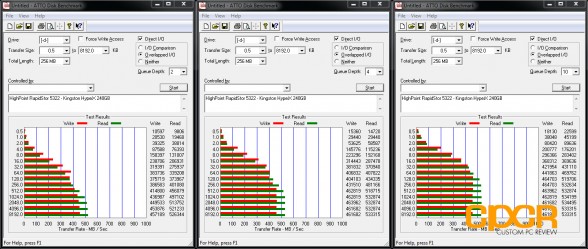 RAID 0 Performance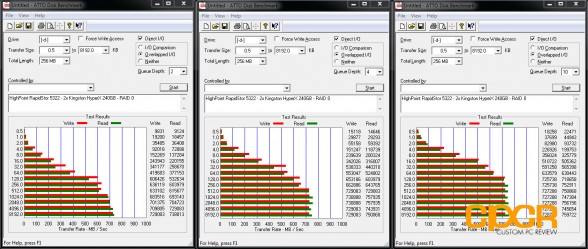 Crystal Disk Mark 3.0.1 x64
Crystal Disk Mark is another popular benchmark which allows us to measure both sequential read/write speeds as well as random read/write speeds. With this benchmark, tests can be run using both random fill (incompressible data) and 0 fill (compressible data). Realistically in typical computer usage scenarios, data being transferred will consist of a mixture of both incompressible and compressible data.
Single Drive Performance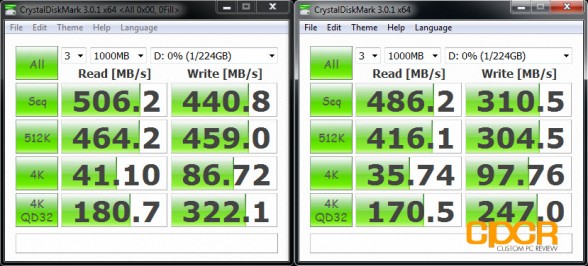 RAID 0 Performance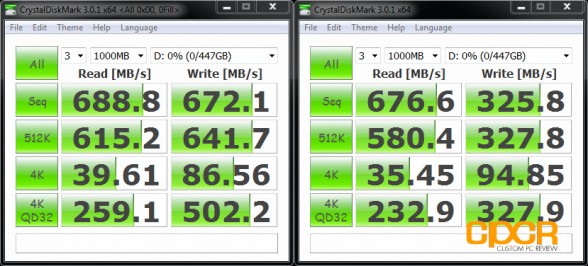 Performance Analysis
Single drive performance is quite good with the SSD performing very close to its maximum rated specs. Unfortunately, 3rd party RAID cards don't perform quite as well as the Intel controller when in single drive or simple RAID configurations, so maximum write performance is a tad lower than what we get from the Intel controlled ports directly through the motherboard, but performance here far exceeds what we'd normally see from USB 3.0.
When in RAID 0, the RocketStor 5322 paired with the RocketRAID 642L is capable of pushing well over 700MB/s sequential reads and writes with 4K figures being equally impressive clocking in at 40MB/s reads and 87MB/s writes respectively. Fast 4K performance is especially good for those who want to boot from the dock or for those interested in using virtualized operating systems from the dock.
[section label=4. Conclusion]
HighPoint RocketStor 5322 Conclusions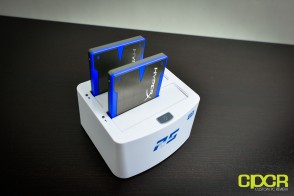 I don't review hard drive docks all that often since they're pretty much the same old, same old – seen one, seen 'em all kind of thing, but I think HighPoint really has something quite special with the RocketStor 5322. Performance was great as expected and if you have a RAID card with eSATA 6Gb/s support such as the HighPoint RocketRAID 642L, the RocketStor 5322 with a couple SSDs in RAID 0 will pretty much dominate the performance you'd get from every drive dock on the market today.
Pricing for the HighPoint RocketStor 5322 is currently $119, which is quite a premium considering most drive docks sell for $30 or less. However, the RocketStor 5322 is a niche product that really isn't designed for those in the market for a $30 drive dock. Instead, the RocketStor 5322 is designed for those looking for a dock for workstation, server, or virtualization applications where an ultra high speed interface could yield significant performance benefits. After all, you can't really even fully take advantage of the RocketStor 5322 unless you're planning to pair it with SATA 6Gb/s SSDs. If all you've got are a couple of 7,200 RPM hard drives for example, it's much more cost effective to just get a much less expensive USB 3.0 drive dock instead since the bottleneck will be the drive itself rather than the interface.
Overall, I'm pretty impressed with what the RocketStor 5322 has to offer. HighPoint has done a great job with the dock and it offers phenomenal performance that's currently faster than any other consumer level external drive dock on the market. For those who can really take advantage of the RocketStor 5322's performance and are willing to pay for it, there's simply no substitute.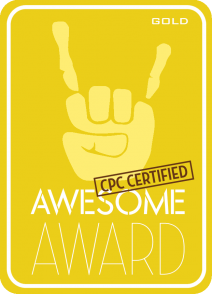 Sample provided by: HighPoint
Available at: Amazon