[section label=1. Introduction]
Crucial Reliability and Solid Pricing – Meet the Crucial M500.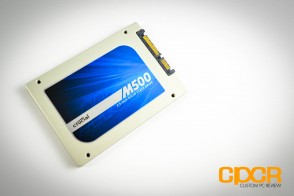 When your parent company is the owner of one of the largest NAND fabs in the world, it gives you some perks. Your cost of NAND is lower, your engineers know the NAND better, and you're able to obtain creme of the crop NAND that, quite frankly, you don't want anybody else to have. I generally refer to these lucky guys as Tier 1 SSD manufacturers and it pretty much only consists of Intel, Micron, Samsung, SanDisk, Toshiba, and SK Hynix.
Now a little more than two years ago, Crucial introduced their M4 SSD which was pretty revolutionary at the time. Most of the Tier 1 SSD manufacturers had little to nothing to show for on the consumer side, instead focusing most of their efforts on their OEM businesses. This left a good chunk of the market untapped and when Crucial unveiled the M4, it quickly became one of the best selling SSDs out on the market. While it wasn't the fastest SSD out there, it had great reliability and low pricing – a winning combination at a time when SSD technology was still in its infancy.
Nearly two years after the release of the Crucial M4, Crucial unveiled the M500, which we'll be reviewing today. The Crucial M500 now follows the exact same naming scheme used by Micron, so as far as I'm concerned the Crucial M500 and the Micron M500 are pretty much the same thing, similar to what we saw with the Crucial M4 and the Micron C400. As usual, the Micron M500 will generally be offered to OEMs and enterprise users while the Crucial M500 will generally be offered to consumers/end users.
Crucial M500 Specifications
| | | | | |
| --- | --- | --- | --- | --- |
| Manufacturer | Crucial | Crucial | Crucial | Crucial |
| Model | M500 | M500 | M500 | M500 |
| Model Number | CT120M500SSD1 | CT240M500SSD1 | CT480M500SSD1 | CT960M500SSD1 |
| Form Factor | 7mm, 2.5″ SATA | 7mm, 2.5″ SATA | 7mm, 2.5″ SATA | 7mm, 2.5″ SATA |
| Capacity | 120 GB | 240 GB | 480 GB | 960 GB |
| Controller | Marvell 88SS9187 | Marvell 88SS9187 | Marvell 88SS9187 | Marvell 88SS9187 |
| NAND | 20nm Micron Synchronous MLC | 20nm Micron Synchronous MLC | 20nm Micron Synchronous MLC | 20nm Micron Synchronous MLC |
| Sequential Reads | 500MB/s | 500MB/s | 500MB/s | 500MB/s |
| Sequential Writes | 130MB/s | 250MB/s | 400MB/s | 400MB/s |
| 4K Random Read | 62,000 IOPS | 72,000 IOPS | 80,000 IOPS | 80,000 IOPS |
| 4K Random Write | 35,000 IOPS | 60,000 IOPS | 80,000 IOPS | 80,000 IOPS |
| Interface | SATA 3 6GB/s | SATA 3 6GB/s | SATA 3 6GB/s | SATA 3 6GB/s |
| Warranty | 3 Years | 3 Years | 3 Years | 3 Years |
Crucial's M500 will come in four models ranging from 120GB all the way up to 960GB. This is possible because of Micron's relatively new 20nm 128Gb NAND dies which allow them to cram a ton of capacity into a single drive. We didn't get a chance to sample the 960GB edition, but instead we have the 480GB model which is rated at the same performance level as the 960GB model.
Unfortunately, going with anything lower than 480GB will result in a slight read and massive write performance drop as you can see in the performance specifications above. This is because Crucial/Micron is using slower, denser 128Gb dies across the board, which require fewer dies to reach the capacities. While this reduces cost, fewer NAND dies saturating fewer NAND channels results in lower performance. It's a battle between price and performance, and unfortunately Crucial won't let you have both – at least not yet.
Also notice that Crucial is now over provisioning the M500 beyond the standard 7% resulting from bits to bytes conversion. This is something that wasn't required on the Crucial M4, but with the more error prone 20nm, 128Gb NAND used in the M500, more advanced error correction techniques are required. So, in addition to the default standard 7%, Crucial is also taking another 7% for RAIN, or Redundant Array of Independent NAND – a technology that's been around on Micron's enterprise offerings for a while, but something that's showing up for the first time on Crucial consumer drives. For those unfamiliar with RAIN, it's a bit like SandForce's RAISE (Redundant Array of Independent Silicon Elements). By taking some additional spare area, Crucial is able to use that as parity (akin to RAID 5 or RAID 6) to recover bad blocks in the NAND. This allows for better data integrity, which is more Crucial (no pun intended) in more error prone NAND.
Let's go ahead and take a closer look at the Crucial M500.
[section label=2. A Closer Look (Exterior)]
A Closer Look at the Crucial M500 480GB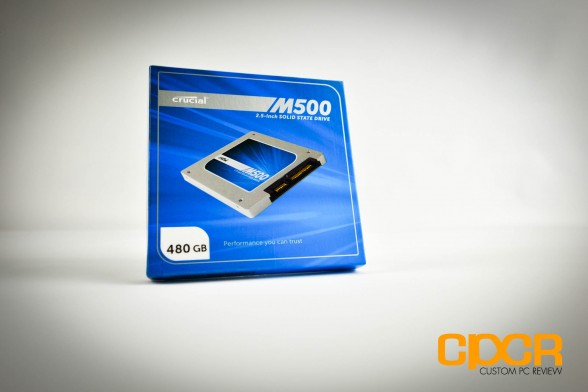 Here's a look at the packaging for the Crucial M500 480GB. Crucial's never been one for flashy presentation on their SSDs and the M500 seems to follow the trend.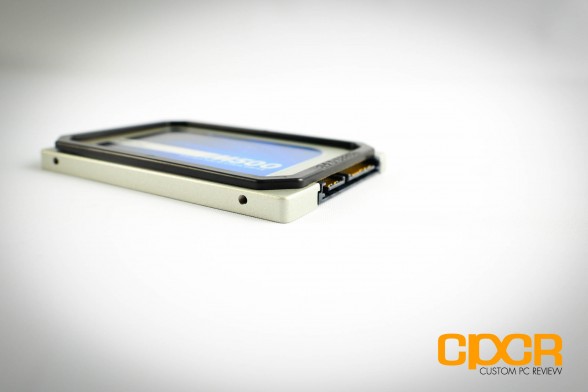 Included in the packaging we simply get the Crucial M500 SSD along with a 2mm riser. As the M500 is just 7mm, the riser allows the SSD to be installed in 9mm notebook drive bays.
Looking at the Crucial M500 itself, there are a couple differences compared to the Crucial M4. Logo graphics are slightly updated which is meh, but the whole drive is now enclosed in metal rather than the cheap plastic found on the Crucial M4.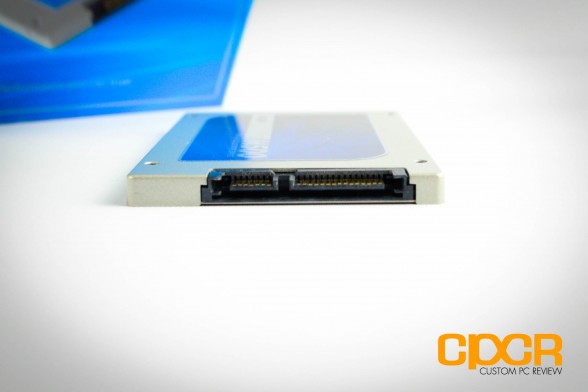 Here's a look at the I/O ports on the Crucial M500. As expected, we get SATA 6Gb/s and SATA power.
Let's go ahead and a closer look at the interior of the M500.
[section label=2. A Closer Look (Interior)]
A Closer Look at the Crucial M500 480GB
Alright, so opening up the drive here we can see that Crucial has really packed the PCB to the brim on this one, which isn't surprising since our sample is the fairly spacious 480GB model. Onboard, there are a total of 16x NAND packages, 1x SSD controller, and 1x DRAM cache.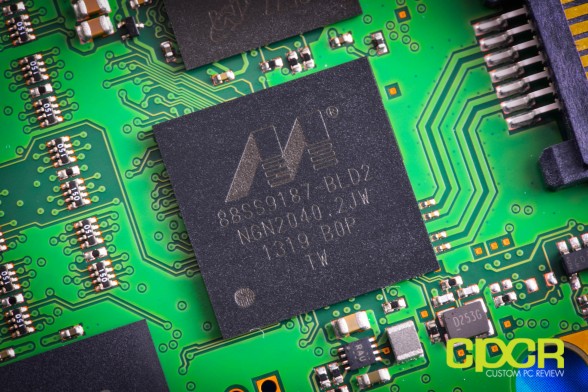 Here's a closer look at the controller on the Crucial M500. Crucial is using the Marvell 88SS9187, which is the successor to the old Marvell 88SS9174 used on the Crucial M4. Since we're still stuck with the SATA 6Gb/s interface, the Marvell 88SS9187 isn't necessarily all that much faster than the 88SS9174. Rather, the 88SS9187 is mostly a feature update to the aging 88SS9174 bringing various modern features like  a DDR3 memory interface, better adaptive ECC, on-chip RAID functionality, lower power consumption, etc. This being a Marvell powered controller, the firmware is Crucial's own so the performance profile on the M500 will be substantially different from what we've seen in other competing Marvell powered drives.
For NAND on the Crucial M500, Crucial is using 16 packages of 32GB 20nm Synchronous MLC NAND (FBGA #NW386). The NAND packages include Micron's latest 128Gb NAND die technology, which packs a ton of capacity allowing Crucial to reach a maximum of 1024GB in the highest capacity M500. The Marvell 88SS9187 is a eight channel controller design, so the 16 NAND modules will easily take advantage of all eight channels.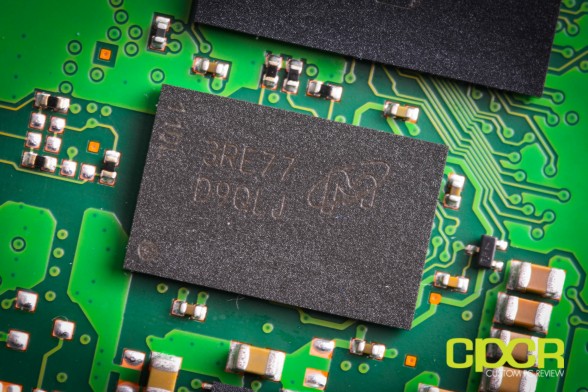 For caching of map tables, drive firmware, small files, etc. Crucial is using a 512MB Micron branded DDR3L-1600MHz DRAM buffer (FBGA #D9QLJ). We generally like to see at least 1MB/1GB of total NAND capacity for best performance, so Crucial should be right on the mark with the buffer on the M500.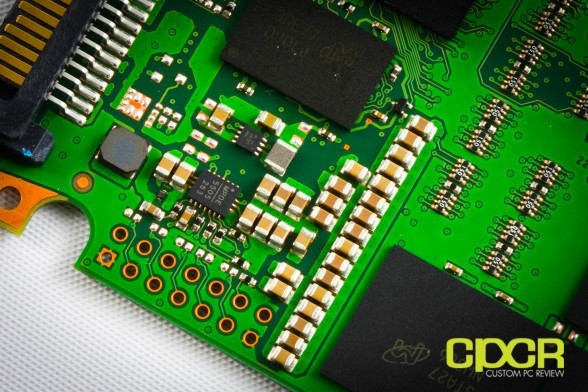 While data in the NAND flash is non-volatile, the data in the DRAM buffer is. In the event of sudden power loss, the data contained in the DRAM buffers of most consumer grade SSDs will be lost. As a carryover from the identical yet more business/enterprise oriented Micron M500, the Crucial M500 contains an array of power loss protection capacitors for data protection. In the event of sudden power loss, the array of capacitors you see above carries just enough juice to flush the DRAM cache into NAND for safekeeping. Crucial claims that the since the DRAM buffer is limited to only carrying a couple megabytes of user data all times, so it doesn't take much to quickly flush it out.
[section label=4. Test Setup]
Haswell Test Bench
As of October 5, 2013, we've upgraded our storage testing system to a Z87/Haswell testing platform. All SSDs used for comparison here have been updated to the latest firmware as of October 2013. Performance tests from storage reviews prior to that date should not be compared to our latest reviews.
Special thanks to CyberPowerPC, Kingston, OCZ Technology and HSPC for sponsoring our test bench!
Crystal Disk Info
Crucial M500 480GB
Today, we'll be reviewing the Crucial M500 480GB with firmware MU03. Looking at our Crystal Disk info report, we can see that the Crucial has made great use of the Marvell SS9187 as the M500 is packed to the brim in modern features, including support for NCQ (Native Command Queuing), APM (Advanced Power Management), TRIM, and DevSleep.
Although unlisted through Crystal Disk Info, the Crucial M500 also supports the TCG Opal 2.0 and IEEE-1667 standards. By default, pretty much all the data on every SSD gets encrypted when the controller writes data from the host to the NAND. We just typically don't set a password on that data, so it's readily accessible.
TCG Opal 2.0 support allows business/enterprise users to leverage TCG Opal compliant encryption software to manage the encryption of data on SSDs. On the other hand, TCG Opal 2.0 and IEEE-1667 also allows the Crucial M4 to be Microsoft eDrive (Encrypted Hard Drive) compliant as well. This allows offloading of cryptographic operations to the SSD controller which allows encryption of the SSD in real time without impacting CPU usage or power consumption. For more information on eDrive, be sure to check out Microsoft's info page here.
[section label=5. ATTO Disk Benchmark / AS SSD / Crystal Disk Mark]
Crucial M500 480GB Performance
ATTO Disk Benchmark v2.46
ATTO Disk Benchmark is one of the industry's oldest and most popular benchmarks for testing disk read/write speeds. This benchmarks allows read and write testing using predefined block sizes and gives us a good idea of read/write speeds with different sized files. Most SSD manufacturers these days prefer using this benchmark when advertising SSDs as it tests using compressible data, which tends to yield better performance.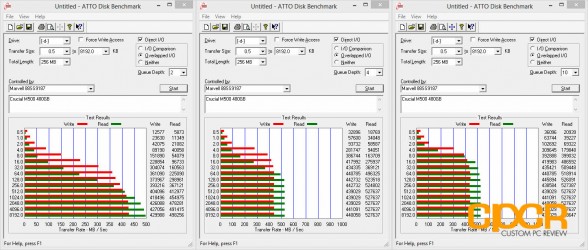 Performance Analysis
Crucial rates the M500 480GB at 500 MB/s sequential reads and 400 MB/s sequential writes. Looking at our ATTO Disk Benchmark numbers, it seems like Crucial is being quite conservative with their performance numbers. At queue depth 4, we were able to hit 528 MB/s sequential reads and 443 MB/s sequential writes. A good start!
AS SSD Benchmark
AS SSD is a very commonly used benchmark used to measure SSD performance in a number of categories. Here, tests are run using incompressible data at QD1. It also outputs a final score at the conclusion of the test based off the read and write performance of the drive.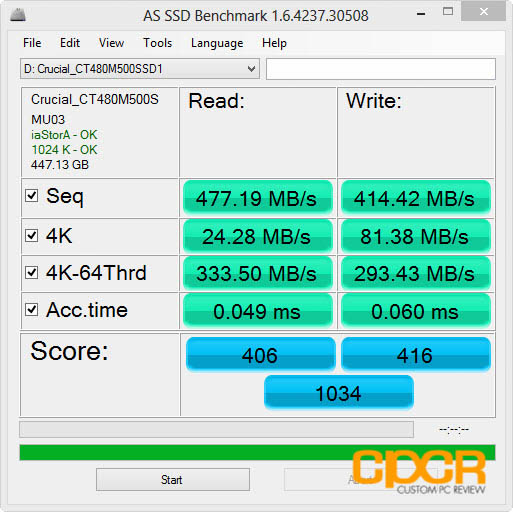 Performance Analysis
Here we can confirm the sequential performance figures from ATTO Disk Benchmark. Aside from slightly low sequential read/write performance, the Crucial M500 480GB looks like a top tier SSD. One point I do have to make is that 4K write performance looks very, very good.
Crystal Disk Mark 3.0.1 x64
Crystal Disk Mark is another popular benchmark which allows us to measure both sequential read/write speeds as well as random read/write speeds. With this benchmark, tests can be run using both random fill (incompressible data) and 0 fill (compressible data). Realistically in typical computer usage scenarios, data being transferred will consist of a mixture of both incompressible and compressible data.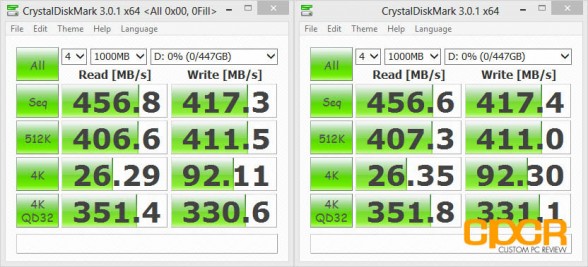 Performance Analysis
Crystal Disk Benchmark again confirms everything so far. Again, I'm liking the 4K write performance. It's definitely among the fastest we've seen to date which is interesting, since the M500's rated sequential write performance is very, very mainstream.
[section label=6. PC Mark 7 / PC Mark 8]
Crucial M500 480GB Performance
PC Mark 7
The PC Mark 7 storage test evaluates the SSD under many different real world environments such as gaming, multimedia editing, etc. This closely represents the SSD's performance under real world situations.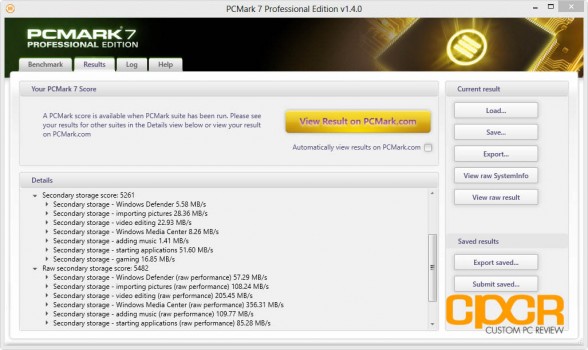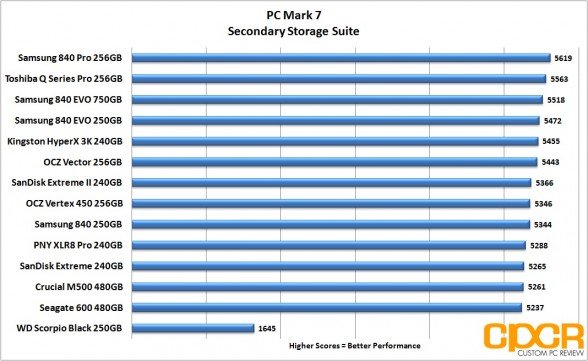 PC Mark 8
The PC Mark 8 storage test is similar to storage tests found in PC Mark 7. The PC Mark 8 storage test evaluates SSDs under many real world applications such as gaming, video editing, photo editing, etc. and is well regarded among the SSD industry.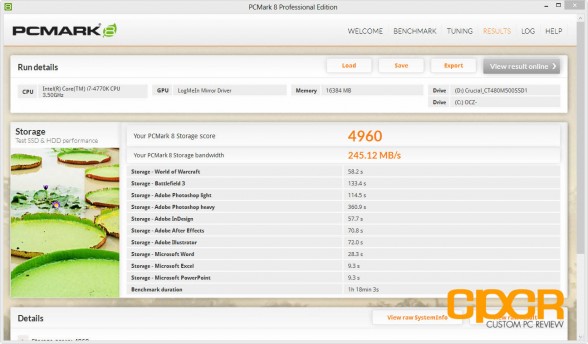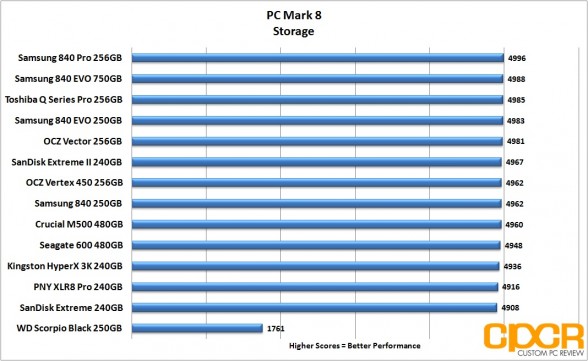 Performance Analysis
Since the Crucial M500 is aimed at mainstream users rather than an enthusiasts, the SSD lacks a bit on sequential read/write performance in comparison to our top tier drives, which places it with the lower half of the pack on our PC Mark 7/PC Mark 8 rankings. Still, even the slowest SSDs are miles ahead of our traditional 2.5″ hard drive, the WD Scorpio Black.
[section label=7. FIO – FOB]
Crucial M500 480GB Performance
FIO (Flexible I/O Tester)
FIO, which stands for Flexible I/O Tester, is basically what its name says – a flexible I/O tester / I/O workload generator. Whereas all the benchmarking tools we've used previously are fantastic, easy to use benchmarking tools that provide a good snapshot of SSD performance, they do lack a lot of versatility, especially for more complex and in-depth operations such as custom queue depths, block sizes, test run times, etc. While the testing that follows may not pertain to typical consumer usage, they do help give us a much more in-depth look at each individual product's strengths and weaknesses when they're pushed to the limits.
FIO – FOB (Fresh Out of the Box) Testing
When SSDs are brand new and Fresh Out of the Box, they're generally able to perform at or outperform their advertised speeds, but unlike traditional hard drives, performance on SSDs begin to degrade over time as they become more and more used. This is because while SSDs are new, all bits on the SSD are empty, so they can instantly be programmed with data. However, once data gets programmed in, even if it's deleted in the filesystem the actual data will still stay programmed on the NAND itself unless some sort of garbage collection routine comes in to wipe the data. Unfortunately, in order to write new data onto "dirty" NAND, the NAND needs to go first through an erase cycle to erase the old data before a program cycle can happen to program new data, which as you may imagine takes more time than just a simple program cycle. As this only happens when writing new data onto the SSD, you'll generally see less performance degradation on reads and more performance degradation on writes.
For our FOB testing, we run a secure erase on the SSD then run each test sans any preconditioning. This will provide us with the highest level of performance the SSD is capable of and is likely never to be seen ever again once the SSD goes into a used state.
Our testing will include 4K read testing, 4K write testing, and 4K 70/30 read/write mix testing at queue depths of 1,2,4,8,16,32,64,128,256. The reason we've also included 4K 70/30 read/write mix testing is simply because most real world workloads will always fall somewhere between 0% write and 100% write rather than one or the other. Since client usage is much more read heavy, we'll be using the 70/30 read/write mix.
For general client usage, performance will fall somewhere between queue depths of 1-4 whereas servers and other enterprise applications will easily see queue depths of 32 or greater.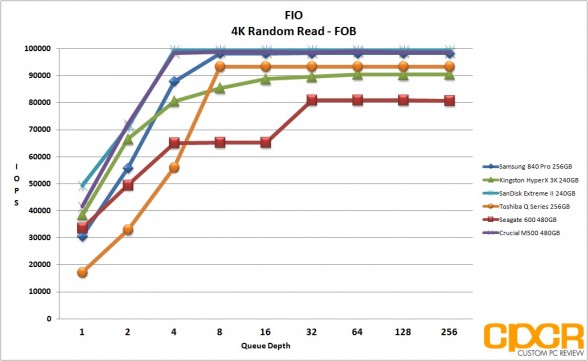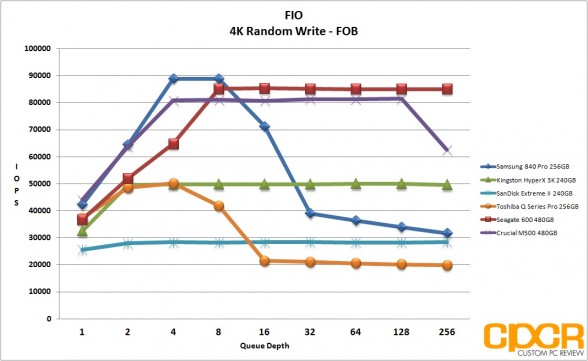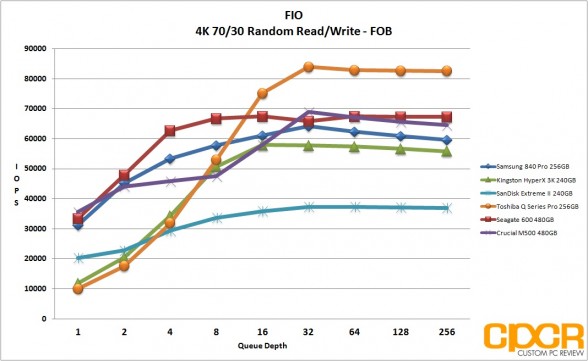 Performance Analysis
Since we're just looking at 4K performance rather than sequential performance in this section, the Crucial M500 480GB performs very well. Fresh out of the box, 4K random reads posted a staggering 99,000 IOPS and 4K random writes hit a respectable 81,000 IOPS as well. According to Crucial's specifications, 4K reads and 4K writes should be around 80,000 IOPS, so we're doing pretty good. Let's put some stress on this thing!
[section label=8. FIO – Steady State]
Crucial M500 480GB Performance
FIO – Steady State Testing
After prolonged use of an SSD, they will generally reach "steady state". The FOB state is the "best case scenario" for SSD performance while "steady state" is going to be your worst.  Here, we ran the exact same set of benchmarks we just completed in the FOB state; except this time around, we'll be preconditioning the drive by filling 100% of the drive's LBAs with two sequential passes of 128k data, hammering the drive with two full passes of random 4K data for six hours, then conducting our actual testing.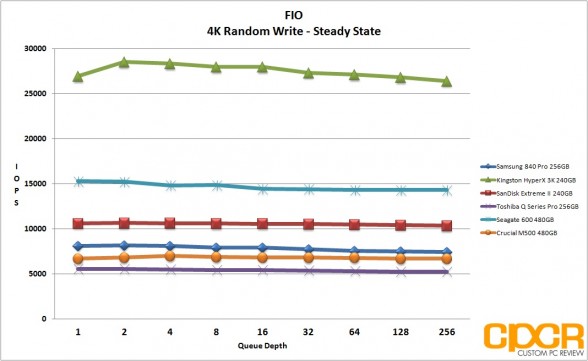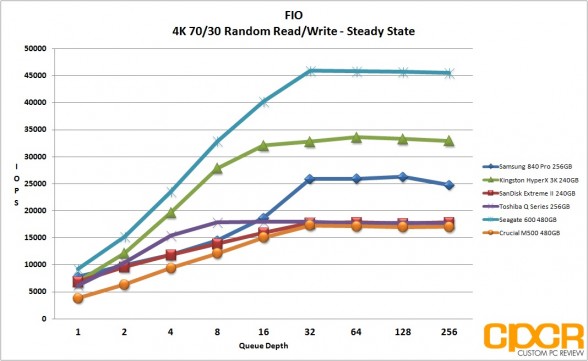 Performance Analysis
Well, it was certainly fun while it lasted. Once subject to our torture testing, the Crucial M500 immediately shows its weaknesses dropping from the top of our 4K random read/write charts right to the bottom. What's extremely painful is 4K random read performance. In a fresh state, the Crucial M500 is ultra fast, capable of matching the Samsung 840 Pro in 4K random read performance. However, once in steady state the M500 becomes the slowest drive in our pack.
[section label=9. FIO – Consistency/Latency]
Crucial M500 480GB Performance
FIO 4K Random Write Consistency Testing
Another one of the benefits of testing with FIO is the flexibility of running consistency tests, which is one of the most important metrics when considering SSDs going forward. Looking at the results of our benchmarks such as ATTO Disk Benchmark and Crystal Disk Benchmark, we can see that practically every top tier SSD is capable of saturating SATA 6Gb/s in the FOB state. However, what really differentiates these SSDs is their ability to hold a certain level of performance even after extended periods of use.
For our consistency testing, we used a fairly standard method, which includes both filling up 75% of capacity (consumer use) as well as 100% capacity(enterprise use) twice with sequential 128k data followed by the actual test itself, which is simply running 4K random writes at a queue depth of 32. By recording the IOPS every second for 2,000 seconds, we're able to get a good look at what kind of performance can be expected when the drive is relatively new, when it's heading towards steady state, and when it's actually in steady state.
[tabgroup]
Performance Analysis
A lot of Crucial/Micron's SSD business is in the enterprise space, so it's not too surprising to see that they've implemented some very good garbage collection routines to give the M500 a fairly decent level of performance consistency. While the Crucial M500 experiences a drop in performance once it runs out of fresh blocks, the garbage collection routines kick in very aggressively after, which ends up slowly increasing the M500's performance despite the drive being continuously hammered with constant 4K data.
That said, while performance is quite consistent, there's no hiding the fact that it's slow, dropping to ~1,200 IOPS at its lowest point. It seems like the additional overprovisioning Crucial has added is for RAIN only and, unlike SandForce powered drives, is not accessible by the drive for maintaining performance.
FIO 4K Random Write Latency Testing
Another metric that's becoming increasingly important in SSDs is its ability to keep latency low despite being subjected to a heavy workload. Even if a SSD were capable of ultra high and ultra consistent IOPS performance, if latency were high, users would still feel that the drive is slow. Ideally, SATA SSDs should always be capable of latencies under 50ms, even during heavy workloads.
For our latency testing, we record latency simultaneously as we conduct our IOPS consistency testing.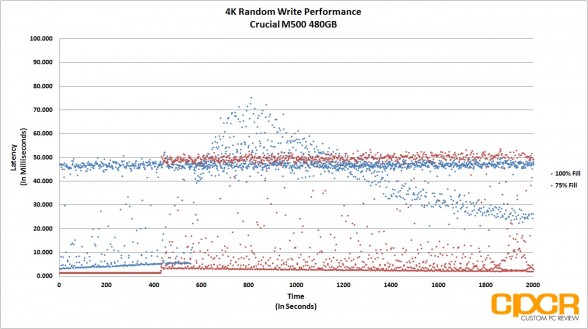 Performance Analysis
So here we can gather a couple interesting things about performance.
First is that it's a bad idea to fill up the M500 to 100% or very close to 100%. The blue dots on the graph represent 100% fill (2 passes of 128k data was filled to precondition the drive) and as you can see, latency is at around 50ms or higher. It's also inconsistent, which wont be so good for user experience. This is is a bit expected since we saw earlier that Crucial's overprovisioning doesn't do much good to keep performance stable. However, we can see that if the drive is only filled up to 75%, we get very consistent, low latency performance up until the remaining blocks get filled up with data.
Second is that Crucial's garbage collection routines seems to target a 50ms latency limit pretty hard and aside from a small amount of time spent at around the 50ms – 70ms mark, it did a decent job keeping latencies low. No major complaints here.
[section label=10. Power Consumption]
Crucial M500 480GB Power Consumption
Previously, our power consumption analysis only tested for idle and maximum load power consumption, but we felt that this was a bad way to accurately measure power consumption. The reason for this is because SSDs tend to be bursty while in operation and will spike in power usage, but only for very short periods of time. As such, many of our SSDs appeared to have even higher power consumption than traditional hard drives, which is untrue.
In order to improve our reading of power consumption, our solution was to run a test closer to the real-world and record a trace on the power consumption during testing. Since PC Mark 7 has been recognized by the industry as a fantastic real-world benchmark, we'll be running our power consumption test while running the benchmark.
All tests below are measured by tapping our calibrated B&K Precision 5491B Bench Multimeter tapped directly into the 5v line running from the power supply to the drive. All testing here is conducted with "HIPM (Host Initiated Power Management)/DIPM (Device Initiated Power Management)" enabled and "AHCI Link Power Management – Adaptive" set to 0 milliseconds for maximum power efficiency.
[tabgroup]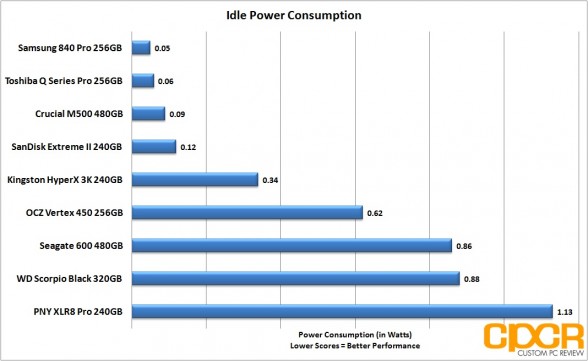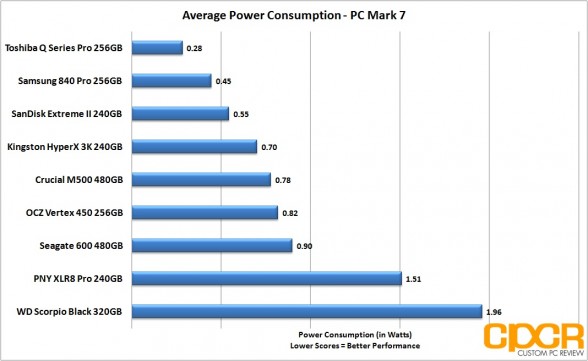 Performance Analysis
If the feature were available on the Marvell 88SS9187 controller, Crucial pretty much made sure the feature was included with the M500. This includes advanced power management such as DIPM slumber when idle. In the M500's data sheet, Crucial pegs the M500 480GB's power draw at idle to be <100mW and in our testing, the M500 sat at roughly ~0.09W (~90mW) when idle. Pretty good.
Cranking up the workload a bit using the PC Mark 7's secondary storage benchmark, the Crucial M500 seems to have an active power state that it sits in during and after a workload. Whereas competing Marvell 9187 powered SSDs such as the Toshiba Q Series Pro and the SanDisk Extreme II drop down to the <100mW idle power state almost immediately after a workload is complete, the Crucial M500 is less aggressive in this area and sits in the active power state (~0.7W) for a period of time after a workload is complete. This unfortunately raised average power draw somewhat, but it's still not the worst offender on our list. Since most of the time SSDs sit in idle mode, the Crucial M500 should still be a great option for notebook owners looking to upgrade.
Additionally while untested today, the Crucial M500 also supports DevSleep, which is a new SSD power state that's part of the SATA 3.1 standard. With a DevSleep compatible CPU, DevSleep compatible motherboard, and a DevSleep compatible SSD (like the Crucial M500), DevSleep is capable of dropping SSD idle power consumption down to 0.01W (10mW). As far as I know, currently only a select number of notebooks on the market has the necessary hardware to utilize DevSleep, but DevSleep is definitely something we'll be looking to test in the future.
[section label=11. Conclusion]
Crucial M500 480GB Conclusions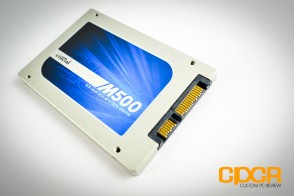 With Crucial/Micron's consumer grade products, it's not all about maximum performance. Rather, it's about pricing, features and reliability. This is the philosophy that made the Crucial M4 one of the best selling SSDs to date and this is the same philosophy that will help the Crucial M500 become one of the best selling SSDs as well.
Performance on the Crucial M500 isn't spectacular, but then again I wasn't really expecting bleeding edge performance seeing how the previous generation Crucial M4 wasn't the fastest drive of its generation either. On the Crucial M500 480GB tested today, sequential read and write performance topped out at around 528MB/s reads and 443 MB/s writes respectively. It's decent, but it doesn't blow me away. 4K write performance on the other hand did surprise me as it was able to hit a very fast 92 MB/s, but 4K read performance wasn't anywhere near as spectacular. Consistency is decent and latency is acceptable, but considering Crucial is taking an additional 7% for overprovisioning, it sucks to know that the extra 7% does absolutely nothing for helping maintain performance.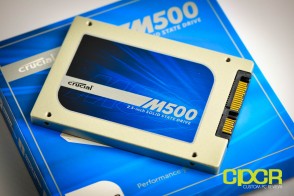 At the end of the day, from an enthusiast standpoint, I'd like to see higher performance, but it's understandable that for a mainstream user looking to launch Internet Explorer and Microsoft Word, the Crucial M500 is plenty. With its more enterprisey oriented features such as power loss protection, RAIN, and TCG Opal/eDrive support, it definitely has a unique set of features that will appeal to mainstream and business users alike.
Power consumption is decent with the Crucial M500, which is what we've been seeing with every Marvell 88SS9187 powered SSD we've tested to date. The Crucial M500 however does seem to like staying in the active power state a bit longer than I'd like, which eats up a bit more power than I'd like. Not sure if this is a bug or a feature, but if the similarly Marvell powered Toshiba Q Series Pro can be both more efficient and higher performing than the M500, I'm sure Crucial engineers could figure something out.
| | | | | |
| --- | --- | --- | --- | --- |
| Manufacturer | Crucial | Crucial | Crucial | Crucial |
| Model | M500 | M500 | M500 | M500 |
| Capacity | 120 GB | 240 GB | 480 GB | 960 GB |
| Street Price | $85.08 | $139.99 | $277.27 | $497.27 |
| Price/GB | $0.71 | $0.58 | $0.58 | $0.51 |
| Check Price | Click Here | Click Here | Click Here | Click Here |
Pricing for the Crucial M500 is currently $86.95 for 120GB, $139.99 for 240GB, $299.99 for 480GB, and $499.99 for 960GB, which works out to around $0.50/GB-$0.60/GB for every capacity except the 120GB version. This is just about the lowest prices you'll can get for a reputable SSD today. There's literally nothing cheaper. It's cheaper than almost all the old tried and true SandForce powered drives and even cheaper than it's biggest competitor, the TLC (3-bit per cell MLC) based Samsung 840 EVO.
Crucial definitely has a great SSD on their hands with the M500, but I can't help but think they could be doing more. They still don't do anything to compete on the enthusiast side and while the M500 is priced very well, the Samsung 840 EVO dominates the Crucial M500 in performance and power consumption for only a couple bucks more. Previously, the only major advantage of the Crucial M500 was TCG Opal and eDrive encryption support, but Samsung recently rolled out a firmware update for the 840 EVO that adds support there as well. The only other major benefit of going with the Crucial M500 is the power loss protection features, which may be valuable to some users, but Crucial does lack a good software suite and migration kit, which Samsung offers with the 840 EVO.
With all that said then, if cost is the biggest influencer in your purchasing decision, then Crucial's M500, like the M4, is the lowest priced, most reliable SSD on the block. If you need speed on top of that though, you might want to look elsewhere.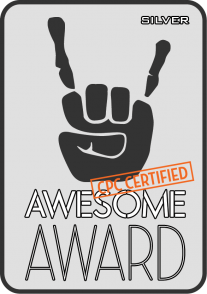 Sample provided by: Crucial

Available at: Amazon