[section label=1. Introduction]
Ultrafast External Storage at Under 1 Ounce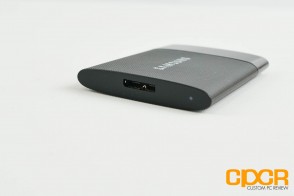 Let's face it. External hard drives kind of suck. They're slow, they're heavy (even the portable ones), and one drop no matter how minor may result in complete data loss. It's a reality of life that most of us have dealt with at least once or twice in our lives. While it's a consolation that flash drives are available to store your data instead, most flash drives these days cap out at 128GB or 256GB with only a few, really expensive drives capable of storing 512GB or more. Even then, performance isn't usually all that great since most flash drives use slow flash drive controllers and bottom of the barrel NAND.
Because of this void in the external storage market, Samsung recently introduced the Samsung Portable SSD (PSSD) T1, which utilizes the latest in SSD technology to provide content creators, enthusiasts, and professionals with access to extremely portable, extremely fast and extremely reliable external storage.
Samsung Portable SSD T1 Specifications
| | |
| --- | --- |
| Manufacturer | Samsung |
| Model | Portable SSD T1 |
| Capacity | 250GB, 500GB, 1TB |
| Interface | USB 2.0, USB 3.0 |
| Transfer Speed | Up to 450MB/s |
| Encryption | AES-256 |
| Dimensions | 71.0 x 9.2 x 53.2 mm |
| Weight | Up to 30g |
| Warranty | 3 Year Limited |
Physically, the Samsung PSSD T1 is a fairly small device, measuring in at less than 2.8″ long, just over 2″ wide, and 0.36″ deep. It also weighs in at about an ounce, so it's not the heaviest thing in the world either.  Internally, the Samsung PSSD T1 utilizes a lot of the same components as the recently introduced Samsung 850 EVO. Although the PCB is being redesigned to fit into the PSSD T1's smaller chassis, Samsung will carry over the same MEX/MGX controller along with the 32-layer 3-bit per cell MLC (TLC) 3D V-NAND found in the Samsung 850 EVO.
The Samsung PSSD T1 will be available in capacities of 250GB, 500GB, and 1TB. The drives will support USB 3.0 and will be capable of up to 450MB/s for systems that support UASP (USB Attached SCSI Protocol).
Warranty on the Samsung PSSD T1 is 3 years, which is pretty standard for an external drive, but it's unfortunate that Samsung decided not to provide a 5 year warranty, which is the warranty period on the Samsung 850 EVO. That said, Samsung's 32-layer TLC 3D V-NAND technology is fairly high endurance and should last the life of the drive.
With that out of the way, let's take a closer look!
[section label=2. A Closer Look]
A Closer Look at the Samsung Portable SSD T1 500GB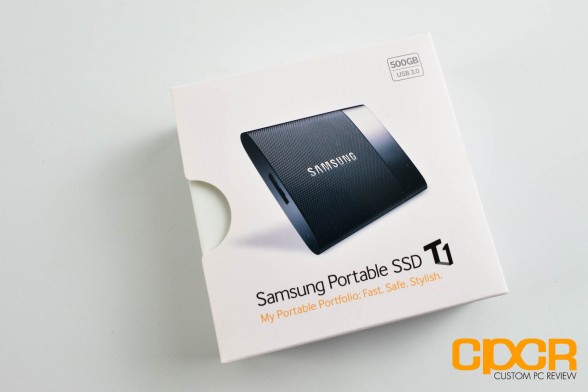 Here's a look at the packaging for the Samsung Portable SSD T1 (PSSD T1)
Samsung's packaging is pretty fancy, but there's not all that much included. Inside, there's only some documentation, a 110mm USB 3.0 cable and the PSSD T1 itself.
Here's a closer look at the PSSD T1. It's a pretty simple little device made of plastic and coated with a black chrome metallic finish. It's also incredibly small with a vertical and horizontal profile slightly smaller than your average business card and a thickness of only 0.36″. It's also incredibly light as well weighing in at about an ounce, which is about the same weight as a typical USB flash drive.
The only I/O port included on the PSSD T1 is a USB 3.0 Micro-B port. There's also a small, white status indicator LED to the right of the port.
[section label=3. Performance]
Testing Setup
Special thanks to CyberPowerPC, Kingston, OCZ Storage Solutions and HSPC for sponsoring our test bench!
Samsung Portable SSD T1 500GB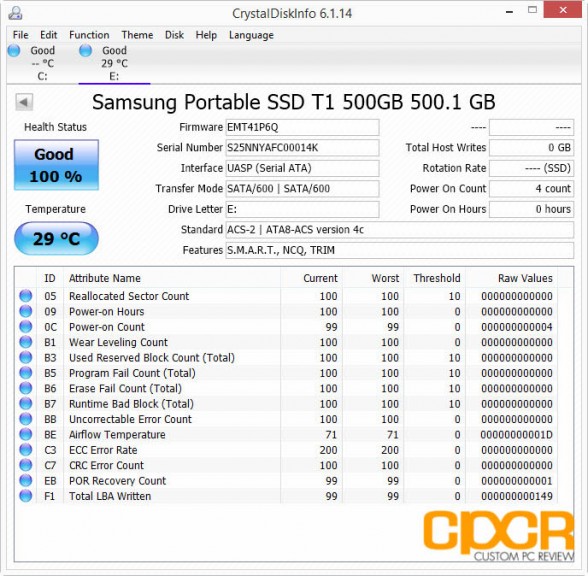 Today we'll be reviewing the Samsung Portable SSD (PSSD) T1 500GB with firmware EMT41P6Q.
Samsung Portable SSD T1 500GB Performance
USB 3.0 Performance
ATTO Disk Benchmark v2.46
ATTO Disk Benchmark is one of the industry's oldest and most popular benchmarks for testing disk read/write speeds. This benchmark allows read and write testing using predefined block sizes and gives us a good idea of read/write speeds with different sized files. Most SSD manufacturers prefer using this benchmark when advertising SSDs as it tests using compressible data, which tends to yield best performance.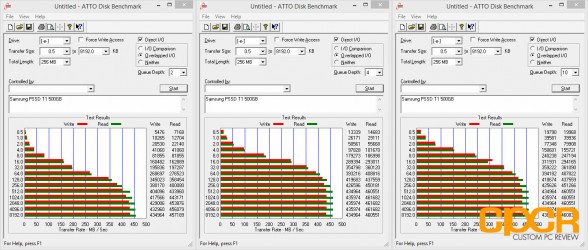 Performance Analysis
In ATTO Disk Benchmark, we can see that results are pretty solid with the drive pushing up to 462 MB/s sequential reads and 436 MB/s sequential writes.
Crystal Disk Mark 3.0.1 x64
Crystal Disk Mark is another popular benchmark which allows us to measure sequential read/write speeds, 512K random read/write speeds, 4K random read/write speeds, and 4K QD32 random read/write speeds. With this benchmark, tests can be run using both random fill (incompressible data) and 0 fill (compressible data). Realistically in typical computer usage scenarios, data being transferred will consist of a mixture of both incompressible and compressible data.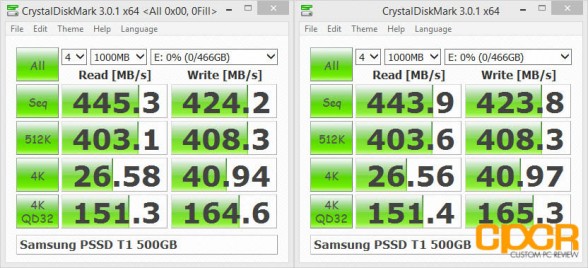 Performance Analysis
Crystal Disk Benchmark results were solid as well with the drive reporting performance up to 445 MB/s sequential reads and 424 MB/s sequential writes. 4K read/write performance is a bit slower than expected, but the USB 3.0 bus has significant overhead compared to SATA, so it's likely that the drive is just running up on the limits there. Additionally, it's worth noting that we are using Windows 8.1 for the testing platform, which generally shows lower performance than Windows 7 thanks to higher OS overhead on the USB bus.
Real World Testing
Since it's difficult to translate what 450 MB/s, 250 MB/s, 120 MB/s, etc. means in minutes and seconds in real world applications, we've also prepared several real world testing scenarios transferring files to and from the drive, and recording the amount of time necessary to complete the operations.
In this test, we'll be transferring four different sets of files:
ISO – Single 1x Windows 7 x64 ISO totaling 2.2GB
Music – 1,007x MP3's totaling 5.0GB
Photo – 443x Sony ARW RAW pictures totaling 10.0GB
Video – 44x x264 1080p MP4 videos totaling 12.0GB
Copy From
In our copy from test, we'll be copying our filesets one at a time from our test drives to an OCZ RevoDrive 350 to reduce any chance of the host bottlenecking performance. The OCZ RevoDrive 350 is a PCIe Gen 2 x8 SSD capable of up to 1,800 MB/s sequential reads and 1,700 MB/s sequential writes.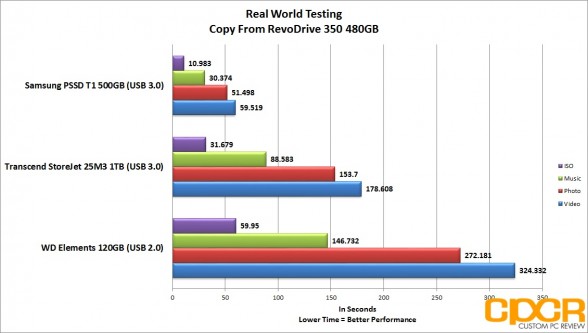 Copy To
In our copy to test, we'll be copying our filesets one at a time from the OCZ RevoDrive 350 to our test drives.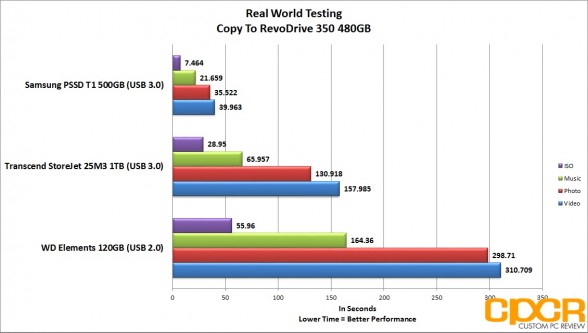 Performance Analysis
Well, it's pretty clear that no reasonably portable external hard drive is going to come close to the level of performance offered by the Samsung PSSD T1. In all of our real world testing scenarios, the PSSD T1 smoked the USB 2.0 based WD Elements 120GB external hard drive by 85-90% and the USB 3.0 based Transcend StoreJet 25M3 1TB external hard drive by 65-80%.
Encryption Performance
As a feature of the Samsung PSSD T1, Samsung also includes easy to use encryption software which may be used to encrypt the drive by taking advantage of the SSD controller's built in hardware encryption engine. If enabled, the Samsung PSSD T1 encrypts all data on the drive using AES (Advanced Encryption Standard) 256-bit encryption, which is an encryption algorithm used by various corporations and government agencies to encrypt data. Most notably, it's used by the NSA for encrypting top secret information.
Encryption support is available for systems with Windows 7 or higher, or OS X 10.7 or higher.
Samsung's software suite makes it incredibly easy to enable encryption. Once the drive is plugged in, simply fire up the software suite included on the drive. If it's your first time using the software, it'll prompt you to enable data security. If not, you can simply go through the idiot-proof software menu to enable data security.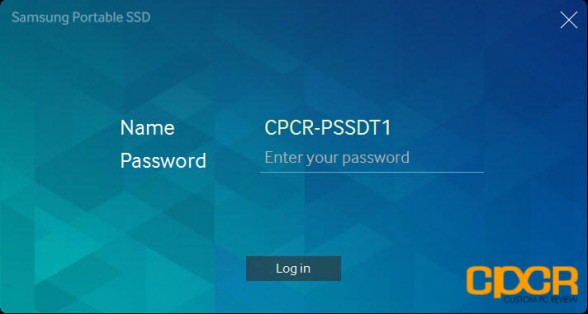 Once drive encryption is enabled, every time your drive is unplugged and replugged into a host device, the drive will prompt you for a password before before being able to access any data. Be warned however. If you manage to lose your password, the data on the drive will be lost. Forever.
ATTO Disk Benchmark v2.46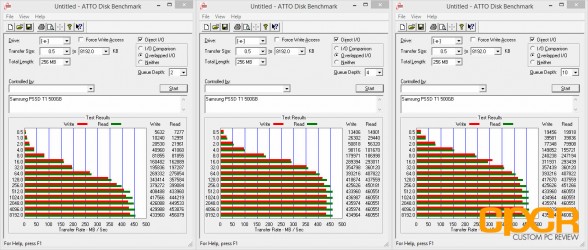 Crystal Disk Mark 3.0.3 x64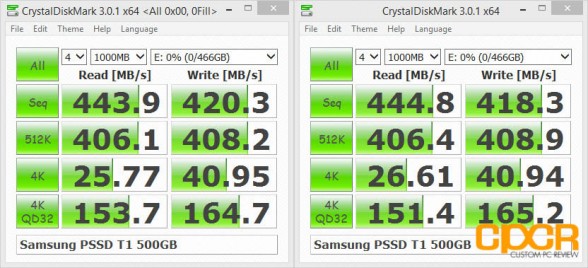 Performance Analysis
Most encryption tools offered by external drive makers tend to use software encryption which uses system resources to encrypt and decrypt files. This results in a significant loss in performance when encrypting drive contents. The Samsung PSSD T1 on the other hand uses the hardware encryption engine built right into the SSD controller, so there's little to no performance hit when encryption is enabled.
[section label=4. Conclusion]
Samsung Portable SSD T1 500GB Conclusions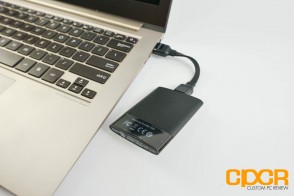 Truth be told, when Samsung told me earlier this year that they were coming out with a new external SSD, I wasn't all that excited. I figured they'd probably throw one of their existing SSDs into an enclosure, add a bridge chip and call it a day. Luckily, that wasn't 100% the case. Instead, Samsung went to the drawing board to produce a drive with additional features and a custom PCB/enclosure that would not only fit into a tiny, super-portable chassis, but would also offer up to 1TB of drive capacity.
Performance on the Samsung PSSD T1 500GB is pretty much what you'd expect out of an external USB 3.0 SSD. Sequential read and write performance easily maxed out the USB 3.0 bus reaching 462 MB/s and 436 MB/s respectively. In our real world testing, the Samsung PSSD T1 smoked our USB 2.0 external hard drive by over 85% in all transfer tests and even smoked our USB 3.0 external hard drive by a good 65%+ in all transfer tests as well.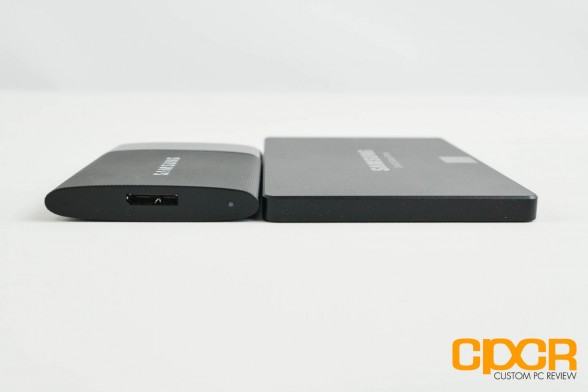 While performance, portability, and design are great selling points for the PSSD T1, I think the biggest selling point for the PSSD T1 is the fact that it's probably the first external USB 3.0 SSD to support hardware based encryption. The included software makes setting up encryption a breeze and because the PSSD T1 uses hardware based encryption, there's zero impact on performance. This is by far the best implementation of encryption I've seen on an external drive and it should be a huge benefit for individuals and corporations who regularly carry around sensitive data such as legal documents, tax information, medical records, etc.
The Samsung PSSD T1 is expected to be priced at $179.99 for the 250GB capacity ($0.72/GB), $299.99 for the 500GB capacity ($0.60/GB), and $599.99 for the 1TB capacity ($0.60/GB). While this is certainly a bit pricey, there's really no competitors on the market that can offer the same level of performance, capacity and feature support offered by the PSSD T1. Highly recommended!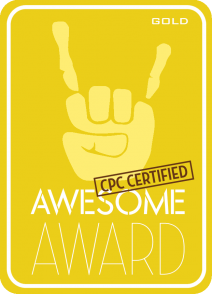 Sample provided by: Samsung
Available at: Amazon