[section label=1. Introduction]
Fast, Portable, Affordable and *possibly* High Endurance. Win.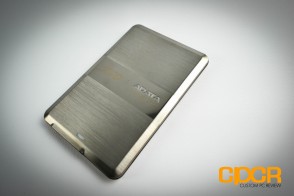 Last week we reviewed the Transcend StoreJet 25A3 1TB USB 3.0 portable hard drive and while hard drives are great from a cost per gigabyte standpoint, they're still miles behind SSDs when it comes to performance. With the now widely adopted USB 3.0 interface standard along with its 5 Gbps theoretical maximum bandwidth, the USB interface is finally capable of better meeting the level of performance that's available through SSD technology.
Today we'll be doing a review on the ADATA DashDrive Elite SE720 128GB. The DashDrive Elite SE720 128GB is a USB 3.0, bus powered portable SSD that, unlike portable hard drives, should easily be capable of saturating USB 3.0's 5Gbps bandwidth. The drive is unfortunately only offered in the 128GB variety and ADATA simply lists the drive as capable of 300+ MB/s reads and 400+ MB/s writes without any mention of specific figures. It's pretty odd to see that the DashDrive Elite SE720 is rated at significantly higher sequential write speeds as SSDs are inherently faster at reading than writing.
Aside from that, there's not much additional info than what we have here, so let's go ahead and jump right into the review!
ADATA DashDrive Elite SE720 Specifications
| | ADATA DashDrive Elite SE720 |
| --- | --- |
| Model # | ASE720-128GU3-CTI |
| Type | External Solid State Drive (SSD) |
| Capacity | 128GB |
| Sequential Read Performance | 300+ MB/s |
| Sequential Write Performance | 400+ MB/s |
| Interface | USB 3.0 |
| Warranty | 3 Years |
| Price Check | Click Here |
[section label=2. A Closer Look (Exterior)]
A Closer Look at the ADATA DashDrive Elite SE720 128GB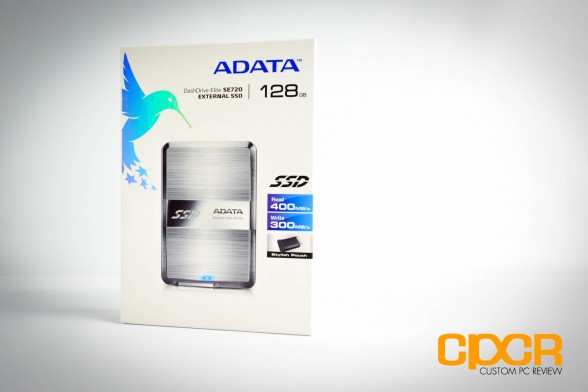 Here's a look at the packaging for the ADATA DashDrive Elite SE720 128GB.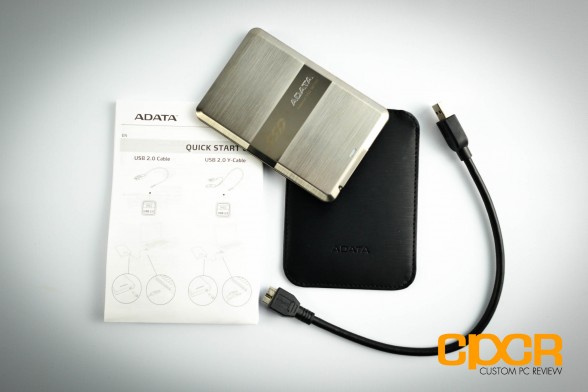 Included in the packaging we get some documentation, a USB 3.0 to Micro USB 3.0 cable, a form-fitting carrying pouch, and the DashDrive Elite SE720 128GB. There's no software included, but it's 100% plug and play.
The DashDrive Elite SE720 is almost completely constructed of stainless steel, which helps increase durability and cooling. Unfortunately, the stainless steel used here isn't all that stainless as it tends to attract a lot of fingerprints.
At the front of the DashDrive Elite SE720 we get a micro-USB 3.0 port along with a backup button. The unit itself is quite slim at only 8.9mm thin.
[section label=3. A Closer Look (Interior)]
A Closer Look at the ADATA DashDrive Elite SE720 128GB
Pushing in a couple tabs on the corners of the casing, we can open up the drive to check out the hardware ADATA has chosen for the DashDrive Elite SE720. Underneath the hood, we get what essentially is an ADATA SSD hooked up to a SATA to USB 3.0 bridge.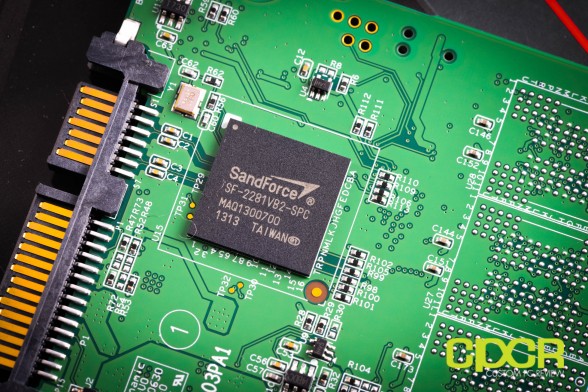 ADATA has always exclusively been a SandForce partner, so it's expected that they've got a SandForce SF-2281 B2 chip under the hood.  We should all be pretty familiar with the SF-2281 by now… 8 channels, SATA 6Gb/s, DuraWrite, RAISE, etc. The B2 stepping improves upon the B1 version by adding DevSleep support for ultra low power consumption, but we won't be able to take advantage of that via a SATA to USB 3.0 bridge.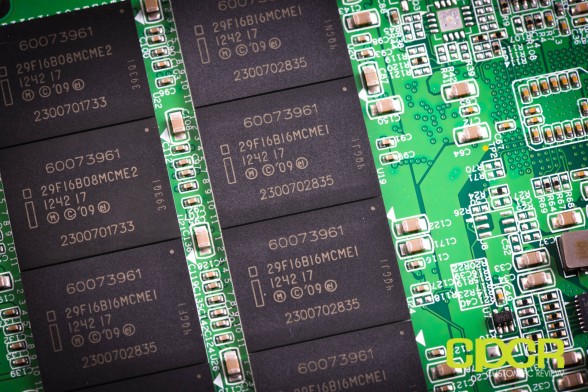 Here's a look at the NAND. Whoa. That's unexpected…
For the ADATA DashDrive Elite SE720, it looks like ADATA is using a combination of Intel/Micron 25nm Synchronous eMLC NAND rated at 10,000 P/E cycles (29F16B16MCME1) along with the more typical consumer grade high endurance Intel/Micron 25nm Synchronous MLC NAND rated at 5,000 P/E cycles (29F16B08MCME2). On our sample, we received 6x eMLC NAND modules combined with 2x high endurance MLC NAND modules. We expected typical consumer grade 3,000 P/E NAND cycle NAND on this thing, but somehow it was nowhere to be found. Sweet!
Digging a bit deeper into this topic, it seems like the NAND onboard may be something that's luck of the draw rather than guaranteed. Our good friend Les Tokar at The SSD Review previously published a review on the DashDrive Elite SE720 128GB and on his sample, only one of eight NAND packages used 10,000 P/E eMLC. The other seven NAND packages contained the high endurance 5,000 P/E MLC, which for the still isn't bad at all.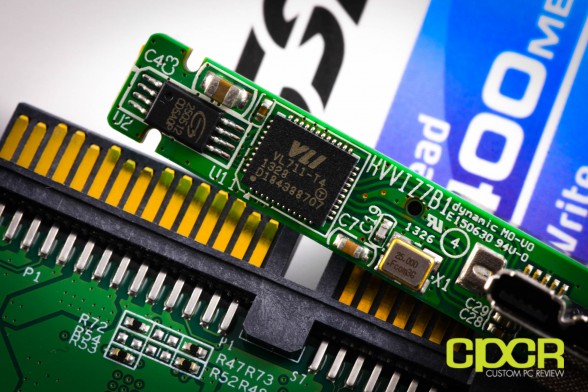 To interface with USB 3.0, ADATA is using a VLI VL711 SATA 6Gb/s to USB 3.0 bridge. Seems decent, although there's not much info on this part available to the general consumer. We'll find out how well it does in testing though… Let's move on.
[section label=4. Performance]
Haswell Test Bench
Special thanks to CyberPowerPC, Kingston, OCZ Technology and HSPC for sponsoring our test bench!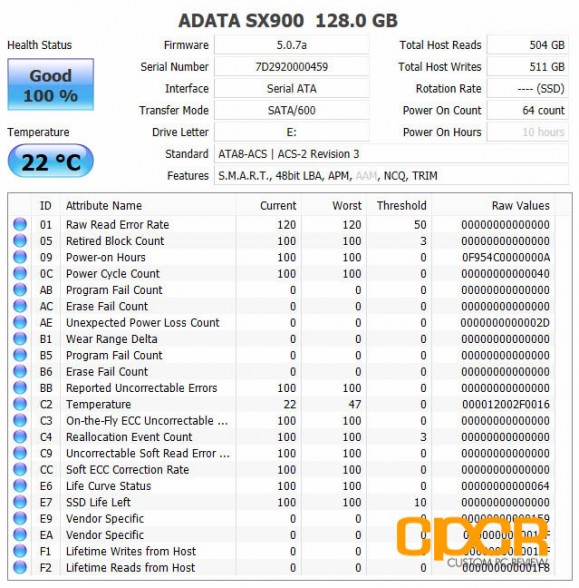 Typically before testing, we like to go ahead and run Crystal Disk Info to get some more detailed information on the drive. Surprise surprise, what do we have here? Looks like the SSD ADATA is using is their very own ADATA SX900 128GB SSD. I guess it's not too surprising since ADATA has to source a SSD from somewhere in order to drop it into their external enclosure. Might as well use their own, right?
ADATA DashDrive Elite SE720 128GB Performance
ATTO Disk Benchmark v2.46
ATTO Disk Benchmark is one of the industry's oldest and most popular benchmarks for testing disk read/write speeds. This benchmark allows read and write testing using predefined block sizes and gives us a good idea of read/write speeds with different sized files.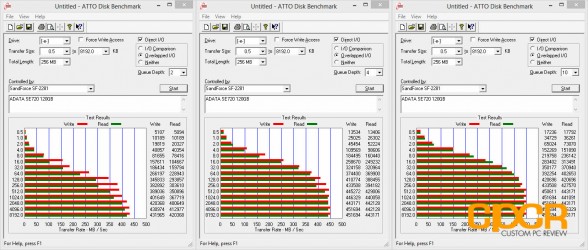 Crystal Disk Mark 3.0.1 x64
Crystal Disk Mark is another popular benchmark which allows us to measure both sequential read/write speeds as well as 4K and 512K read/write speeds.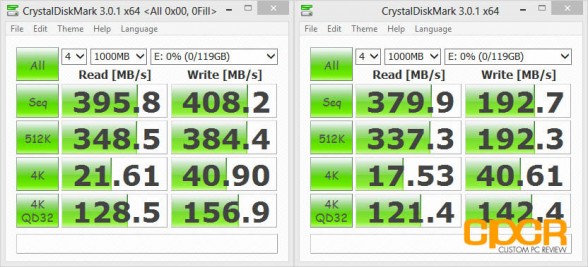 Performance Analysis
Wow. I think I'll just let the performance do the talking here. From what I can see here, all indicators point to the VLI VL711 as being a pretty sweet USB 3.0 to SATA 6Gb/s bridge chip.
With a UASP supported operating system (Windows 8 or above), the DashDrive Elite SE720 is capable of sequential reads/writes up to ~446 MB/s and ~451 MB/s respectively. In comparison, this is approximately 3x-4x faster than the performance you'll typically see in a USB 3.0 external hard drive. Considering USB 3.0's maximum theoretical performance is 5Gbps (~640 MB/s), hitting ~451 MB/s is pretty good especially since in the real world we have to account for USB overhead eating up some performance as well.
Since this is a SandForce drive, it does suffer a bit once we begin operating with completely incompressible data. For the most part, it's just sequential writes that dips to the 193 MB/s range from the 400 MB/s range, but for most usage scenarios, it's pretty rare that you'll see 100% incompressible data, so performance will generally hover between 200 MB/s and 400+ MB/s.
On the 4K front, the ADATA DashDrive Elite SE720 does extremely well here putting up 4K reads/writes at around 22 MB/s and 41 MB/s respectively, making it almost 20x-40x faster than a typical USB 3.0 external hard drive. Those running virtual machines, operating systems, external scratch disks, external cache disks, etc. on portable external hard drives should definitely take a note here as the DashDrive Elite SE720 could potentially be a huge performance boost for your applications.
[section label=5. Conclusion]
ADATA DashDrive Elite SE720 128GB Conclusions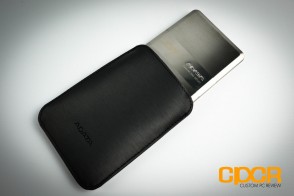 Alright, with all that out of the way, let's go ahead and talk about the ADATA DashDrive Elite SE720, but some of you may be wondering who the heck ADATA is. For those unfamiliar with ADATA, well they're a Taiwan based manufacturer of memory and SSD products. While their presence is actually quite big in Taiwan, their presence in the USA isn't anywhere near that level although in recent years they've been  making huge inroads into the USA market. With products like the DashDrive Elite SE720, it's not difficult to see why.
Performance on the ADATA DashDrive Elite SE720 is about as good as it gets with maximum performance topping out at ~446 MB/s reads and ~451 MB/s writes. I really have no complaints here as this is pretty much the type of performance you'll get off even the fastest SSDs hooked up to external UASP enabled USB 3.0 docks. We're pretty much limited by drivers, USB overhead, and the SATA 6Gb/s to USB 3.0 bridge at the moment, so until both of those improve significantly, that's the maximum performance we'll get.
While maximum performance is great, I think the major benefit for most people interested in the DashDrive Elite SE720 is the 4K performance. People who need the performance that the DashDrive Elite SE720 can offer are more than likely those looking to run operating systems, virtual machines, or scratch disks off the drive and that's where the DashDrive Elite SE720 shines. It's capable of ~10x-20x the 4K read/write performance of a typical external USB 3.0 hard drive. Other than using a Thunderbolt SSD, it just doesn't get much better than that on an external platform. However, considering Thunderbolt adoption has been paltry in comparison to USB 3.0, as far as I'm concerned USB 3.0 is definitely the way to go… for now.
As for the form-factor and design, I like what ADATA has done although it could see some slight improvements. The fact that the drive is only 8.9mm thick is great for taking on the go and the included case is a pretty good value add. The stainless steel finish on the other hand looks pretty good when new, but for some reason it wasn't as stainless as advertised considering my sample was a huge fingerprint magnet. What a bummer.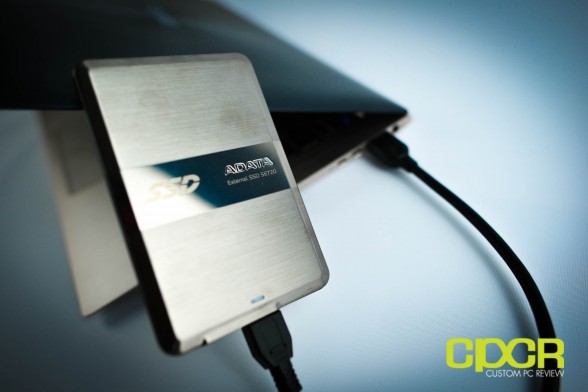 Pricing on the ADATA DashDrive Elite SE720 128GB is currently $115.99 ($0.91/GB), which isn't too bad at all. Considering competing portable USB 3.0 SSDs such as the LaCie P'9223 120GB is priced at around $139.99 and the Transcend TS128GESD200K 128GB is priced at around $139.99, the ADATA DashDrive Elite SE720 is pretty compelling from a pricing standpoint. With the fact that ADATA may include high endurance flash (although YMMV on this one), I may go as far to say that it may possibly be the best portable USB 3.0 SSD on the market.
Those frustrated with excruciatingly slow performance from portable USB 3.0 hard drives may find the ADATA DashDrive Elite SE720 a relatively inexpensive, yet perfect solution to their "slow" problem. Recommended!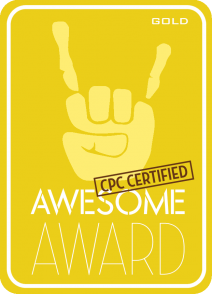 Sample provided by: ADATA
Available at: Amazon