Warning
: Undefined array key "width" in
/var/www/vhosts/custompcreview.com/public_html/wp-includes/media.php
on line
1381
Warning
: Undefined array key "width" in
/var/www/vhosts/custompcreview.com/public_html/wp-includes/media.php
on line
1386
Warning
: Undefined array key "height" in
/var/www/vhosts/custompcreview.com/public_html/wp-includes/media.php
on line
1386
Warning
: Undefined array key "width" in
/var/www/vhosts/custompcreview.com/public_html/wp-includes/media.php
on line
1381
Warning
: Undefined array key "width" in
/var/www/vhosts/custompcreview.com/public_html/wp-includes/media.php
on line
1386
Warning
: Undefined array key "height" in
/var/www/vhosts/custompcreview.com/public_html/wp-includes/media.php
on line
1386
Warning
: Undefined array key "width" in
/var/www/vhosts/custompcreview.com/public_html/wp-includes/media.php
on line
1381
Warning
: Undefined array key "width" in
/var/www/vhosts/custompcreview.com/public_html/wp-includes/media.php
on line
1386
Warning
: Undefined array key "height" in
/var/www/vhosts/custompcreview.com/public_html/wp-includes/media.php
on line
1386
Warning
: Undefined array key "width" in
/var/www/vhosts/custompcreview.com/public_html/wp-includes/media.php
on line
1381
Warning
: Undefined array key "width" in
/var/www/vhosts/custompcreview.com/public_html/wp-includes/media.php
on line
1386
Warning
: Undefined array key "height" in
/var/www/vhosts/custompcreview.com/public_html/wp-includes/media.php
on line
1386
Warning
: Undefined array key "width" in
/var/www/vhosts/custompcreview.com/public_html/wp-includes/media.php
on line
1381
Warning
: Undefined array key "width" in
/var/www/vhosts/custompcreview.com/public_html/wp-includes/media.php
on line
1386
Warning
: Undefined array key "height" in
/var/www/vhosts/custompcreview.com/public_html/wp-includes/media.php
on line
1386
What Would Deckard Cain Use?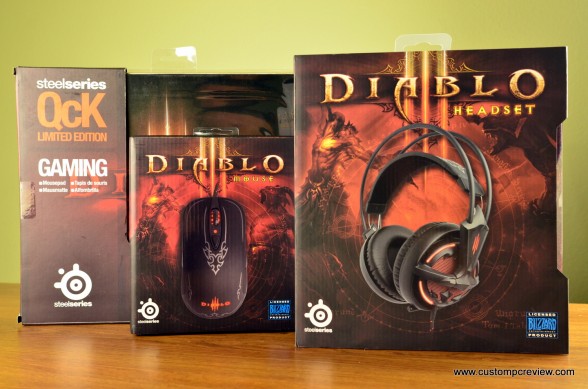 For every great game, there's always game themed peripherals. While only some of these peripherals offer gamers an in game advantage, all of them serve another purpose – to show off your favorite game through your gaming peripherals. Since SteelSeries is the official peripheral provider of World of Warcraft gear, it's no surprise as to why Blizzard chose SteelSeries as the official partner for Diablo 3 peripherals.
Most of you are probably familiar with Diablo 2. After all it held the Guinness Book of World Records 2000 edition "Fastest Selling Computer Game Ever Sold" record. So, when its successor, Diablo 3 was announced nearly 3 years ago, it's no surprise that Diablo 3 joined the likes of Starcraft II as one of the most anticipated games of the year. Knowing Blizzard of course, the game was delayed, delayed, and delayed… until now. The final date for the release of Diablo 3 is now officially set for May 15, 2012 and since we've been waiting for more than 3 years, I think it's time to gear up.
Today we'll be taking a look at the Diablo 3 headset, mouse and mousepad. Yup. The trifecta of awesomeness. While all too many game themed gaming peripherals are simply just re-skinned products that already exist on the market, SteelSeries claims that the Diablo 3 gear is designed from the ground up to improve the Diablo 3 experience and, most importantly, to improve your gameplay. Marketing ploy or true story? Let's find out!
Specifications
Diablo 3 Headset
Headphones

50mm Drivers
Frequency response: 18 – 28,000 Hz
Impedance: 40 Ohm
Cable length: 3 ft.
USB Cable extension: 6.5 ft.

Retractable Microphone

Frequency response: 50 – 16,000 Hz
Pick up pattern: Uni-directional
Sensitivity: -38 dB
Active noise reduction: Up to 20dB
Diablo 3 Mouse
Easy Drag and Drop Diablo III skills and functions to mouse buttons
Diablo III look and feel driver for Mac OS X and Windows
10 million clicks per switch. 3x that of normal gaming mice
3 illuminated zones including scroll wheel, CPI indicator and the Diablo III logo
Best-in-class technology provides extreme precision and reliability
Finely engineered shape suits all grips to ensure maximum control and comfort
Scalable pointer speed up to 5,000 CPI in increments of 1
Automatically adjusted lift distance locked to ~1mm across surfaces
A Closer Look
Diablo 3 Headset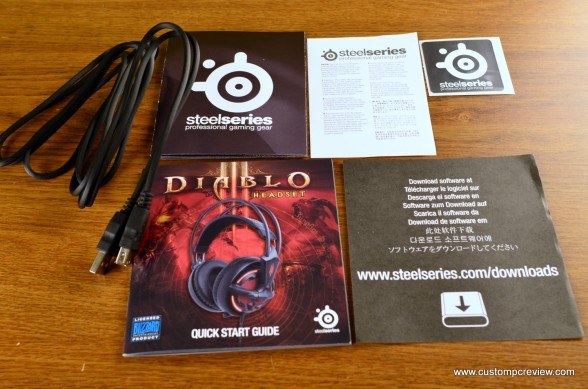 Included with the headset is a 6.5 feet USB extension cable, some documentation as well as a SteelSeries sticker.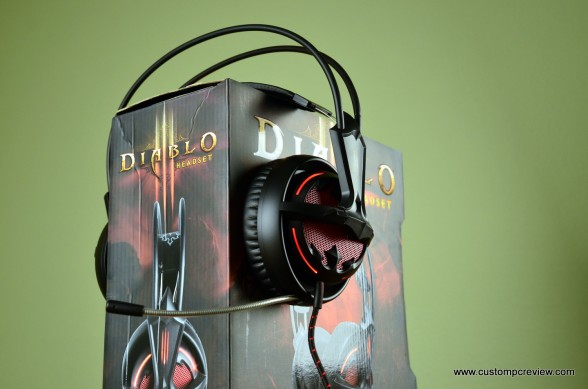 The Diablo 3 headset's form doesn't deviate much from that of the original Siberia V2. Then again,why should it? The design of the original Siberia V2 is extremely successful with features such as the suspension type headrest, thick genuine leather covered earcup paddings, and large closed-ear earcups.
The headset also comes with the classic SteelSeries retractable mic that's hidden in the left earcup. The retractable nature of the mic is a welcome addition since it is non obtrusive when you just want to listen to some jams.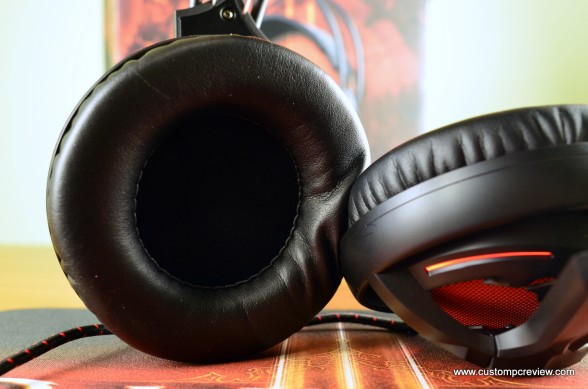 All these features ensure the user's comfort during prolonged gaming sessions, and the thick earcup cushions double as excellent passive noise insulators. One little thing to note, however, is that your ears will get warm after long periods of use as the earcups are covered in leather. While leather is a fantastic noise isolation material, it does suffer in breathe-ability.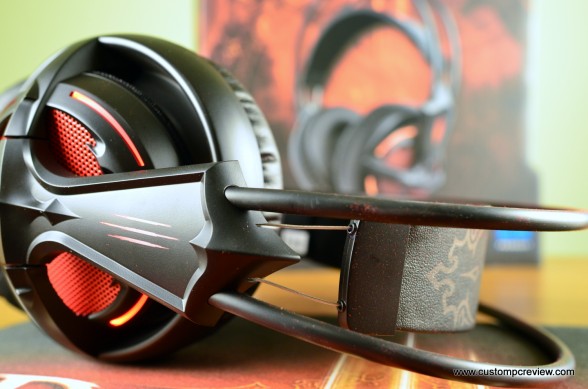 Although the Diablo 3 headset's construction is all plastic, it definitely doesn't feel cheap. The plastic feels strong and the suspension headrest is connected to the earcups with braided steel cables. SteelSeries stuck to the simple yet aggressive styling it's been renowned for with the Diablo 3 headset – no flashy artwork or rainbow colored weirdness. Just a simple black and crimson color scheme with a subtle Diablo 3 logo on each of the earcups complimented with strips of thin, sharp crimson LEDs encircling both earcups.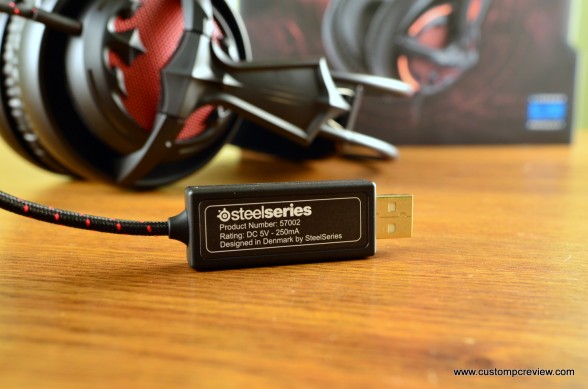 The headset has a 3ft long braided cable that ends in a long USB connector the size of a USB flash drive. The braided cable feels sturdy and the red stitches along the wire help compliment red and black Diablo 3 theme. The headset's built in 3ft long wire connected easily to my laptop and to the USB ports on my keyboard while the 6.5ft extension cable further allowed me to conveniently connect the headset to my desktop which was located under my table.
Additionally, Steelseries has also included full Mac support with this headset as well. This is probably because Diablo 3 will be released on both Mac OS X and Windows.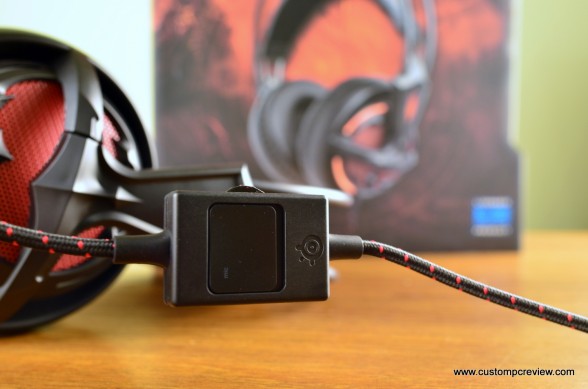 The headset also includes a control piece, which allows for quick volume changes as well as convenient muting by flipping the switch in the opposite direction.
Performance
Diablo 3 Headset
Gaming and Movie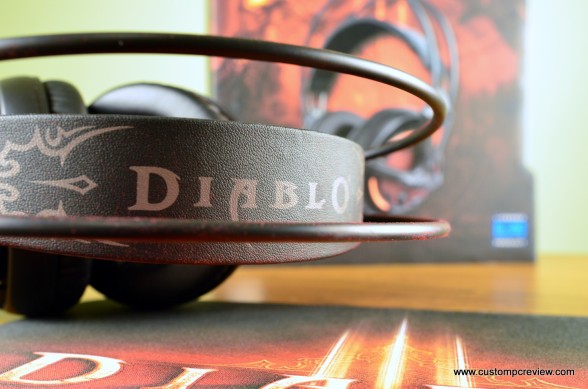 To begin, movie experience with this headset was great. The sound stage was extremely wide and sound effects sounded crystal clear whether they were low rumbling explosions from an action movie or high pitched screams from a creepy figure in a scary movie. Thanks to the high quality 50mm driver, sounds from all the frequencies were delivered very well, which allowed me to feel fully immersed into the movie.
Of course, since this is the Diablo 3 headset, what you're probably waiting for is how it performed in Diablo 3. Has the headset really been optimized for Diablo 3 or is that just a gimmick for you to purchase another audio peripheral?
Well, from my testing, the headset is indeed optimized for Diablo 3, and SteelSeries has done a great job with that as well. During my play throughs in beta, I was able to experience the original soundtrack through a large dynamic range that enhanced the mood and feel of the game. What was more impressive was the quantity of distinct sounds I could pick up as my wizard trampled through the legions of undead. I was able to simultaneously hear the footsteps my character took as I side stepped an attack, my spells as I counter attacked, the shattering of bones from the undead as they were destroyed, multiple arrows that were sent flying by allied archers, and the distinct crackling of the torch that I stood nearby. All this believe it or not sounded crisp and clear while the OST subtly played in the background. You would think that all these sounds would become distracting, but on the contrary they helped me become further immersed in the game to the point where I'd lose myself in the heat of battle. I replayed a couple sections using a variety of other gaming headsets and computer speakers, and found that there was indeed a subtle difference. The Diablo 3 headset indeed sounded more crisp and in harmony between the music track and the game effects.
Music
I tested the headset through a wide range of musical genres including: house, rock, pop, hip hop, classical, opera, and dubstep. Without any changes to the equalizer, music sounded really good but once a few tweaks were made it sounded even better. The equalizer really helped rock music since this style of music uses up the entire frequency range from the lower frequency bass  the  higher frequency snares. I was able to hear small details that had previously completely gone unnoticed in cheap headsets.
Classical music benefited as well where each crescendo and decrescendo throughout the instruments was captured beautifully showing off the large dynamic range. The bass was not the most powerful in the market as was demonstrated by base intensive music like dubstep and house, but don't get me wrong, these two genres still sounded good. However, hardcore dubstep fans who enjoy skull rattling bass may not be satisfied with this more neutral tuned headset. Personally, I like my headsets to be more balanced so this headset was perfect for me. Most average listeners will enjoy this headset and will be more than satisfied by boosting the low end in the equalizer.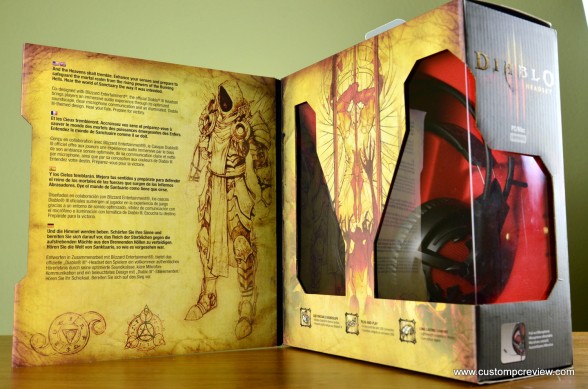 Microphone
Editor's Note: Overall, the microphone on the Diablo 3 headset is just average. Noise cancellation here wasn't the best, but for gaming it's more than adequate. During Skype calls, I could hear small traces of static while nothing is happening, which unfortunately is quite common for most gaming headsets. Voices sound a tad bit flat as well, and the dynamic range was so-so. Microphone performance is definitely acceptable for a gaming headset, but definitely not as good as say the Plantronics GameCom 780 reviewed previously.
Deal breaker? Nope. Not by a long shot.
Comfort
Like all headsets with leather earcups, my ears got pretty warm after a couple hours of Diablo 3, which began to create some discomfort. One thing I wasn't too happy about is that SteelSeries has a fantastic cloth based material they call "SND Block" material, which allows similar noise isolation to leather with far better breathe-ability. It's used on headsets such as their SteelSeries 7H Fnatic Edition headset and I think it's a real bummer that stuff wasn't used in the Diablo 3 headset.
Also, the earcups don't swivel like the SteelSeries 7H, which sucks. This gives the Diablo 3 headset far less versatility when compared to the SteelSeries 7H. Those with larger heads may also want to try this headset or the regular Siberia V2 before buying. If you have a large head, the top of the headset may clamp on your face at around the top of your ear causing the bottom of the earcup to lift up and create a gap between the earcup and your face. This gap causes a huge amount of sound loss, which makes audio sound terrible, not to mention tons of pain where the headset is clamped. If you have a huge head, I'd recommend going with something like the SteelSeries 7H instead.
A Closer Look
Diablo 3 Mouse and Mousepad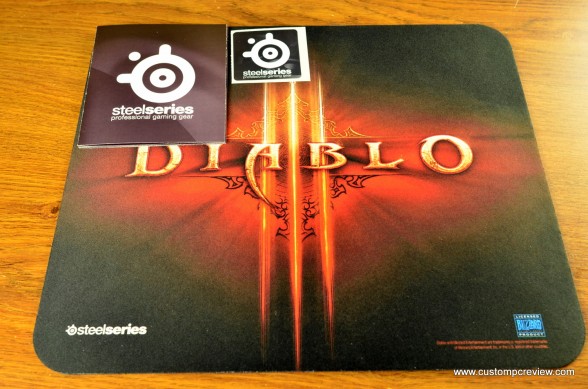 Included with the Diablo 3 mousepad is some documentation along with a SteelSeries sticker.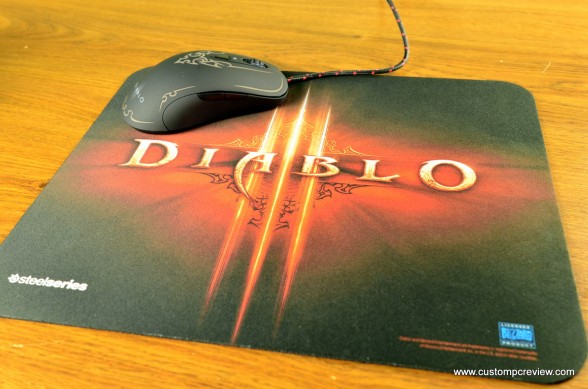 Here we've got both the Diablo 3 mouse along with the mousepad. As you can see, the mousepad is actually just a SteelSeries QCK mousepad with some Diablo 3 artwork on top. While we have the mousepad with the Diablo 3 logo here, there's actually many different designs to choose from.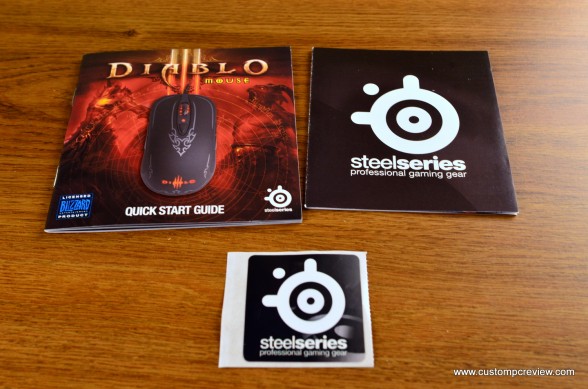 Included with the mouse is some documentation along with a SteelSeries sticker.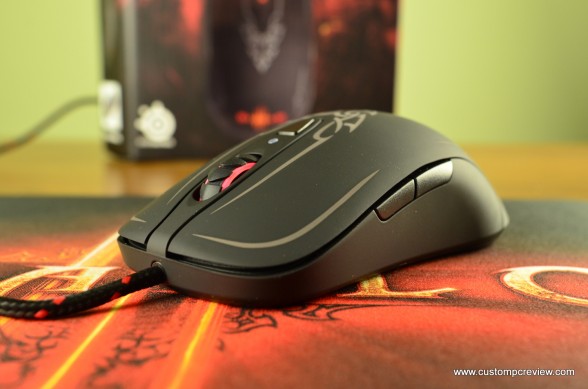 Taking a closer look at the mouse itself, it looks strikingly similar to the SteelSeries Xai, which is what the Diablo 3 mouse was based off of. This means that the mouse itself is actually ambidextrous which means both sides of the mouse are symmetrical. As you can see above, each side of the mouse contains two buttons.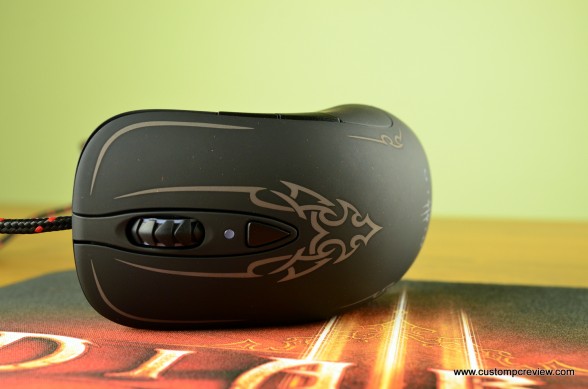 Taking a look at the top of the mouse, we see that the mouse itself is very basic, only sporting a 4 side buttons and 3 buttons on top for a total of 7 buttons. The button in the middle serves as a CPI switching button, which only switches between two user defined modes. An LED indicator will indicate which CPI mode you're on.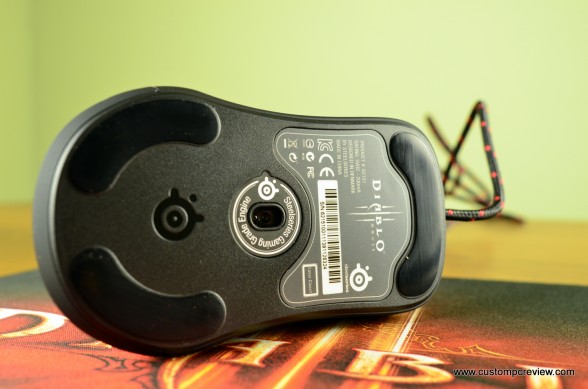 At the bottom of the mouse we get 3 large teflon feet, which will allow the mouse to move very well – especially on the Diablo 3 QCK mousepad. Additionally, the mouse features an Avago sensor (Likely ADNS-9500) with up to 5700 DPI. As we all know, the ADNS-9500 is pretty infamous for positive acceleration, so we'll probably be testing that here. Otherwise, there's not much else down here. No weight system, no LCD, nothing.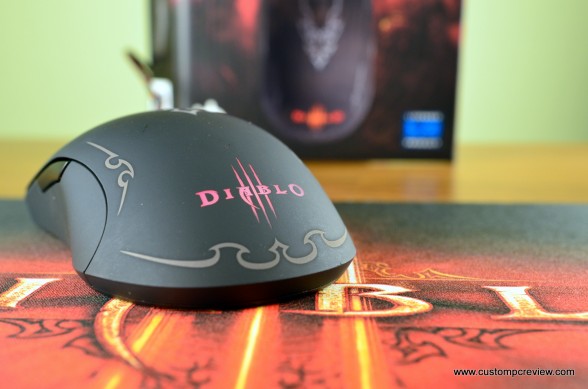 The back of the mouse also includes a lit Diablo 3 logo to show that this a Diablo 3 branded product. Overall the graphics on the mouse look quite good.
Performance
Diablo 3 Mouse and Mousepad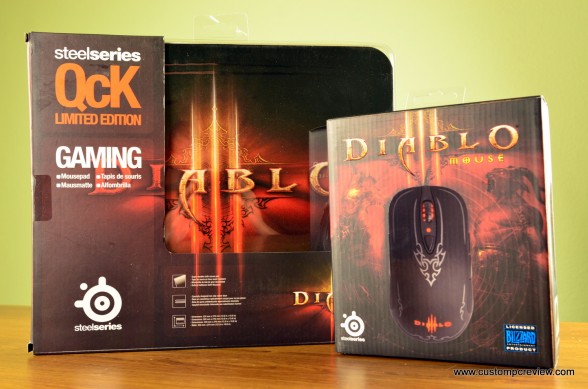 First thing you'l notice about the Diablo 3 mouse is that it's very light, so those who regularly use light mice such as many of SteelSeries' other offerings, you'll probably find this mouse very good. In terms of comfort, this mouse good, but it's not as good other more ergonomically designed mice such as the Logitech G500 or the CM Storm Sentinel Advance II. However, because of the Diablo 3 mouse's light and even weight distribution, it works great for any grip whether it be the claw, palm, or fingertip grip.
Since this mouse is designed for Diablo 3, I spent a great deal of time testing it with the Diablo 3 beta and long story short, the mouse is a perfect match for the game. Once I had the mouse hooked up, the first thing I noticed was that this particular mouse was able to allow me to click faster than any other mouse I've used previously. This includes mice I've been using previously such as the Corsair M60 as well as the Cooler Master CM Storm Sentinel Advance II. For those who know Diablo 3, left clicking is probably what you'll be doing for most of your game time. Tracking on the mouse overall was very accurate, but I did notice some positive acceleration in FPS games. Does that matter? Not really. The Diablo 3 mouse was designed for Diablo 3, not Counter Strike. Of course, if you are planning to buy the mouse for CS, now you know.
The Diablo 3 mouse worked very well with the mousepad. Tracking and speed improved greatly when compared to using the table itself; however, coming from larger mousepads such as the Zowie GT-F, the Diablo 3 mousepad is much smaller. Fortunately, Diablo 3 doesn't require a large amount of mousepad space as moving around only requires a small amount of movement followed by tons and tons of clicking.
Software
Diablo 3 Headset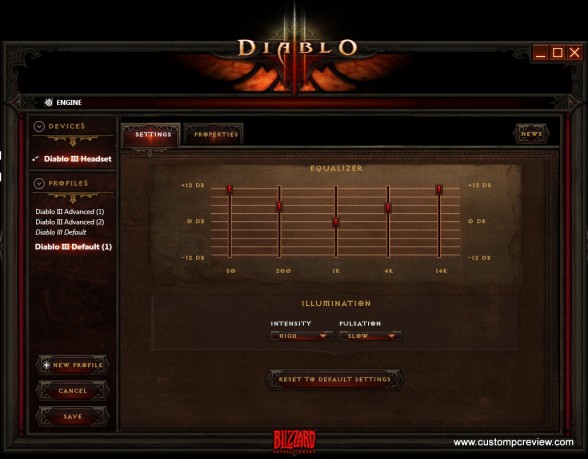 Compared to most USB headsets out there, the Diablo 3 headset's software package is quite simple. The only options available are the headset lighting options along with the equalizer.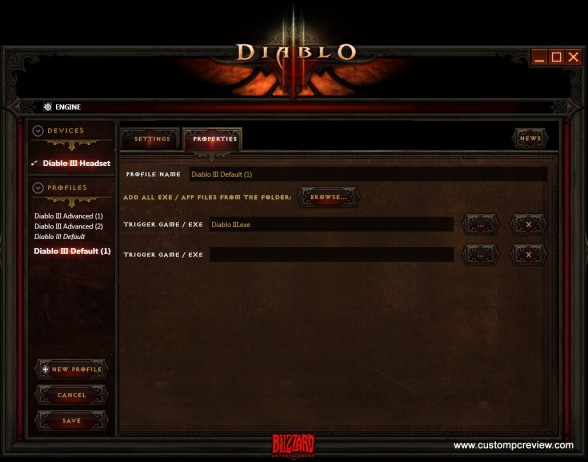 Profiles with certain settings may be set to trigger for certain games such as Diablo 3 shown here.
Diablo 3 Mouse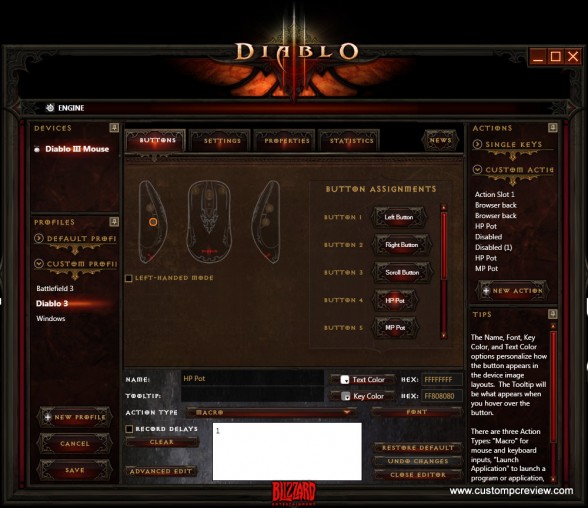 The Diablo 3's mouse software package is very full featured with all 7 buttons on the mouse being fully programmable. Potions, push to talk, etc. can all be programmed onto the mouse.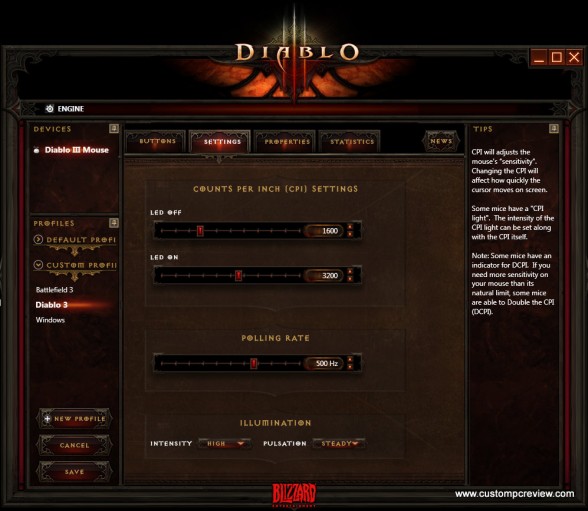 In addition to the 7 buttons on the mouse, the Diablo 3 mouse has an additional button that allows switching between two CPI settings that can be set by the user. Additionally, polling rates and mouse lighting may be set as well.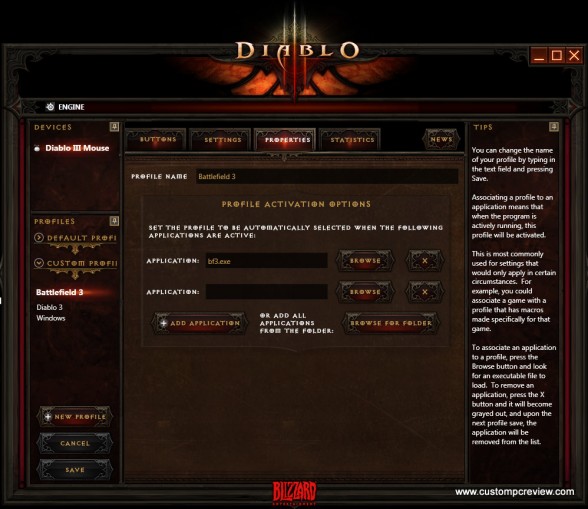 Similar to the Diablo 3 headset, the Diablo 3 mouse allows user set profiles to be activated upon activation of a specific application.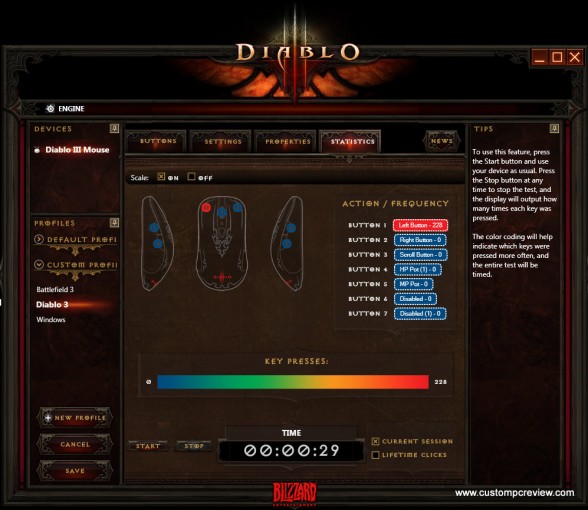 Finally, the Diablo 3 mouse software also has a tracker that shows how often you click certain buttons. There's both a current session counter as well as a lifetime counter, which is pretty cool for all of you stats people. What you see above is probably whats going to happen in a game of Diablo 3.
Conclusion
Diablo 3 Headset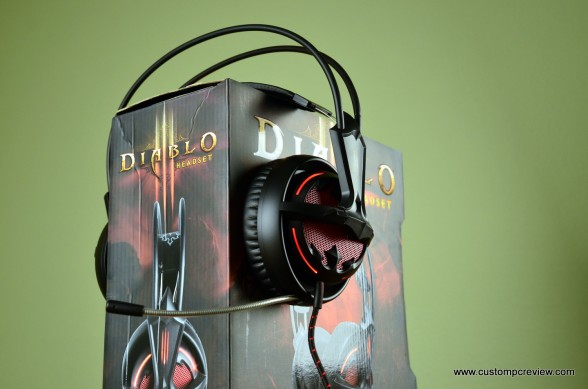 Starting with the headset, if you are a hardcore Diablo fan the Diablo 3 headset will be perfect for you. The headset looks quite stylish with its crimson design and red pulsating LEDs.  As advertised I felt that the headset has indeed been fine tuned to deliver an extraordinary auditory experience that will immerse the player in the the Diablo 3 sanctuary environments. The many sound effects sounded very good and, more importantly, in perfect harmony with the musical scores.
Movies and music benefited from the headset's 50mm drivers, which helped create a wide soundstage and large dynamic range. Specific equalizer settings can also be activated when specific applications are launched as well, which is quite convenient for those who spend tons of time creating unique sound profiles for each game and end up forgetting to active them.
Unfortunately, I wasn't able to test the headset against the original SteelSeries Siberia V2, but it performed wonderfully against other headsets such as the SteelSeries Siberia 7H and the Creative Tactic 3D Sigma. Unfortunately, I wasn't too happy with the choice in material used in the earcups or the headset's comfort when compared to the SteelSeries own 7H Fnatic Edition headset. SteelSeries already has much superior "SND Block" material available and they can easily design earcups that swivel to maximize comfort. Why it's not available in the Diablo 3 headset is very disappointing.
Pricing on the Diablo 3 headset is currently $117.78 on Amazon, which means you will be paying around a $30 premium over the standard Siberia V2 USB headset. Of course, this is an officially licensed product, so you should expect right off the bat that there is a premium to pay. Fortunately, you are getting some additional features for that extra $30, so it's not all that bad.
Diablo 3 Mouse and Mousepad
Moving onto the mouse and mousepad, I found both of these products to be fantastic products as well. While the mouse's basic design may be a turnoff for those who need tons of buttons, it did work very well for me in Diablo 3 as it's a game that can pretty much be played with two buttons. That said, it does include four side buttons, two on each side, which are all programmable. I'm a right handed mouse user and unfortunately, the two buttons on the right side are very awkward for me to use. Sometimes, I hit these buttons inadvertently as well, but they can be disabled which is nice. Course, that essentially makes this a 5 button, super basic mouse with lights and artwork.
Personally, the only real issue I found is that the mouse has a bit of positive acceleration, which is probably due to the Avago ADNS-9500 sensor used in the mouse (I'm assuming the same sensor in this mouse as the SteelSeries Xai). Fortunately for me, this isn't much of a problem when playing Diablo 3, which is what this mouse was intended for. Also, be aware that this mouse is very light. Those who regularly use heavy mice may find that it takes a while to get used to a light mouse.
Other than that, the mousepad was good as well. Tracking performance and speed did feel improved over my wooden desk; however, as mentioned previously, I found the mousepad quite small. Again this isn't much of an issue with Diablo 3, but for those low sensitivity gamers it might be an issue.
Pricing on the Diablo 3 mouse is currently $66.29 on Amazon and the mousepad is $16.99 on Amazon, so both the mouse and the mousepad isn't expensive at all especially for a Blizzard licensed product.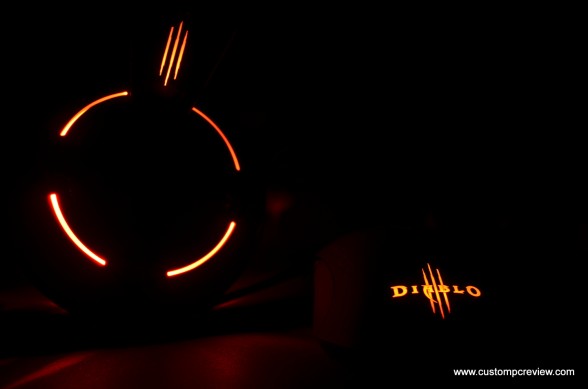 Bottom Line
Usually game themed gear is nothing more than some old products rebranded with some game art, but the SteelSeries Diablo 3 peripherals have much more to offer than just some pretty artwork.
Diablo 3 Headset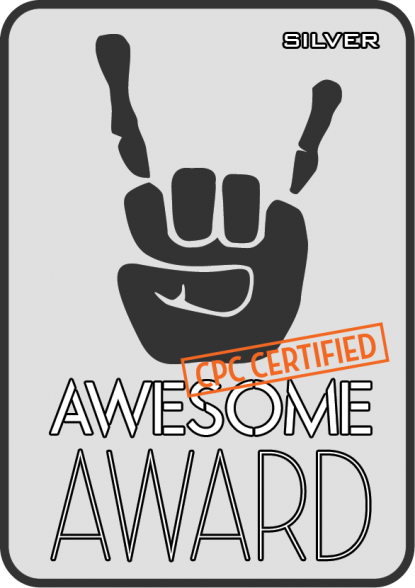 Diablo 3 Mouse and Mousepad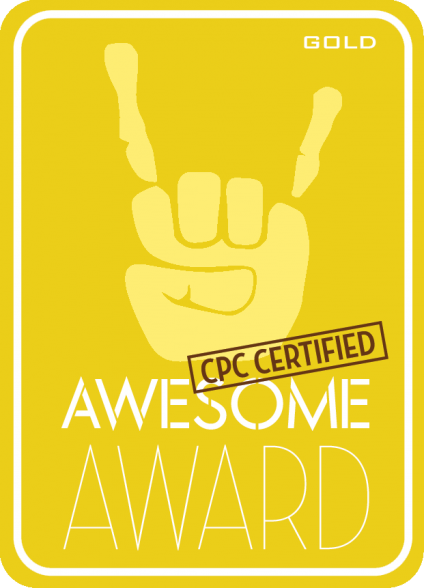 Special thanks to SteelSeries for making this review possible.
The Diablo 3 headset, mouse, and mousepad is currently avialable on Amazon.
Review written by: Sam.cpcr and Michael.cpcr