Creative HN-900 Noise Cancelling Headphones Review
Peace and Quiet For Under $100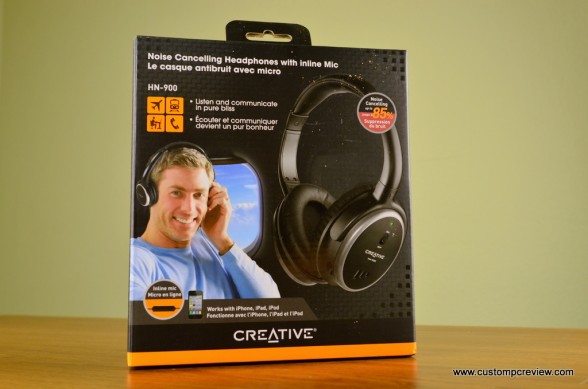 Ever been a passenger on an airplane, a train or a bus? Yeah, you probably have and unless you like rocking uncomfortable in ear headphones with powerful passive noise cancellation, you're probably familiar with having to crank up the volume on your MP3 player in order to drown out the road noise. We've all done it and we've all experienced the painful ringing in our ears sensation afterwards. It's not pretty, and for regular travelers this is an easy way to develop hearing loss.
One way to counter this problem is through passive noise cancellation. This means that noise cancellation is done through passive means such as closed back headphones, in ear headphones, leatherette earpads, or thick foam. This is a great solution as it physically blocks soundwaves from entering and exiting your ears.
Since there's always more than one solution to a problem, another solution is through active noise cancellation. Active noise cancellation utilizes small microphones within the headset to pick up ambient noise, then with a little magic that happens in an integrated chip, the headphones would output noise cancellation soundwaves to counteract ambient noise soundwaves. Pretty cool, huh?
With newer and better active noise cancellation technology, active noise-cancelling headphones have become very popular in recent years with the Bose QuietComfort series being one of the most popular set of active noise-cancelling headphones on the market. However, those familiar with the QuietComfort series, or Bose products in general will know that it isn't cheap. QuietComfort 15 Acoustic Noise Cancelling headphones run for $299.95 and the QuietComfort 3 Acoustic Noise Cancelling headphones run for $349.95, both of which are out of question for a lot of consumers.
That being said, today we'll be taking a look at one of Creative's new offerings – the HN-900 noise cancelling headphones. This new pair of headphones feature a noise reduction level of up to -18dB and will do it for under $100. How did it fare? Keep on reading!
Creative HN-900 Specifications
Headphones
Drivers: 40mm / 1.6″ Neodymium magnet
Frequency Response 20Hz ~ 20 kHz
Noise Reduction Level: -18dB (85%)
Impedance: 290ohms*
Sensitivity (1kHz): 100db/mW*
Microphone
Type: Omni-directional
Frequency Response: 100Hz ~ 10kHz
Impedance: <2.2kohms
Sensitivity (1kHz): -38dBV/Pa
Cable Length: 1.5m / 4.9ft detachable with in-line microphone
Power Supply 1 x AAA alkaline battery
Battery Life: 40 hours
Product Weight: 164g / 5.9oz