Warning
: Undefined array key "width" in
/var/www/vhosts/custompcreview.com/public_html/wp-includes/media.php
on line
1381
Warning
: Undefined array key "width" in
/var/www/vhosts/custompcreview.com/public_html/wp-includes/media.php
on line
1386
Warning
: Undefined array key "height" in
/var/www/vhosts/custompcreview.com/public_html/wp-includes/media.php
on line
1386
Warning
: Undefined array key "width" in
/var/www/vhosts/custompcreview.com/public_html/wp-includes/media.php
on line
1381
Warning
: Undefined array key "width" in
/var/www/vhosts/custompcreview.com/public_html/wp-includes/media.php
on line
1386
Warning
: Undefined array key "height" in
/var/www/vhosts/custompcreview.com/public_html/wp-includes/media.php
on line
1386
Warning
: Undefined array key "width" in
/var/www/vhosts/custompcreview.com/public_html/wp-includes/media.php
on line
1381
Warning
: Undefined array key "width" in
/var/www/vhosts/custompcreview.com/public_html/wp-includes/media.php
on line
1386
Warning
: Undefined array key "height" in
/var/www/vhosts/custompcreview.com/public_html/wp-includes/media.php
on line
1386
[section label=1. Introduction]
Peace and Quiet For Under $100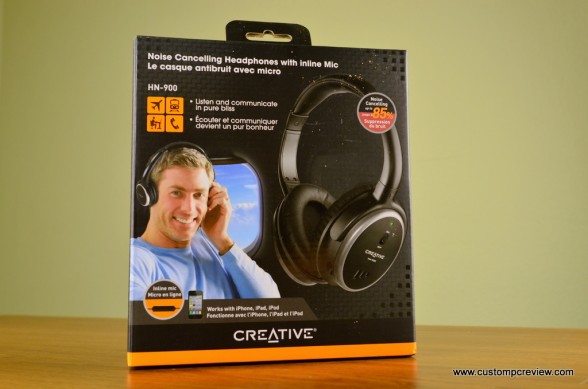 Ever been a passenger on an airplane, a train or a bus? Yeah, you probably have and unless you like rocking uncomfortable in ear headphones with powerful passive noise cancellation, you're probably familiar with having to crank up the volume on your MP3 player in order to drown out the road noise. We've all done it and we've all experienced the painful ringing in our ears sensation afterwards. It's not pretty, and for regular travelers this is an easy way to develop hearing loss.
One way to counter this problem is through passive noise cancellation. This means that noise cancellation is done through passive means such as closed back headphones, in ear headphones, leatherette earpads, or thick foam. This is a great solution as it physically blocks soundwaves from entering and exiting your ears.
Since there's always more than one solution to a problem, another solution is through active noise cancellation. Active noise cancellation utilizes small microphones within the headset to pick up ambient noise, then with a little magic that happens in an integrated chip, the headphones would output noise cancellation soundwaves to counteract ambient noise soundwaves. Pretty cool, huh?
With newer and better active noise cancellation technology, active noise-cancelling headphones have become very popular in recent years with the Bose QuietComfort series being one of the most popular set of active noise-cancelling headphones on the market. However, those familiar with the QuietComfort series, or Bose products in general will know that it isn't cheap. QuietComfort 15 Acoustic Noise Cancelling headphones run for $299.95 and the QuietComfort  3 Acoustic Noise Cancelling headphones run for $349.95, both of which are out of question for a lot of consumers.
That being said, today we'll be taking a look  at one of Creative's new offerings – the HN-900 noise cancelling headphones. This new pair of headphones feature a noise reduction level of up to -18dB and will do it for under $100. How did it fare? Keep on reading!
Creative HN-900 Specifications
Headphones
Drivers: 40mm / 1.6″ Neodymium magnet
Frequency Response 20Hz ~ 20 kHz
Noise Reduction Level: -18dB (85%)
Impedance: 290ohms*
Sensitivity (1kHz): 100db/mW*
Microphone
Type: Omni-directional
Frequency Response: 100Hz ~ 10kHz
Impedance: <2.2kohms
Sensitivity (1kHz): -38dBV/Pa
Cable Length: 1.5m / 4.9ft detachable with in-line microphone
Power Supply 1 x AAA alkaline battery
Battery Life: 40 hours
Product Weight: 164g / 5.9oz
[section label=2. A Closer Look]
A Closer Look at the Creative HN-900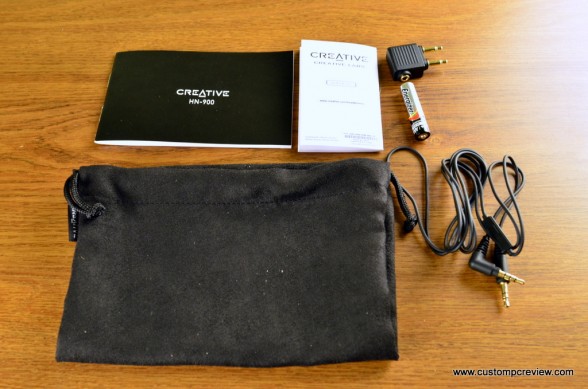 Included in the package are the headphones itself, a 3.5mm to 3.5mm cable with an in-line microphone, a black soft cloth pouch, some documentation, a single AAA battery, and an airplane adapter.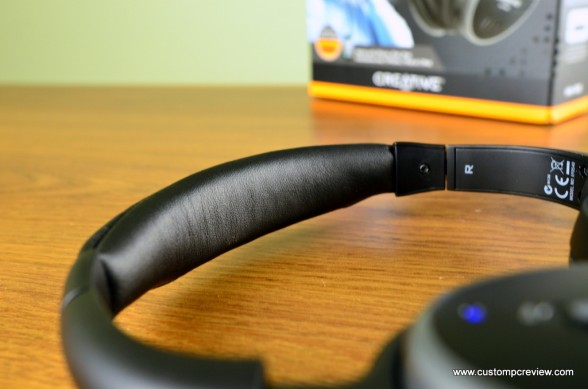 The headphones are comfortably padded at the top of the band and around the ear cups. The headphones are padded using a leatherette like material, so they do get hot after a long period of use. However as mentioned earlier, these headphones are really lightweight so it does extend the amount of time the headphones can be used without any discomfort.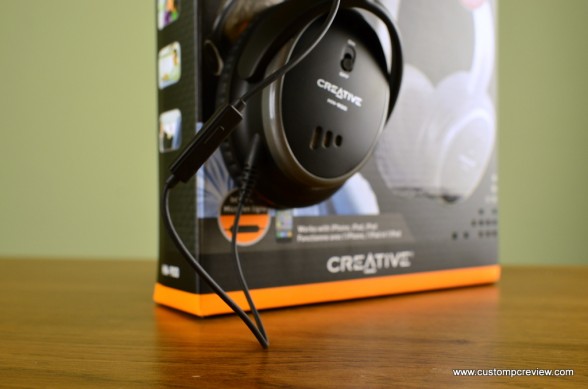 The cable is detachable, which allows you to use the noise cancellation feature without the audio. This is definitely handy for those who want to sleep on a flight or something. The 3.5mm connectors on each end of the cable are gold-plated and are compatible with any media player/phone/PC/Mac with a 3.5mm jack. Play/pause media controls are available as well through the in-line microphone; however it does appear to work only with Apple products, such as iPhones, iPods, and iPads. Because of this, the microphone then only works with iPhones, but if you do happen to own one, the button on the in line microphone can be used to answer incoming calls as well. Additionally, for those with Siri functionality, holding down the button will also enable Siri, which is quite handy.
Also included is an airplane adapter that makes this headset compatible with older in-flight entertainment systems. However, since most modern planes now have 3.5mm jacks, it probably won't be necessary. Then again, it's nice to have it anyway. This gives the headphones greater versatility during flights because you won't be limited to just your own electronic devices.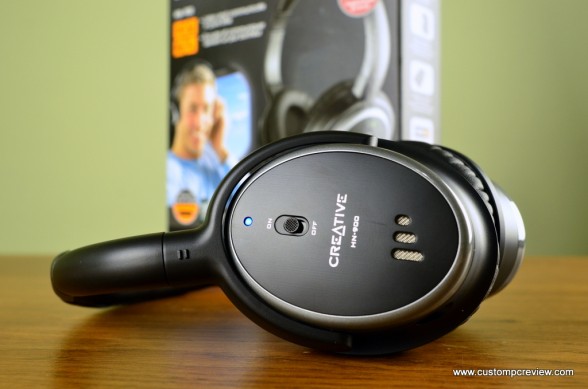 As shown in the photo, the switch for the noise-cancelling function is on the left ear cup. The switch is secure, yet not too snug so that it takes a lot of effort to turn the function on and off.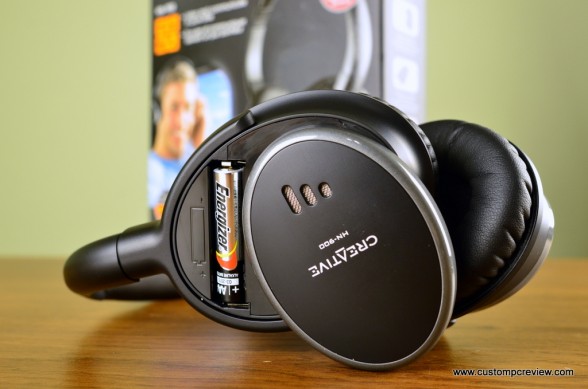 One AAA battery is included in the package in order to power the active noise-cancellation feature. The battery slot is located in the right ear cup and a cover swivels to reveal the battery. Creative's specifications advertise the battery life at approximately 40 hours, so that's definitely enough for long car rides or your typical international flight. However, if the battery runs out, rest assured you'll still be able to use this headset without turning on the noise cancellation feature.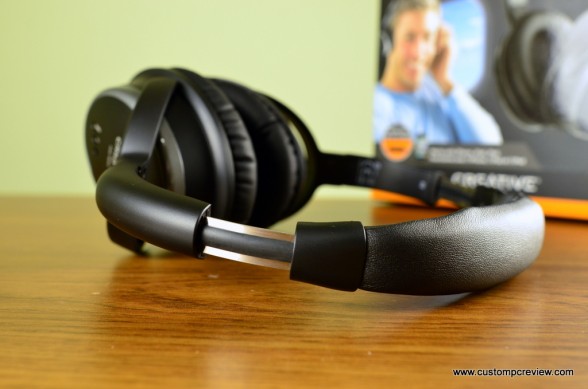 We can see that the headphones are mostly constructed out of plastic, making it very, very lightweight. While the durability of the light plastic is questionable, you can see that the headband is made of metal, which should be quite sturdy. Additionally, the headphone band is adjustable in very small increments, so it should fit all shapes/sizes of heads very well.
[section label=3. Performance]
Creative HN-900 Performance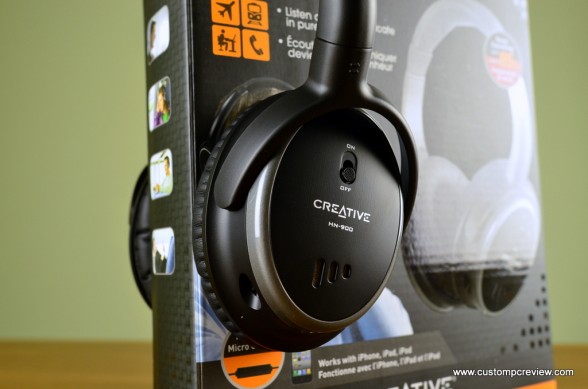 Now, how did the overall sound performance and noise-cancelling system work? Overall, quite good. However, the headphones were definitely bass-heavy, very similar to other Creative products such as their gaming headsets. That being said, it wasn't too bad. After all, this pair of headphones isn't advertised as audiophile quality and I didn't expect them to be.
When the noise-cancelling function was off, I found that sometimes a song's background music would be stronger than the vocals. But even in that case, the headphones' ability to deliver above average sound made the entire track sound more than satisfactory. With the noise-cancelling function turned on, I found the sound quality improved slightly, which is weird and a bit unexpected. With noise-cancellation, the music sounds brighter and both the bass and treble felt a lot more balanced. However, this may have been due to noise cancellation creating a better environment for me to listen to music in instead of any magical sound processing on the headphones themselves. Additionally, I also noticed that in general the sound is louder with noise cancellation turned on – again, it's probably due to ambient background noise being cancelled out.
Music
I listened to songs from three different genres: Classical, Rock, and Pop. In the case of classical, the headphones delivered sound that was both quite clean and balanced. While listening to Ludwig van Beethoven's Symphony No. 5 in C minor, I found that all the treble and bass tones were clearly heard, and the background instruments were more pronounced, allowing me to hear the piece in a much more wholesome way.
For the genre of rock, I chose to test the headphones out on Queen's Bohemian Rhapsody. No surprises here either, as the sounds were very clean. What was nice with these headphones was that I could hear the distinction of Freddie Mercury's vocals coming out from each ear cup, as well as the guitar riffs and drum beats. The Creative HN-900 delivered a great musical experience, as I have never heard Bohemian Rhapsody in this way before. Then again, I am coming from the stock iPod earphones so it's no surprise there.
Finally, for the pop genre, I picked a quintessential Backstreet Boy song, As Long As You Love Me. With these headphones on, the catchy background beat is strong, but doesn't overpower the vocals too much, which remain clearly at center stage. I found that these headphones were particularly strong in this genre due to its favor towards bass heavy tracks.
Between listening to these songs with and without the noise-cancelling, I felt that the major difference was that the music would be louder when noise cancellation was turned on.  This would make sense as less outside noise can be heard with noise cancellation on. In comparison to my old, cheap Apple earphones, the sound quality of the Creative HN-900 completely blew those out of the water – with or without noise cancellation.
Movies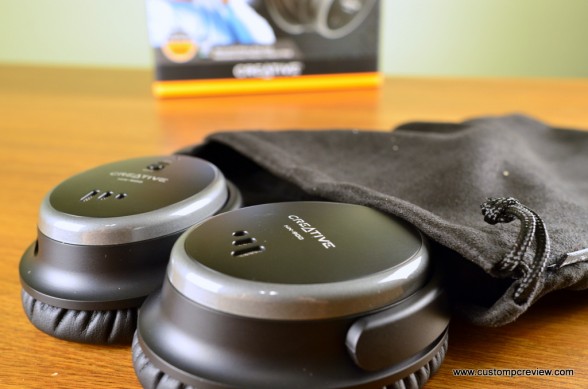 Next up, I watched both an older movie, Libeled Lady, and a newer more action packed movie, Suckerpunch. In the case of Libeled Lady and other old black and white films, I'm looking for clear and accurate dialogue and the Creative HN-900 was able to deliver very well here. Dialogue here was clear and accurate, which helped create a very enjoyable movie watching experience.
Moving onto Sucker Punch, I was looking for the headset's ability to immerse me in the action with its numerous action packed scenes and strong music track. Performance here is good; however, I did find the soundstage to be a bit lacking. Bass just doesn't go as low as some of Creative's gaming headsets such as the Creative Sound Blaster Tactic 3D Sigma and the soundstage isn't as wide either. This may be due to the HN-900 having smaller 40mm drivers.
Active Noise Cancellation
With the noise-cancelling function on, ambient noise is greatly reduced and once you begin listening to music, most ambient noise can't be heard at all. Creative advertises the noise-cancelling system to eliminate up to 85%, which I believe is accurate; however, the sounds in the background must be constant for best results. Additionally, the headphones do not emit any hissing noise which is typically a problem with low end, inexpensive noise cancelling headphones.
I tested the headphones in my home, in the same room in which my parents were watching television. With the noise-cancelling function on, it was a lot more difficult to hear the television, but not impossible. I also tested them on a car ride in which we drove on the freeway and the noise cancellation did very well. Though noise cancellation didn't eliminate all outside sound, I could no longer hear the constant, droning noise  of the freeway. I also did not hear anyone who also happened to be talking in the car. Of course, road noise in addition to the music coming from the headphones is what probably drowned them out.
Overall, the noise cancellation features on the HN-900 cancel out constant noises best, such as freeway noise (like I mentioned earlier), airplane engine roaring, and loud fans. Varying noises such as speech or intermittent sounds are not completely cancelled out, but the headphones still do a satisfactory job at times. You can still hear faint traces of varying noises, but with the function on, it's very easy to ignore them. However, one big problem with the HN-900 is that while they do a great job keeping outside noise out, they don't do a very good job of keeping inside noise in. In a relatively quiet area, people nearby will be able to whatever's going on in the headphones. This is most likely due to the fact that there are perforations in the headphones for ambient sound to go into the microphones, which in turn leak noise.
[section label=4. Conclusion]
Creative HN-900 Conclusions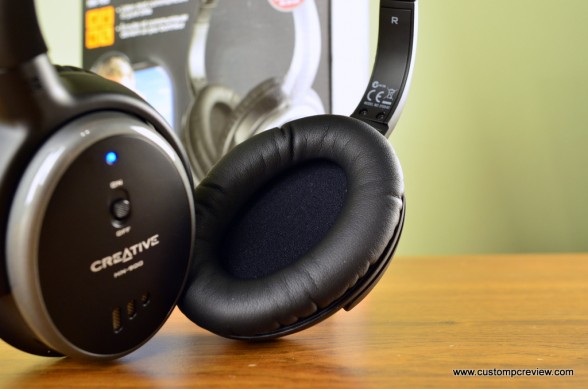 Overall, despite some of the issues I faced with the headphones, the HN-900 is still a highly recommended product. The main feature Creative advertises with these headphones is active noise cancellation, and it's among the best at what it does. Additionally, for those who frequently need to keep the headphones on for a long period of time, the headphones are exceptionally light-weight, which make them very comfortable as well.
Sound performance on the HN-900 was overall quite good, but it did lack the soundstage seen on headphones with larger drivers. Additionally, the headphones prefer bass, similar to many other Creative headphones out there, so if you're not a fan of this type of sound signature, you'll probably not like these headphones. Mids and highs were good, but they weren't the creme of the crop either. However, you do have to remember that these headphones were designed to be used in loud environments such as trains, buses, and airplanes so you're probably not going to hear all the finer details in your music anyway. If you're looking for some budget audiophile headphones to use in your 100% quiet basement at home, there are definitely better options out there than the HN-900.
After all's said and done, the only major issue I found with the HN-900 is that it's not ideal for use in an environment in which silence is an absolute must because it leaks a lot of noise. This means that everyone around you will be able to hear exactly what you're hearing. For those who want to use these in public libraries or even in quiet airports, this could be very annoying for people around you. Of course, this isn't so much of a problem in loud environments. As long as you can get something like a humming jet engine in the background, people around you won't hear a thing.
Other noise cancelling headphones include the Bose QuietComfort 15 ($299.00), the Audio Technica ATH-ANC7B ($134.95) and the JVC HANC250 ($99.99). Taking a look at these prices, the HN-900 currently priced at $90.87 on Amazon is very competitive.
Bottom Line
For just under a hundred bucks, the Creative HN-900 produces good sound quality and does a top notch job of noise cancellation. Though this might not be the headphones to take everywhere because of its poor noise leakage, these headphones offer great performance for their intended purpose.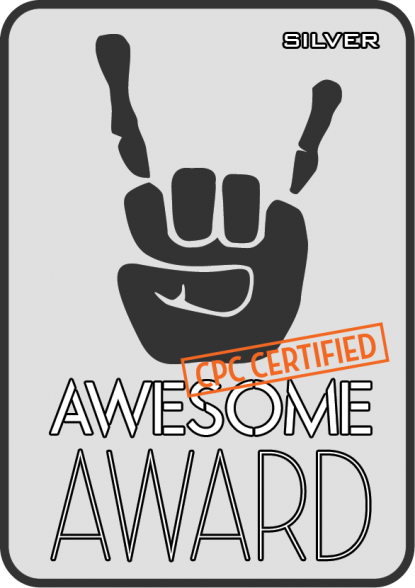 Special thanks to Creative for making this review possible.
The Creative HN-900 Noise Cancelling Headphones are currently available on Amazon.