Warning
: Undefined array key "width" in
/var/www/vhosts/custompcreview.com/public_html/wp-includes/media.php
on line
1381
Warning
: Undefined array key "width" in
/var/www/vhosts/custompcreview.com/public_html/wp-includes/media.php
on line
1386
Warning
: Undefined array key "height" in
/var/www/vhosts/custompcreview.com/public_html/wp-includes/media.php
on line
1386
Warning
: Undefined array key "width" in
/var/www/vhosts/custompcreview.com/public_html/wp-includes/media.php
on line
1381
Warning
: Undefined array key "width" in
/var/www/vhosts/custompcreview.com/public_html/wp-includes/media.php
on line
1386
Warning
: Undefined array key "height" in
/var/www/vhosts/custompcreview.com/public_html/wp-includes/media.php
on line
1386
Warning
: Undefined array key "width" in
/var/www/vhosts/custompcreview.com/public_html/wp-includes/media.php
on line
1381
Warning
: Undefined array key "width" in
/var/www/vhosts/custompcreview.com/public_html/wp-includes/media.php
on line
1386
Warning
: Undefined array key "height" in
/var/www/vhosts/custompcreview.com/public_html/wp-includes/media.php
on line
1386
Warning
: Undefined array key "width" in
/var/www/vhosts/custompcreview.com/public_html/wp-includes/media.php
on line
1381
Warning
: Undefined array key "width" in
/var/www/vhosts/custompcreview.com/public_html/wp-includes/media.php
on line
1386
Warning
: Undefined array key "height" in
/var/www/vhosts/custompcreview.com/public_html/wp-includes/media.php
on line
1386
Warning
: Undefined array key "width" in
/var/www/vhosts/custompcreview.com/public_html/wp-includes/media.php
on line
1381
Warning
: Undefined array key "width" in
/var/www/vhosts/custompcreview.com/public_html/wp-includes/media.php
on line
1386
Warning
: Undefined array key "height" in
/var/www/vhosts/custompcreview.com/public_html/wp-includes/media.php
on line
1386
[section label="Introduction"]
Bluetooth, Modular and Wireless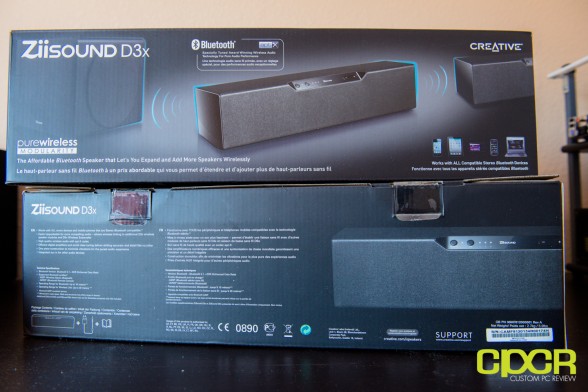 These days, high quality speakers with Bluetooth technology simply don't exist. Sure, there are great Bluetooth headphones out there and even some pretty high end Bluetooth iPod/iPhone docks, but high-end Bluetooth speakers? Nope! At least not that I'm aware of.
So you can see, there's a void in the market and Creative, being the long time leader in audio technology and a veteran developer of Bluetooth based audio products, has decided to step up to the challenge of producing such a thing.What they came up with is the ZiiSound line of modular and wireless Bluetooth speakers. What's interesting about the ZiiSound line of speakers is that they don't have to be purchased as a full set. Instead, Creative has made it so that pieces of the system may be purchased individually so those unwilling to say drop the full $450 for 2x ZiiSound D3x speakers and a ZiiSound DSx subwoofer may simply purchase a ZiiSound D3x first then upgrade later when their budget allows. This system offers consumers the flexibility of starting modestly with a single speaker unit, and then later expanding it up to three speakers and a wireless subwoofer, the ZiiSound DSx. This allows buyers to amp up the audio quality of the entire system at their own pace, whether it be purchasing everything in one shot or gradually completing the set. Currently, the ZiiSound line of modular audio products will come in three different flavors – the ZiiSound D3x speaker, the ZiiSound D5x speaker and the ZiiSound DSx subwoofer. Creative also offers the ZiiSound D5 speaker, but it's not modular and won't be able to interface with the D3x, D5x or the DSx.
Today, we'll be reviewing the ZiiSound D3x speaker along with the ZiiSound DSx subwoofer. The ZiiSound D3x is the smaller speaker in the ZiiSound range and measures 3.7  inches tall, 16.1 inches wide and 3.5 inches deep. It's quite a versatile little speaker and can be connected to a variety of devices such as MP3 players, desktops, laptops, tablets, etc through either the 3.5mm aux in port or through Bluetooth. The unit may be expanded with up to two more ZiiSound D3x units for a total of three speakers and four additional ZiiSound DSx subwoofers as well. Unfortunately, the ZiiSound D3x and the higher end ZiiSound D5x cannot be mixed and matched. No additional information about the D3x such as frequency response or drivers are available from Creative's website.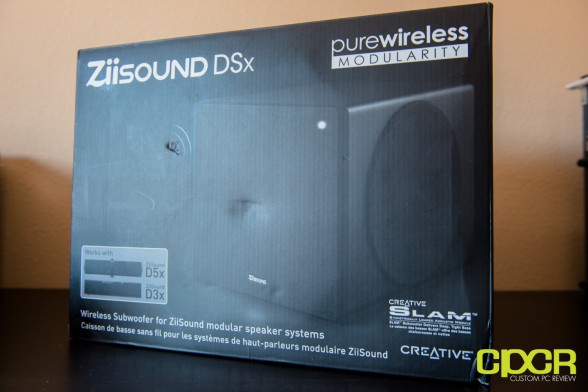 The ZiiSound DSx on the other hand is the only subwoofer in the ZiiSound line of audio products. Measuring in at only 3.9 inches tall, 16.7 inches wide, and 3.9 inches deep, it's actually a very compact subwoofer, which means that it's for smaller environments. Unfortunately, no RMS power output or any other information about the subwoofer is available from Creative. As far as connectivity goes, it may only be connected wirelessly to either the ZiiSound D3x or the ZiiSound D5x to provide greater bass response for these speakers. Additionally, it uses Creative's own SLAM, or Symmetrically Loaded Acoustic Module, technology, which is simply Creative's fancy way of saying that the subwoofer is portless in design and utilizes three drivers – a master and two pressure drivers. No additional information about the drivers are available from Creative's website as well.
As a bonus, Creative also sent us their BT-D1 USB Bluetooth adapter to test these speakers with as well. Unlike traditional Bluetooth adapters included in your iPhone or your laptop, the BT-D1 uses the proprietary aptX codec, which according to CSR (the company behind aptX) will offer "bandwidth-efficient audio quality which is indistinguishable from wired".
[section label="Specifications"]
Specifications
Creative ZiiSound D3x

Creative ZiiSound DSx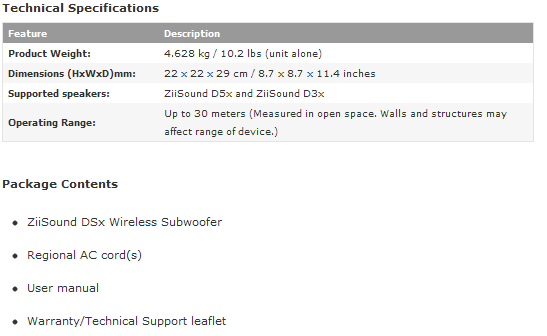 Creative BT-D1 USB Bluetooth Adapter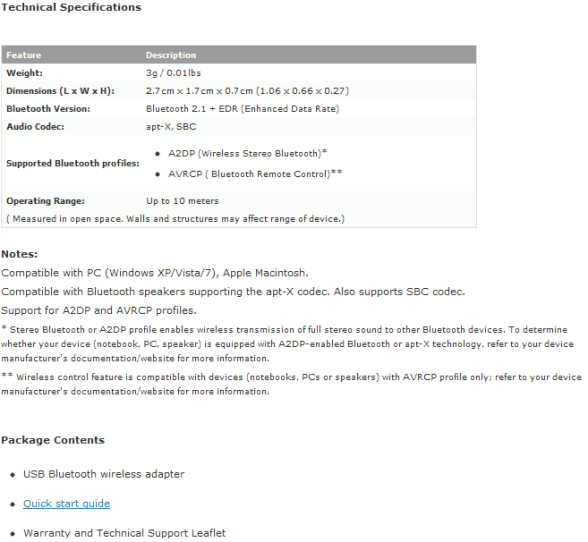 [section label="A Closer Look"]
A Closer Look
Creative ZiiSound D3x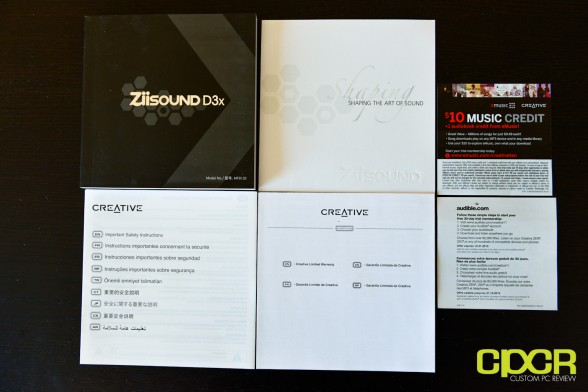 Included in the box, Creative included a ton of documentation along with a couple pieces of advertising.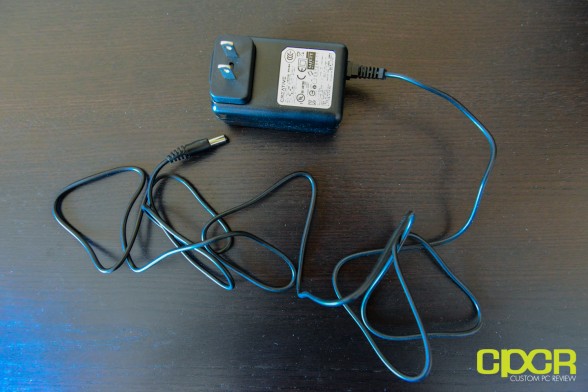 Each ZiiSound D3x speaker also comes with a power cord that can be connected to any standard North American electrical outlet.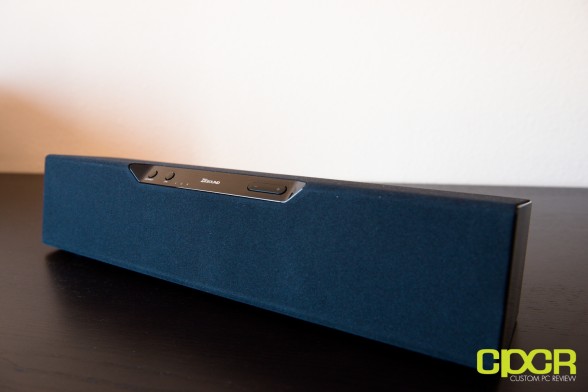 Also included in the box, you also get the speaker itself. It measures 3.7  inches tall, 16.1 inches wide, 3.5 inches deep and weighs about 4 pounds. It only comes in black, but has a very sleek, very modern looking design well suited for any home or business environment. The front of the unit features only a couple buttons – link, connect, and volume up and down. Additionally, there's also three white LED indicators indicating if the speaker is setup for left channel, center channel, or right channel.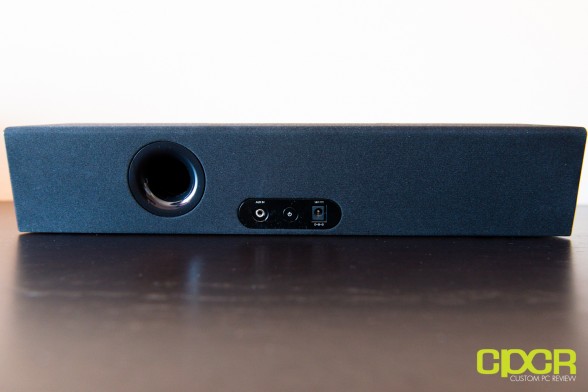 Similar to the front of the unit, the rear of the unit is quite clean as well. There's a port in the back along with the 3.5mm jack, a power button and the power connection port.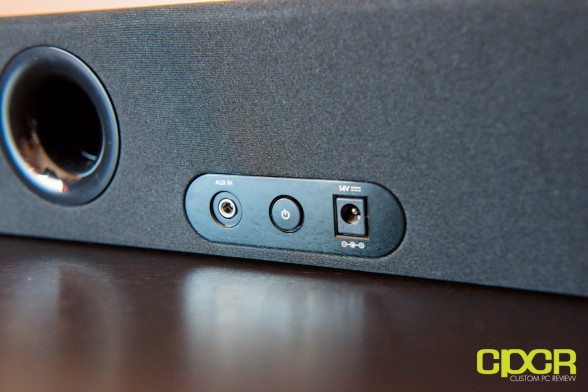 Here's a closer look at the back of the ZiiSound D3x speaker. The power button is located here, along with the 3.5mm AUX IN and the power port.
Creative ZiiSound DSx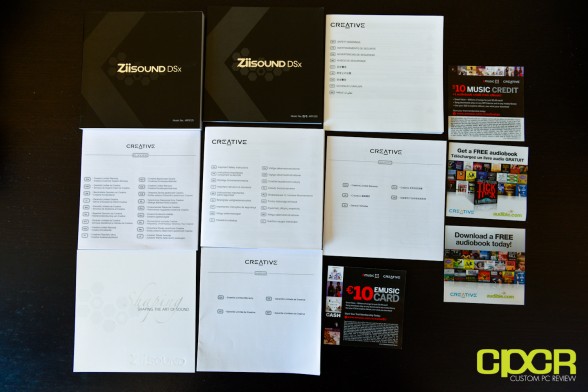 Similar with the Creative ZiiSound D3x the ZiiSound DSx also came with a ton of documentation and advertisements.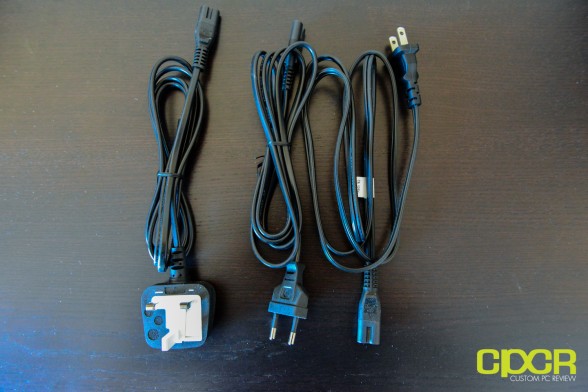 Creative also included a couple of power cords with the DSx to make the DSx compatible internationally. It's quite interesting that Creative has included extra power cords with the DSx, but not with the D3x.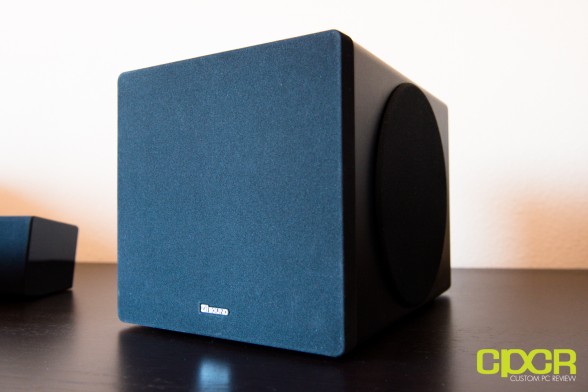 The ZiiSound DSx has a very similar clean and modern look, quite similar to the ZiiSound D3x. Coming in at only 3.9 inches tall, 16.7 inches wide, 3.9 inches deep and 10.2 pounds, the DSx isn't exactly the largest subwoofer out there. The front of the unit features a large cover with a driver behind it. Additionally, on each side of the subwoofer, there's a large cloth cover with drivers underneath as well. The unit is of a completely sealed design, which typically means it'll offer tighter and more musical bass as opposed to ported subwoofers, which typically offer more powerful, earth rumbling bass.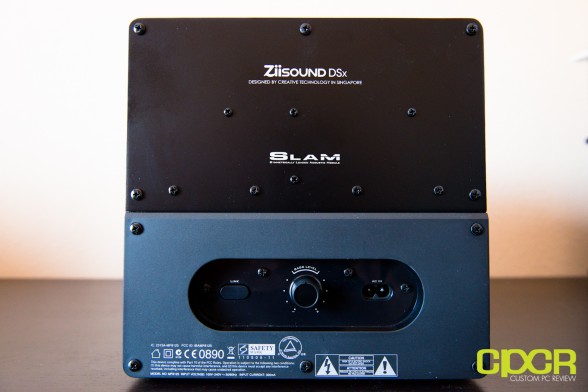 Similar to the front of the DSx, there isn't much to see in the rear of the unit either. There's only a link button, a knob for adjusting the bass level, and the power port.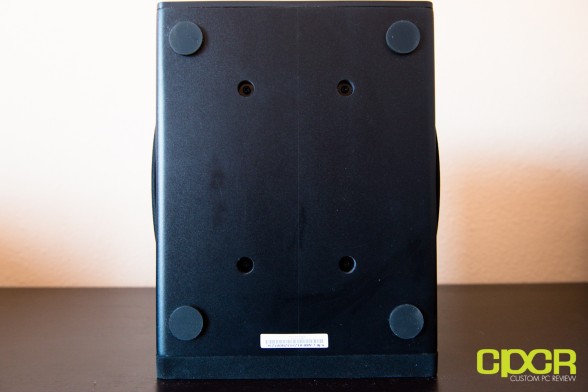 Here is the bottom of the subwoofer. There are four rubber feet that prevent the subwoofer from slipping around. Otherwise, the entire unit is quite solid in construction.
Creative BT-D1 USB Bluetooth Adapter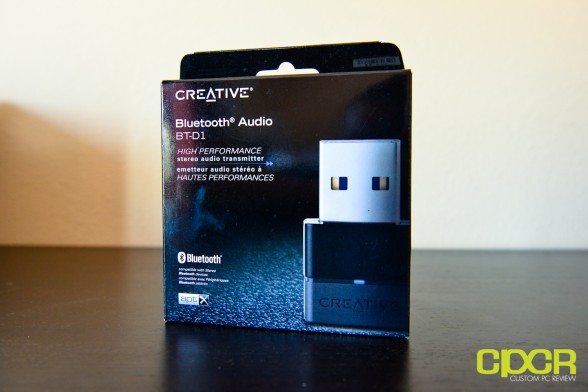 Finally, Creative also provided us with the Creative BT-D1 Bluetooth USB adapter, which is sold separately from the ZiiSound D3x and the ZiiSound DSx. What's interesting about the BT-D1 Bluetooth USB adapter is that it contains the proprietary aptX codec, which according to the aptX developer, CSR, will allow your desktop or laptop to stream wireless audio over Bluetooth at up to "CD quality".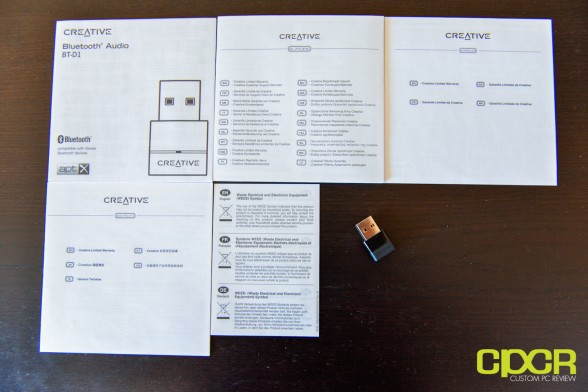 Additionally included with the BT-D1 Bluetooth adapter is some documentation. Again, it should be noted that the USB transmitter is not included with the speakers or the subwoofers.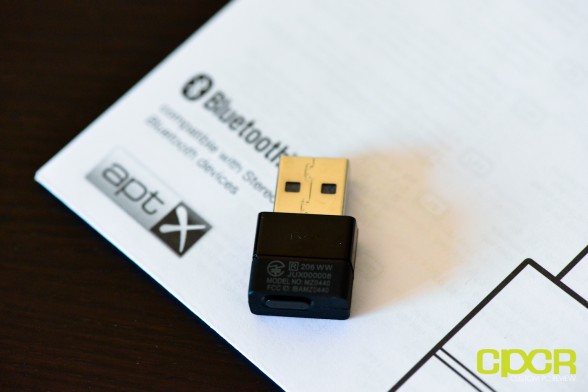 Here's a closer look at the BT-D1 wireless transmitter. It's very simple in design, 100% plug and play, and operates using only a simple button located at the back (end) of the unit.
[section label="Setup and Installation"]
Setup & Installation
Setting up the system was extremely easy. With a single speaker, simply connect the power, turn on your Bluetooth device and hit the connect button on the unit. This will allow your Bluetooth enabled device such as an iPhone or iPod to discover the ZiiSound D3x and connect to it. No passcodes required.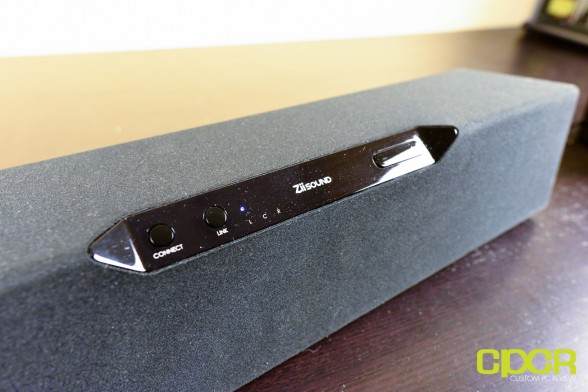 If you've purchased multiple ZiiSound D3x units or a ZiiSound DSx unit, simply connect all the units by hitting the link button on every unit you have in order to connect them. Those who already have a two piece system setup will need to reset the entire system in order to add a third speaker or subwoofer into the mix. Once setup, the speaker itself will either light up L, C, or R indicating whether the speaker is the left, center, or right. Once a multiple speaker setup is assembled, the right speaker will become the control speaker.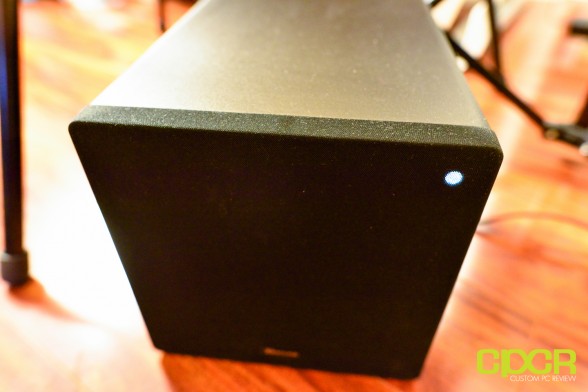 Connecting the subwoofer is very similar to connecting any speaker. Simply hit the link button on the subwoofer and the speaker and it should be setup. When the DSx is powered on, there's a bright white light in the upper right hand corner that will also light up.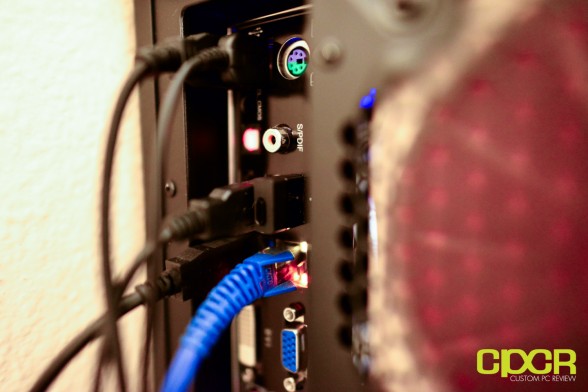 Here we've got the BT-D1 Bluetooth USB adapter plugged into one of our machines. That said, we've tried with multiple desktops and laptops (including a Mac) and it worked flawlessly. The unit itself is 100% plug and play, so there's no control software that goes with this unit. After plugging in the transmitter into a USB port, simply hit the button at the back of the adapter, hit the connect button on the control speaker and change your PC's default sound device to the Creative BT-D1 option (sometimes displayed as USB audio device).
[section label="Performance"]
Performance
Single ZiiSound D3x Speaker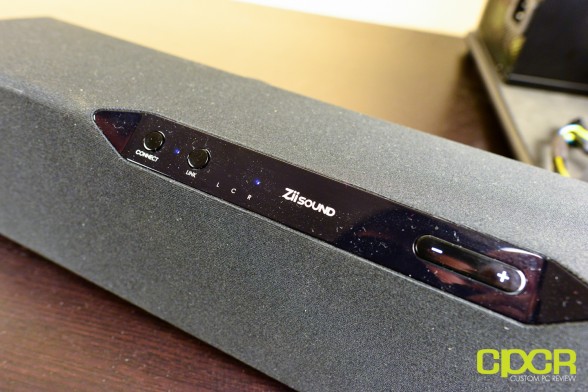 Our first test with the ZiiSound system is to use the single D3x speaker by itself since the entire system is modular. When setup in single speaker mode, the speaker defaults itself to center channel so both right and left audio will be played through a single speaker. Sound quality? Well, let's be brutally honest here. The single D3x's sound quality was nothing to really write home about. The mids and highs were nice and clear for a wireless unit, but not having a second speaker really made the entire unit sound like a middle of the road iPod/iPhone dock or an alarm clock radio. The audio was quite flat and the bass response didn't really exist at all. Additionally, I didn't really feel like there was much of a stereo soundstage going on here as well.
Single ZiiSound D3x Speaker + ZiiSound DSx Subwoofer
After being not-so-impressed with the D3x as a standalone unit, I then connected the ZiiSound DSx to the single ZiiSound D3x speaker setup to hopefully give the entire system the desperately needed bass response it needed. With the DSx subwoofer connected, I definitely noticed a significant jump in sound quality as one of the major issues I faced with the D3x as a single speaker was its lack of a low-end response. Since I have a relatively small room (~12ft x 16ft), the single DSx was more than enough to create just the right amount of bass needed. That said, those coming from full speaker systems will still notice the lack of stereo imaging with only a single D3x speaker.
Two ZiiSound D3x Speakers + ZiiSound DSx Subwoofer
Our final configuration and the configuration I just so happened to spend most of my time on was of course with what I consider a full ZiiSound system – two ZiiSound D3x speakers (one for the left and one for the right) along with the ZiiSound DSx subwoofer. With all three units connected, the system definitely sounded quite good – especially considering it being a completely wireless system.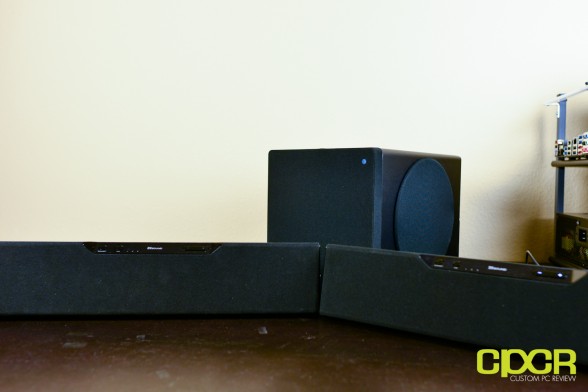 Music Performance
In order to gauge music performance, I listened to three 320 kbps MP3's from different genres – pop, dub-step, and rock. For the first test, I listened to the very popular Gotye's "Somebody That I Used To Know" and found that the ZiiSound system performed very well here, pumping out clean and crisp bass and treble typically non-existent through wireless audio. Every layer of the song's background music could be heard clearly, but none of it ever eclipsed the vocals.  The speakers and subwoofer delivered a very wonderful musical experience that was extremely fun to listen to. For this particular song, I was even caught off guard as I was able to hear instruments I've never heard before in the background as I generally come across this song while listening to the radio in my car or in some sort of public space.
Next, I tested out the rock genre with AC/DC's "Back In Black". For those familiar with any of AC/DC's music, you'll know that the mid and high ranges are especially important here as most of the song involves a tag team between lead vocalist Brian Johnson and lead guitar Angus Young. As expected from my previous testing of pop music, I was quite impressed with the audio quality. With other systems, the rock music and the vocals sound as if they are mashed together, but with the ZiiSound system,  the song's guitar, bass, drums, and vocals parts each get their shining moment without overshadowing each other.
Finally, in order to really give the DSx some punishment, I picked the ever-popular Dubstep track by Skrillex, "Scary Monsters and Nice Sprites". Usually, when music is extremely bass-heavy, many more inexpensive sound systems tend to bottom out making the entire low-end sound muddy. That said, what's beautiful about the DSx is that it's a fully sealed subwoofer with three drivers, which allow it to deliver up tight and clean bass, which sounded extremely good – just in time for that sick bass drop.
Movies
Since the system was quite good for music performance, I decided to try it with some movies as well, so I settled on watching the 2011 Marvel action movie, "Captain America: The First Avenger". Overall, I was quite impressed with the ZiiSound system's ability to immerse me in the film's plot with its intense action scenes and explosions. Bass response was clear – less rumble and boom than what you'd see from a high-end 12″ ported home theater subwoofer, but it was definitely there and you could feel it especially with a smaller room. Sound quality from the D3x units were fantastic as well with the highs being sufficiently high to handle the many action scenes filled with bullets whizzing by without any sort of muddle or distortion, and the mids serving up fantastic sounding dialogue to go with the action.
Of course, the ZiiSound speaker system isn't meant to replace a full on 5.1 home theater setup, but for those looking for something that could produce quality sound in a smaller environment, the ZiiSound D3x and DSx combo worked out very well. Those who enjoy additional bass can also drop in a couple more subwoofers for that extra thump as well, but with each unit costing nearly $150, I'm not so sure that'd really be worth it.
[section label="Conclusion"]
Conclusion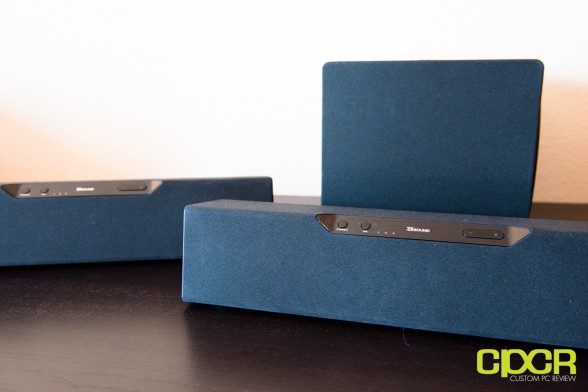 Overall, the ZiiSound D3x speakers and the DSx subwoofer does its job very well and performs as advertised, given you buy the full set complete with two speakers and a subwoofer. The audio quality of the entire set is absolutely fantastic, and having it ready to go anytime you're within Bluetooth range makes this system extremely convenient. No need to deal with any sort of wiring and all that hassle. Simply plug each unit in, connect wirelessly via Bluetooth, and you get great sounding audio.
Appearance wise, I really like what Creative has done with these speakers. The black color scheme of the units really help these speakers fit in any environment, be it at home or your place of work and the tasteful white LEDs give this set a very classy look as well. One thing I'd like to see from the D3x speakers though is some sort of stand to put these on or some built-in method of wall mounting the speakers. With small units like these and the ability to work wirelessly, these should easily wall mount.
While the speakers themselves are quite good, one issue I had with the D3x is that it will only connect to one device at a time. This is very annoying especially if you've got multiple mobile devices since you'll have to go manually reconnect whatever audio source you'll want to connect every time. Since most people have a laptop, a tablet, and probably an iPhone or iPod that you'll want to send music from (not to mention other family members with electronic devices), it'd be nice to see the D3x be able to connect to or at least remember 2-4 devices at the minimum.
For those considering the ZiiSound line of speakers and are serious about sound quality, be sure to invest in the BT-D1 Bluetooth USB adapter or the BT-D5 iPhone/iPod adapter. While your iPhone, iPod, desktop, or laptop may already have access to Bluetooth, the BT-D1 and BT-D5's Bluetooth also includes support for the proprietary aptX codec, which is noticeably better in sound quality than through standard Bluetooth. Music will have better dynamic range, the audio will sound less flat, and there will be much less (if any) artifacting in the sound. CSR also claims that there's less lag time with aptX, but I didn't notice any lag either way.
Though Creative claims that the price of these speakers and subwoofer are very affordable, they actually aren't. On Amazon, each ZiiSound D3x speaker unit by itself costs $149.99 and the ZiiSound DSx subwoofer costs a whopping $146.95, putting the grand total of the entire speaker set at $446.93. Add on the optional  Creative BT-D1 Bluetooth USB transmitter for another extra $39.99 and an entire system could cost you nearly $500. That said, you can buy two ZiiSound D3x units and a ZiiSound DSx unit as a package for $349.99, which I think is the better deal since a single D3x unit by itself simply doesn't sound that great.  As for competitors? Well, to be honest, there aren't really any. Yeah, you could go with the Bose iPod/iPhone dock and buy the optional Bluetooth accessory (which doesn't come with aptX support), but that would set you back a full $700. While it's something I haven't personally tested, I seriously doubt the Bose iPod dock would sound better than what Creative has here.
Bottom Line
The ZiiSound D3x was a product that gave me some mixed feelings and its modularity in nature makes it extremely hard to establish a good opinion. As a standalone unit, I wasn't too overly impressed with the D3x. The sound quality was mediocre at best and Creative wants $150 for it. Unless you're really looking for a Bluetooth speaker for some mono dialogue or something, to me it just isn't worth the asking price. Might as well grab a high end alarm clock radio and you'll get the same sound for somewhere closer to $100. However, drop in a DSx and you get some real bass. Drop in another D3x and you'll get real stereo imaging. Before long, you've got an excellent speaker system that can rival even some lower end home theater systems in sound quality.
Overall, if you have the money to drop on a new speaker system and you want the convenience of Bluetooth, but don't want to lose out on sound quality, the ZiiSound D3x and the ZiiSound DSx is highly recommended. Just be sure you purchase the full set instead of a standalone unit.
| | |
| --- | --- |
| Creative ZiiSound D3x Speaker | Creative ZiiSound DSx Subwoofer |
Sample provided by: Creative
Available at: Amazon