Warning
: Undefined array key "width" in
/var/www/vhosts/custompcreview.com/public_html/wp-includes/media.php
on line
1381
Warning
: Undefined array key "width" in
/var/www/vhosts/custompcreview.com/public_html/wp-includes/media.php
on line
1386
Warning
: Undefined array key "height" in
/var/www/vhosts/custompcreview.com/public_html/wp-includes/media.php
on line
1386
Warning
: Undefined array key "width" in
/var/www/vhosts/custompcreview.com/public_html/wp-includes/media.php
on line
1381
Warning
: Undefined array key "width" in
/var/www/vhosts/custompcreview.com/public_html/wp-includes/media.php
on line
1386
Warning
: Undefined array key "height" in
/var/www/vhosts/custompcreview.com/public_html/wp-includes/media.php
on line
1386
Phanteks Flagship Monster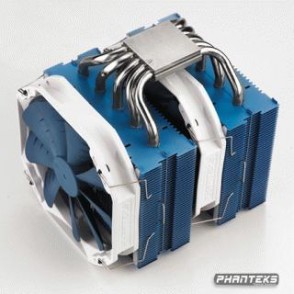 So up until very recently I've never heard of the name Phanteks. In fact, I'm sure very few of you have either and that's because they are a fairly new contender in the CPU cooling arena. However, according to their website, this apparently isn't their first foray into developing thermal solutions. No… Phanteks, a Holland based company, has been providing thermal solutions for more than 20 years.
Today we'll be doing a review on their first product, the flagship Phanteks PH-TC14PE CPU cooler and just by looking at the pictures and specifications on their website, we can tell that it's going to be an absolute beast. How beastly are we talking about here? Well for starters, this thing weighs in at a full 1250g's (or 2.5lbs) with two fans included.  Additionally, it's got about dual 140mm fans included with the capability for adding a triple 140mm as well. In terms of the heatpipe design, this cooler is massive as well. It has a full five 8mm nickel plated copper heatpipes, which in addition to some of Phanteks included technologies should make it a winner.
Specifications
| | |
| --- | --- |
| Compatibility | Intel Socket LGA 2011,1155,1156, LGA 1366, LGA775 and AMD AM2/2+/AM3 (stock backplate required) |
| | |
| --- | --- |
| Material | .Copper ( Base and 5 x ψ8mm Heat-pipes), Nickel Plated..Alum. ( cooling Fins / Top Cover) with Patented P.A.T.S (Physical Anti-Oxidant Thermal Shield) to increase cooling performance..Patented C.P.S.C Technology (Cold Plasma Spraying Coating Technology) to enhance thermal conductivity. |
| | |
| --- | --- |
| Fan Model | PH-F140 Premium Fan. |
| | |
| --- | --- |
| Fan Size | 140x140x25 , Dual Fans includes. |
| | |
| --- | --- |
| Fan Compatibility | 140x140x25mm x 3 pcs, (120 x 120 x25mm x 3 pcs).    (Third fan clips and accessory included). |
| | |
| --- | --- |
| Bearing Type | UFB bearing (Updraft Floating Balance bearing) |
| | |
| --- | --- |
| Blade Geometry | 9 White colored Blades with MVB (Maelström Vortex Booster) Design |
| | |
| --- | --- |
| RPM with Q.S.A | 900 RPM ± 10% |
| | |
| --- | --- |
| Max Air Flow with QSA | 60.1 CFM |
| | |
| --- | --- |
| Max Air Pressure with QSA | 0.69 mm H2O |
| | |
| --- | --- |
| Acoustical Noise with Q.S.A | 15.2 dBA |
| | |
| --- | --- |
| Heatsink Dimension (LxWxH) without fan | 134*140*160mm |
| | |
| --- | --- |
| Heatsink Dimension (LxWxH) with Dual Fans | 159*140*171mm |
| | |
| --- | --- |
| Heatsink Weight without fan | 970g |
| | |
| --- | --- |
| Heatsink Weight with fan | 1100/1250g (single/Dual) Fan |
| | |
| --- | --- |
| Package Dimension | 167x214x190mm(LxWxH) |
| | |
| --- | --- |
| Scope of Delivery | .1x PH-TC14PE Heatsink.2x PH-F140 Premium fan, (Maelström Air Fort Optimization drive).PH-F140 Fan accessory.6 x rubber bar, 12x fan clip adaptor, 6x fan wire clip, 16x rubber pad.1x Quiet- Speed- Adaptor. (Q.S.A.).SoliSku mounting kits for Intel LGA2011/1155/1156/1366/775 and AMD AM2/AM2+/AM3 (stock backplate required)..1x Y Fan Splitter.1x PH-NDC Thermal Compound.Phanteks PH-TC14PE User's manual. |
Features
P.A.T.S. (Physical Anti-Oxidant Thermal Shield. P.A.T.S.)
Patented. P.A.T.S (Physical Antioxidant Thermal Shield) will greatly increase the cooling performance and reliability while deflecting other thermal radiation from other heat sources, such as the GPU, South Bridge, North Bridge, etc. P.A.T.S, ran at a long period, will display significantly better results in an enclosure, closed environment, than a tech station, open environment. In extreme conditions, PATS is able to withstand temperatures of up to 200 degrees Celcius. P.A.T.S is environmental friendly and non-toxic.
One of the special features of the PH-TC14PE is its use of something Phanteks dubs P.A.T.S, or Physical Anti-Oxidant Thermal Shield. P.A.T.S. is a specially developed "thermal shield" that is sprayed onto the heatsink's aluminum fins that allow the heatsink to repel heat generated from other devices in the computer. Why is this important? Well, it's because aluminum will typically absorb heat from other computer components reducing heatsink efficiency; however, by using this "thermal shield" the PH-TC14PE cooler is able to repel that heat allowing it to perform better than a cooler without P.A.T.S.
C.P.S.C. Technology (Cold Plasma Spraying Coating Technology)
Patented. C.P.S.C (Cold Plasma Spraying Coating Technology) is a brand new technologic forming deposit that displaces heat onto corresponding metals at a quicker rate. With this technology, the Phanteks PH-TC14PE enhances thermal conductivity on the soldered surfaces of the heat-pipes through the copper deposits.
Another special feature of the PH-TC14PE is something Phanteks dubs C.P.S.C. Technology, or Cold Plasma Spraying Coating Technology. Like P.A.T.S., C.P.S.C. is a chemical compound that is sprayed onto the heatsink; however, C.P.S.C is sprayed between the copper heatpipes and the aluminum fins of the heatsink to allow for better heat transfer.
PH-NDC Thermal Compound
The PH-NDC is a superb quality thermal compound for heatsinks. It is made of high-purity nano diamond like particles to improve the thermal conductance between components. The generated heat caused by the CPU will transfer to the heatsink, without reduction in efficiency and resistance.
The reason thermal compound is necessary between cpus and heatsinks is because there are microscopic imperfections on the machining of both the cpu as well as the heatsink. Phantek's PH-NDC thermal compound is interesting because it is made of high-purity nano diamond like particles. By using nano particles that are able to fill even the smallest of microscopic gaps, we will have better interfacing between the cpu and the heatsink thereby increasing heat transfer between the cpu and heatsink.
Installation
Installation was fairly straightforward on the PH-TC14PE and the mounting mechanism is one of the easiest to install and most secure we've seen to date. Included in the package are mounting accessories for pretty much any CPU socket on the market today including LGA 2011.
Performance
Test Bench:
CPU – i7 2600K
Mobo – Z68A-GD65 (G3) – Bios N.3
Memory – 16gb Corsair Vengeance DDR3 1600mhz 9-9-9-24
Case – HAF X (Side panel closed)
Prime 95 – 15 minute Burn
Temps measured through Core Temp (1.0 RC2)
All fan speeds measured through Speedfan. All rpm values rounded to the nearest hundred.
Test procedures:
1. All thermal pastes are applied and spread as evenly as possible to the CPU
2. The CPU is then run through a minimum 2 hour Prime 95 run then the system is shut off for a minimum of 20 minutes
3. The system is then started up and the minimum temperatures for all 4 cores is noted within the first 5 minutes.
4. The system is then run through 2x 15 minute Prime 95 tests. The average of the two is used as the final temperature. All temperatures are recorded in Celsius using CoreTemp.
CPU Coolers Tested:
Phanteks PH-TC14PE
Cooler Master V6GT
 Test Results
Temperatures in Celsius. Lower Values are Better (Best Values Bolded)
| | | | | |
| --- | --- | --- | --- | --- |
| CPU Coolers | Idle Temp (3.5ghz @ 1.176v) | Load Temp (3.5ghz @ 1.176v) | Idle Temp (4.4ghz @ 1.264v) | Load Temp (4.4ghz @ 1.264v) |
| Cooler Master V6GT (2 Fans @ 2,200rpms) | 28 | 51 | 28 | 63 |
| Phanteks PH-TC14PE (2 Fans @ 900 rpms) | 28 | 48 | 28 | 58 |
| Phanteks PH-TC14PE (3 Fans @ 900 rpms) | 28 | 48 | 28 | 57 |
| Phanteks PH-TC14PE (2 Fans @ 1,200 rpms) | 27 | 47 | 28 | 57 |
| Phanteks PH-TC14PE (3 Fans @ 1,200 rpms) | 27 | 46 | 28 | 56 |
The Phanteks PH-TC14PE with 2 fans running in push/pull configuration at 1,200rpms is able to defeat the Cooler Master V6GT running a push/pull configuration at 2,200rpms by 6 degrees Celsius! If a third fan is added to the mix, the Phanteks PH-TC14PE is able to beat the Cooler Master V6GT by 7 degrees Celsius!
Undoubtedly, the performance of this CPU cooler is phenomenal as expected. In addition to my test as shown above, I also dropped the Phanteks PH-TC14PE into the test bench with an i5 2500K overclocked to 5GHz at 1.52v. In a full 15 minute Prime 95 run, the PH-TC14PE was able to keep the 5GHz i5 2500K under 80 degrees Celsius. Without a doubt, very impressive!
Conclusion
Well, despite this being the first product from Phanteks, it certainly looks like they already have a winner on their hands. The design of the CPU cooler is exactly what you'd expect out of a tower style cooler and it's great to see that Phanteks has included a lot of features with their product that really makes it stand out from the competition. Small things like the rubber bars that dampen fan vibration, the nice anodized finish on the heatsink, or the 4 different color options as well as some very unique features such as P.A.T.S. and C.P.S.C. Technology makes the PH-TC14PE a very unique product on its own.
On the performance front, the PH-TC14PE is in one word, phenomenal. It was able to keep my i5 2500K cool despite the cpu being overclocked to 5GHz with the voltages cranked up to voltages that are only reserved for the top air and water coolers. When compared against the V6GT, the PH-TC14PE was able to dominate there as well cooling the overclocked i7 2600K a full 7 degrees cooler than the V6GT despite the fans running at almost only half the rpms.
As for noise, the CPU cooler wasn't the most quiet out there and that's because none of the fans use pwm technology. Even at idle with the low noise adapters installed, the fans spin at about 900 rpms, which is a bit faster (and louder) than I'd prefer for an idle computer. The upside of this though is that the fans do max out at 900 rpms as well so during load you don't get any additional noise. At 1,200 rpms with 2 or 3 fans, the noise does get a bit louder but by no means is it unacceptably loud. That said, I am hoping that Phanteks will put pwm fans in for the next revision of this cooler.
Both the Phanteks PH-TC14PE cpu cooler and the PH-F140TS fan are currently available on Amazon for $99.99 and $30.47 respectively and include a 5 year warranty. The cpu cooler also comes in a couple other colors such as orange, red, and blue (as tested). All colored models do cost an extra $10 making them $109.99, but they do look very good. One recommendation I am going to make for people looking to purchase this cpu cooler is to not purchase the third fan. As you can see in the benchmarks, the third fan only makes a difference of about 1-2 degrees Celcius so from a value standpoint it isn't worth it. Of course, if you are looking for the best possible performance or are planning to hit that 5GHz overclock, you'll definitely want to invest in that third fan despite the cost.
Bottom Line
The PH-TC14PE is an excellent product from Phanteks and is worthy of our CPC Certified Gold Award. The cpu cooler's design, innovation and excellent performance truly makes it a top product. If you've got the money and you want the best air cooler money can buy, this is it.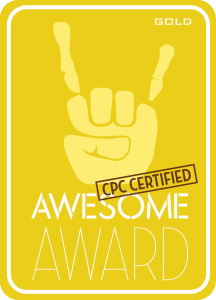 The Phanteks PH-TC14PE and the PH-F140TS are currently available for purchase on Amazon.
The product sample used in this review was provided by the manufacturer.