[section label="Introduction"]
Magnets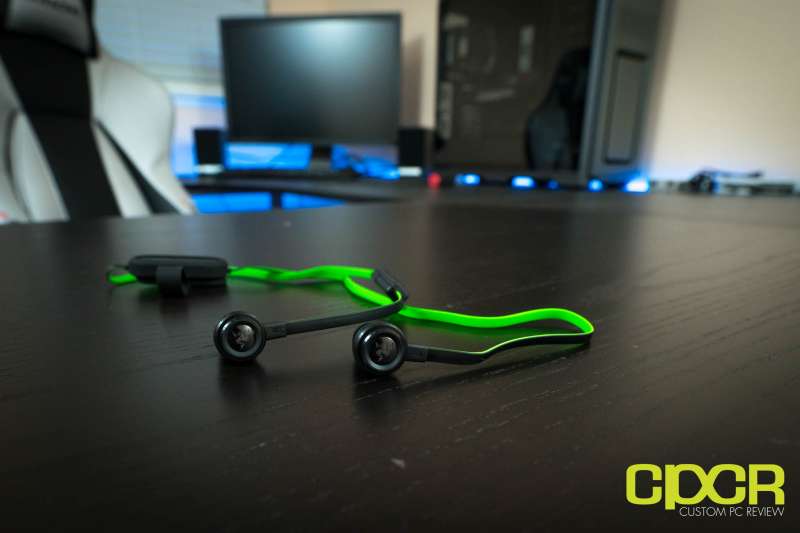 When it comes to gaming peripherals, everyone knows that Razer makes some of the best and given that most gaming peripherals can be used in everyday life, the company naturally branched out to create gamer inspired lifestyle gear. One such line of products is the Razer Hammerhead line of in-ear headphones which we were fairly impressed with when we reviewed it way back in 2013.
Naturally, given the success of the Hammerhead series, Razer released a new Bluetooth version, the Hammerhead BT which we'll be reviewing today.
Razer Hammerhead BT Specifications
| | |
| --- | --- |
| Manufacturer | Razer |
| Model | Hammerhead BT |
| Type | In-Ear |
| Interface | Bluetooth 4.1 + AptX |
| Driver Diameter | 10mm |
| Frequency Response | 20 – 20,000Hz |
| Impedance | 32 Ω |
| Microphone | Omni-Directional |
| Warranty | 1 Year |
| Check Pricing | [easyazon_link identifier="B071YVN22F" locale="US" tag="cupcre06-20″]Click Here[/easyazon_link] |
[section label="A Closer Look"]
A Closer Look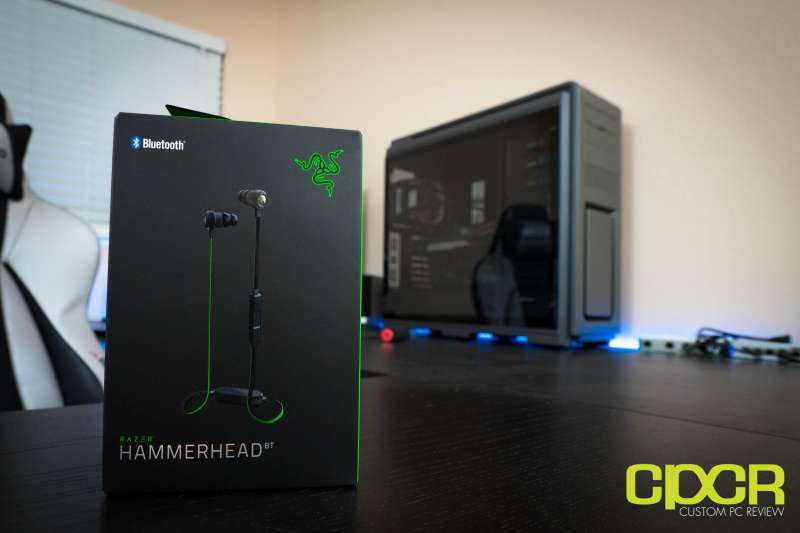 Here's a look at the packaging for the Razer Hammerhead BT.
As usual, Razer has done a stellar job with packaging with the Razer Hammerhead BT. Included we get some documentation, a USB charging cable, a carrying case and three sets of eartips (small, medium, large) along with an extra set of double flange eartips pre-installed.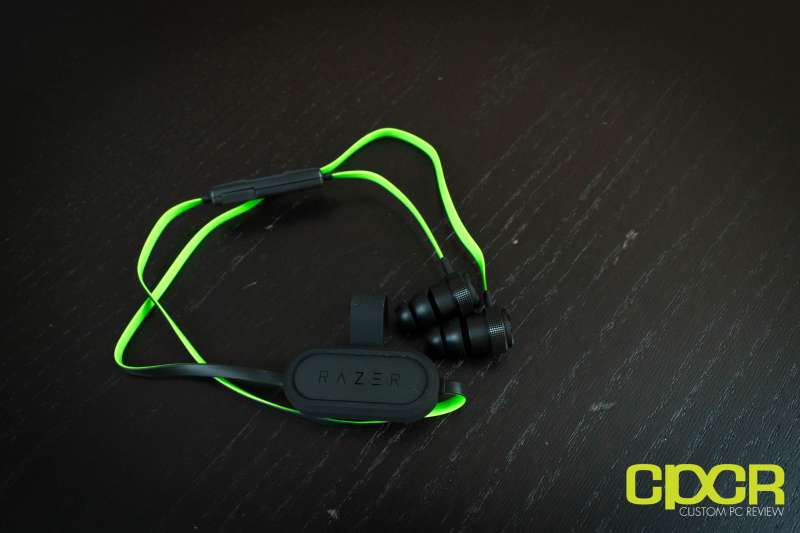 Here's a closer look at the Razer Hammerhead BT. As expected, the headphones rock the traditional Razer black and green theme and the magnet in the middle which we'll get to a little later features a large Razer logo to let the world let you know who made the headphones you're rocking.
Similar to the rest of the Razer Hammerhead headphone lineup, each of the earphones themselves are made of metal which makes them light, but still feel high quality. Razer has also included a flat cord here which is tangle resistant so you don't end up with a tangled mess when the headphones are quickly thrown in a bag.
Located on the wire for the right headphone is a remote controller which includes a volume up/down and a play/pause/on/off/pair button. There's also a microUSB port for charging and a microphone for voice conversations.
Interestingly, Razer has incorporated a magnet at the center of the headphones which clips to the back of your shirt to keep the headphones in place. This clip is surprisingly effective for this purpose and also doubles up as a wire management system during times when the case isn't available. While the magnet does make the weight of the headphones much heavier, it doesn't feel that way since the weight is sitting on your shirt rather than on your ear-canal.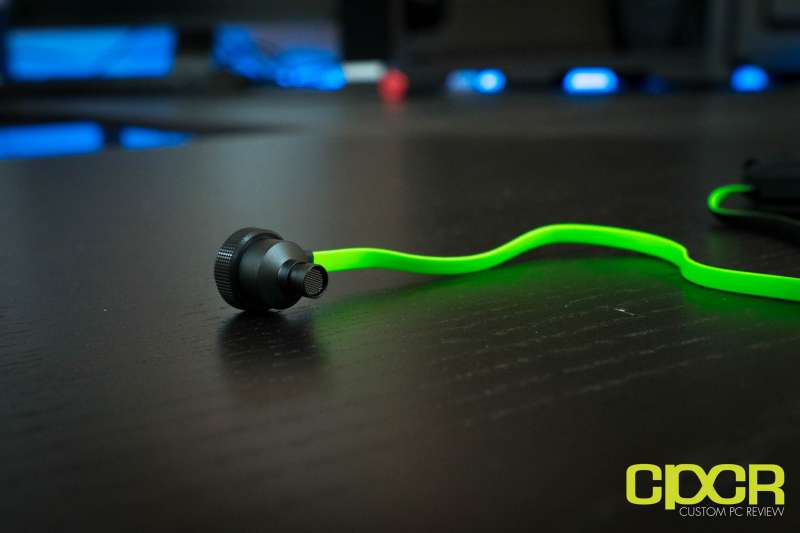 Here's a look at the headphone itself. Razer is using 10mm drivers which is on the larger side for a pair of in-ear headphones. The larger drivers typically deliver a bit more powerful bass than your average in-ears with 6mm, 7mm or 8mm drivers, but of course driver size doesn't tell the whole picture when it comes to headphones.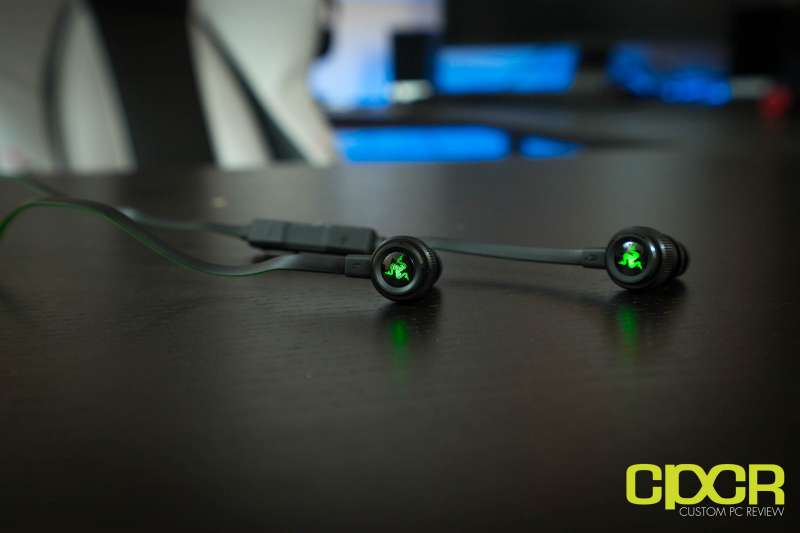 Here's a look at the Razer Hammerhead BT when in use. The small Razer logos light up on each headphone which is a pretty cool design feature.
[section label="Performance & Conclusion"]
Performance & Conclusion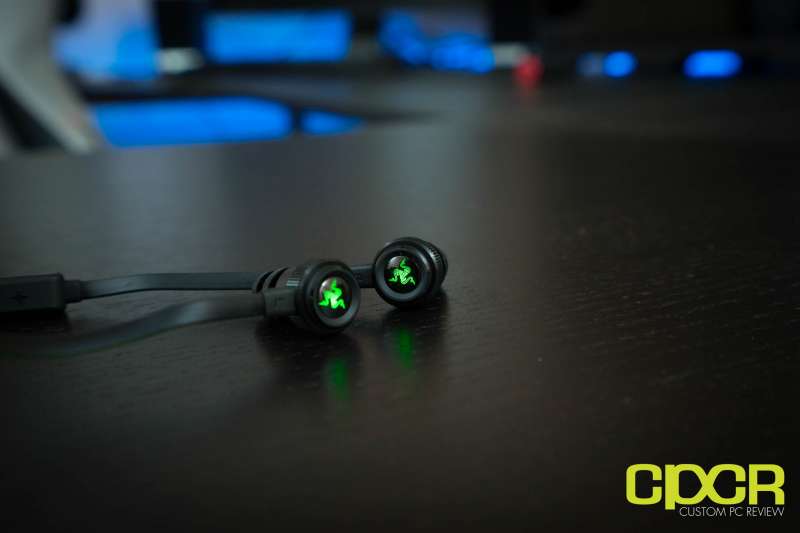 To get started on the Hammerhead BT simply requires the usual Bluetooth pairing process. Simply hold down the play/pause button for a couple seconds and the headphones go into pairing mode. Then simply find the headphones on a smartphone, laptop or any other device and the Hammerhead BT should connect right away.
For testing, I spent a little over a week using the Hammerhead BT in a variety of settings with a variety of music, gaming and watching a few movies. In terms of sound quality, the Hammerhead BT is actually quite good. The in-ear headphones are well tuned and deliver a decent version of your typical U shaped sound curve. As with many of Razer's newer headsets, they no longer overboard on the tuning, so the bass isn't so overpowering that it's just a muddy mess by the time it hits your ears. That said, it's clearly tuned with enhanced bass and enhanced treble, so if an audiophile flat sound signature is what you're looking for, the Razer Hammerhead BT isn't it. However, if you play games, watch movies, listen to EDM and were thinking about a new pair of Beats by Dr. Dre, but didn't want to pay the astronomical prices for one, this may be your ideal pair of headphones.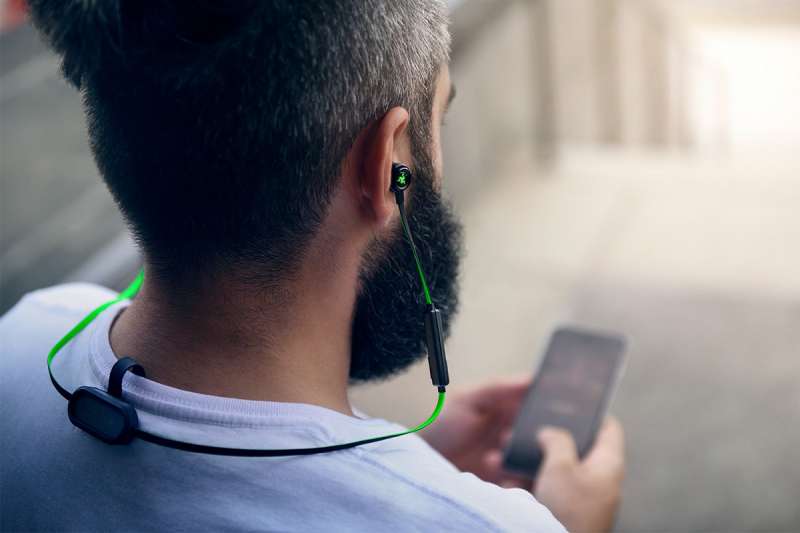 In terms of comfort, the Razer Hammerhead BT was quite comfortable in use. I typically use the medium size eartips and lucky enough, the double flange eartips in the headphones worked out extremely well. For those with larger ears or smaller ears, Razer does include smaller or larger eartips however, these are just the regular eartips rather than the double flange ones that come included on the headphones themselves. The shirt clip was one feature that turned out to be a lot more helpful than I previously expected. Whereas in some other headphones such as the Jaybird BlueBuds X, the headphones would fall out due to the weight of the headphones despite the wings that try to keep the headphones in place, the Hammerhead BT stays in place as the magnet helps hold up the headphones very well. Personally this is the first time I've seen something like this and now that Razer has done it, I'm not sure why nobody else thought of it yet.
As for battery life, the Razer Hammerhead BT is rated at about eight hours of battery life and given that I could watch about three movies on these, I'd say the number is relatively accurate although slightly optimistic side. That said, charging is an under one hour ordeal and battery life definitely wasn't a problem in use.
Currently, the [easyazon_link identifier="B071YVN22F" locale="US" tag="cupcre06-20″]Razer Hammerhead BT[/easyazon_link] is priced at $99.99, which is slightly cheaper than you'd find for many of the premium Bluetooth headphones such as the [easyazon_link identifier="B01LZUH820″ locale="US" tag="cupcre06-20″]BeatsX[/easyazon_link] or the [easyazon_link identifier="B01M7NCT5O" locale="US" tag="cupcre06-20″]Jaybird X3[/easyazon_link], but it's definitely not the cheapest Bluetooth headphones out there.
Ultimately, peripherals are Razer's bread and butter and the Hammerhead BT is an excellent representation of this fact. The headphones are well designed, they're comfortable, and they work well. At the end of the day, that's all you really ask for in a pair of Bluetooth headphones. If it's not clear already, highly recommended!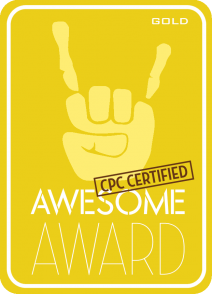 Sample provided by: Razer
Available at: [easyazon_link identifier="B071YVN22F" locale="US" tag="cupcre06-20″]Amazon[/easyazon_link]