[section label=1. Introduction]
Premium Build Quality for Under $200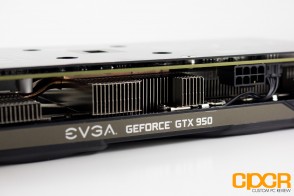 Back in August, NVIDIA launched their GeForce GTX 950, which is the first of their 900 series cards to be priced in the budget market. Before its release, users shopping for an NVIDIA graphics card would either have to shell out at least $200 for the GTX 960, or make due with the aging GTX 750 and 750 Ti. Today, we'll be taking a look at one of the more premium GTX 950 models available on the market, the EVGA GTX 950 FTW.
With the GTX 950, NVIDIA finally rounds out their GTX 900 series lineup, leaving only a gap in pricing between the GTX 970 and the GTX 960. This would likely be filled with either a possible GTX 960 Ti, or a price reduction on the aforementioned GTX 970. It is also worth noting that the GTX 750 Ti will remain on the market with a price cut, filling the sub-$130 price sector.
SKU
GTX 960
GTX 950
GTX 750 Ti
GTX 750
GPU
GM206
GM206-250
GM107
Architecture
Maxwell 2
Maxwell 1
Fabrication
TSMC 28nm
Core/Boost Clock (MHz)
1127/1178
1024/1188
1020/1085
CUDA Cores
1024
768
640
512
Texture Units
64
48
40
32
ROPs
32
16
Framebuffer
2GB/4GB
2GB
1GB
Memory Type
GDDR5
Memory Interface
128-bit
Memory Clock
7.0 Gbps
6.6 Gbps
5.4 Gbps
5.0 Gbps
TDP
120W
90W
60W
55W
Launch Price
$199
$159
$149
$119
As we can see in the chart above, the GTX 950 is using a cut down version of the very same GPU that powers the more expensive GTX 960. It features a slightly higher reference boost clock and a 25% reduction in both CUDA Cores and Texture Units, in addition to a roughly 5.7% reduction in Memory Bandwidth.  That might seem like a lot on paper, but at an MSRP of $159, it is also roughly 20% cheaper, which I admittedly wish was even more so. However when you compare its specifications to the card it is succeeding, then you can see what sort of value that $10 increase in launch price adds.
At $159, the GTX 950's nearest competitor is the AMD Radeon R7 370, which is still based on AMD's aging Pitcairn GPU the company introduced all the way back in 2012 with the HD 7800 series. This means AMD's product is unable to offer many of the new features introduced with more recent GPUs such as FreeSync and AMD TrueAudio, which gives NVIDIA the edge before performance is even a question.
The EVGA GTX 950 FTW which is the subject of this review also brings even more extras to the table with its dual-fan ACX 2.0 cooler, a factory overclock of 1203/1405 MHz on the core/boost clock, and the addition of a backplate. This card does seem to add a lot of value to an already enticing package. Of course, all of that doesn't come for free, the GTX 950 FTW has a current MSRP of $179.99. That  $20 might not seem like much, but for users on a tight budget it may make all the difference.
So is the EVGA GTX 950 FTW worth the extra premium? Let's find out!
[section label=2. A Closer Look]
A Closer Look at the EVGA GeForce GTX 950 FTW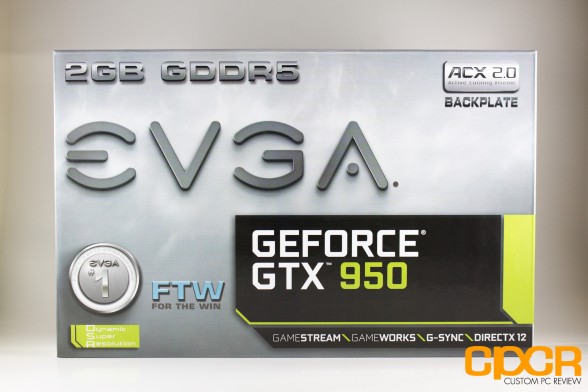 First we take a look at the packaging for the EVGA GTX 950 FTW.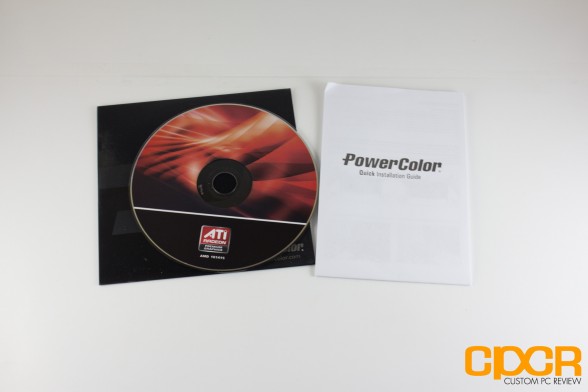 Included in the packaging we get some basic documentation, a DVI-I to VGA adapter, a dual 6-pin to 8-pin PCI-E power adapter, some stickers, an EVGA poster, and a premium metal EVGA case badge. Missing is a driver installation disc, instead we are greeted with a note which instructs us to download the latest drivers from NVIDIA's website. I personally much prefer this, as the drivers on the disc would likely become outdated as soon as they burned. Plus, who has optical disc drives anymore, right?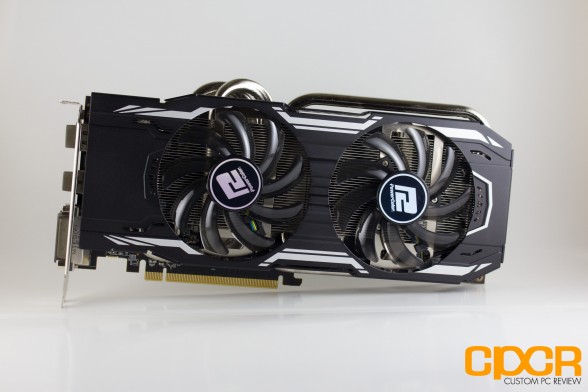 Taking a look at the card itself; we can see the design is very similar to that of EVGA's other dual-fan cards, in fact it's nearly identical in both size and aesthetics to our GTX 960 SSC. This is of course no accident as EVGA uses the same ACX 2.0 cooler found on that and many of its other premium cards. The cooler features dual 90mm fans which each have 11 fins in order to improve airflow compared to the previous generation ACX cooler design. The new cooler not only features redesigned fan blades, but also redesigned fan motors in order to decrease noise and power consumption. The back plate features a very nice design featuring perforated ventilation, and  complete with a cutout of the EVGA logo with the graphics card model name below it.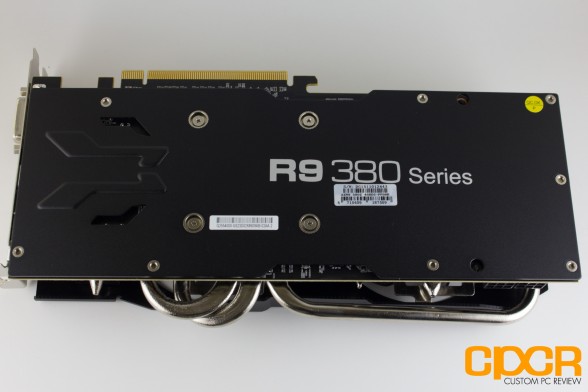 From the sides, we can see that it is a dual slot card, which is also full length and measures 10.10″ long. It also features a nice accent strip on the side which has the EVGA logo as well as the model name, and near the front of the card we'll find the FTW logo. In that area, we'll also find the switch for the card's "Dual BIOS" function, which allows the user to switch between two available BIOs chips, for increased safety while tweaking, and overclocking.
The card is powered by a single 8-pin PCI-E power connector. Around back we find a slew of connectivity options, including a single dual-link DVI-I connector, HDMI 2.0, and three DisplayPort 1.2 connections.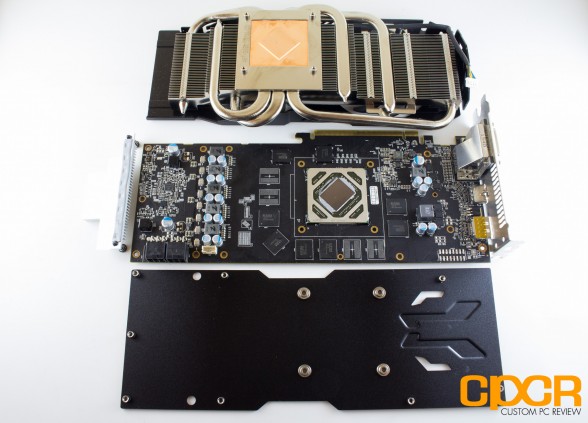 Removing the cooler, and back plate we get a look at the cooler's construction, as well as the fully custom PCB. The cooler itself, is composed of a large aluminum heatsink, and three  straight, large copper heat-pipes which span nearly the entire card and meet in the middle with a large copper base. EVGA claims their straight heat-pipe design improves cooling performance by as much as 6% when compared to traditional bent heat-pipe layouts.
We can also see that the 2GB of GDDR5 memory is supplied by Samsung. In addition, we get a look at the card's 6+2 phase VRM, which features premium MOSFETs by ON Semiconductor, as well as metal Chokes made by Magic Technology, and Japanese solid state capacitors from Nichicon. All-and-all, this appears to be a solidly build VRM, which should make for some fairly good overclocking.
[section label=3. Testing Setup and Methodology]
EVGA GeForce GTX 950 FTW Performance
Testing Setup
Haswell-E X99 Test Bench
Special thanks to Phanteks, DEEPCOOL, Asrock, and Crucial for supplying vital components for this test bench.
Testing Methodology
To test our graphics cards, we use a variety software, tools, and benchmarks. First we'll validate the card using GPU-Z, and then test the card's overclocking capabilities using the vendor's software (if applicable.) Once we reach a satisfactory overclock, we'll then test the card's cooling performance and power draw using FurMark at both factory configurations, and while overclocked. After that, we put it through its paces using a variety of benchmarks starting with 3D Mark Fire Strike, and continuing into a number of popular gaming titles. Game performance is measured in both average FPS, as well as Frame Time, both of which are logged using the benchmark and recording tool FRAPS, and then analyzed using FRAFS. Each game is tested a minimum of 3 times with the average of those results being displayed in our scores.
All cards tested were using the latest available drivers at the time of testing, those include NVIDIA GeForce Game Ready 358.50, and AMD Catalyst 15.10 beta.
Frame Time Analysis
Frame Time Analysis is a recent addition to our graphics testing suite, it allows us to measure the overall gaming experience, and fill in the gaps that traditional FPS performance measuring leaves. Frame Time itself, is simply the amount of time it takes (in milliseconds) for the GPU to render a given frame. Higher or inconsistent Frame Time can result in a poor experience, which will be perceived as micro-stutter. In order to measure micro-stutter, we'll be measuring both the 99th, and 99.9th percentile. These results are essentially the worst Frame Time a user can expect both 99%, and 99.9% of the time. While every user is different, it is unlikely that most would notice anything below 30 ms, so that is what we look to achieve. In addition, we'll want to look out for large gaps between the 99th, and 99.9th percentile as that can also result in noticeable stutter, or spikes in performance.
[section label=4. Overclocking]
EVGA GeForce GTX 950 FTW Overclocking
Initial Boot
EVGA Precision X
For overclocking our EVGA GTX 950 FTW, we'll be using EVGA's Precision X software suite which is a custom-made utility specifically for overclocking and tuning your EVGA graphics cards. In addition, it also works with any NVIDIA graphics card, regardless of vendor.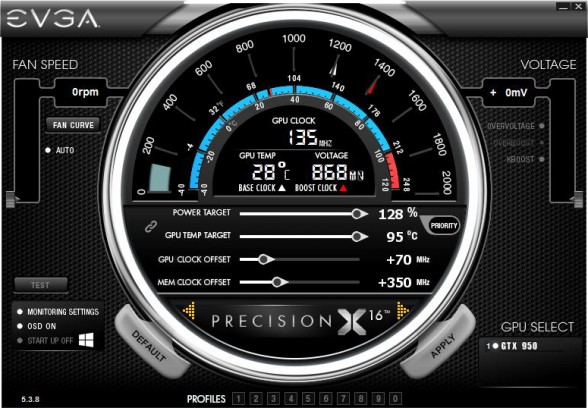 Given the already fairly high factory overclock, I wasn't really expecting to be able to push this card too much further. However, it fared pretty well. By increasing the Power and Temperature Targets to the maximum allowed 128% and 95° C, respectively, I was able to increase the GPU Clock Offset by +70MHz, and the Memory Clock Offset by + 350MHz. This gave us a final increase of 1500MHz on the GPU Boost Clock, and a Memory Clock of 7.3Gbps. That's an increase of rougly 7%, and 10% on each, which should result in a significant boost in performance.
We'll validate this later in our gaming tests. But, for now.. let's check out the power consumption and cooling performance!
[section label=5. Power Consumption and Temperatures]
EVGA GeForce GTX 950 FTW Performance
Power Consumption
For power consumption testing, we'll be measuring full system power while idle along with full system power with the graphics card running at full load using Furmark. All power consumption measurements will be measured at the outlet with a simple P3 kill-a-watt meter.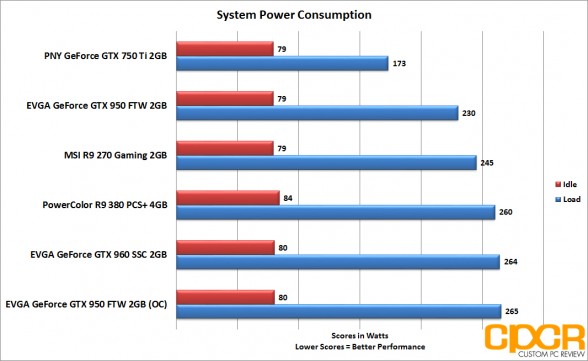 As we can see in the above chart, power consumption of the EVGA GTX 950 is quite a bit more than the GTX 750 Ti. Even while at factory clocks, system load power draw is about 57 watts higher, which is an increase of about 33%. However, this is to be expected since the GTX 950 is not only much higher spec'd, but this model also has a fairly high factory overclock. We can also see that overclocking our EVGA GTX 950 also, as expected, increases our power consumption by about 13%. At 265 watts, our system consumes about as much power as it does with the EVGA GTX 960 SSC.
Temperature Testing
For idle temperature, we'll be taking a reading when the graphics card is idle for 5 minutes after a cold boot. Load temperatures are taken after a full 30 minute burn using Furmark.
While some of you aren't huge fans of Furmark as it creates an ultra heavy, unrealistic load on the graphics card, we feel like it's a more useful tool as it differentiates between graphics cards that have extremely well designed coolers and ones that simply have cooling solutions that simply pass the test, if you will. Most games these days generally don't create enough of a load/heat to even exceed temperatures where the fans would spin up on most custom coolers so it's difficult to adequately rank cooling solutions without using a tool like Furmark. During all tests, the GPU intake air temperature is approximately 25° Celsius.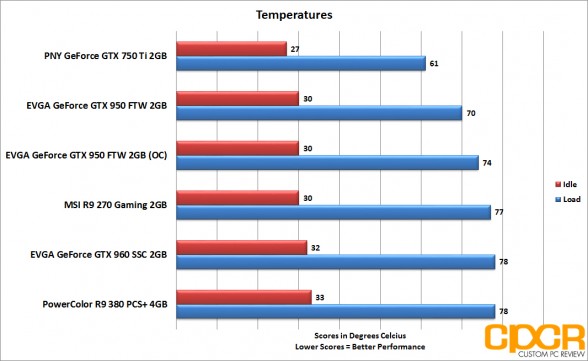 Our temperature test shows the the same story as our power consumption results. The EVGA GTX 950 FTW is higher than its predecessor; the GTX 750 Ti, but lower than everything else. At stock, we have a load temperature of 70° C, which is just 45° C over the GPU intake air temperature. Once overclocked, we get a roughly 9% increase to 49° C.
So far, our 10% overclock has given us power and temperature increases of 13%, and 9% respectively. Will these numbers translate into an equal increase in performance? Let's find out! 
[section label=6. 3D Mark]
EVGA GeForce GTX 950 FTW Performance
3D Mark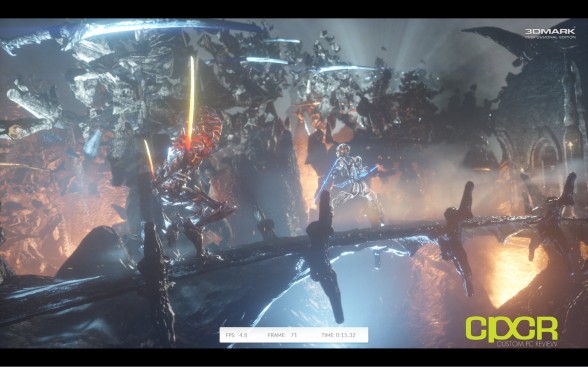 The new 3D Mark, now referred to as just 3D Mark, is Futuremark's latest update to the popular 3D Mark series of benchmarks. The updated 3D Mark now includes multiple benchmarks for cross-platform support as well as updated graphics to push the latest graphics cards to their limits.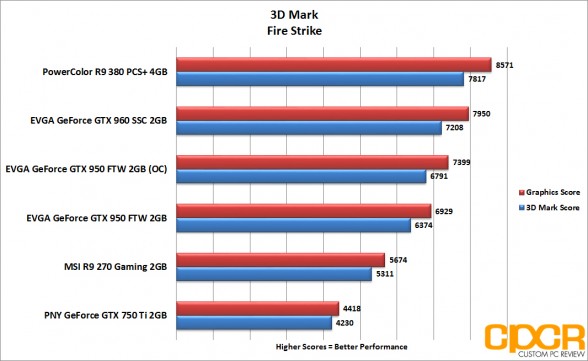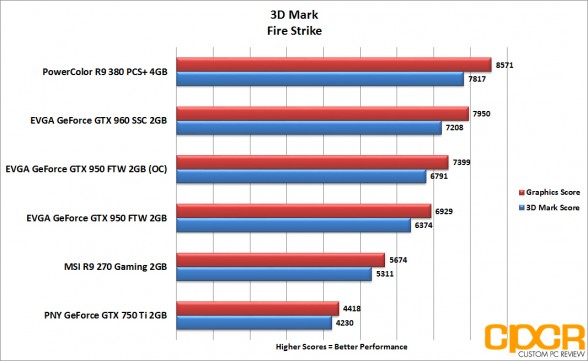 [section label=7. Crysis 3]
EVGA GeForce GTX 950 FTW Performance
Crysis 3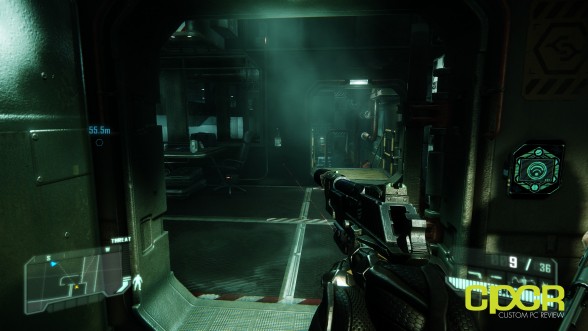 Crytek's third installment of the legendary series Crysis, like its predecessors, still serves as one of the best looking, and most graphically intensive games to date. Offering photo realistic textures, advanced lighting, and a massive environments, which mix together lush organic plant-life and foliage, with  large, damaged and demolished buildings.
We test the game in a 60 second run during the first in-door area, which features a few firefights, explosions, and some stealth play. It is not the most graphically intensive portion of the game, but it is one of the most easily repeatable for our purposes.
Average FPS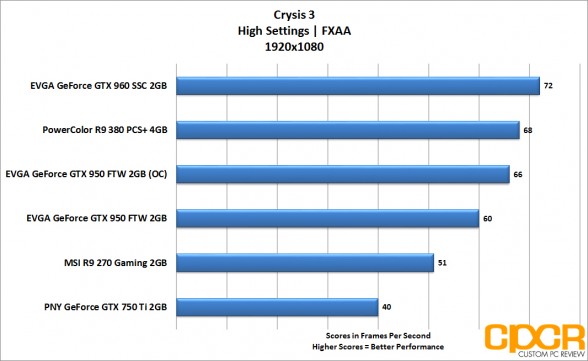 Frame Time Variance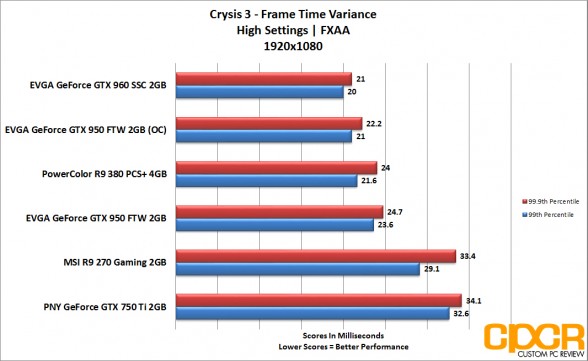 [section label=8. Tomb Raider]
EVGA GeForce GTX 950 FTW Performance
Tomb Raider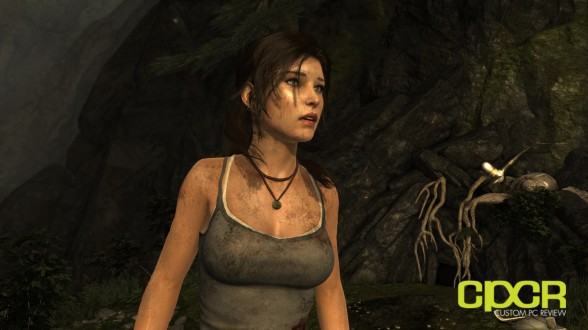 When Tomb Raider was first showed off at E3 2012, the game quickly became one of the most highly anticipated games of the year. It had been quite some time since the last Tomb Raider game and given the popularity of the franchise, nobody could really resist a reboot of franchise especially when you've got Square Enix and Crystal Dynamics at the helm.
Despite the game ultimately being a multi-platform game, Tomb Raider turned out to be a fantastic port featuring numerous DX11 features such as depth of field, ambient occlusion, tessellation, etc. Even AMD pitched in as well helping developers with their TressFX real-time hair physics engine giving Lara Croft more realistic hair than ever before.
Average FPS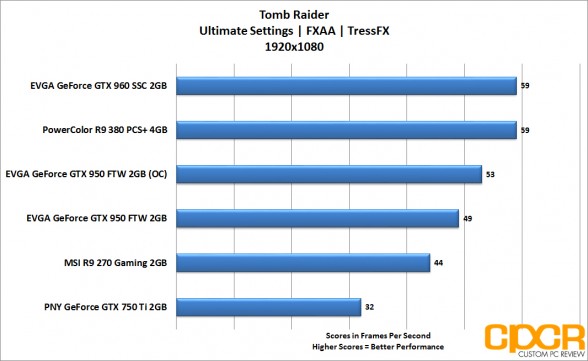 Frame Time Variance

[section label=9. Grand Theft Auto V]
EVGA GeForce GTX 950 FTW Performance
Grand Theft Auto V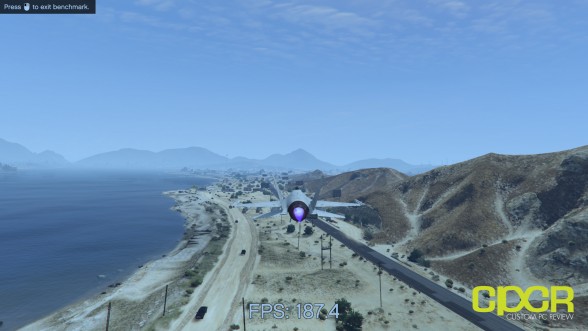 The hotly anticipated PC release of Rockstar Games' fifth instalment of their Grand Theft Auto franchise, easily proves once again, that when it comes to open-world games, no one does it better. With lots of new features and graphical enhancements built specifically for the PC version, it's no wonder it took them so long to optimize it. With advanced features such as tessellation, ambient occlusion, realistic shadows, and lighting, mixed with the largest open-world map in franchise history, this is one beautiful, well-optimized PC title.
We test GTA:5 using the last scene in the game's built-in benchmarking tool. We also test on high settings, as cranking it any further would technically require more than the 2GB of VRAM available in many of the cards we're testing.
Average FPS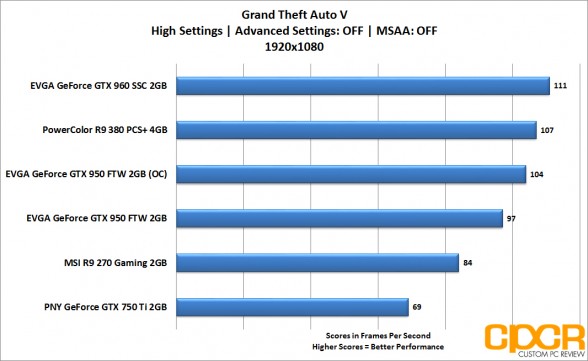 Frame Time Variance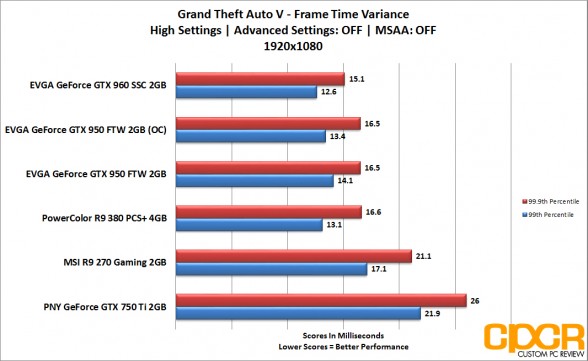 [section label=10. The Witcher 3: Wild Hunt]
EVGA GeForce GTX 950 FTW Performance
The Witcher 3: Wild Hunt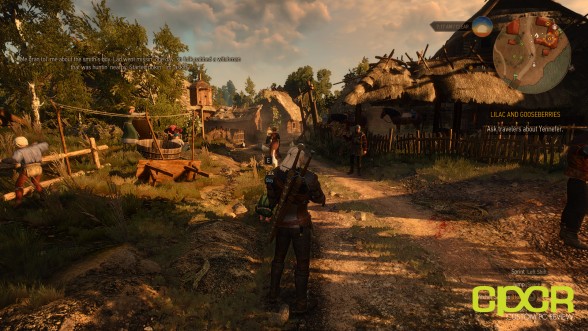 CD Projekt RED's The Witcher series, has long been accredited with being some of the most beautiful, and graphically demanding PC titles and its latest instalment, The Witcher 3: Wild Hunt, is no exception. With beautiful, large open-world environments, detailed charter designs, high-resolution textures, and advanced features such as God Rays, and Volumetric Fog, in addition to a slew post-processing effects, this is definitely one impressive looking game.
We test The Witcher 3 with a 60 second lap around the first village you come across in the campaign, this is one of the best places for testing as it exhibits some of the game's most graphically intense features such as God Rays, and Volumetric Fog, while offering very little variance, which is difficult to find in most open-world games. We test with NVIDIA HairWorks off as we find it puts an artificial gap between otherwise similarly performing AMD, and NVIDIA GPUs.
Average FPS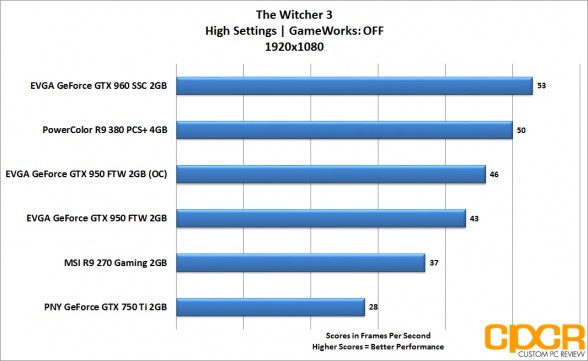 Frame Time Variance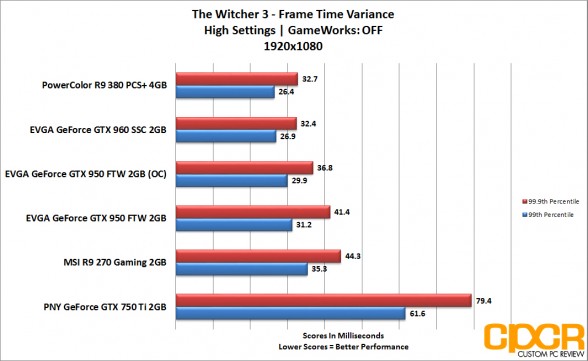 [section label=11. Project CARS]
EVGA GeForce GTX 950 FTW Performance
Project CARS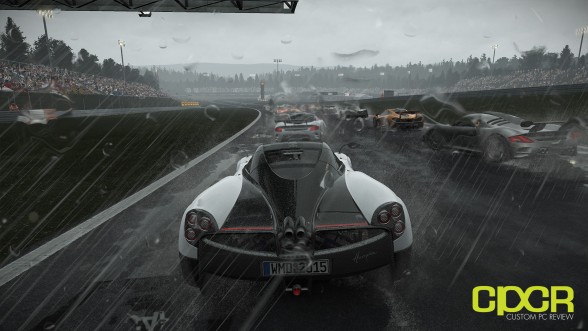 Next-gen racing simulator Project CARS was met with much anticipation when developer Slightly Mad Studios first announced the community assisted project. While it may not be the definitive choice for racing sim enthusiasts, it is easily one of the best looking racing games available, featuring photo realistic vehicle models, real-world tracks, and realistic rain and weather effects. Despite some initial performance issues on AMD hardware, which have been mostly patched, it is still one of the best racing simulator available for testing graphics performance.
We test the game using the in-game replay system, the race lasts 2 minutes and 15 seconds, and takes place on the Nürburgring race track, with extreme weather effects enabled.
Average FPS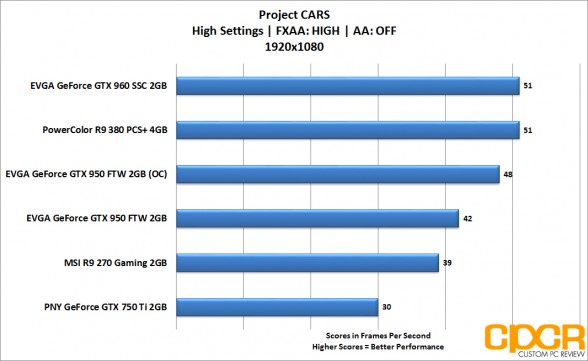 Frame Time Variance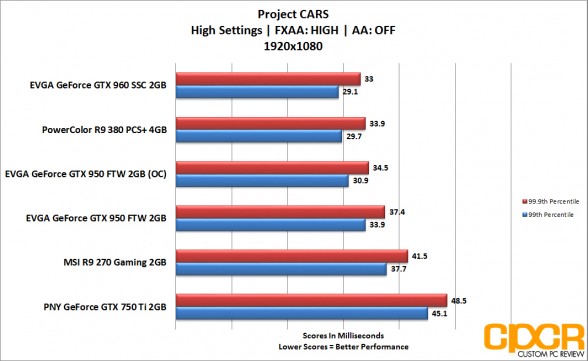 [section label=12. Conclusion]
EVGA GeForce GTX 950 FTW Conclusions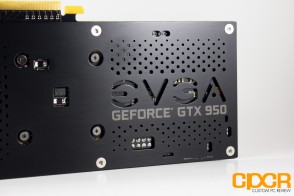 I will admit, I wasn't expecting a whole lot coming into this review, afterall, the GTX 950 is just a cut-down version of the existing GTX 960, which isn't the most impressive card for its price. However, after testing the EVGA GeForce GTX 950 FTW, I have to say I am surprised.
The performance of the EVGA GeForce GTX 950 FTW is dangerously close to that of its bigger brother: the EVGA GTX 960 SSC 2GB. The gap is even closer after an overclock. And while it didn't offer a huge amount of overclocking headroom, it did do better than I expected given its already high factory overclock. This is no doubt attributed to EVGA's excellent 6+2 phase power design, which you wouldn't expect to see on a card of this price.
In fact, everything about the EVGA GeForce GTX 950 FTW feels much more premium than a sub-$200 graphics card should feel. It feature superior build quality, cooling on par with the company's top of the line cards, and even adds a back-plate, which adds not only additional heat dissipation, but also extra rigidity and style points. The ACX 2.0 found on this card is virtually no different from the one found on the higher end EVGA GeForce 960 and 970 models. It features the same straight heat-pipe layout, and whisper quiet fans.
However, all of these luxuries do come at an extra cost, the EVGA GeForce GTX 950 FTW's $179 price-point adds a $20 price premium to the current GTX 950 MSRP of $159. This unfortunately may be a deal breaker for some users who are on a tight budget, and also places it up against a slew of AMD's Radeon 380 2GB variant, which can be had for between $180-$190. However, those cards will likely not feature the premium build quality found here. It is ultimately up to the user to decide what they are, and are not willing to pay for. If you fall into the "are not" category, then EVGA may still have an option for you yet. Currently the EVGA GTX 950 SSC can be had for just $139. That is an incredible value when you consider that it is essentially the same card as the one seen here, without the back-plate, and a slightly lower factory overclock.
Overall, I'm very impressed with the EVGA GeForce GTX 950 FTW. While it may not be the cheapest GTX 950 on the market, it does offer a lot for the money. And when compared to the more expensive GTX 960, it's a great value considering it performs within spitting distance in most cases. In fact, its hard to recommend the GTX 960 at all at this point, you'd likely be better off saving a few bucks and getting a GTX 950, or spending about the same for a 4GB variant of the Radeon R9 380. Bottom line: if you're playing games at 1080p, the EVGA GTX 950 FTW is an excellent all around card, and I would have absolutely no issues recommending it to anyone in the market for a sub-$200 graphics card.