[section label=1. Introduction]
Macros, Macros, Macros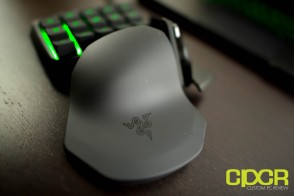 Months ago, I had the opportunity to review the Razer Orbweaver, which is Razer's top of the line gaming keypad complete with Cherry MX Blue mechanical keyswitches, completely adjustable palmrests and more buttons than you can count on one hand, but it left me with mixed feelings. While the keypad worked fine in game after a "getting used to" period, I simply didn't see the value proposition of spending $130 on a product that was essentially a smaller version of the keyboard. Despite this however, there's a market for a product like this however small as it seems like Razer is committed to continue developing gaming keypads, recently introducing what they call the Razer Tartarus.
As you can expect then, today's review will be on the new Razer Tartarus gaming keypad, which will be replacing the aging Razer Nostromo as the entry level gaming keypad. The Tartarus will include a total of 25 programmable macro keys and, like the Nostromo, will include the more standard membrane keys. It will also have less adjustability than the Orbweaver, but will come in with a more entry level pricetag at $79.99.
Is it worth checking out? Read on to find out!
Razer Tartarus Specifications
25 Fully programmable keys including an 8-way thumb-pad
Instantaneous switching between 8 key maps
Improved ergonomic form factor
Adjustable soft-touch wrist pad for remarkable comfort
Full anti-ghosting
Unlimited macro lengths
Unlimited game profiles
Backlit keys for total control even under dark conditions
Braided fibre cable
Razer Synapse 2.0 enabled
Approximate Size – Width: 153mm/6.03″, Height: 186mm / 7.32″, Depth: 54.8mm/2.16″
Product weight: 370g/0.66lbs
[section label=2. A Closer Look]
A Closer Look at the Razer Tartarus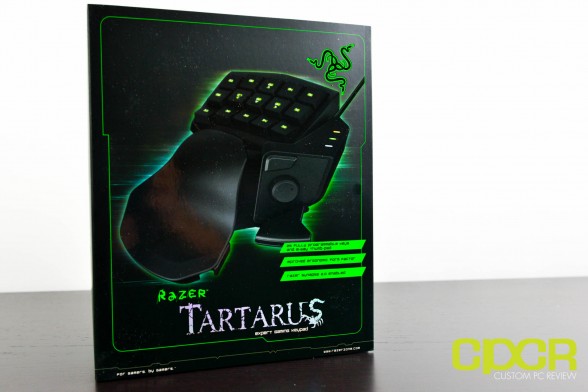 Here's a look at the packaging for the Razer Tartarus.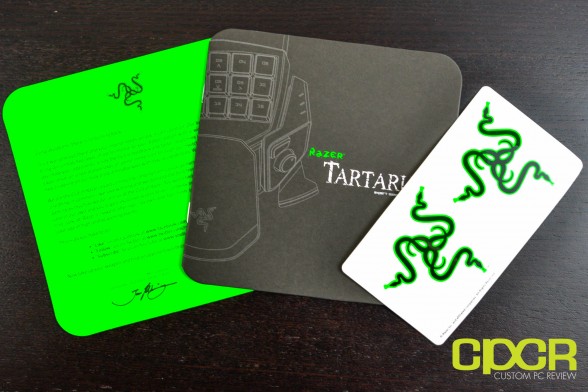 Included in the packaging, we get some stickers, some documentation…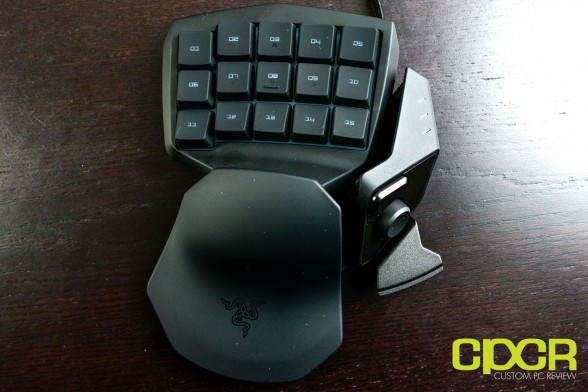 … and the Tartarus gaming keypad itself. The design of the unit is fairly self explanatory. There's three rows of four buttons each on the main part of the gamepad, which simulates a keyboard. Then there's a d-pad along with two buttons that are controlled using the thumb. This allows easy access to a ton of buttons which can be reprogrammed as macros for any application. The entire unit is completely constructed of plastic and coated in a matte black finish.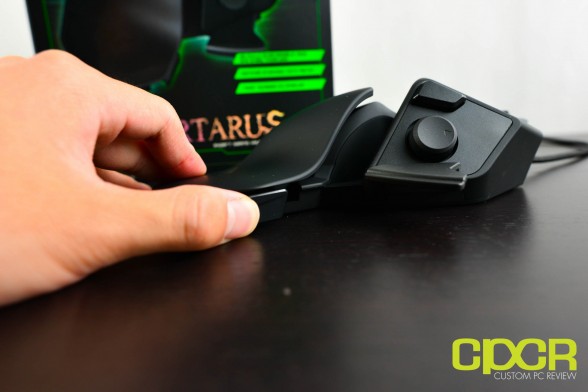 The wrist rest can be adjusted to fit larger or smaller hands.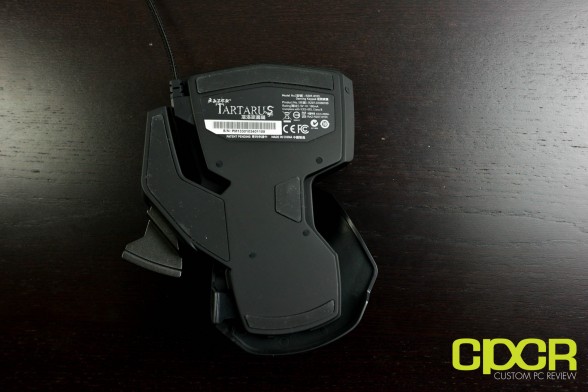 Here's a look at the bottom of the Tartarus. There's plenty of grippy material down here to ensure that the Tartarus doesn't move even during intense gameplay.
Along with the theme of most new Razer products, the Tartarus includes green backlighting for the entire keypad. There's also three lights on the right side which indicates the profile chosen. Up to 8 profiles may be stored at one time.
[section label=3. Software]
Razer Tartarus Software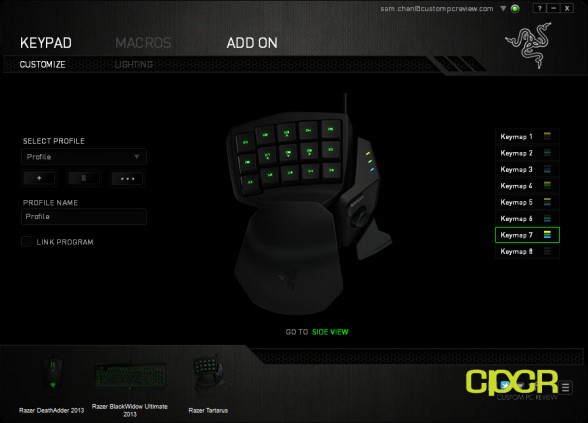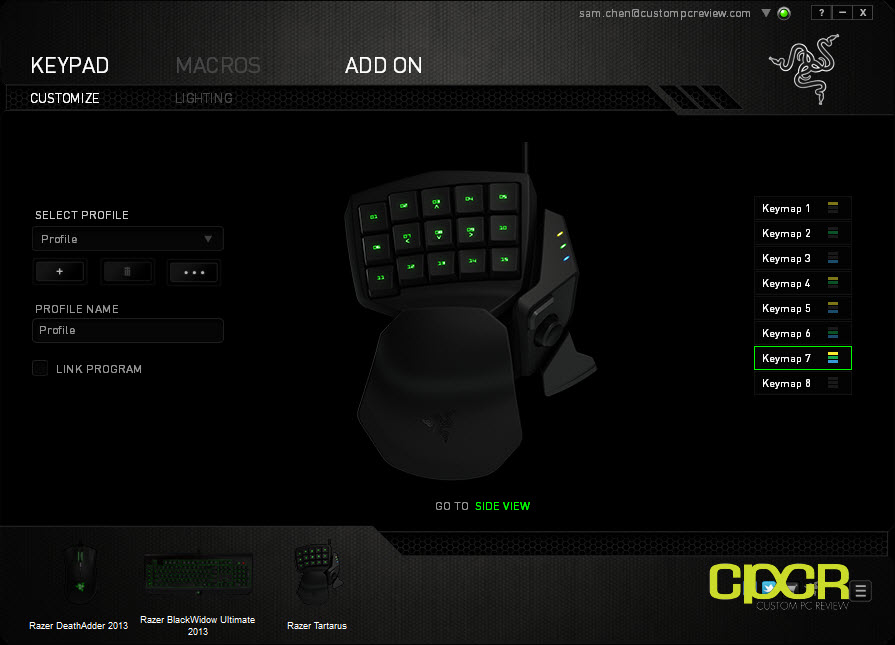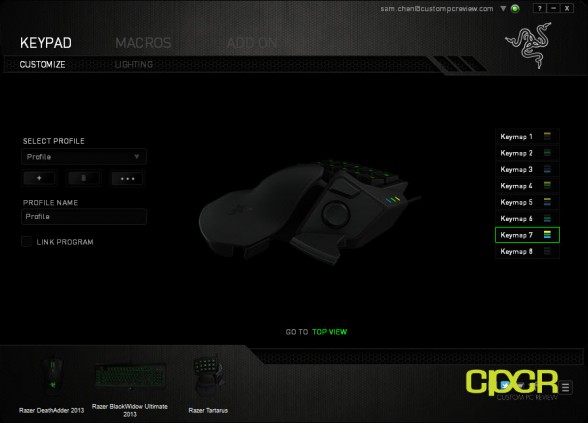 As usual for most new Razer peripherals, the Razer Tartarus uses Razer's Synapse 2.0 software, which is a cloud based software utility that allows syncing of all Razer peripheral settings. The main page shows an easy to use graphical layout that allows quick programming of macro settings as well as switching between 8 profiles.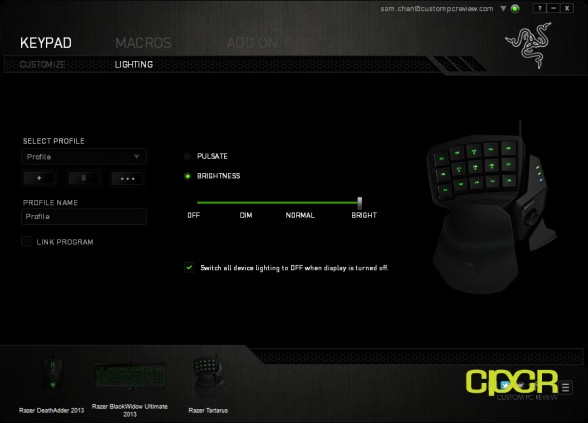 Switching to the lighting menu, we can change the intensity and mode of backlighting on the Tartarus. Unfortuantely, green is the only color available.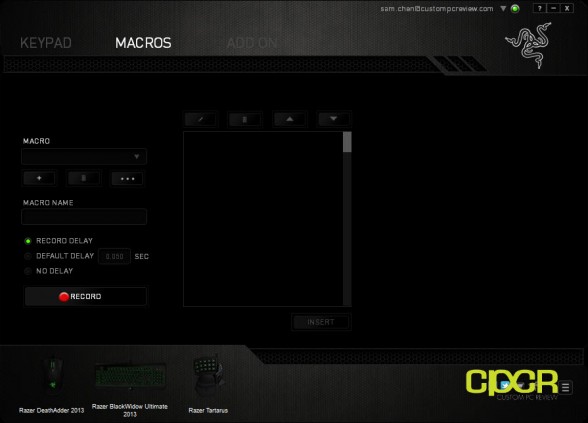 Like most other Razer mice and keyboards running off the Synapse 2.0 software, macros can also be programmed via the macro menu.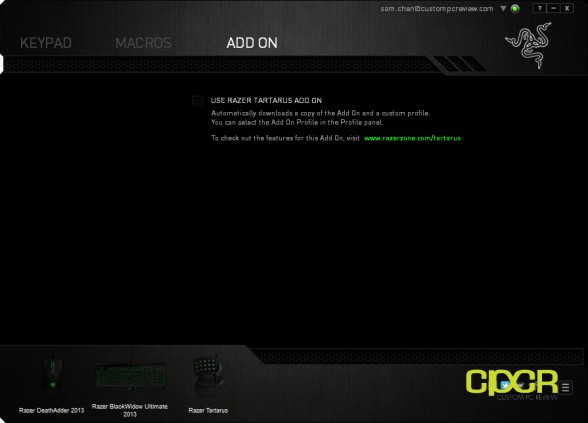 In addition to easy macro recording and profiles, the Razer Tartarus also features the add on feature, which allows for quick macro recording in game.
[section label=4. Performance]
Razer Tartarus Performance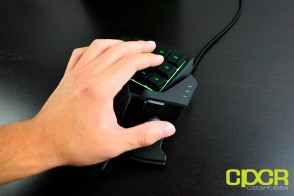 For performance testing, I played a couple games of different game genres to see if I gained any sort of competitive advantage by using the Tartarus.
MMOs are the obvious choice to test something like this, but I haven't played one in quite a while, so I ended up testing the gaming keypad with League of Legends instead, which is one of the most popular MOBA genre games on the market. Since League of Legends doesn't really need a whole lot of keys to play, I found the experience to be similar to just playing on the keyboard. I'm sure a spell combo or something could be setup as a macro, but that's definitely something that'd require more creativity than I'm capable of.
In addition to League of Legends, I also spent quite a bit of time playing the recently released Payday 2 as well to see if I could gain an advantage playing with the Tartarus rather than a standard keyboard. Overall, I discovered the experience once again quite similar. Since the Tartarus was missing the top row of keys, which I generally use for push to talk and weapon switching on the keyboard (`,1,2,3,4), I set the d-pad to switch between the weapons and another button on my mouse for push to talk, which worked just fine after a round or two of getting used to.
[section label=5. Conclusion]
Razer Tartarus Conclusions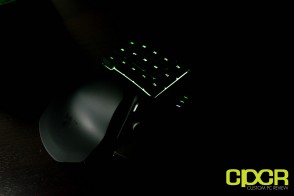 So after spending about a week and a half or so with the Tartarus, I still think the gaming keypad in general is simply a niche product designed for a very specific set of gamers. Personally, I didn't see much improvement in my gameplay with the keypad. I'm currently running the Razer Blackwidow Ultimate mechanical keyboard as my main keyboard and it works extremely well for my gaming needs. That said, I have come across a number of people who swear by their gaming keypads and I'm sure those people have some sort of dominating macro combination that I'm apparently not aware of.
As far as design and comfort, I think the Tartarus is pretty good. You gotta admit that the design of the gamepad in general is pretty cool and I'm actually a huge fan of the design of the Tartarus in particular since I have smaller hands and the three rows of buttons were much easier to reach than the additional fourth row on the Orbweaver. This in part also made the Tartarus feel a lot more comfortable in my hand. Speaking of comfort, it definitely seemed like the Tartarus was more comfortable when gaming than using a keyboard as the position of the hand feels a bit more natural and there was a bit more support for the wrist in comparison to using a keyboard and resting your palm on a table. I especially noticed this when gaming on a notebook such as the Razer Blade as the keys on the notebook aren't comfortable for long periods of gaming at all. I think those who generally like to game on the go will find that the Razer Tartarus or any gamepad to be a much lighter peripheral to carry than a full keyboard, which I guess is reason enough to pick one up if a notebook is generally your primary gaming platform.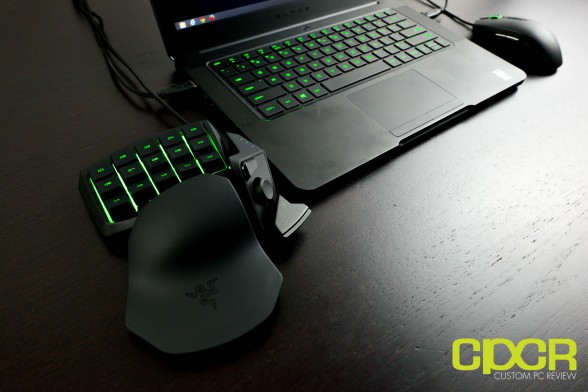 Pricing on the Razer Tartarus is $79.99, which I still feel like is a bit pricey for what's essentially a small keyboard, but I'm confident that pricing will drop in time as the Razer Orbweaver which originally retailed for $130 is currently retailing at only $97. Those who use a desktop as their primary gaming platform though, I'd go invest in a high quality mechanical keyboard first as I think that'd benefit the majority of gamers out there. However at the end of the day, I still think there's a benefit to the gaming keypad. It's a bit more comfortable to use, it's a whole lot more mobile than a full keyboard, and it does give your thumb more functionality. I mean, traditionally your thumb is used for spacebar duty, so if you can figure out a good way to use that d-pad, then I think it could give some sort of advantage in game. As for the rest of the buttons, well I'm certain a gaming keyboard can do a better job. Razer's Synapse software will allow you to re-program any key on the Blackwidow Ultimate to any macro you want just like the Tartarus and the full keyboard has many, many more keys than the Tartarus as well. If you're familiar with gaming keypads, then yeah without a doubt the Tartarus is a fantastic product, but if it's your first foray into the peripheral, then I'd definitely try to find a way to try before you buy.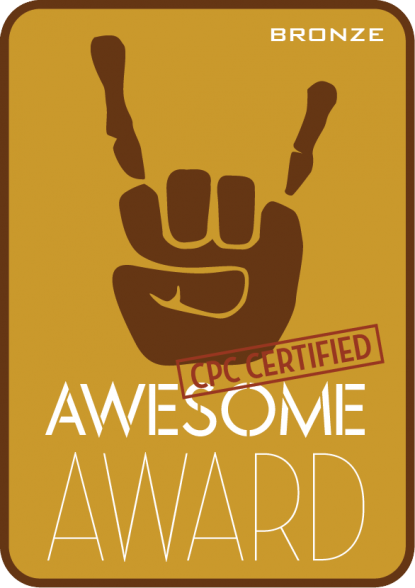 Sample provided by: Razer