[section label=1. Introduction]
More Than Just Another Gaming Keyboard
Following up our recent review of the ROCCAT Kone[+] gaming mouse, today we'll be reviewing another one of ROCCAT's most popular products, the ROCCAT Isku gaming keyboard. With the mechanical keyboard craze that's going on lately, it's not everyday that we get to review a non-mechanical keyboard, but with the Isku, ROCCAT has opted for the more common non-mechanical membrane switches. Despite this lack of mechanical switches, the ROCCAT Isku is still very competitive with just the sheer amount of features they've thrown in at the sub-$70 price point.
Will the ROCCAT be roasted in the heated war of gaming planks or will it do the roasting? Read on to find out.
ROCCAT Isku Specifications
Illuminated keyboard with 123 keys
Enhanced anti-ghosting capability
3 programmable Thumbster Keys (T1-T3)
5 programmable Macro Keys (M1-M5)
20 additional Macro Keys (Easy Zone)
5 Profile-Status LEDs
3 Status LEDs (Caps Lock, Easy Shift[+]™, Num Lock)
1000Hz polling rate, 1ms response time
2m USB cable
[section label=2. A Closer Look]
A Closer Look at the ROCCAT Isku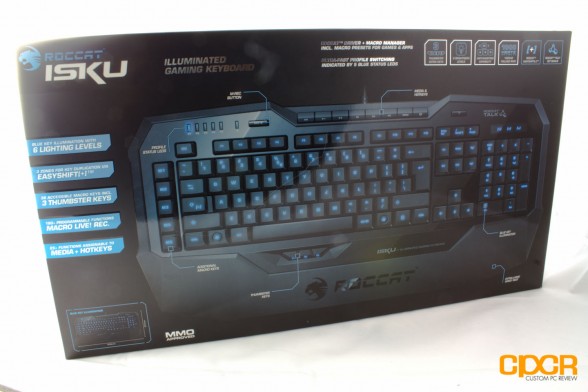 Here's a look at the box for the ROCCAT Isku. Overall a nice looking box with a very futuristic theme. Very fitting for a product with so many advanced features onboard.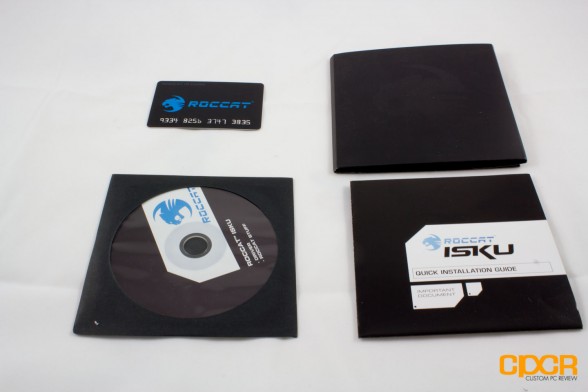 Included with the keyboard is a driver disk, a quick installation guide, and a ROCCAT ID card. The card has a number on the back which you can use to gain access to "exclusive content" from ROCCAT's product registrations page.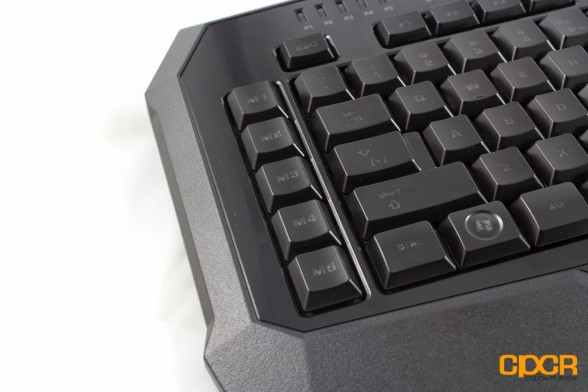 There are 5 macro buttons on the left edge of the keyboard which are all back lit. If you look closely at this shot you can see that the caps lock key has been replaced by ROCCAT's EasyShift key which can be combined with the macro keys to gain access another set of macros within the same bank.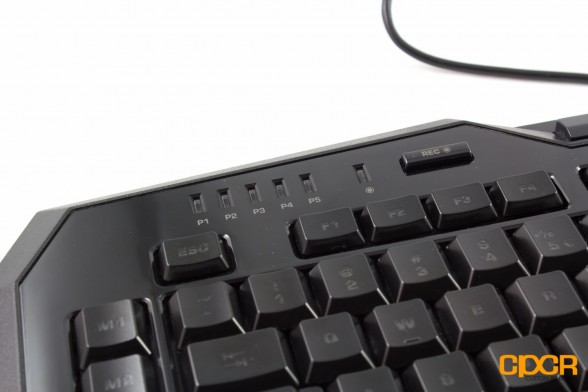 Here we have the bank selection LEDs. As you can see, there are 5 banks in total. Macro keys can also be recorded on the fly with the macro record button next to the bank LEDs.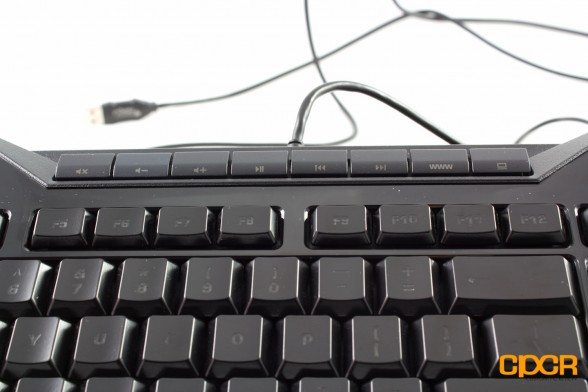 Above the function keys is a set of media control keys with a "launch browser key" and a "My Computer" key next to them. Unfortunately, they are not back lit like the rest of the keyboard and may be a little hard to reach if you plan on having it sit on a slide out keyboard tray from under your table.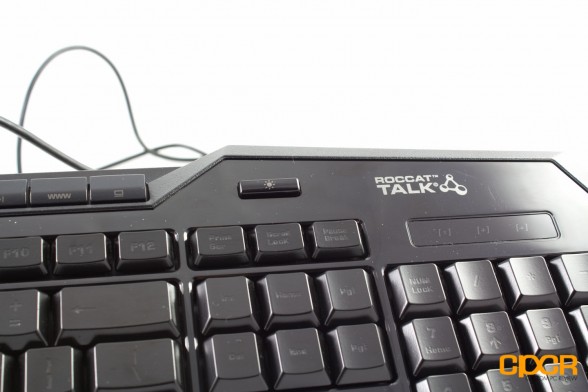 The backlight adjust button is located right above the scroll lock. The key illumination LEDs can only glow blue and has 5 adjustable intensities. The Isku also supports the ROCCAT talk capability. More on that later.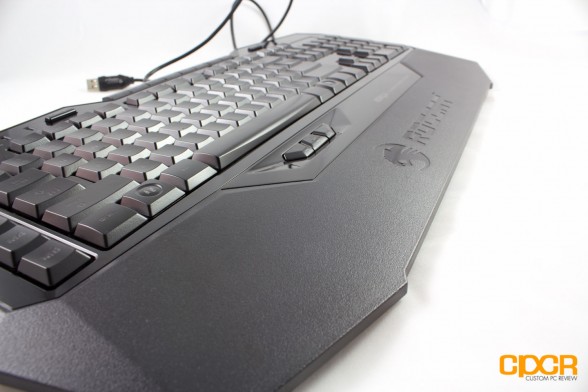 The huge wrist rest is a nice touch. It's crafted out of sturdy plastic with a grippy matte finish with a massive ROCCAT logo. The 3 buttons below the space bar are for profile cycling which can also be programmed to your liking. The entire bezel around the keys are surrounded by glossy plastic.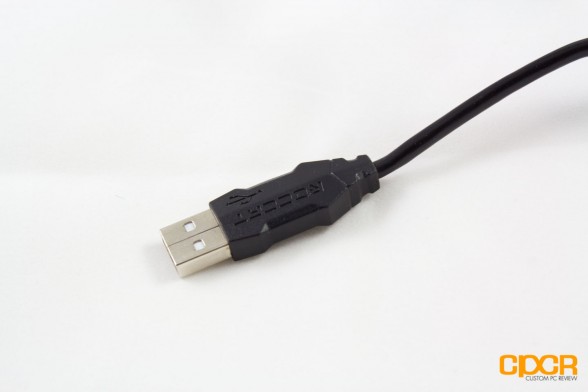 As expected, the Isku also includes a USB connector for the keyboard. The cable is not braided and measures 2m long.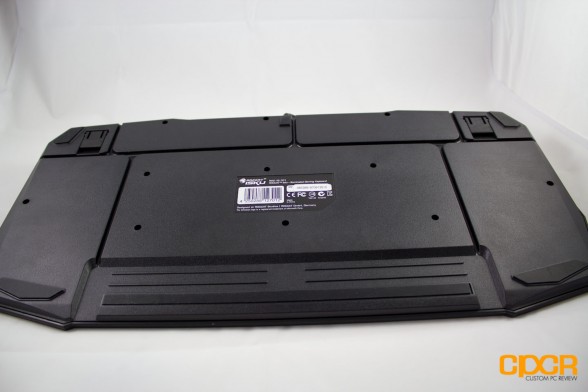 The back of the keyboard is made of very durable matte plastic. There are large rubber feet on the four corners.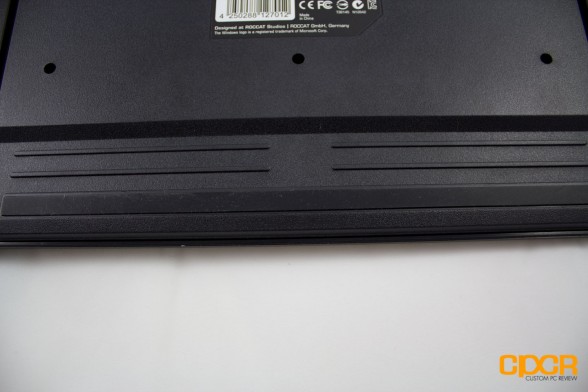 ROCCAT added another strip of rubber under the palm rest area to further increase traction.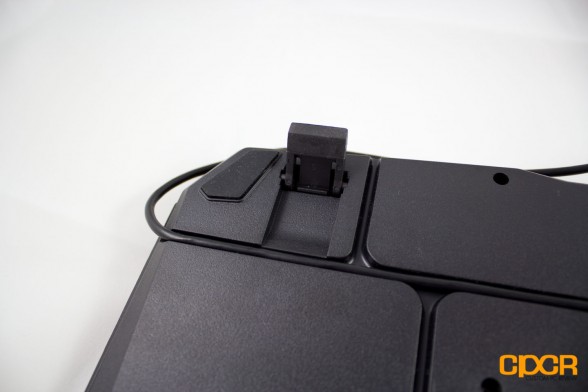 The elevating stands flip out like any other keyboard, and does not have rubberized padding at the tip. I don't think this is going to pose any sliding problem though, since the weight of the keyboard will be focused on a smaller area.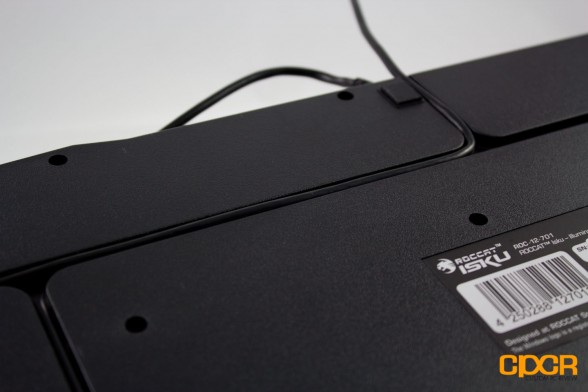 Horray for cable channels! The last thing anyone needs is more stray cables floating around.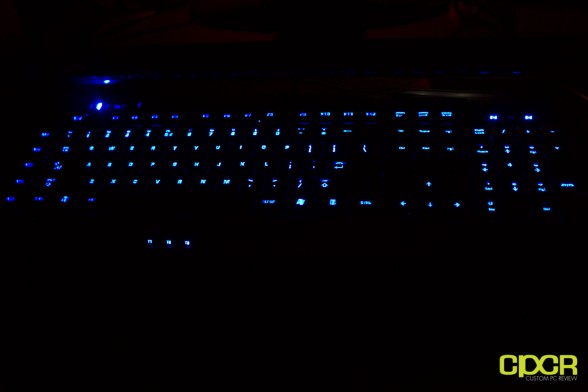 With the whole thing powered up, the keyboard shines gloriously in the dark. However, the dedicated media keys are barely visible as they're not lit. What a bummer. This is definitely an oversight as media keys are keys used most often in the dark and should be lit.
[section label=3. Software]
ROCCAT Isku Software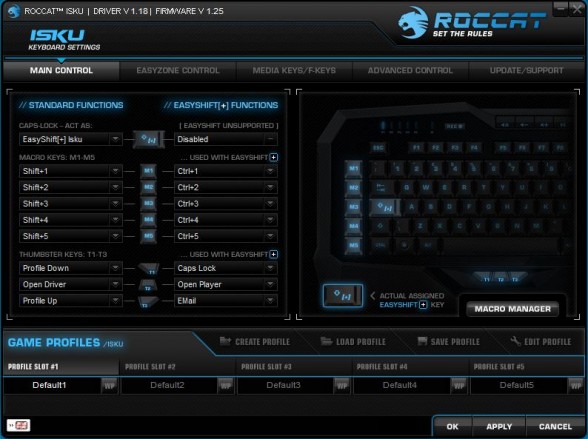 Here we have our first look at the Isku's software. The first tab allows for the programming of the 5 dedicated macro buttons.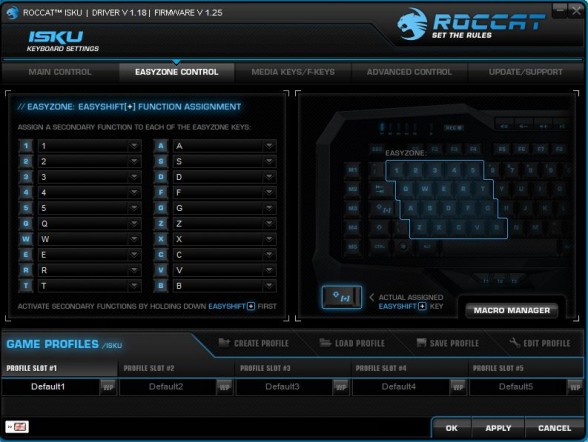 The second tab controls the keys in the EasyZone. They all work with the EasyShift Key.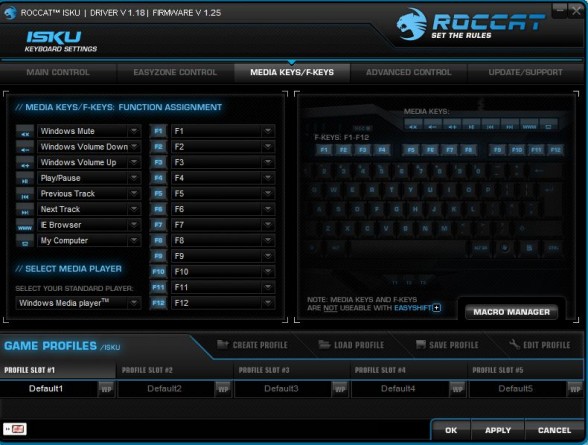 The function keys and the media control keys can be programmed as well.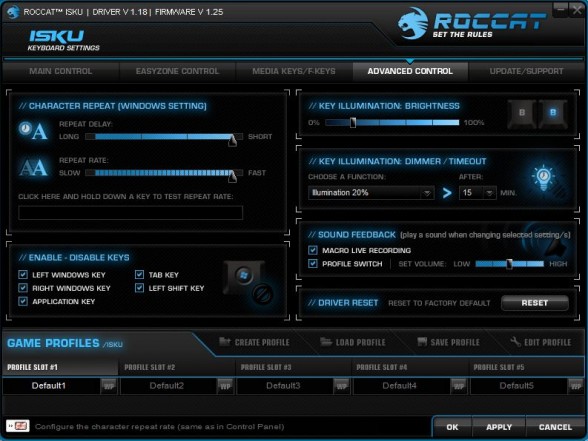 General settings can be set through the 4th tab. It mainly dictates the keyboard backlight, key behaviors, and key enabling/disabling.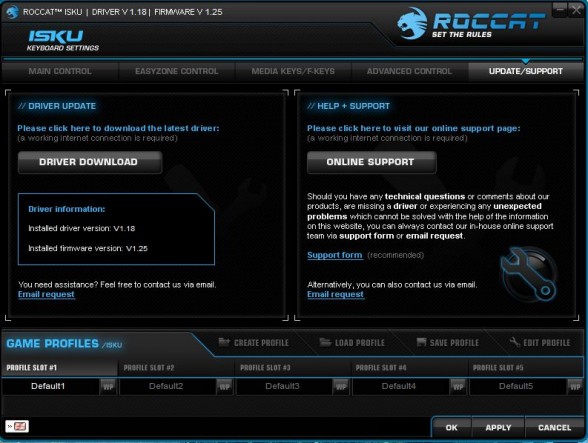 Driver updates can be obtained directly from the software.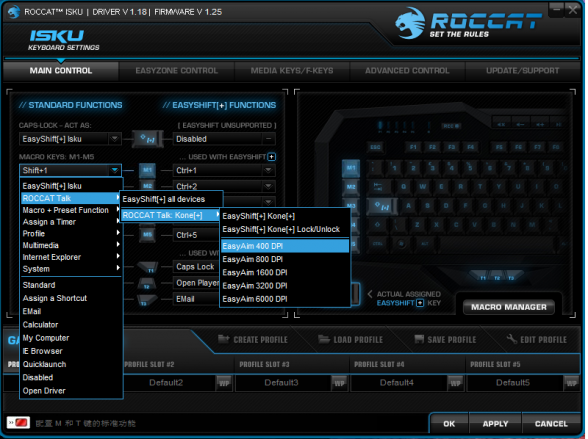 As promised in my ROCCAT Kone [+] review, let's talk a little about ROCCAT Talk. The gist of it is that when you have both your ROCCAT Isku and ROCCAT Kone [+] connected together at the same time (or any ROCCAT Talk enabled keyboard/mouse combo), some settings on one device can be mapped to a macro on the other. For example, in the picture above, you can see that with ROCCAT Talk I'm now able to map the DPI adjustment function onto a macro on the Isku.
[section label=4. Performance]
ROCCAT Isku Performance
Test 1: Starcraft 2
The ROCCAT Isku was a great asset for Starcraft 2. My keystrokes were instantly translated, but I felt like I had to press further for the keys to register since its membrane switches have a longer travel distance than the Cherry MX Black switches on my Steelseries 6GV2. The keystrokes felt tactile and were silent even during rapid tapping. No ghosting issue was detected, and the brightly lit keys really helped while gaming in the dark. The macro keys were easy to reach and press. I had M1 through M3 bound to creating workers for each of the three races and found them to be quite helpful.
Test 2: Battlefield 3
The main concern here with many membrane keyboards is ghosting. The capability of handling multiple key presses is a must in order to play this chaotic first person shooter. Luckily, the ROCCAT Isku did not produce an hiccups here even with 4 keys being held down at the same time (Shift, W,D, and Q). All keys registered perfectly and were responsive.
Also, since I had some macros bound in the SC2, bank switching came in handy here. The keyboard's software even provided me with an audio alert when I pressed the bank switch buttons to indicate which one is being selected.
Test 3: Typing and General use
Typing on the ROCCAT Isku was a fairly satisfying experience. The actuation force on the keys were quite light, but didn't feel as light as some mechanical switches such as the Cherry MX Reds. The oversized matte wristrest was one of the most comfortable wristrests I have ever used. After an hour of typing my hands were still ready for for more. Additionally, the keys were dead silent throughout rapid typing sessions – something I haven't experienced ever since switching over to mechanical.
The macro keys were exceptionally helpful for everyday use. Using the included Isku driver software, nearly half the keyboard can be programmed to perform specific tasks and execute system functions like shutdown or wake. The EasyZone was every accessible and felt natural to use. I programmed them to launch every single program on my desktop and still had plenty to spare. The only downside to this is remembering them all, but this was foreignness was quickly dissipated after about a week of consistent use. The dedicated media control keys made pausing, adjusting volume, and stopping while enjoying media require minimum effort, but not having back lights on them was a bummer.
The driver software was frustration free. The interface was clean, well categorized, and navigation was very intuitive. Something I found to be a great addition is the audio notification that plays every time I switched a macro bank or recorded a macro. This made transitioning from bank to bank a lot less confusing as it gave me some sort of auditory confirmation of the change.
[section label=5.Conclusion]
ROCCAT Isku Conclusions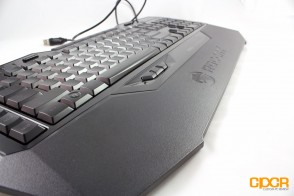 This is my first experience with a ROCCAT keyboard (as the Kone[+] was my first experience with a ROCCAT mouse), and I must say it's a good start. The immense feature set of the ROCCAT Isku in combination with the number of programmable macros on this keyboard makes this thing quite impressive. With seemingly unlimited amount of macros, this board can be customized for nearly any use. The strategically placed EasyShift key and EasyZone made macros very accessible and natural to use. The keyboard illumination kept the keyboard brightly lit, which helped me tremendously as I watched movies in a dark environment, but since the  media navigation keys lack backlights, I found myself struggling to find the right keys when I wanted to adjust the volume.
The build quality on the Isku is top notch and most of the components that went into this keyboard screams  quality; however, be aware of the bezel around the keys. It's comprised of a glossy plastic and feels less durable than the rest of the chassis and it also tends to attract a lot of fingerprints. The keycaps have a decent grip on them and are coated with a nice layer of paint. The wire is not braided, but instead sheathed in a thick coat of rubber. Personally, I don't think this is an issue as keyboard cables are meant to be stationary, but if you have a lot of gamer rage, you may want to look for something else.
Performance was surprisingly good with the ROCCAT Isku. Not only did it excel at gaming, it's a great plank to have for cubicle warriors too. No ghosting issues were detected in neither Starcraft 2 or Battlefield 3, which confirmed the advanced anti-ghosting feature printed on the box. The keys responded well to my strokes, being decently tactile and not mushy. They were also extremely quiet given the amount of pressure I usually apply when I type and the rapidity of my tapping. Despite my furious typing, the keyboard did not slide off the table thanks to its rubberized feet and it's hefty weight. The large wrist rest also scores top points for being one of the most comfortable I've ever used.
The driver that came with the Isku is very mature and it shows that ROCCAT spent a lot of time developing it with users in mind. All the settings were categorized under the appropriate tabs, which in combination with a simple, easy to use interface, it makes changing settings and programming macros a piece of cake. Although fascinating, I found the ROCCAT Talk function to be not as practical as I expected. At the moment, ROCCAT Talk enabled devices are few and far between as well, so I wouldn't make a purchasing decision through the ROCCAT Talk feature alone. That said, I can't speak for everyone, so you might end up finding ROCCAT Talk super useful. Who knows.
That said, I still think that a membrane keyboard is still no match for a mechanical keyboard in terms of tactile feedback and responsiveness. Coming from a 6GV2 myself, I missed the feeling of my Cherry MX Black switches while gaming, and felt like I had to press deeper for the keys to register. The glossy bezel around the keys attracted a ton of dust and fingerprints during my weeks of use. Although this can be solved by a simple wipe everyday, this can be eliminated if ROCCAT just crafted the entire thing out of something not glossy.  Also, despite the Isku's gleaming set of features, you won't find any audio or USB pass through ports.  This is possibly the only downer about the Isku. Considering this is one of ROCCAT's flagship products, I'd definitely like to see something as simple as passthroughs be included.
Currently, the ROCCAT Isku will set you back $87.99, which is a very steep price for a keyboard, especially one that doesn't use the more expensive and more durable mechanical key switches. Considering other keyboards on the market such as the Razer BlackWidow ($69.99) and the CM Storm QuickFire Pro ($86.99) come with mechanical switches and at a lower pricepoint, it's going to be a bit difficult to justify a near $90 pricetag for a gaming keyboard with a couple extra macros and membrane switches.
That said, I will concede that not everyone out there is looking to go with a mechanical keyboard and as a membrane keyboard, you'll definitely be hard-pressed to find anything better. However, with membrane based options such as the Microsoft Sidewinder X4 at $49.99, the Logitech G110 at $55.38, Cyborg V.5 at $47.67 and Razer Lycosa at $66.49, you cant help but think that the Isku is about $30 more than it needs to be.
Bottom Line
The ROCCAT Isku is one of the best non-mechanical gaming keyboards you can currently find on the market. With tactile keys, excellent construction quality, and an astonishing macro count, this plank is perfect for gamers who demand copious programmable keys. Just be prepared to shell out nearly $90 for this thing.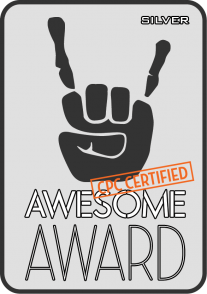 Special thanks to ROCCAT for making this review possible!
The ROCCAT Isku is currently available on Amazon.