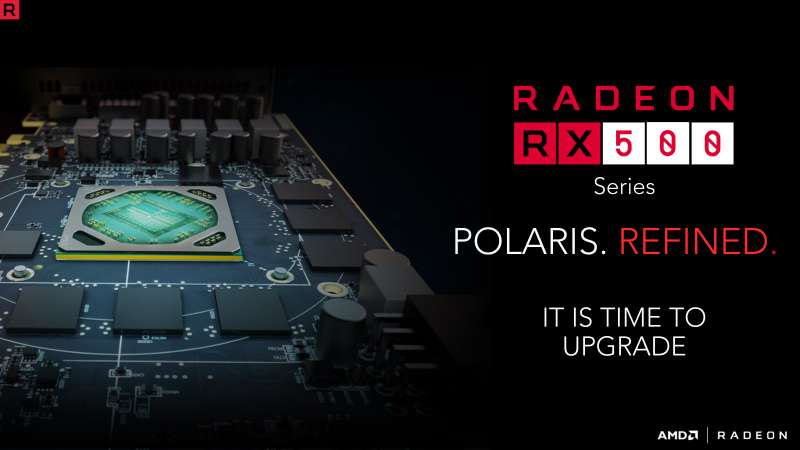 Today, AMD launched their refreshed, Radeon RX 500 series graphics which focus on the mid-range, and entry-level gaming markets. These new cards are based on the same Polaris architecture as the previously released Radeon RX 400 series of GPUs, albeit with a few notable enhancements. These new GPUS will go head-to-head with NVIDIA's GeForce 10 series, specifically the GTX 1060 6GB and 3GB, and the GTX 1050 and GTX 10580 Ti. If you were hoping for some competition on the higher-end from AMD, you'll have to keep waiting for their upcoming RX Vega GPUs who's availability is still currently unknown, but AMD assures us Vega is "just around the corner."
Polaris Refined.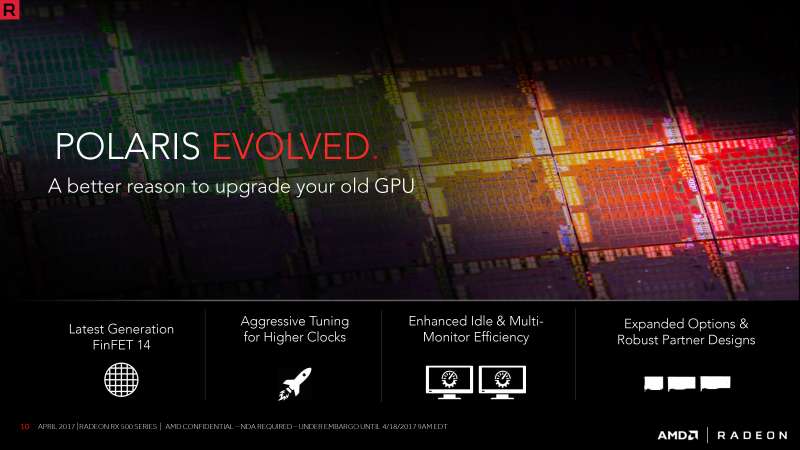 I had a phone call with AMD last week, in which they briefed us on the launch and the improvements to be expected from the RX 500 series. AMD told us that one of the key focuses for the RX 500 series is higher clock speeds. This of course was a bit of a pain point for the RX 400 series, and it is something that they definitely wanted to address this time around. AMD told us that the improvements in clock speed are mostly attributed to improvements in the 14nm FinFET manufacturing process. The RX 500 series is based on the "latest generation 14nm FinFET" when I asked if this was Samsung's 14nm LPC, which is the 3rd generation of Samsung's process, they replied something like "no, this is based on GlobalFoundries' version, which is similar, but different.. the term doesn't apply" I'm paraphrasing here, but you get the gist. Bottom line is: it's a more mature manufacturing process.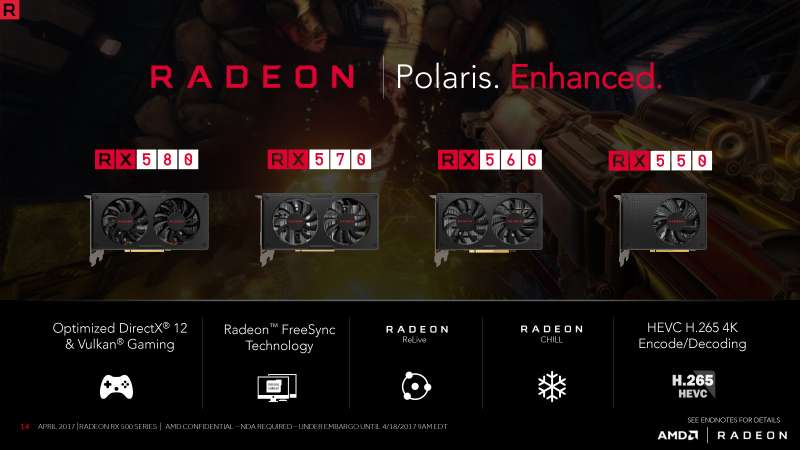 The Radeon RX 500 series will consist of four distinct models: The RX 580, RX 570, RX 560 and the RX 550. The former three being refinements of the previously released RX 480, RX 470 and RX 460 while the RX 550 is an entirely new GPU aimed at the lowest-end of the gaming market.
Radeon RX 580 and Radeon RX 570
Starting with the higher-end of the spectrum, we have the RX 580 and RX 570. The former of which is based on the full Polaris 20 (Polaris 10) GPU core with 36 Compute Units, and a base clock of 1257MHz which boosts to 1340MHz. This is a a roughly 6% increase in overall clock speeds compared to the previous-generation RX 480. In terms of memory, we have the same 8GB of 8Gbps GDDR5 on a 256-bit memory interface. AMD has told us that they are focusing on the 8GB model of the RX 580, but that some 4GB models will also be available from their partners. MSRP for the RX 580 is $199 for the 4GB, and $229 for the 8GB model. Although, many partners will also be offering premium overclocked versions of the RX 580 8GB for $260-$279 which will feature clock speeds approaching ~1450MHz. This includes cards such as the PowerColor RX 580 Red Devil Golden and XFX RX 580 GTR-S among others.
The RX 470 is based on the cut-down Polaris 20 GPU core, and as such features 32 Compute Units, the very same as the RX 470. What has changed is the clock speed has increased to 1168MHz base and 1244MHz boost which is a roughly 3% increase in clock speeds. The RX 570 also gets a significant boost to memory bandwidth with reference speeds increasing to 7.0Gbps compared to 6.6Gbps from the RX 470. AMD has said the focus will be on the 4GB model of the RX 570 with pricing starting at $169.
Both the RX 580 and RX 570 go on sale starting to today and are available in-store and online at major retailers.
Radeon RX 560 and Radeon RX 550
On the lower-end side of things we have the RX 560 and RX 550 which aim providing users with cheap, entry-points into PC gaming. The RX 560 has perhaps undergone the most improvements of all the refreshed GPUs announced today as it features a a full Polaris 21 (Polaris 11) GPU core which features 16 Compute Units and a base clock of 1175MHz which boosts to 1275MHz. This is compared to the RX 460 which featured a cut down Polaris 11 with just 14 CUs and a base/boost clock of 1090MHz/1200MHz. As for memory, the RX 560 will feature both 2GB and 4GB models with memory speeds of 7.0 Gbps. Pricing will start at $99  and will be available in early May.
The RX 550 features the all-new Polaris 12 GPU which features just 8 Compute Units and a boost clock of 1183MHz. This new GPU will serve as a step-up for users on IGPs, with AMD claiming up to 5x performance versus integrated graphics solutions in titles such as Overwatch. Pricing will start at $79 US and will be available starting April 20th.
We'll have full reviews of the Radeon RX 580 and RX 570 very soon and expect to have reviews RX 560 and RX 550 soon after release.