[section label="Introduction"]
Introduction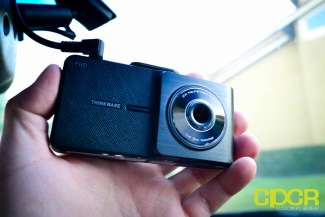 In the premium dashcam product category, one of the most well known manufacturers is Thinkware, an innovative Korean company which has been in the automotive electronics business since the late 1990's.
Currently their primary product line is their dashcams and today we'll be reviewing the Thinkware Dash Cam X550 which is a new premium dashcam from the company sporting not only high quality video, but also a few more features such as parking mode recording and some innovative driver assistance features as well.
Let's take a closer look.
Specifications
Manufacturer
Thinkware
Model
X550
Display
2.7″ Color LCD (320×240)
Image Sensor
Sony Exmor CMOS 1/29″ (2.19 MP)
Lens
Front: 140° wide angle
G-Force Sensor
3-axis
GPS
Built-in
Microphone
Built-in
Speaker
Built-in
Resolution/Frame Rate
Front: 1920 x 1080P (30fps)
Video Formats
H.264
Memory Card Support
microSD 16GB/32GB/64GB UHS-I
Connection Interface
N/A
Network Interface
N/A
Battery Type
N/A (Super Capacitor)
Power
Input: DC 12/24V (Max 35V)
Power Consumption: 5.3W (mean) – 2ch,30fps , 3.5W (mean) – 1ch,30fps
Dimensions
104.3 x 51.4 x 29.3 mm / 4.1″ x 2.02″ x 1.15″
Weight
111g (0.24lbs)
Warranty
1 year Limited Warranty
[section label="A Closer Look"]
A Closer Look at the Thinkware Dash Cam X550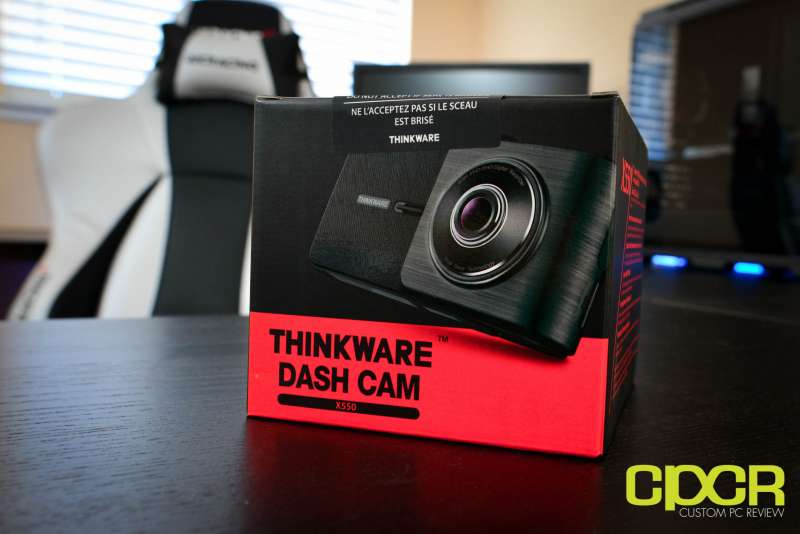 Here's a look at the packaging for the Thinkware Dash Cam X550.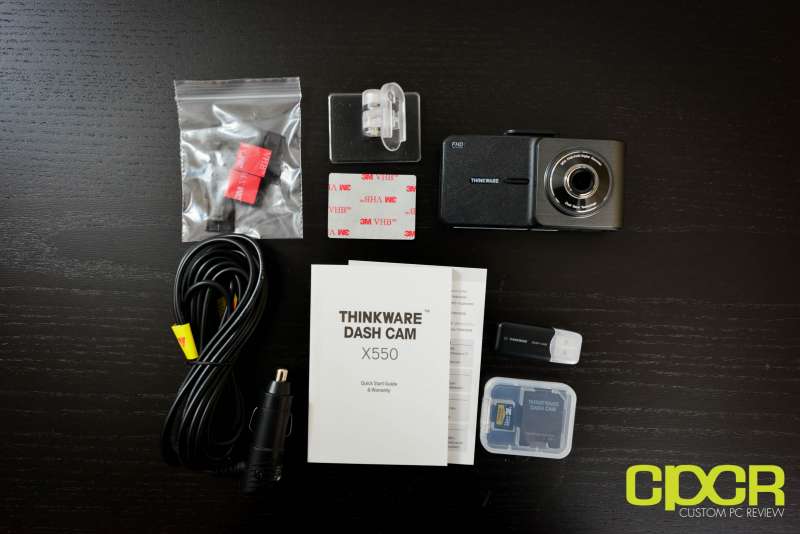 Included in the packaging is documentation, a 32GB microSD card with microSD to SD adapter, a USB microSD adapter, a 12V cigarette lighter power adapter, cable guides, an adhesive mount, and the Thinkware Dash Cam X550.
The Thinkware Dash Cam X550 is a relatively traditional dashcam featuring one 140° wide angle 1080p camera up front and a LCD display in the rear. At the rear, the X550 also features several buttons for controlling the device.
At the right side of the dash cam is a power button along with a covered microSD card slot.
The top of the device features the mount, a DC-IN port and a video in port (microUSB). There's also an additional port up top which appears to be a Micro-HDMI port however, I didn't have a cable to test its functionality and Thinkware doesn't specify what it does either.
At the bottom of the unit is the product label which includes all the information on the Dash Cam X550.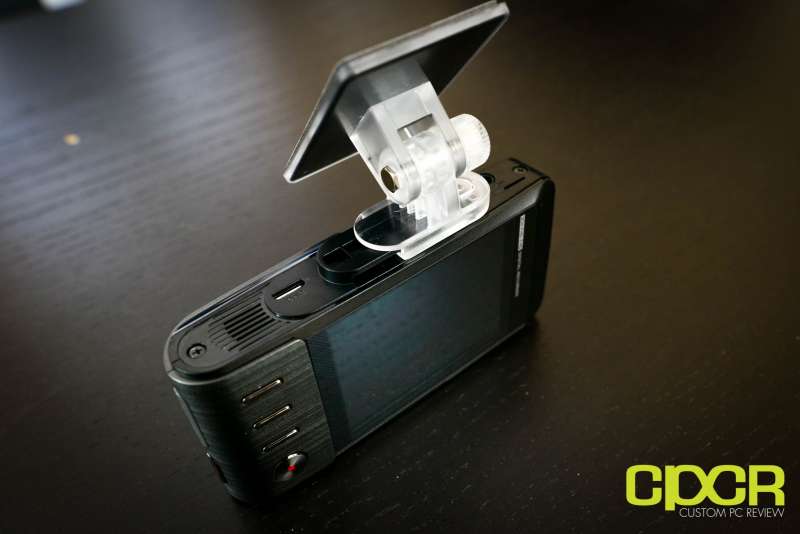 Here's a look at the Thinkware Dash Cam X550 sliding onto the included adhesive mount. The tolerances are very tight which ensures almost no wiggle between the camera and the mount. This is good as it prevents the camera from shaking on its mount when recording.
For those who need a suction cup mount to use the camera with multiple vehicles, you'll be out of luck as Thinkware does not provide an option for a suction cup version.
In order to utilize the parking mode functionality, the Thinkware Dash Cam X550 needs to be hardwired using a hardwire kit which is sold separately.
The hardwire kit allows the camera to connect directly to the car's internal battery which will provide power to the camera when the car is parked. If you're planning to tap into fuses, ensure that there are two fuses available – one that's on always and one that's on only when the car is started. This allows the camera to seamlessly switch between regular continuous recording mode and parking mode.
Here's a look at the menu system in the Thinkware Dash Cam X550. The menu options can be selected using the buttons to the left of the screen. These options can also be accessed via the software, which is much easier than doing it on the camera itself.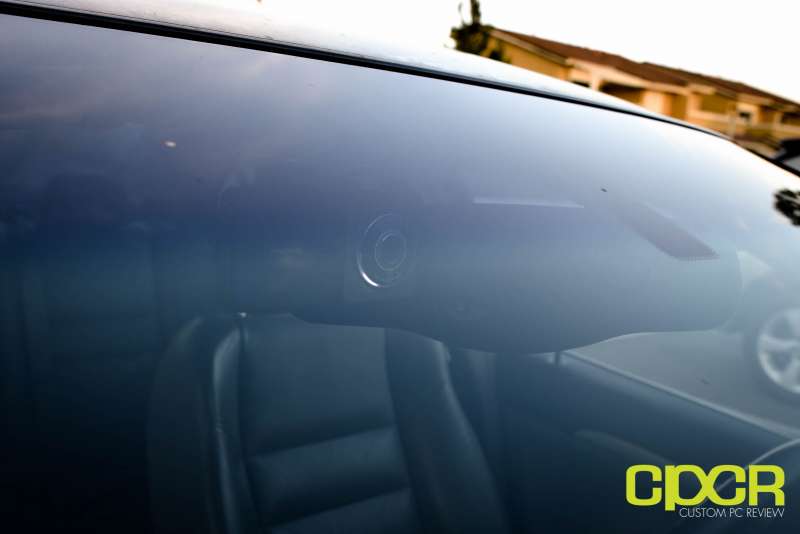 Here's a look at the Thinkware Dash Cam X550 installed. I opted to place the camera in a discreet area of the windshield so it's relatively hidden when looking into the vehicle and provides maximum visibility for the driver.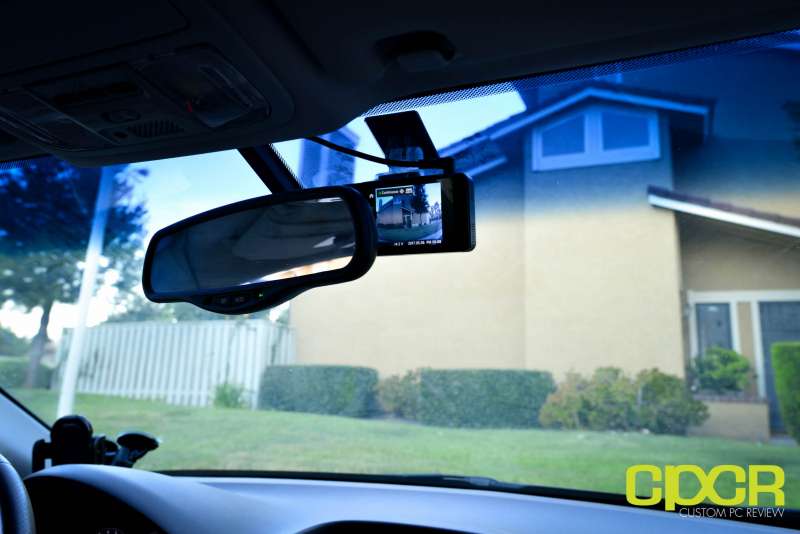 Unfortunately, the discreet location of the camera means it's difficult to see or access the dashcam from the driver's seat. With auto recording, voice prompts, and audio signals however, I didn't find this to be an issue.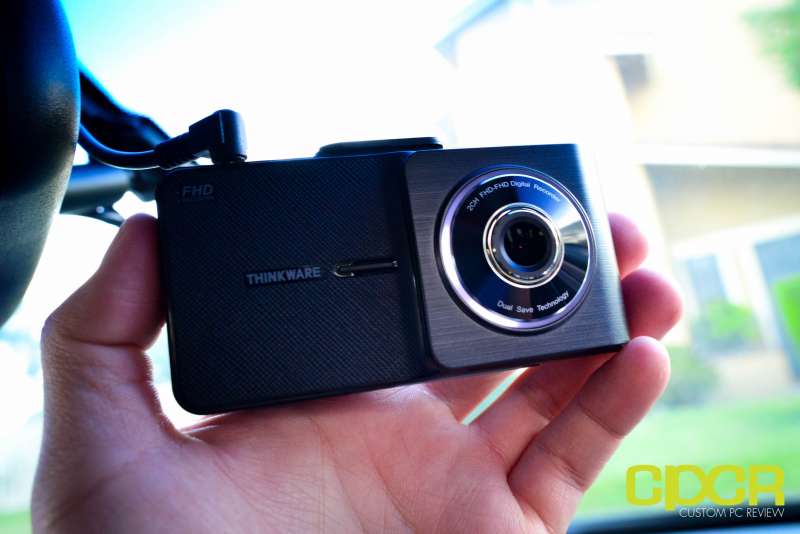 For those who want to ensure others know when you're recording them, the Thinkware Dash Cam X550 also includes a LED lit ring around the lens area. Unfortunately, this light is extremely bright and it serves more as an advertisement that there's an expensive car camera to steal more than anything.
[section label="Performance"]
Performance
Installation of the Thinkware Dash Cam X550 is fairly straightforward. The dashcam mounts directly to the windshield using an adhesive mount and either a cigarette lighter plug or hardwire kit can be used to provide electricity to the camera. Once power is applied, the dashcam will provide a voice cue to let you know that recording has started. If parking mode is enabled, a voice cue will let you know as soon as a parking mode has started. Once the vehicle is started again, the camera will let you know if any incidents occurred while you were away and will then begin continuous recording again.
Here's a look at video footage taken during the day and night using the Thinkware Dash Cam X550.
Daytime footage is very good, thanks to the Sony CMOS image sensor paired with an Ambarella A7 DSP. Aside from using a Sony image sensor and a Sony DSP, this is about as good as it gets. Large text is clear and despite a dirty windshield, license plates for cars in front can be read without issue.
Nighttime footage is very good for a dashcam as well. Thanks to Thinkware's excellent low light processing technology, exposure is boosted enough for the video to be visible and a decent amount of noise reduction cleans up the video significantly. The dashcam's wide dynamic range capability also ensures that bright headlights don't blow out license plates which is typically a problem on cheap dashcams.
Microphone quality on the Thinkware Dash Cam X550 is fairly good as well. However, watching the video will be a bit annoying if you have any of the safety features on as the beeping sounds will be recorded extremely loud due to the proximity of the microphone to the on camera speaker.
What's special about the Thinkware Dash Cam X550 is that it also features a unique parking mode where it can record a timelapse of what occurred while you were gone or it could record when motion is detected. As there's really no point to recording a bunch of video when nothing's happening, I found the motion detection option to be significantly more useful.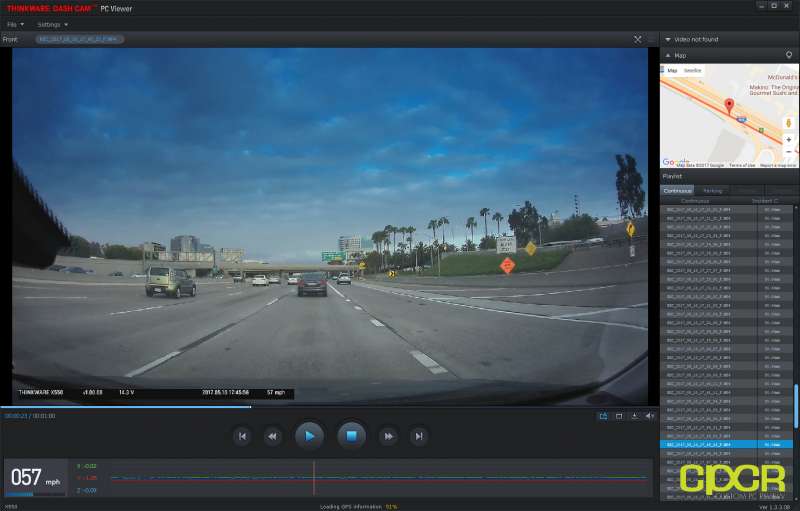 Software for the Thinkware Dash Cam X550 is provided by Thinkware's own Dash Cam PC Viewer. The software is basic and lightweight, which allows you to quickly view all the video stored on the microSD card. The video will also provide additional information such as the location it was taken, your vehicle's speed, the time, the date, any G-forces recorded by the accelerometers, as well as the car's internal voltage.
Each video is stored in increments of 1 minute (~80MB), so there will be lots of video to sift through if you drive a lot.
In the software, Thinkware makes it very easy to change camera settings so you don't need to fuss with the camera directly. This does however, require the camera's microSD card to be inserted into the system.
[section label="Conclusion"]
Conclusions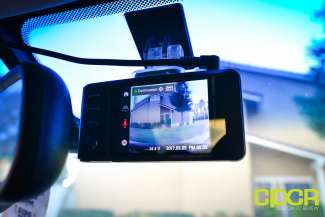 After spending the past few weeks testing the Thinkware Dash Cam X550, I can confidently say that it's definitely one of the best dash cams that I've had the opportunity of testing. Video quality is about as good as it gets for a dash cam and the unique parking mode helps ensure the car is monitored whether on the road or parked in a dark parking lot.
As for other features touted by Thinkware such as FVDW (Front Vehicle Departure Warning), LDWS (Lane Departure Warning System), and FCWS (Front Collision Warning System), I actually didn't find them to be all that useful. Lane departure warnings were interesting at first, but got annoying quick since it kept beeping every time I changed lanes. Similarly annoying, the front collision warning system would beep every time a vehicle was in front of me on the freeway. While I can see this maybe being useful for drivers with slow reaction times or constantly distracted drivers, personally I ended up disabling the functionality.
Currently the Thinkware Dash Cam X550 is priced at $249.99 just for the single camera itself, which is on the pricey side for a dashcam. Those who want rear video recording will have to purchase the rear camera (Thinkware BCFH-150) separately and those who want to utilize parking mode functionality, will have to invest in the hardwire cable (Thinkware TWA-SH) as well. While it's forgivable that the rear camera isn't included, there's really no excuse for not including a hardwire cable in a dashcam at this pricepoint, especially when it's required for the parking mode functionality to work.
Despite this, the Thinkware Dash Cam X550 is still an excellent dashcam. While some of the additional features seem more gimmicky than useful, it still does a great job of recording video, it's very easy to use and the video quality is top notch. If price isn't an issue, the Thinkware Dash Cam X550 is an excellent choice. Recommended!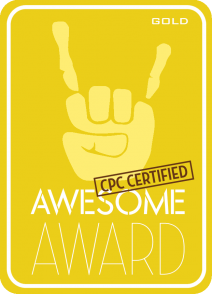 Sample provided by: Thinkware
Available at: Amazon