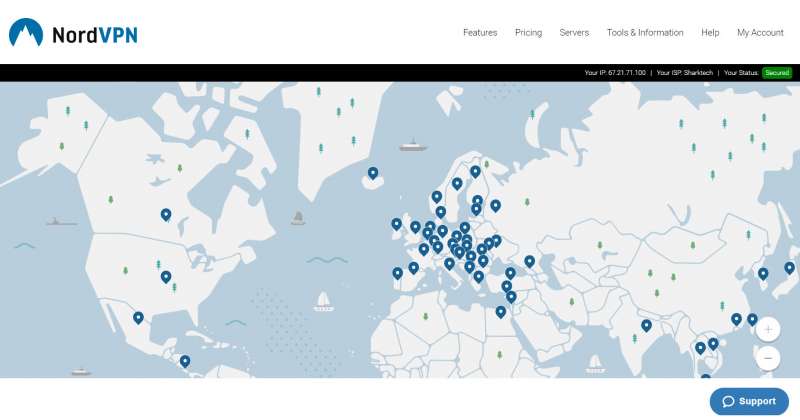 Welcome back to the second installment in our new series of VPN reviews. Last week we reviewed KeepSolid's VPN Unlimited and this week we'll be reviewing NordVPN.
NordVPN is a Panama-based VPN service founded back in 2012. The service is extremely well reviewed, has one of the largest selections of servers around the world and is reasonably priced, but should you sign up for the service? Let's find out!
The Basics
| | |
| --- | --- |
| VPN Service | NordVPN |
| Servers | 1085 |
| Locations | 61 |
| Protocols | L2TP, PPTP, OpenVPN TCP, OpenVPN UDP |
| Maximum Devices | 6 |
| Auto-Connect | Yes |
| Kill-Switch | Yes |
| DNS Leak Protection | Yes |
| Logging Policy | No logging |
NordVPN
NordVPN is one of the biggest VPN providers on the market with over 1085 servers spread across 61 countries around the globe. The VPN service has a massive presence in North America as well as Europe, as well as some in South America, Africa, Asia and the Pacific making it a good choice for those frequently traveling abroad.
Plans & Pricing
NordVPN only has one tier of service, but offers three plans with an increasing amount of discount as more time is purchased. Included in the service is NordVPN service for up to 6 devices.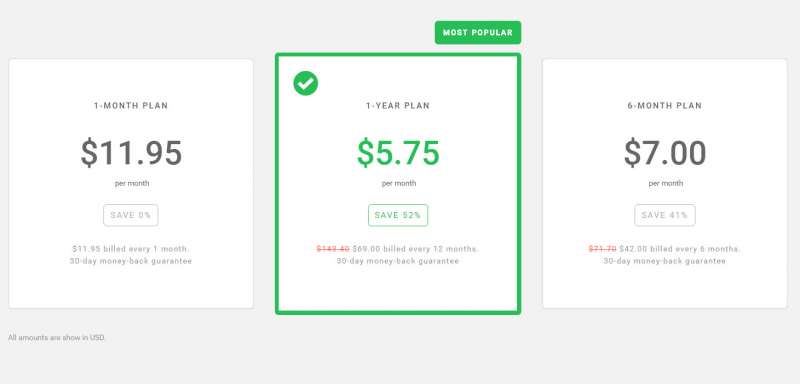 The maximum NordVPN offers is a 1-year commitment, which will cost $69.00 translating to approximately $5.75 per month. Next up is the 6-month plan which will cost $42.00 translating into $7.00 a month and finally is the month-to-month plan which costs $11.95 a month. While this isn't the cheapest VPN service you can buy, this isn't anywhere near the most expensive either. NordVPN also offers a 30-day 100% money back guarantee in the event you aren't satisfied with the service, so the month by month plan is pretty much pointless.
Software
NordVPN provides its own VPN software or at least instructions on how to connect for pretty much every computing and mobile platform on the market. This includes Windows, MacOS, Linux, Android, iOS, DD-WRT (Router), Tomato (Router), and RaspberryPi. NordVPN however, does not offer browser extensions so if you're running ChromeOS, you may be out of luck.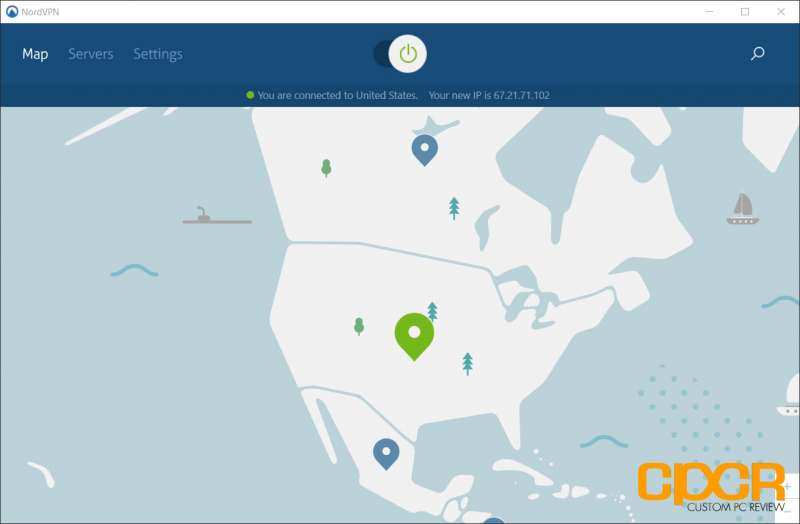 NordVPN's software is relatively lightweight and generally easy to use. After logging in, simply select a flag on the map and the application will automatically select the best server to connect to. Once connected, the flag will turn green, the software will show you your VPN IP and let you know the geographical location you're connected to.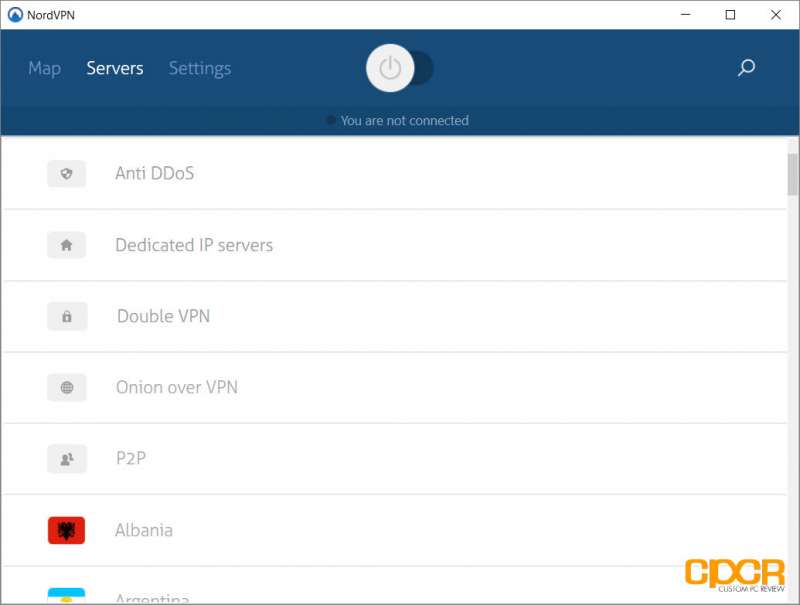 Under the Server tab, NordVPN offers connectivity to more specialized servers such as Anti DDoS servers, Dedicated IP servers, Double VPN servers, Onion over VPN servers and P2P/Torrenting servers.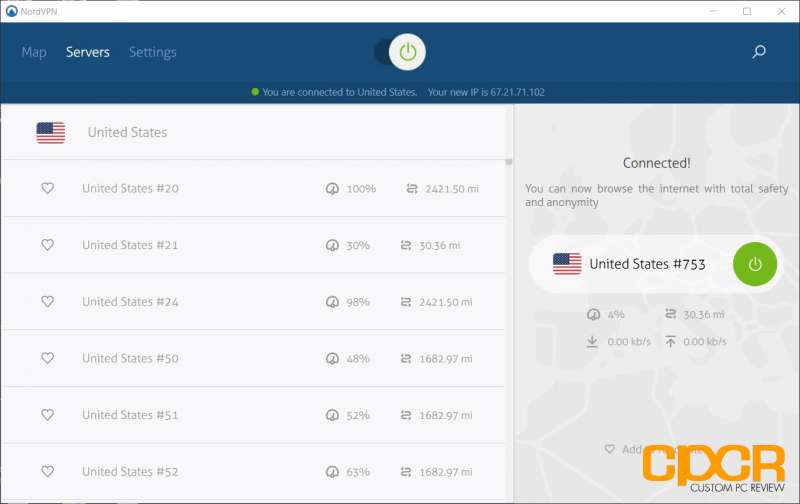 NordVPN also allows individually selecting servers to connect to. What's nice about this is that you can select servers with minimal load that are close in proximity to your location such as United States #753 which was at just 4% load only 30.36 miles away from me. However, the problem is that NordVPN doesn't tell you the actual location of the server, so if you want something specifically in San Francisco or something specifically in New York, you'll need to connect then geo-locate yourself to find the right server – a minor inconvenience that hopefully NordVPN will fix down the line.
NordVPN's settings menu is fairly extensive with a normal mode and an advanced mode which reveals several additional settings for power users. NordVPN's software includes every type of functionality needed in a VPN for most people which includes auto-start, auto-connect and kill-switch.
Additionally, NordVPN also offers several additional useful features such as a Custom DNS option for those who want to use their own DNS and Obfuscated Servers, which unlocks additional servers specifically for defeating ultra-restrictive countries such as China that specifically blocks VPN usage.
Privacy
NordVPNs logging policy is that they don't log and as they operate out of Panama, there's no government requirement for data storage or reporting either. Signing up for an account only requires an e-mail address and a password, and payment can be made by Bitcoin for those truly security conscious.
For a VPN service, this is about as secure as it gets.
Performance
Speedtest
Performance testing was conducted using Ookla's Speedtest.net website. In addition to a baseline test with no VPN enabled, each located was tested three times at three different times of the day and the speeds are averaged for the final results.
| Location | Latency | Download | Upload |
| --- | --- | --- | --- |
| Los Angeles. USA(Baseline) | 9 ms | 215.63 Mbps | 23.81 Mbps |
| Los Angeles, USA | 12 ms | 85.87 Mbps | 22.61 Mbps |
| New York, USA (Baseline) | 79 ms | 215.16 Mbps | 23.29 Mbps |
| New York, USA | 80 ms | 80.37 Mbps | 20.77 Mbps |
| Netherlands (Baseline) | 153 ms | 69.87 Mbps | 10.18 Mbps |
| Netherlands | 163 ms | 54.15 Mbps | 6.80 Mbps |
| South Korea (Baseline) | 143 ms | 62.26 Mbps | 11.89 Mbps |
| South Korea | 144 ms | 26.00 Mbps | 8.49 Mbps |
NordVPN servers are fairly quick, but ultimately maxed out at around 86 Mbps. Those with internet connections under 100 Mbps should be fine, but those with higher will sacrifice a lot of performance. Latency was decent as well with the Los Angeles VPN location (closest to my location) delivering just 3ms of added latency. For the most part, this should be OK for protected gaming, VoIP or video calling.
IPLeak Test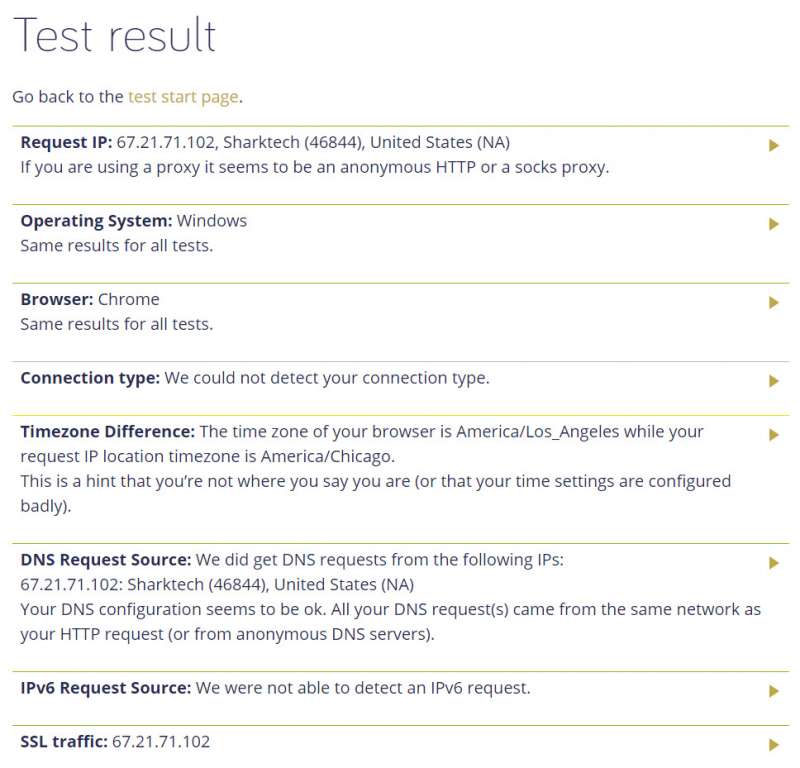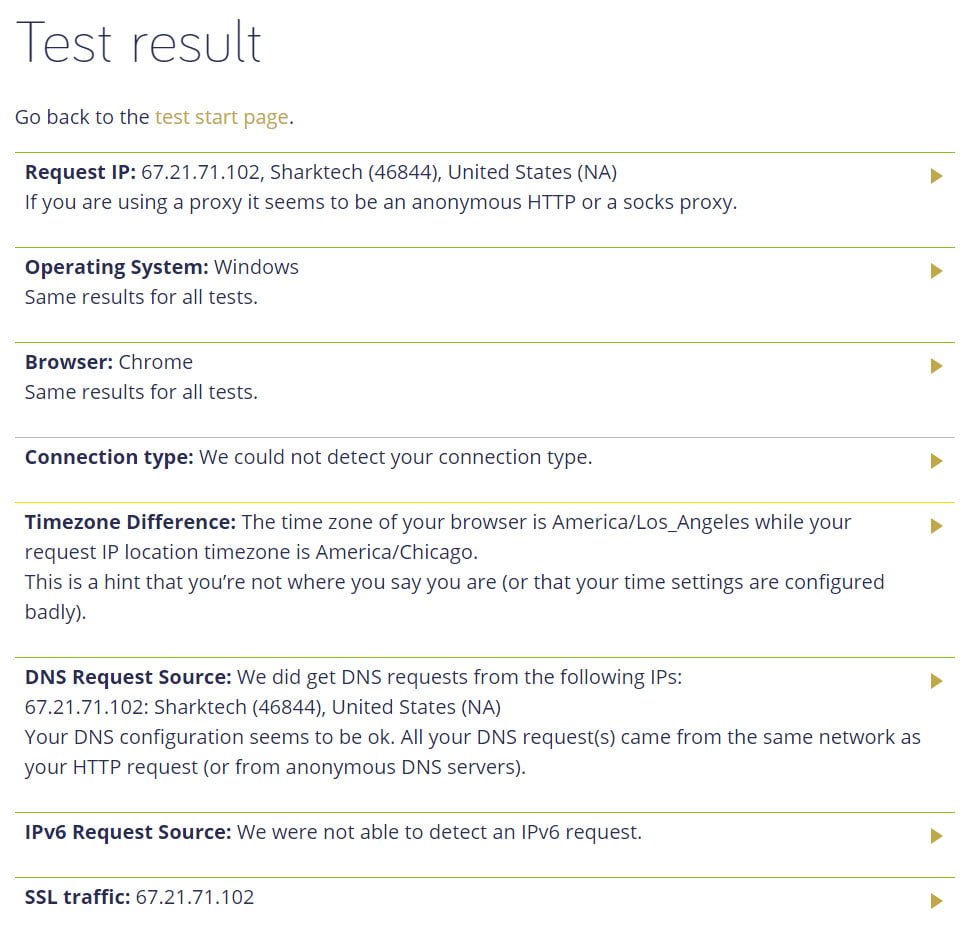 No IP leaks were detected using NordVPN.
Conclusion
Overall, NordVPN is a top notch VPN service. The software is dead easy to use, the company's simple no-log policy offers best in class security, performance is decent and pricing is more than reasonable. With the exception of those with internet connections over 100Mbps, NordVPN is highly recommended!