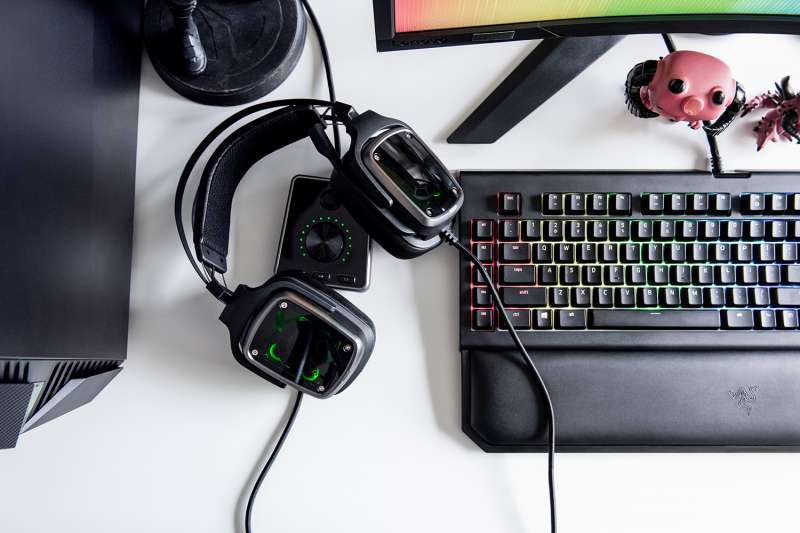 Razer's Tiamat 7.1 and Tiamat 2.2 gaming headsets have been upgraded to version two, and boy is there a lot of changes.
We can all agree that surround sound is great. While virtual surround sound brings acceptable positional audio, having real dedicated drivers for separate sound channels is simply superior. The Razer Tiamat 7.1 V2 now features 10-you read that right-10 discrete audio drivers (five per earcup). Each earcup contains a 40mm subwoofer, 30mm front and 20mm rear and side surround sound drivers.
Included with the Razer Tiamat 7.1 is a new audio control unit that offers speaker pass-through and audio channel management. Users can easily switch to the attached speakers at the press of a button and let that monster kill streak be heard throughout the house.
Upgrades for the Razer Tiamat 2.2 V2 is more tepid. The point to drive home is that the all four of its drivers have been expanded from 40mm to 50mm. Generally speaking, larger drivers have the potential to produce better bass, which is the main selling point for the Tiamat 2.2.
Both headsets include a noise cancelling microphone and of course dazzling Razer Chroma LED lighting.
The Razer Tiamat 7.1 will retail for $199.99 while the Razer Tiamat 2.2 will retail for $129.99. Both headsets are available for order at the Razerzone.