[section label=1. Introduction]
Audio Bliss and Just a Little Bit More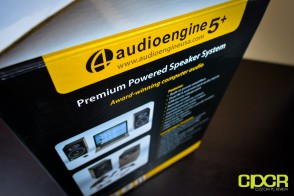 As someone who's constantly on YouTube, there's one thing I frequently notice. Good audio is just as important if not more important than great video. Think about the last time you watched a video on YouTube where the creator obviously shot the video off a pretty high end DSLR, but decided to use the integrated microphone for the audio. How was that? Probably pretty terrible, right?
Yup, and because audio is so important to our computing experience, that's why today we'll be reviewing the Audioengine 5+ speakers and the Audioengine D1 DAC. For those unfamliar with Audioengine, Audioengine is a relatively new player in the computer audio industry, but the guys behind the name are definitely not new to the audio industry itself. After spending many decades developing high end studio monitors, the founders of Audioengine decided to create a speaker with studio monitor level quality for the home audience at a reasonable price. Those interested in learning more about Audioengine, be sure to check out their website here.
Meet the Audioengine 5+ (A5+)
Let's talk a little about the Audioengine 5+. The Audioengine 5+ is Audioengine's flagship powered speaker which Audioengine claims will "deliver audiophile-quality sound and features at a price that continues to set the standard for affordable high-quality audio."
The Audioengine A5+ includes Audioengine's custom designed 5″ Kevlar woofers, 20mm silk dome tweeters and custom 2.5″ MDF cabinets. It also features a fully custom class AB 50w RMS per channel amplifier so those looking for a high end pair of speakers for their computers won't need to go out and purchase an additional amplifier just to use those speakers.
Audioengine 5+ (A5+) Specifications
Type
2.0 powered (active) bookshelf-style speaker system
Power Output
150W peak power total (50W RMS / 75W peak per channel), AES
Inputs
1/8″ (3.5mm) stereo mini-jack, RCA L/R
Outputs
RCA L/R audio (full-range, adjustable), USB Type A (power/charging)
Amplifier Type
Dual Class AB monolithic
Frequency response
50Hz-22kHz +/-1.5dB
Dimensions
10.75″ (27cm) x 7″ (18cm) x 7.75″ (20cm)
Weight (LEFT speaker)
15.4 lbs (7 kg)
Weight (RIGHT speaker)
9.6 lbs (4.4 kg)
Finish options

Satin Black
Hi-Gloss White
Solid Carbonized Bamboo

Power Consumption

Idle: 10W
Mute: 6W
Sleep: 4W

Materials and Construction

25mm thick MDF cabinets
20mm silk dome tweeters with neodymium magnets
5″ Kevlar woofers with advanced voice coils
Torroidal power transformer

Included Accessories

(1) Remote control
(1) Speaker wire (16AWG), 3.75 meters (~12.3ft)
(1) Detachable power cord
(1) Mini-jack audio cable, 2 meters (~6.5ft)
(1) RCA to RCA audio cable, 2 meters (~6.5ft)
(2) Cloth speaker bag
(1) Cloth cable bag
(1) Setup Guide
(1) Product line brochure
Meet the Audioengine D1
As music in a computer is digital, you'll need something to convert the digital signal into an analog signal so speakers such as the Audioengine 5+ can play the audio associated with the signal. This is where a DAC, or Digital Audio Converter, comes into play. Now most if not all computers have DACs, which come in the form of integrated audio, but these DACs are typically poor quality components that are extremely susceptible to crosstalk and various other electrical signals running through a computer motherboard's PCB.
With the Audioengine D1, the entire device is outside of the computer and connected via USB only, which means less interference from other electrical devices. In addition, Audioengine has dropped in a lot of high end audio processing components such as the well known AKM4395 digital to analog converter and an integrated headphone amp based off the TI NE5532, which is an excellent amp capable of driving higher end, higher resistance headphones as well.
Audioengine D1 Specifications
DAC type
Dual Mode USB and Optical (SPDIF)
Inputs
USB/Optical (SPDIF)
Outputs
RCA stereo/3.5mm headphone
D/A converter
AKM4396
Optical receiver
CS8416
USB controller
TI1020B
USB
Type 1.1 or above
Full-scale output
2.0V RMS (RCA and Headphone)
Output impedance
47 ohms RCA, 10 ohms headphone
Power source
USB 5V
Power requirements
200mA
USB power filtering
2-stage redundant regulation
SNR
>110db
THD+N
<0.002%
Crosstalk
<-85db
Frequency response
10Hz – 25KHz +/- 0.5db
Input bit depth
up to 24 bits
Input data rate
up to 192KS/s (optical), 96KS/s (USB)
Product dimensions
3.5x4x1″
Included accessories

USB cable, 2ft
Setup Guide
Microfiber bag
[section label=2. A Closer Look (Audioengine 5+ Exterior)]
A Closer Look at the Audioengine 5+ (A5+)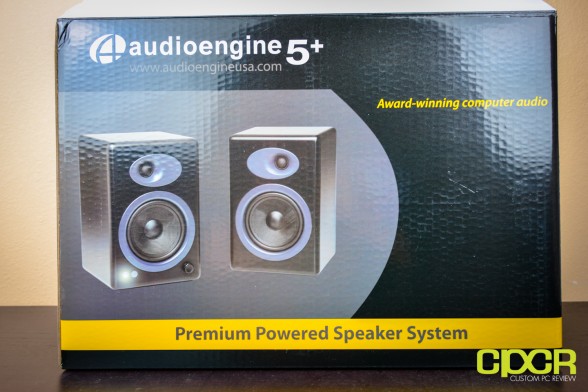 Out of the shipping box, we get the box for the Audioengine 5+. Overall, the box here looks quite good with the black and yellow color scheme along with all the features and product images plastered all over.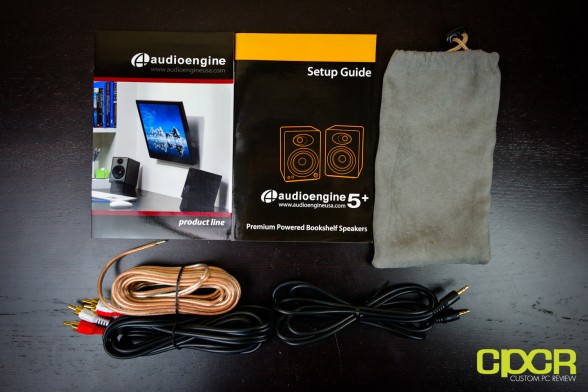 Inside the packaging, Audioengine included quite a bit of accessories as well. Along with the documentation and the product catalog, we get a 12.3ft speaker wire (16AWG), a 6.5 feet speaker RCA to RCA cable, a 6.5 feet 2.5mm to 2.5mm cable, …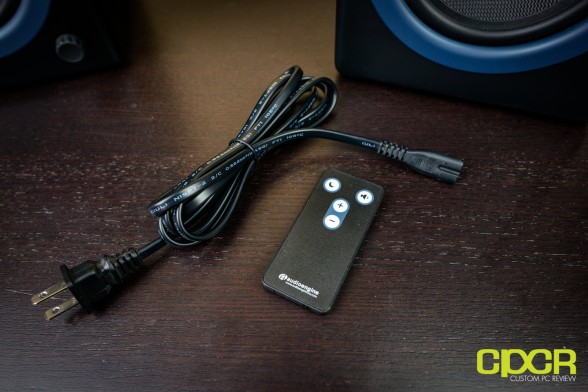 a detachable power cord, a remote control (battery included), …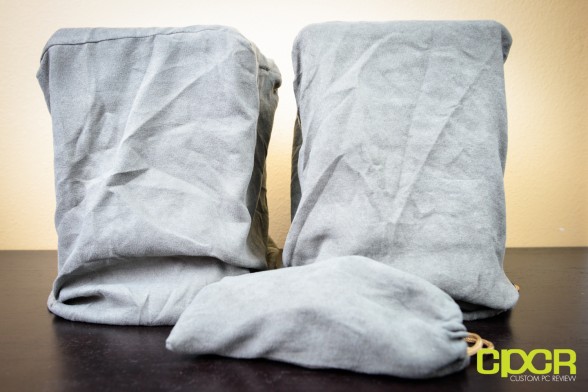 cloth covers for each of the Audioengine A5+ speakers, and a small cloth bag for all the cables. Yeah, they really went all out here.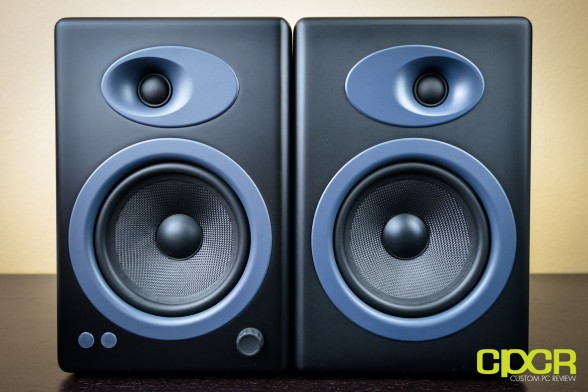 Taking a first look at the speakers themselves, it's quite apparent that the left speaker here is the "control" speaker while the right speaker is the "satellite" speaker. While the right speaker is void of any controls or indicators, the left speaker contains a volume knob (doubles as a sleep button), a LED indicator (far left white plastic cover), and a IR receiver for the remote control.
Each speaker is enclosed in 25mm thick MDF cabinets finished in a matte type finish. Unfortunately they will catch the oil on your hands if you touch them with really oily hands and they are difficult to clean off, so be careful!
Each speaker contains one 20mm silk dome tweeter and a 5″ Kevlar woofer.
Audioengine uses audiophile-quality, ferro fluid cooled silk dome tweeters with neodymium magnets. Silk tweeters hold up well under high power and the edge-driven design gives very smooth response. The woofers are Kevlar woven glass aramid composite with rubber surrounds. Kevlar is obviously very strong, which means that the woofer retains its shape when being driven at high levels. The speaker materials and construction are robust enough to stand up to some serious thrashing, so speaker grills aren't needed and they will sound and look great after many years of use.
The drivers in the units are shielded as well, so speakers may be used next to monitors or other electronic equipment without catching unwanted interference or noise.
Both drivers are directly video shielded and allow the user to place the speakers within a few inches of a video monitor. This shielding also offers protection for hard-drive digital music players.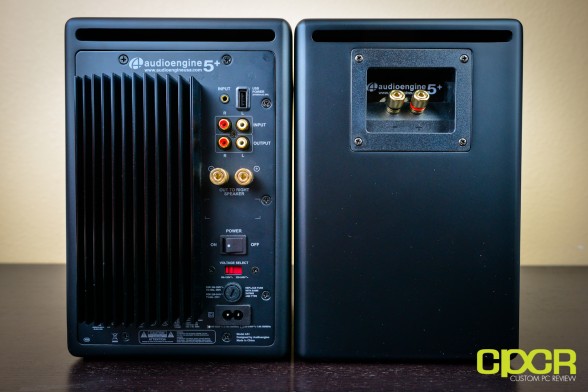 Here's a look at the rear of the two speakers. It's a lot more apparent by looking at the back that the left speaker is the "control" speaker. The first thing you'll notice about the left speaker is that Audioengine has included a giant heatsink to passively cool the amplifier embedded in the left speaker. On the right of the heatsink, we get all the connectivity which includes a 3.5mm in, a USB power output (for charging USB devices only!), RCA in, RCA out, speaker output, power switch, and voltage selection switch.
The right speaker is simply a passive speaker and only includes a speaker input. At the top of both speakers, you'll also notice a large slit, which is used as a port to enhance bass response.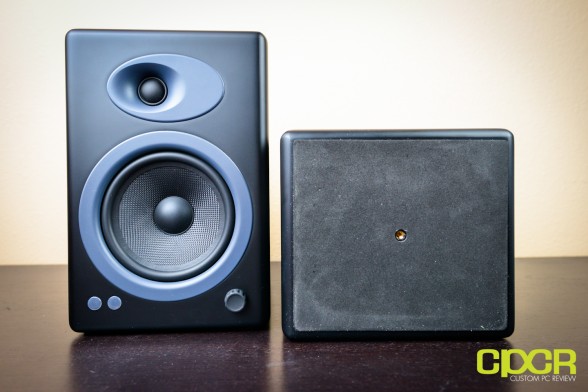 The bottom of each speaker is felt lined to help isolate the speaker and prevent vibrations. In the center of the bottom of each speaker is also a 1/4″ threaded insert for securing the speakers. Be aware, the threading here is only meant to complement other methods of mounting the speakers. The speakers are not designed to be mounted using the 1/4″ insert alone.
[section label=3. A Closer Look (Audioengine 5+ Interior)]
A Closer Look at the Audioengine 5+ (A5+)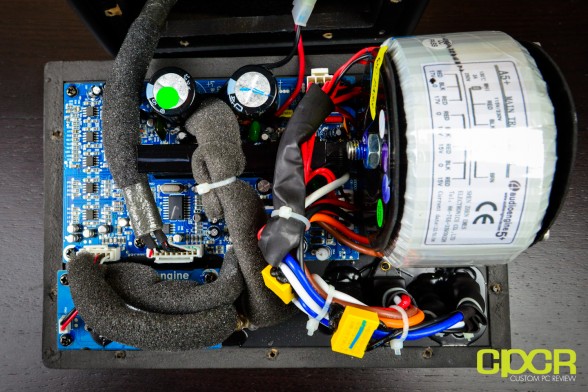 Here's a look at the electronics behind the Audioengine 5+.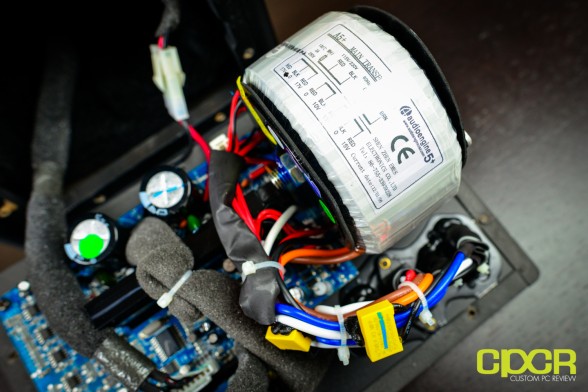 Firs thing you'll notice here is the huge torroidal transformer used to deliver power into the unit. These transformers are most commonly used in audio applications as they radiate less electrical noise to the rest of the components.
Power transformers are a large contributor to the overall audio performance, especially in the low end. Again, no off-the-shelf parts. Audioengine uses gapless core toroidal transformers which have a tighter radiated magnetic field, directly translating to lower noise. They are lighter than standard, lower-cost "EI" transformers and also generate less heat.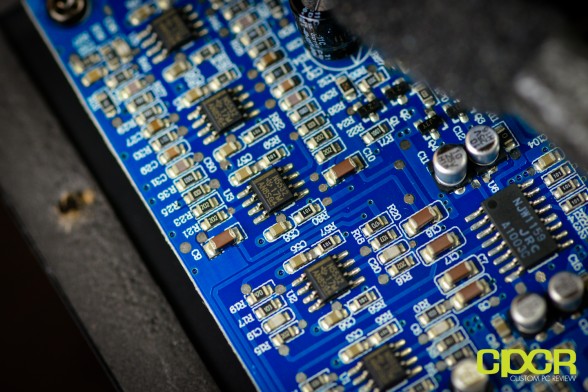 Here's a closer look at the PCB. Audioengine has gone with a number of TI N5532 amps.
The amplifiers in Audioengine speakers are located in the left speaker and are a conservatively rated analog design. All components are tuned together for each model, which provides a much more efficient system requiring less power than passive speakers and separate amplifiers. Circuit boards for the power and preamp sections are mounted for maximum mechanical shock protection.
Taking a look at the capacitors in the Audioengine 5+, I was quite ready to see some Nichicon or Nippon Chemi Con, but instead I find a combination of Chinese capacitors from both ChengX and YIHCON. Yuck! Personally I'm not a huge fan of Chinese capacitors and I'm definitely a bit skeptical of their durability. Guess I'll know where to look if anything malfunctions…
[section label=4. A Closer Look (Audioengine D1 Exterior)]
A Closer Look at the Audioengine D1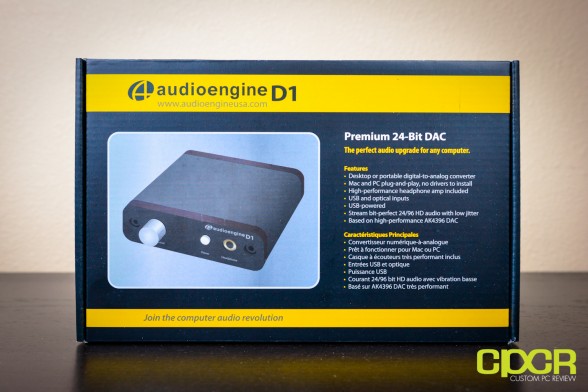 Here's a look at the Audioengine D1's packaging. It's a fairly simple box with all the features plastered right up front. Very similar to the packaging for the Audioengine 5+.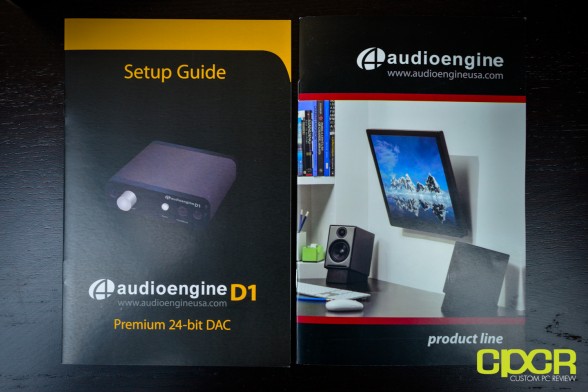 Inside, Audioengine includes some documentation with the D1 along with a product catalog.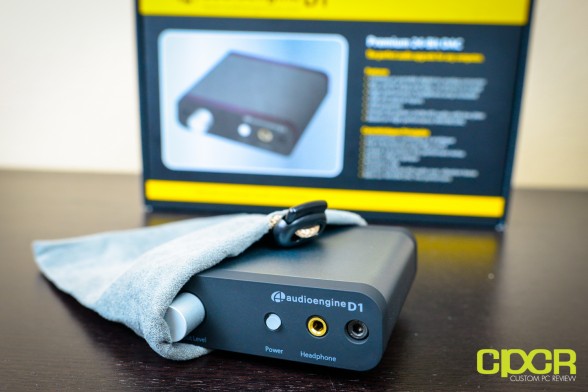 Taking a first look at the Audioengine D1, we can see that it's a very small, very sleek little device. The entire middle portion of the casing is made of brushed aluminum and the front and back is made of plastic with a soft touch coating. Included is also a small cloth pouch used for storing the Audioengine D1 when not in use or when travelling.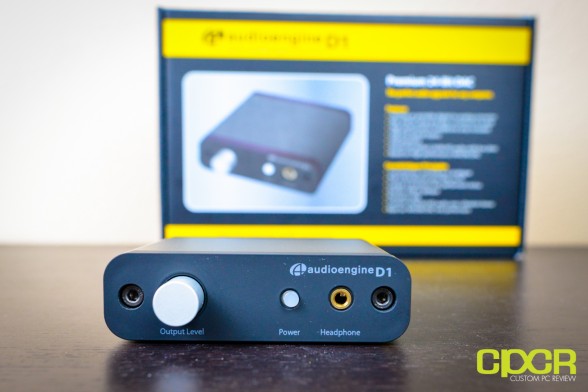 The design of the D1 here is fairly simple. The front of the unit includes an output level, a power LED/switch, and a 3.5mm headphone jack.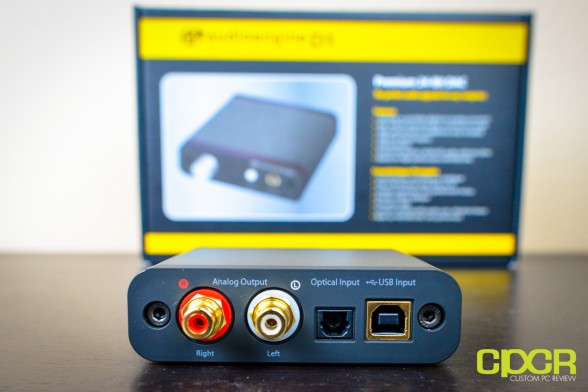 Moving around the back of the unit, we get some RCA output jacks, an optical input as well as a USB input.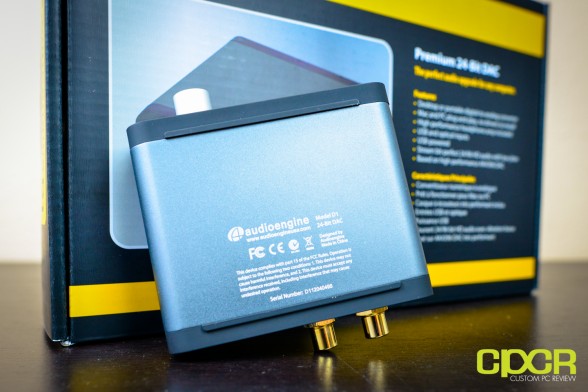 At the bottom of the unit, we get some information about the device.
Audioengine has also included a super short 2ft (0.6m) USB cable with the D1 as well. While normally I wouldn't be too pleased with a cable this short, longer cable runs may degrade signal quality, so I'm not going to give Audioengine too much of a hard time here.  The cable is very thick, so it does appear to have some sort of shielding against interference. Additionally, the connectors themselves are gold plated as well, which helps increase resistance to corrosion.
[section label=5. A Closer Look (Audioengine D1 Interior)]
A Closer Look at the Audioengine D1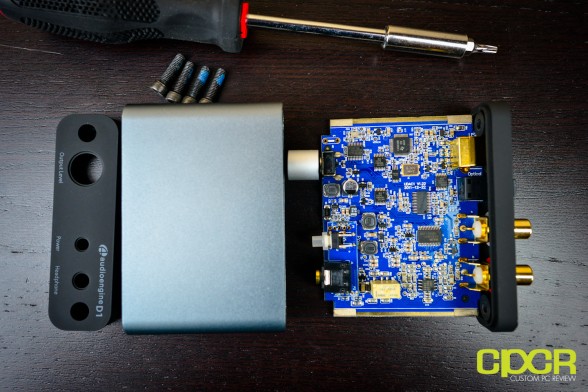 The Audioengine D1 is fairly easy to open – simply take a torx screwdriver and remove the 4 torx screws at the front and rear of the unit.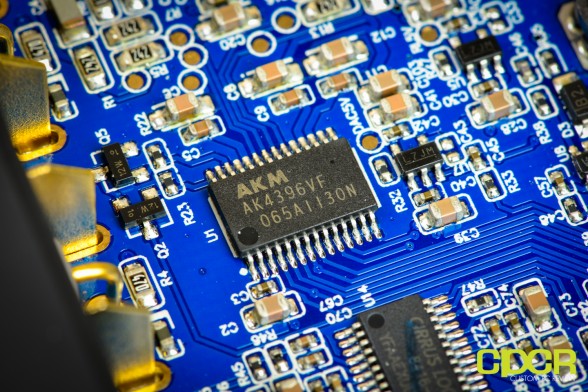 Taking a look at the PCB, we can see that Audioengine has gone with the AK4396 DAC, which is a top of the line 24-Bit/192kHz DAC sporting a SNR of 120dB. For more information on the AK4396, check out the product page here.
The D1 uses the AK4396 DAC, well regarded for its low noise and high fidelity. Due to the high signal-to-noise specs of the AK4396 and the added benefit of double redundancy power source conversion and filtering, the D1 presents impressive low noise and low distortion characteristics.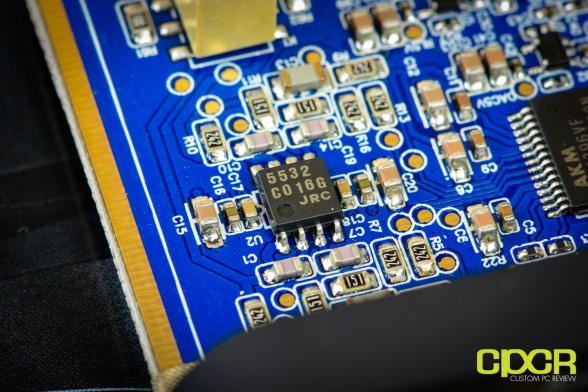 In order to drive high end, high impedence headphones, Audioengine has also included the famous JRC 5532 op-amp. What's interesting here is that Audioengine lists the TI NE5532 op-amp on the spec sheet for the D1, but includes the JRC 5532 instead.
The D1 includes a headphone amp based on the TI NE5532 low noise opamp. This headphone amp is able to provide low-impedance, high-fidelity audio to a wide range of headphones and supports headphones with impedance as low as 20 ohms.
For the USB interface, Audioengine has gone with the TI1020B. Unfortunately, this USB interface is not capable of receiving 24-bit/192kHz signals, so you'll be limited to 24-bit/96kHz through USB.
The D1 utilizes the TI1020B USB controller, widely recognized as a standard for higher-end USB audio products. The D1 is powered directly from the USB bus and USB power is passed through two stages of regulation to ensure high stability and low noise.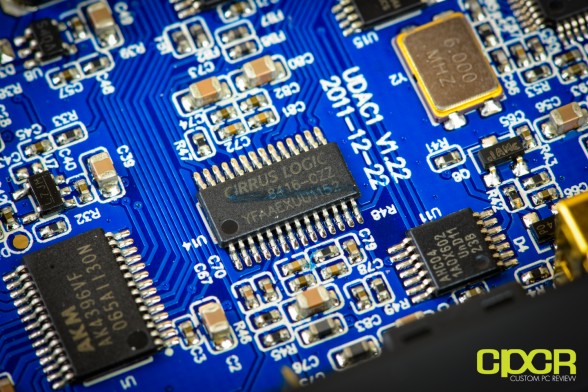 Since the Audioengine D1 isn't capable of 24-bit/192kHz over USB, then you might ask, why is it advertised through the product specifications? Well, the D1 also includes a Cirrus Logic CS8416 192kHz Digital Audio Interface Receiver, which interfaces with the optical input and is capable of accepting 24-bit/192kHz signals.
[section label=6. Setup and Installation]
Audioengine 5+ and D1 DAC Setup & Installation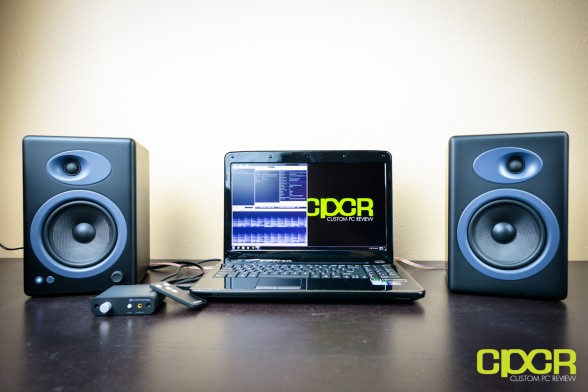 Setting up the Audioengine 5+ along with the Audioengine D1 DAC was overall an easy and painless process.  The easiest way to get started is to connect the speaker wire from the speaker wire terminals on the left speaker to the right speaker. Connect any audio output device to either the 3.5mm audio in jack or the RCA audio in jack, plug in the power cable, and the speaker is all ready to go.
In order to optimize your listening experience, Audioengine also includes a ton of tips on speaker placement, connectivity options, etc. in the setup guide as well.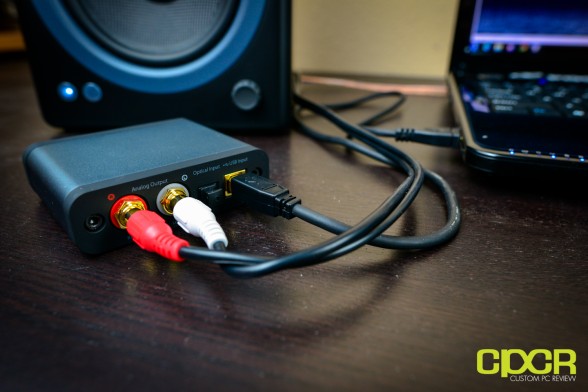 The D1 DAC is connected to the PC using the included USB connector while the connection to the speaker can either be through the RCA outputs in the back or via the 3.5mm jack in the front. For testing, I opted to go through the RCA outputs in the back in order to be able to also enjoy music through the headphones during nighttime listening.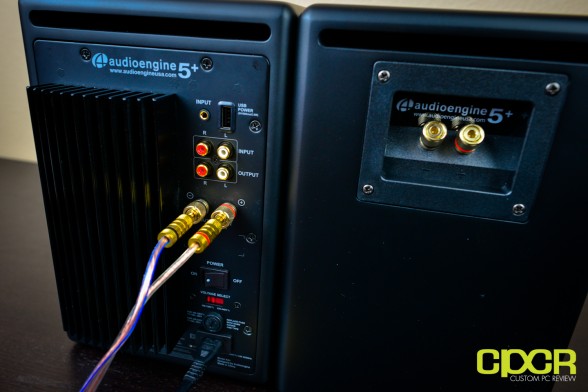 Audioengine includes a 12.3 ft speaker wire (16AWG) which can be attached bare wire to the rear of the speaker, but since I had a couple extra banana plugs available, I installed them onto the speaker wire and they ended up working perfectly fine with the Audioengine 5+. Thumbs up to Audioengine for using a lot of non-proprietary stuff!
[section label=7. Performance]
Audioengine 5+ and D1 DAC Performance
Games and Movies
As usual with my audio product reviews, I tested the Audioengine 5+ quite extensively in a variety of different movie and gaming scenarios. For gaming, spent most of my time playing a lot of Battlefield 3 as well as the newly released Counter Strike: Global Offensive (CS: GO). In both games I had an extremely good experience with these speakers as they delivered crystal clear vocals and a surprisingly large soundstage, which really helps give games that three dimensional feel. Even during gameplay I was able to hear some minute details in the sound with the Audioengine 5+ that I never noticed before. Most computer speakers, even the higher end ones from Logitech or Klipsch are tuned very heavily towards the bass and a lot of sound in the mid section disappear in the process. With games like Battlefield 3 where there the developers put a ton of effort into small details in the audio such as birds, wind noise, etc., being able to hear these sounds makes the game a much more immersive experience.
One thing I did notice when using these speakers is that it's very important to get at least about 4 feet of distance between the speakers and ideally according to the manual about 6 feet. Typically, most people place computer speakers around 2-3 feet apart and at least with the Audioengine 5+, there's a huge and very noticeable difference in the sound stage and three dimensional feel of the movie or game when doing so. It's also very important to give the speakers at least 6 inches from the wall behind them and to remove any obstacles in the way as this will help enhance the bass response.
As with gaming, I noticed a similar experience with movies as well. One of the most memorable movies I watched during the testing period was the new movie, Battleship, which for a huge nerd like me was a full 131 minutes of pure audio bliss. The Blu-Ray edition's lossless DTS-HD Master Audio 5.1 track was stunning even though I had stepped the track down to 2.0 for the Audioengine 5+ speakers. The 5+ handled the audio very well giving each splash, each shot of the cannon, and each fighter jet flying by a sense of complete and utter realism. Vocal clarity was amazing here as well, which gave me the feeling that I was right there on the bridge as Lt Alex Hopper (Taylor Kitsch) and Cpt Nagata (Tadanobu Asano) were making plans to take out the alien vessel.
That said, one thing I really missed the first time I watched Battleship was the complete lack of earth shattering bass that would be accompanied by most 2.1 computer speakers out there. However, Audioengine does give you the option of connecting the Audioengine S8 or any 3rd party subwoofer that accepts RCA inputs (practically everything). In my case, I dropped in an Emotiva Ultra Sub 12 and the result was nothing short of spectacular. So good in fact, that my 20 minute "re-test" of Battleship's epic USS Missouri vs alien spaceship battle turned into a "re-test" of the entire movie. For those who purcahse the Audioengine 5+ and expect to spend a ton of time gaming or watching movies, I'd very highly recommend picking up a subwoofer such as the Audioengine S8 (not tested personally) or the Emotiva X-Ref 12 (successor to the Emotiva Ultra Sub 12 tested today) for that extra kick in the low end. While the 5+ speakers can produce clean and tight "musical" bass, it simply doesn't give you that same earth rumbling effect that you'd get from a dedicated subwoofer.
Music
Next up I also tested music with the entire setup, and similar to my testing with movies and gaming, I was extremely pleased here. Unlike a reference monitor, the Audioengine 5+ is tuned to slightly favor bass, which may be a bit undeseirable to those who are really looking for a totally flat response. The highs on the other hand are a bit bright and sound a bit "raw" while the mids seem a bit overpowered at first, but after about a bit of breaking in (~10-20 hours or so for me, Audioengine recommends 30-50 hours), it does go away.
After the A5's are broken in, the speakers start giving you rich and warm mids, which when coupled with crystal clear vocals is especially suited for music with mid/high to high end vocals such as Adele's Rolling in the Deep or AC/DC's Thunderstruck. Those who enjoy piano music will find the clarity of these speakers stunning as well, as I sat there feeling there was a grand piano playing George Winston's Variations on Canon right in my room! Additionally, since these speakers are tuned for a bit more bass I found that "party" music and soundtracks are especially good with these speakers as well. Stuff from Usher and Two Steps from Hell sounded exceptionally good, and coupled a powerful subwoofer for that sub 50Hz response I found myself dancing in my seat.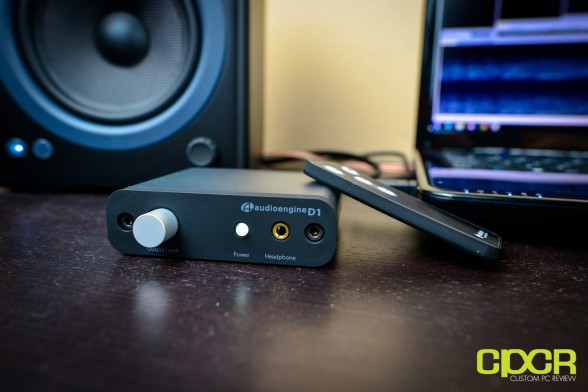 Audioengine D1 DAC
In addition to the speakers, I also did some listening tests with the Audioengine D1 DAC in all of these scenarios above and I found performance with this little unit to be great as well. The biggest thing you'll notice about the D1 DAC is that it was able to clean up the electrical noise (hissing and humming) especially in comparison to the onboard sound on both my desktop (Realtek ALC898) as well as the audio on my laptop (Realtek ALC269). This was especially annoying when using my Ultimate Ears TripleFi 10, which is an extremely sensitive pair of IEMs (in ear monitors).
Audioengine claims that the D1 can be used with any headphones with a minimum of 20 ohms resistance, but I didn't find that the case on the Ultimate Ears TripleFi 10, which is rated at 32 ohms. Music came out distorted and there was slight hissing going on in the background, which almost sounded a bit worse than onboard sound on my computer. However, I did try plugging in the airline attenuator, which gives the headphones ~100 ohms additional resistance and that worked absolute magic. The hissing went away, and the audio became crisp and clear. I spent some time switching back and fourth between my iPhone 4S and the Audioengine D1 with the TripleFi 10 and the iPhone 4S doesn't even compare to the Audioengine D1. Music simply sounded much more lively and the imaging felt a lot more realistic whereas music coming off the iPhone 4S sounded a bit dull and fake, not to mention the slight hissing as well.
With both the Ultimate Ears TripleFi 10 and the Audioengine 5+ speakers, I found that the D1 DAC was able to output a fairly balanced response, which personally for me is ideal for music. Unfortunately, both the Audioengine 5+ and the Ultimate Ears TripleFi 10 are both slightly colored for bass, so I wasn't able to really accurately judge if it's the DAC that was giving the bass and low mids the slight kick. Either way, the music sounded amazing.
[section label=8. Conclusion (Audioengine 5+)]
Audioengine 5+ (A5+) Conclusions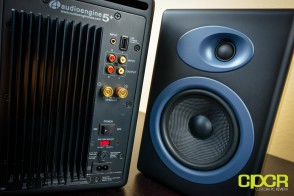 Alright, so for those of you reading this review and you haven't really gotten the message yet, these Audioengine 5+ speakers are awesome. I think this is one of those all around speakers that'll really do the trick for everything. Yeah, it would be better if you could grab a pair of totally flat monitor speakers for music if you're into that type of sound signature, but usually with a computer, you need a pair of speakers that can do it all, and I think the Audioengine 5+ is that pair of speakers. Crisp and clear treble, warm mids, a fairly powerful bass response, huge soundstage, and a huge sweet spot. See why I think it's so awesome? Yeah. That said, it's a smidge heavy on the bass and for some of you, this might be a deal breaker, but considering most people spend tons of time on their computer for stuff like games and movies that need some low end, I'm not going to fault Audioengine for giving the 5+ a bit of extra oomph down there. Well, not so much oomph as the bass is more musical than the usual 1 note booms you hear off something like my old Logitech Z-2300.
In terms of appearance, I really love the simple and classy look of speakers. The kevlar woofer here looks fantastic, and the matte finished black cabinet fits in with most computer decor. That said, those who have a full white theme (Apple people, yes I'm pointing at you) can opt for the white edition of the Audioengine 5+ and those who prefer a more exotic look can opt for the bamboo edition as well. One thing I'm not a huge fan of though is the off center tweeter. Personally, I think it looks a bit funky and unbalanced as I'd like to see it placed in the middle, but I guess some people like the design so it's not a huge huge deal. These things still look amazing.
Connectivity and features is also something that's really impressive. USB charging port, 3.5mm jack, RCA inputs, RCA outputs. Nuff said. Has everything you need and a bit more. Audioengine even includes little covers and a full accessory package, which includes all the cables you'll need to get going, and a remote control. Notice how there's a lot of "a little bit more" here. It kinda feels like buying a Blu-Ray player to find an HDMI cable included. Yep, just that little bit more.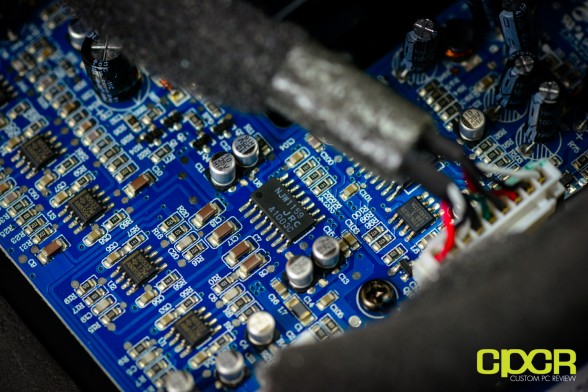 Pricing on the Audioengine 5+ is currently $399.00 on Amazon, so it's definitely one of the most expensive computer speakers out there. If you throw in a subwoofer such as the Audioengine S8 and a quality DAC like the Audioengine D1, you're definitely looking at around $1,000. That said, I think the sound quality with these are amazing and with its feature/accessory package, it's well worth the $400. The thing about speakers is that unlike other computer gear such as motherboards, CPUs, GPUs, etc. that only last you 6 to 18 months, high quality speakers will easily last you 10 years or more if you treat them with care, so $40 (or less) a year for 10 years (or more) of audio bliss? Totally worth it.
Speaking of reliability though, one thing I'm not pleased about with these speakers is Audioengine's choice in using cheap Chinese capacitors in the speaker's amp. I was really, really, really tempted to deduct a huge point for this, but I haven't had issues with the Audioengine 5+ speakers over the time I've tested them, and overall reliability across user reviews on Amazon seem pretty good. However, I'm not convinced at all that ChengX or Yihcon capacitors should even belong in a $400 pair of speakers.
Manufacturer's Response

"…you are correct – these are not the highest quality, but one thing to note is that these are mostly bypass caps and not directly in the audio path."

"…the crossovers are separate PCB assemblies directly mounted in each speaker and include higher-quality audio caps than used the amplifier.  We would have preferred to use WIMA Nichicon, etc. everywhere but just didn't have the budget for a $400 pair of speakers."
Bottom Line
Forget about the MM-1, forget about the Companion 5, forget about the BeoLab 4. If you're looking for the best pair of all around speakers for your computer, this is it.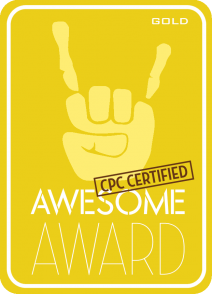 Special thanks to Audioengine for making this review possible.
The Audioengine D1 DAC is currently available on Amazon.
[section label=9. Conclusion (Audioengine D1)]
Audioengine D1 Conclusions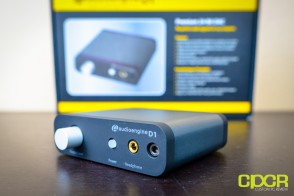 With the Audioengine 5+ Speakers out of the way, let's talk about the Audioengine D1 DAC for a moment. Performance here was fairly good. Audio sounded a tad bit more rich and lifelike, but most importantly, the DAC was able to much better isolate electrical noise, which is what most people will immediately notice here. There really isn't anything more annoying than a load of electrical noise when hooking up sensitive headphones to a computer. One thing I'd like to mention about the DAC though is that if you're planning on using a pair of headphones with the D1, you'll definitely want a higher end pair of headphones with higher resistance to take full advantage of the D1. Just for giggles I plugged in a pair of those famous headphones that come bundled with the iPhone 4S to both the Audioengine D1 and my desktop's onboard sound and I found zero difference. In fact, I thought they sounded slightly worse for some reason and the hissing was more pronounced as well. Definitely get a quality 50 ohm+ or even better 250 ohm+ high end pair of headphones to go with the D1.
Appearance and formfactor here was great as well and the device is definitely small enough for those who want to take it on the go. Without something like this, your high end 250 ohm+ headphones would be pretty useless when plugged into a laptop, but with the D1, you can now take your favorite pair of headphones on the go. For people looking for a DAC + headphone amp for this purpose, I think the Audioengine D1 is going to be worth every penny. Additionally, like what we saw with the Audioengine 5+, Audioengine includes a small cloth pouch with the Audioengine D1 for protection on the go.  Just a little bit more.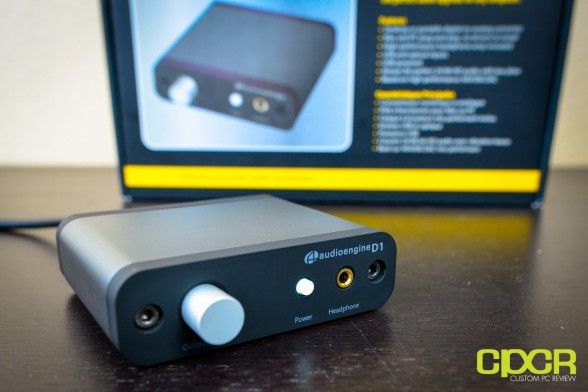 In terms of connectivity and features, you're getting optical in, and usb for the inputs while you'll also get RCA and 3.5mm out for the outputs. For a device that fits into the palm of my hand, this is amazing. Additionally, you'll also be getting 24 bit 192kHz audio as well, so those who purchase ultra high end Blu-Rays will be able to enjoy ultra high quality audio. Personally, I can't really tell the difference between 16 bit 44kHz audio and 24 bit 96kHz audio let alone 24 bit 192kHz audio, but the feature is there nonetheless, so if you can, more power to you.
Pricing on the Audioengine D1 is currently $169.00 on Amazon, so it's actually not too expensive for a high quality DAC. That said, those looking for an audio upgrade should definitely upgrade their speakers or headphones prior to making an upgrade on the DAC. However, if you already have some high end headphones or you specifically want the optical input on the Audioengine D1, the Audioengine D1 is an excellent choice for the price.
Bottom Line
Those looking for a portable DAC + amp combo will find the Audioengine D1 an excellent performer with tons of connectivity at a reasonable price.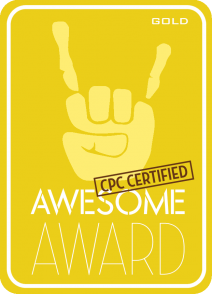 Special thanks to Audioengine for making this review possible.
The Audioengine D1 DAC is currently available on Amazon.