Cooler Master CM Storm Trigger Mechanical Gaming Keyboard Review
Cherry MX Brown, USB 2.0, Dedicated Macros. Win?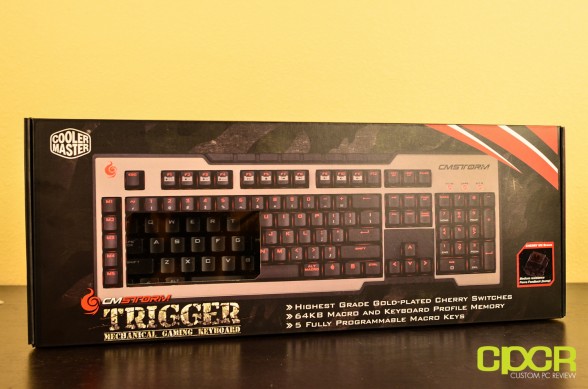 When most of us think Cooler Master, we typically think PC cases and CPU coolers, and well, that's because that's what they do best. However, with Cooler Master's relatively recent push of their gaming gear line, CM Storm, they've really expanded into many different markets previously unknown to the company. One such market is the gaming keyboard market, and if you've read our previous review on the Quick Fire Rapid, you'll know that we were quite impressed with their first entry. Well, since our review of the Quick Fire Rapid, a couple months have gone by and Cooler Master has already announced and released two more mechanical keyboards which include the Quick Fire Pro and of course, the Trigger.
Today, we'll be taking a look at the CM Storm Trigger, which is one of the newest additions to CM Storm's line of mechanical keyboards. The keyboard features Cherry MX switches, crimson LED back lighting, 6 key rollover, 5 dedicated macro keys, media keys, gold plated cables, and a full speed USB 2.0 hub. As you can imagine, these features make the Trigger quite competitive on the market. One of the nice touches about CM Storm keyboards, is that they produce the keyboards in every different, common Cherry MX switch type out there so you can choose what you want depending on the feedback you desire. You can choose between Cherry MX Black, Blue, Red, or the one I have for you today, Brown. These switches vary in a couple major ways which include force required to actuate (actuation force), whether the keys make a sound when pressed down, and whether or not you will feel tactile feedback upon pressing a key.
Still interested? Lets take a deeper look at the features and specs of the CM Storm Trigger.
Features & Specifications