[section label=1. Introduction]
Samsung Forays into Gaming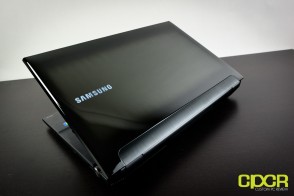 It seems like Ultrabooks have become the talk of the town lately, and while thin, light and portable are great characteristics to have for a notebook, we all know that those looking to play Battlefield 3 on the go at more than 3FPS want something a little bit bigger. This is why today we'll be reviewing the Samsung Series 7 Gamer (NP700G7C-S01) gaming notebook.
The Samsung Series 7 Gamer is one of the most expensive notebooks Samsung produces today and it definitely has the hardware to back it up. Powering its core is the ever so popular Intel Core i7-3610QM quad core processor running at 2.30GHz, but is capable of turboing up to 3.3GHz for maximum performance. In order to ensure there's plenty of graphics performance to go around, Samsung has also equipped the Series 7 Gamer with a Nvidia GeForce GTX 675M as well to ensure that it runs all the latest games at resolutions higher than 1024×768. In addition, Samsung has also equipped the Series 7 Gamer with a whopping 16GB of DDR3, dual 750GB hard drives with an 8GB express cache, tons of connectivity, and more.
Interested in what Samsung has to offer? Flip the page to find out!
Samsung Series 7 Gamer Specifications
| | |
| --- | --- |
| Notebook | Samsung Series 7 Gamer (NP700G7C-S01) |
| CPU | Intel® Core™ i7-3610QM 2.30 GHz (3.30GHz Turbo) 6M Smart Cache |
| Motherboard | Intel HM76 Chipset Motherboard |
| Memory | 16GB (4x4GB) DDR3-1600 Samsung SODIMM Memory |
| Graphics | NVIDIA GTX 675M 2GB |
| Storage | 2x750GB Hitachi Travelstar 7200RPM HDD + 1x8GB SanDisk iSSD P4 Express Cache |
| Optical Drive | BDRom/DVDRW (TS-LB32D) |
| Display | 17.3″ Full HD SuperBright Plus LED Glossy Display (1920×1080) |
| Sound | Built-in Stereo Speakers (Dolby Home Theater) |
| Networking | Built-in 10/100/1000 Mbps + Wireless a/b/g/n + Bluetooth v4.0 + WiDi |
| Keyboard | Built-in Keyboard |
| Mouse | Built-in Touchpad |
| Battery | 8-cell Li-Ion Battery Pack 5900mAh |
| Webcam | Built-in 2.0 Mega Pixel Webcam |
| I/O | HDMI, VGA, DisplayPort, 2x USB 2.0, 2x USB 3.0, Ethernet, 7 in 1 Media Reader, 3.5mm Headphone/Microphone, Kensington Lock |
| Operating System | Microsoft® Windows 7 Home Premium (64-bit Edition) |
| Dimensions | 16.1″ x 11.2″ x 1.29″ |
| Weight | 8.39 lbs |
| Warranty | 1-Year Standard Parts and Labor |
[section label=2. A Closer Look]
A Closer Look at the Samsung Series 7 Gamer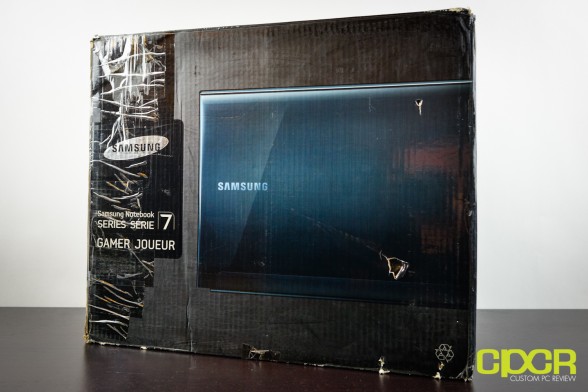 Here's a look at the packaging for the Samsung Series 7 Gamer. Our sample was definitely passed around multiple reviewers prior to arriving at my doorstep which explains the damage to the packaging.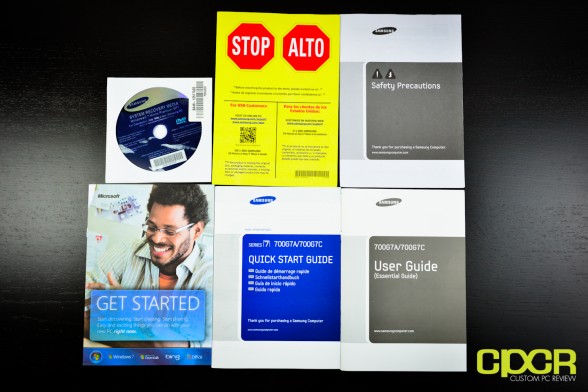 Let's take a look at the accessories first. Overall I must say Samsung pretty much went with the bare minimum with the Series 7 Gamer. Included with our sample is some documentation along with a drivers/software disk.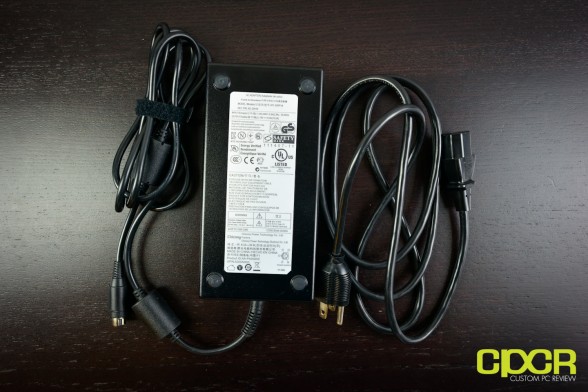 There's also a power adapter as well. It's a 19V, 10.5A adapter which is capable of generating a massive maximum of approximately 200w. The connector to the notebook itself is a proprietary 4 pin connector which means if you lose the power adapter, you'll have to get another one from Samsung. With the accessories out of the packaging, let's take a look at the Series 7 Gamer itself.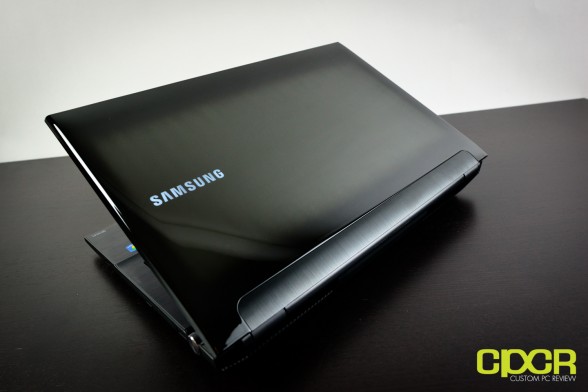 Here's the Samsung Series 7 Gamer itself. The entire top cover is finished with a very classy high gloss finish. Included on the cover is also a white backlit Samsung logo. Unfortunately as with all glossy finishes, it didn't take very long for dust and fingerprints to dirty the surface.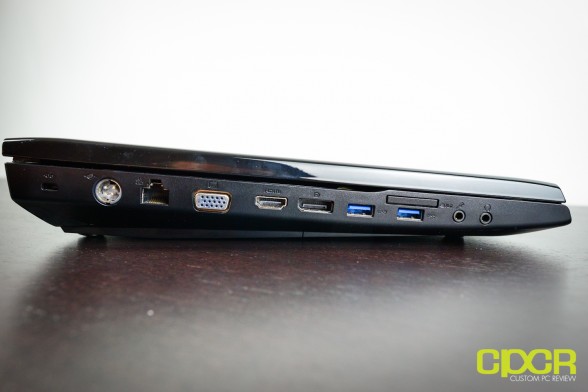 Here's a look at the left of side of the Series 7 Gamer. We get a Kensington lock port, a proprietary 4 pin power port, Ethernet  VGA out, HDMI out, DisplayPort out, 2x USB 3.0, 7 in 1 combo card slot (MS, MS Pro, SD, SDHC, MMC, MMC plus, xD), headphone port, and microphone port. The notebook itself has a fairly thick profile which is probably due to the fact that it's sporting some pretty serious hardware.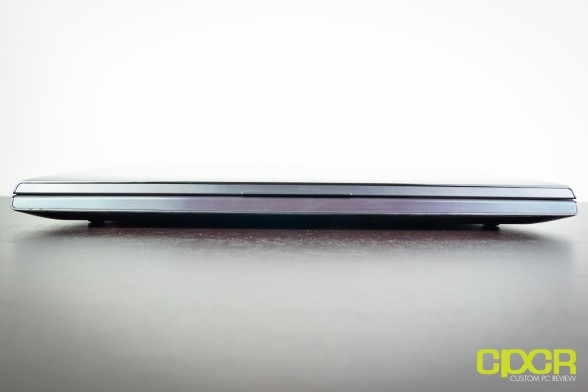 Here's a look at the front of the notebook.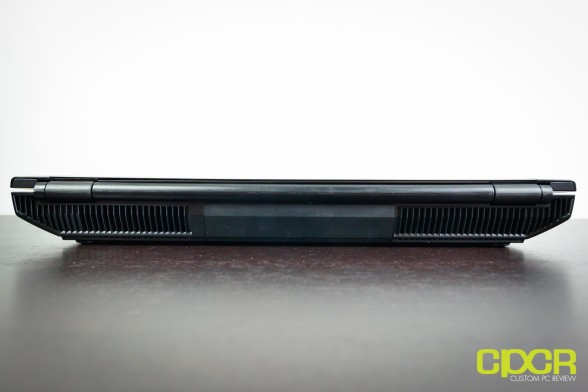 Here's a look at the rear of the notebook. There's a lot of ventilation here to support the cooling system.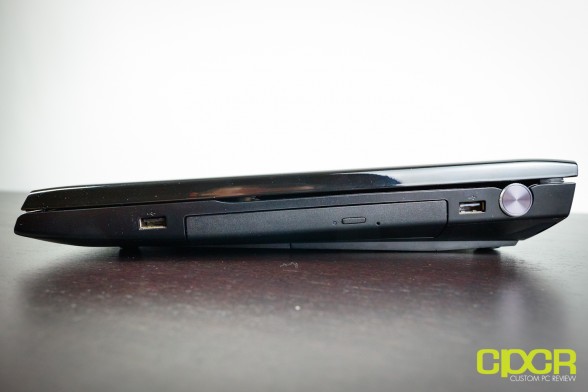 Here's a look at the right side of the notebook. Here we get 2xUSB 2.0 ports, a DVD RW combo drive, and a mode switcher (AKA ModeShift) that we'll get into more detail later.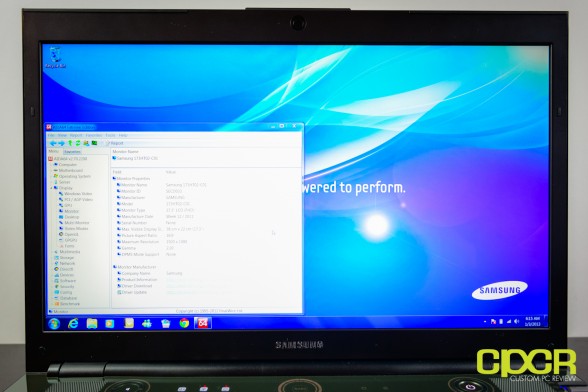 Cracking open the notebook, let's first take a look at the massive screen. The screen included on the Series 7 Gamer is a 17.3″ SuperBright Full HD 1920×1080 resolution screen. Above the screen is a 2 megapixel webcam.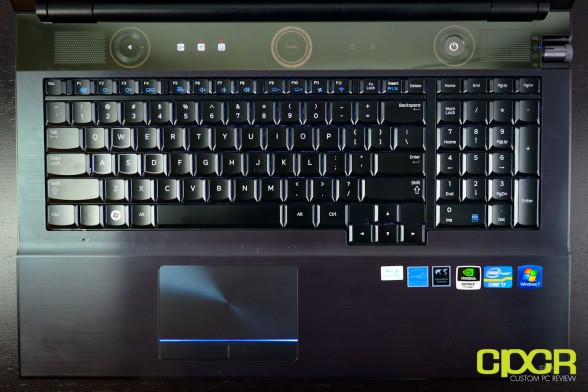 Here's a look at the keyboard for the Series 7 Gamer. Right above the top of the keyboard we get some speakers, dedicated volume controls, a power button, and indicator LEDs. At the top right there's a mode switcher I mentioned earlier. This mode switcher allows you to quickly switch between gaming mode, balanced mode, library mode, and green mode.
Of the modes, the most interesting is game mode as it's quite unique. Once activated, it plays a little audio/video sequence to let you know it's activated. It also changes the desktop background and gives the w,a,s,d keys some red backlighting as well. To be honest, it's a little annoying and a little over the top, but luckily you can switch this off using the Samsung ModeShift software to skip all the racket if you please.
The keyboard is a fairly full sized with a full tenkey pad as well. The keys are a bit mushy and have a short travel (2.7mm), but they felt good to me, especially after using a ton of Ultrabook keyboards lately. Below the keyboard we also get a decent sized trackpad as well. It's not huge like what you'd find on a MacBook, but it's not small either. This trackpad does have the buttons and the trackpad separate, which is great for those who enjoy keeping a finger on the buttons while using the trackpad, but find themselves accidentally activating multitouch instead with trackpads that have buttons and the trackpad connected.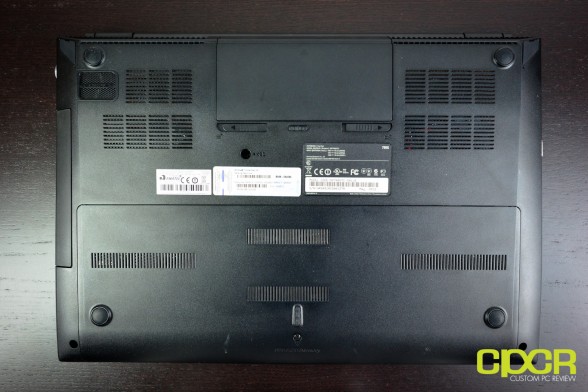 Moving onto the bottom of the Series 7 Gamer, we can see that Samsung has included four large rubber feet to create space between the bottom of the notebook and the space it's sitting on. Additionally, there's also plenty of vents to improve ventilation. The battery on the Series 7 Gamer is also user replaceable as well.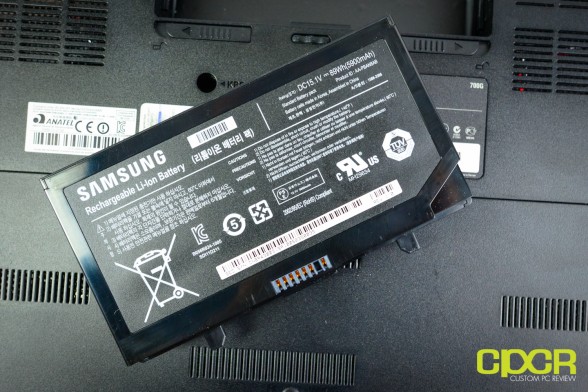 Speaking of the user replaceable battery then, here's the battery on the Series 7 Gamer. It's an 8 cell, 5900 mAh Li-Ion battery.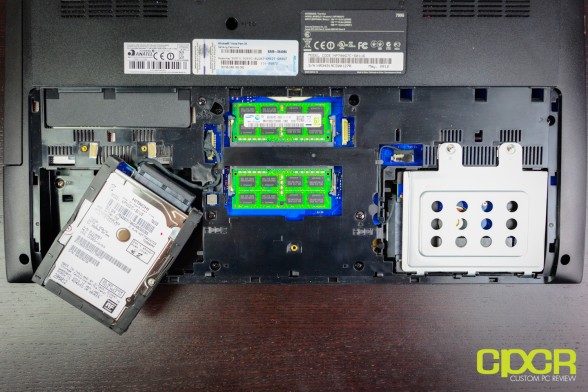 Cracking open the bottom of the notebook, we get a couple user serviceable parts. In the middle, we get two spots for memory while the far left and the far right include two spots for standard 2.5″ drives.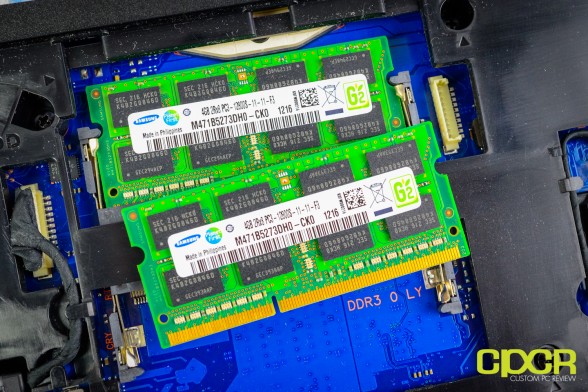 Included with my sample there are 4x4GB SO-DIMMs of Samsung DDR3 1600MHz. The part number for these DIMMs is M471B5273DH0-CK0. Although there are 4 DIMMs, only 2 DIMMs are easily user replaceable by simply removing the cover on the back.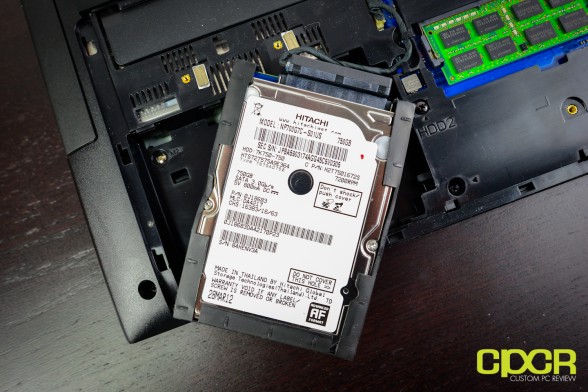 Back here, we also get 2x 2.5″ Hitachi Travelstar 7K750 7200RPM hard drives. This makes up a total of 1.5TB of storage space. In order to accelerate the boot drive, there's also an 8GB SanDisk iSSD P4 express cache as well. It's always interesting to see that Samsung doesn't use Samsung hard drives or Samsung SSDs in their own notebooks.
[section label=3. Initial Boot / System Performance]
Samsung Series 7 Gamer Initial Boot
Initial bootup of the Series 7 Gamer is snappy as the hard drive is accelerated by an 8GB cache. Let's take a look at what else we get under the hood.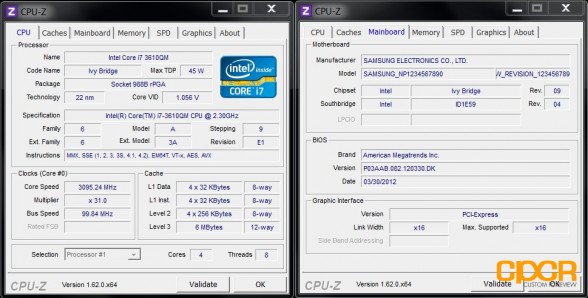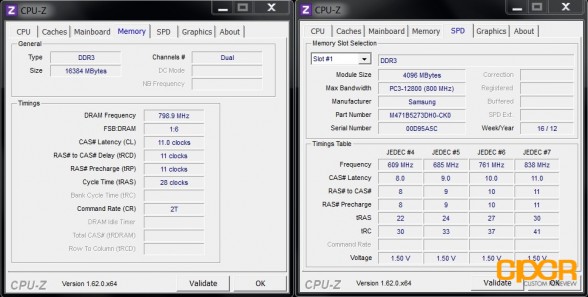 Before we begin, let's take a look at the components powering the Series 7 Gamer. Starting with the CPU, we get the Intel Core i7 3610QM. It's a quad core mobile processor based off the 22nm Ivy Bridge architecture. It has a stock clock of 2.3GHz and is capable of turboing up to 3.3GHz for maximum performance. The motherboard is a Samsung motherboard and we also get 16GB of Samsung 1600MHz CAS 11 memory.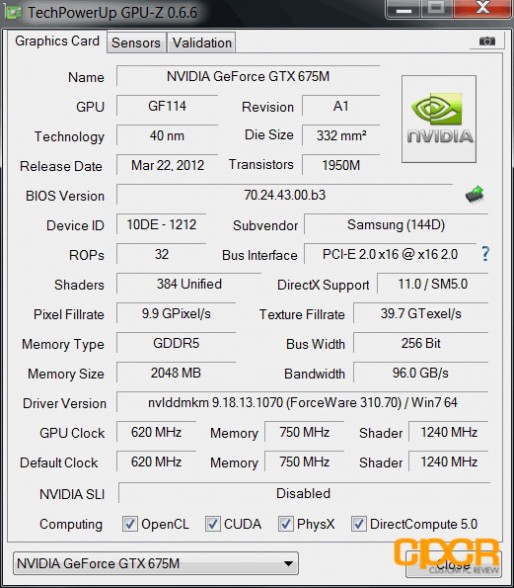 Taking a look at GPU-Z, the graphics solution Samsung has gone with on the Series 7 Gamer is the GeForce GTX 675M. Unfortunately, the GeForce GTX 675M is simply a rebrand of the GeForce GTX 580M, which is still sporting the aged GF114 chip manufactured off the 40nm process. No doubt it's going to be a beast of a graphics solution, but without the energy efficiency of Nvidia or AMD's new 28nm graphics solution, we'll likely see high power draw off the graphics card. I would've definitely preferred to see the Series 7 Gamer with either the GTX 680M or the Radeon HD 7970M for better power efficiency, lower temperatures, and higher performance.
Testing the Samsung Series 7 Gamer
Today, we'll be running a number of benchmarks on the Samsung Series 7 for performance testing. I've included numbers for a reference Ivy Bridge test system running off the integrated graphics. This will give us an idea of what type of CPU performance can be expected from the laptop as the desktop Intel Core i5-3570K is a fairly common processor.
Ivy Bridge Test Bench
CPU: Intel Core i5 3570K
Motherboard: Gigabyte Z77X-UD3H
Memory: 8GB Corsair Vengeance LP DDR3 1600MHz
Graphics: Intel HD 4000 Integrated
Storage: OCZ Vertex 4 128GB
PSU: Corsair HX650
OS: Windows 7 Ultimate x64
Samsung Series 7 Gamer System Performance
PC Mark 7
PC Mark 7 is a full system benchmark designed to test real world system performance.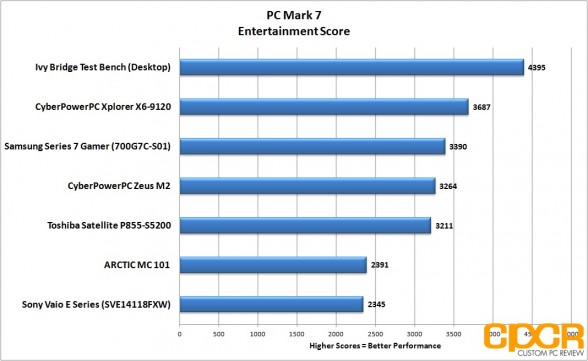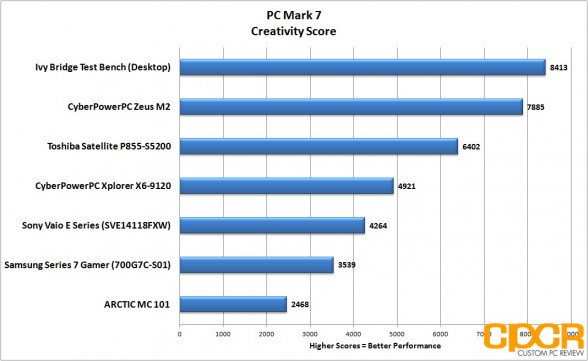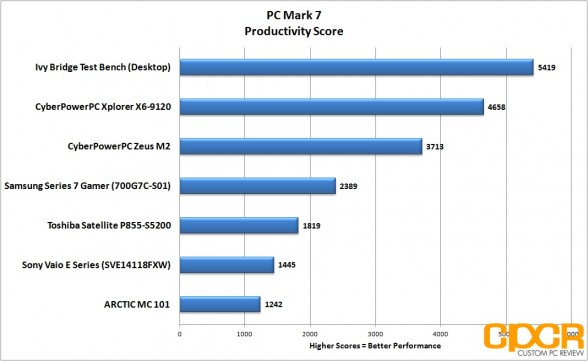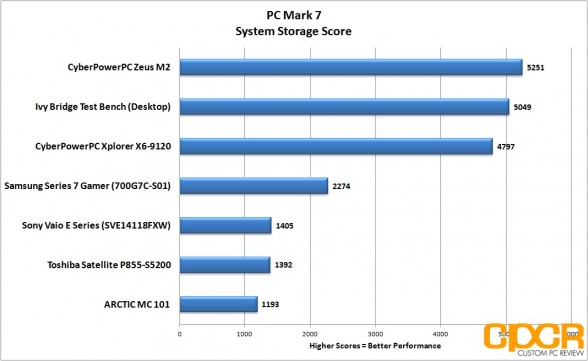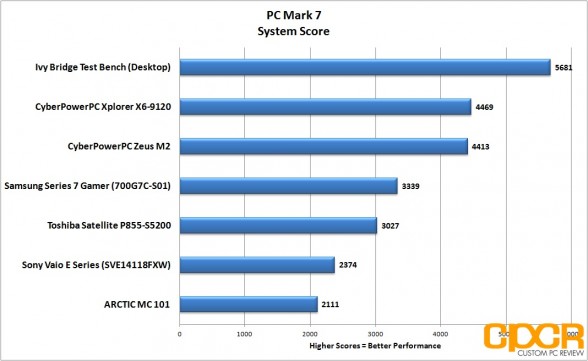 Performance Analysis
Despite having powerful graphics and a powerful CPU, the Series 7 Gamer's hard drive + iSSD express cache solution is still not a SSD and given how heavily PC Mark 7 favors SSDs, the Series 7 Gamer performs quite poorly in PC Mark 7. That said, the Series 7 Gamer does perform on par when compared to other systems configured with traditional hard drives.
[section label=4. CPU Performance]
Samsung Series 7 Gamer CPU Performance
SuperPi 32M
SuperPi is a single threaded benchmarking tool which for our purposes simply calculates pi for us and records the time to calculate 32 million digits after the decimal point.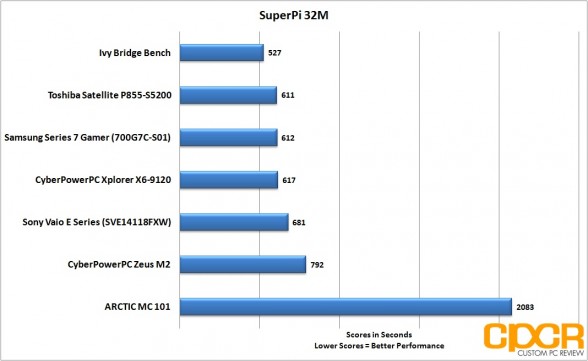 WPrime 32M
WPrime is a multi-threaded benchmarking tool which for our purposes simply calculates pi for us and records the time to calculate 32 million digits after the decimal point.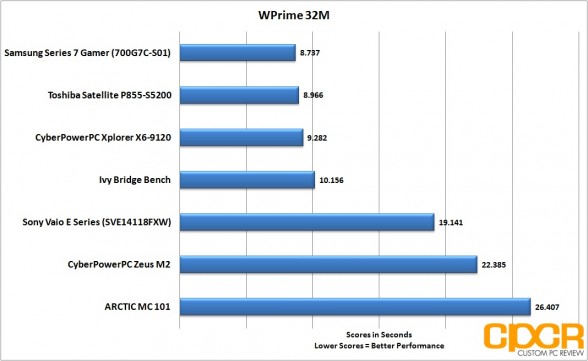 x264 HD Video Benchmark v5.0.1
x264 HD video benchmark tests how fast the system can encode a 1080p video into a high quality x264 video file. The most recent 5.0.1 release includes a more advanced benchmark script to better stress test newer multi-core processors.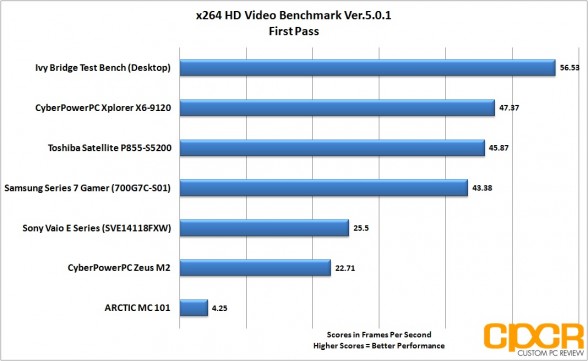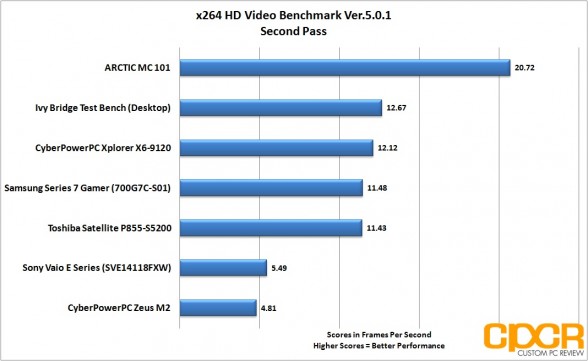 Cinebench v11.5
Cinebench is a real world benchmark that tests system performance using the Cinema 4D animation software. For our benchmarking, we'll be testing multithreaded performance only.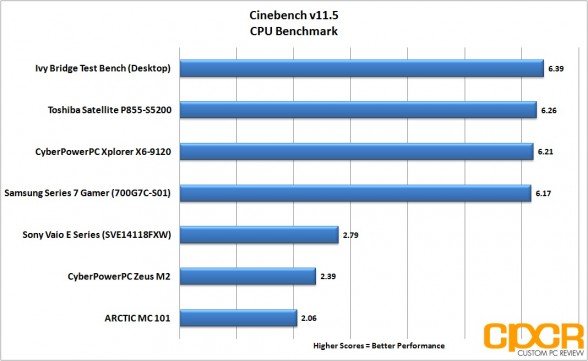 Performance Analysis
We've had a number of run-ins with the Intel Core i7-3610QM and you can pretty much expect it to deliver excellent CPU performance. In multithreaded applications, the mobile i7 is capable of matching the performance of the desktop based i5 3570K.
[section label=6. Graphics Performance]
Samsung Series 7 Gamer Graphics Performance
3D Mark 11
3D Mark 11 is an extremely popular benchmark designed by Futuremark for the sole purpose of stress testing a system's graphics performance. Trusted by hardware enthusiasts and gamers world wide, 3D Mark 11 uses the latest features of DX11 to stress test graphics performance with consistent loads which simulate in game performance.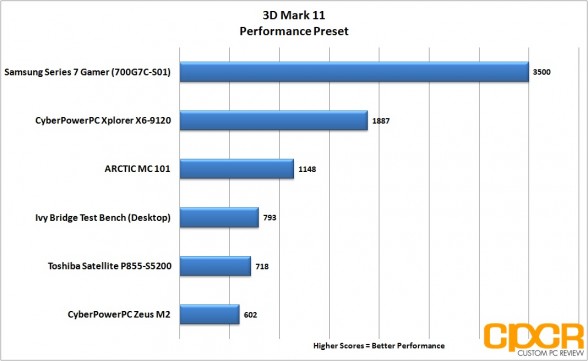 Unigine Heaven v3.0
Unigine Heaven is a DX11 benchmark that stresses the graphical processing capabilities of the GPU using the advanced UNIGINE engine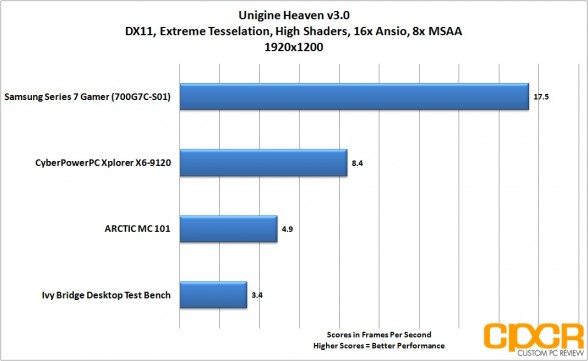 Lost Planet 2
Lost Planet 2 is a game developed by game developers Square Enix. While it's not the newest game in town, it's a good representation of what kind of graphics performance can be expected from older games.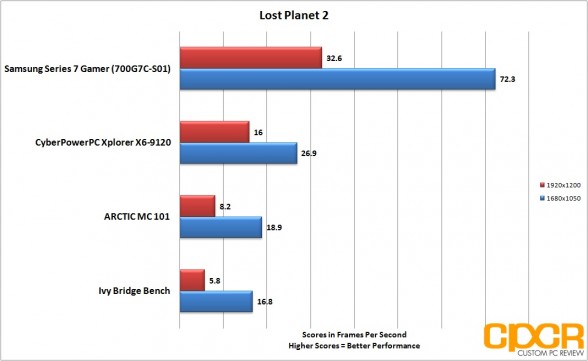 Game Benchmarks
Below we have a number of game benchmarks which test the capabilities of the graphics card with modern games. Each game is tested at both 1680×1050 (medium settings, no AA) and 1920×1200 (max settings, 4x AA) via an external monitor. For maximum performance, the notebook is also set to game mode.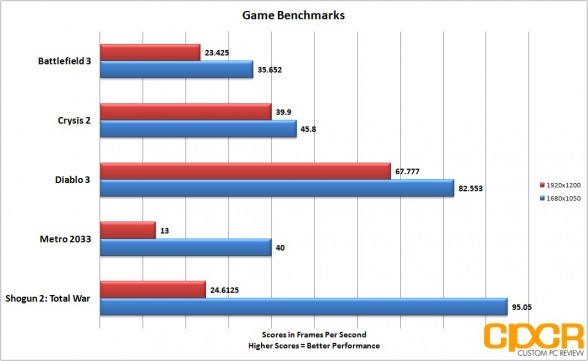 Performance Analysis
As expected from the specifications, the GTX 675M is a beast of a graphics card. In our gaming tests, the Series 7 Gamer was capable of running every game tested at 1680×1050 at medium settings without issue. As for running games at 1920×1200 at max settings, the Series 7 Gamer definitely feels like it's lacking a bit of performance, especially in games like Battlefield 3 or Shogun 2: Total War. However, those who want to play games at maximum settings should have no problem running older games or games that don't necessarily require high graphics processing performance such as Diablo 3 or Starcraft 2.
[section label=7. Disk / USB 3.0 Performance]
Samsung Series 7 Gamer Disk/USB 3.0 Performance
Disk Performance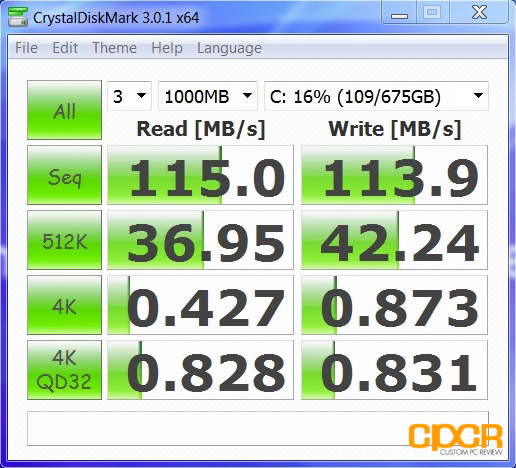 While caching is a great solution for accelerating commonly used files, there's no escaping that it's still a traditional hard drive under the hood (a particularly slow one at that) and the benchmarks above clearly show this.
USB 3.0 Performance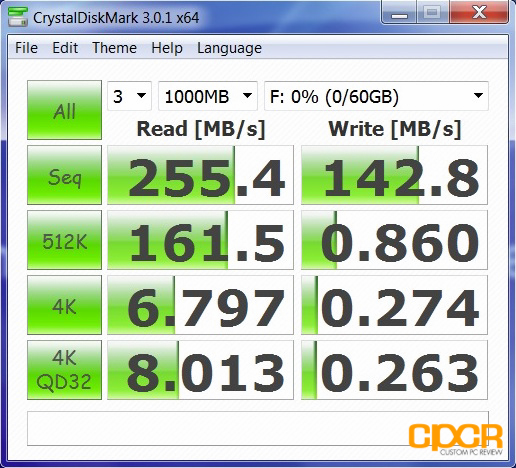 For USB 3.0 testing, I used my go to USB 3.0 flash drive, the Kingston HyperX 64GB USB 3.0 flash drive. As expected, we're looking at great performance here with a fantastic 255MB/s sequential reads and 142MB/s sequential writes. It's always weird seeing how the flash drive is capable of significantly better performance than the main drive.
[section label=8. Power Consumption / Temperature / Noise]
Samsung Series 7 Gamer Power Consumption
Here we'll be testing the maximum power consumption of each of the test systems shown below. Idle power consumption is taken after the notebook is left idle for a minimum of 5 minutes. For load power consumption numbers, both Prime95 and Furmark are run simultaneously for a minimum of 5 minutes before the final results are taken. If possible, the battery is removed for a more accurate reading of power consumption. Power consumption readings are taken using a Extech 380801 Power Analyzer connected via a Tripp-Lite LCR2400 Line Conditioner.
For our testing below, the notebooks are set to "balanced" power mode with the screens at 200 nits of brightness.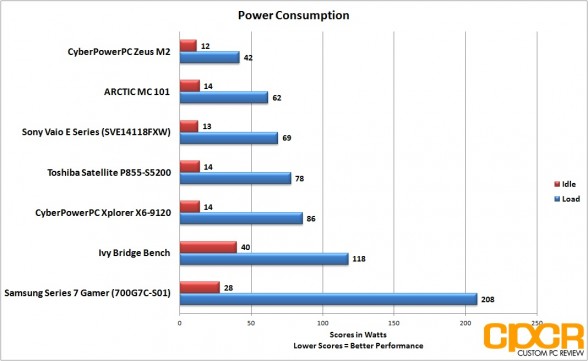 Despite having an Ivy Bridge CPU, power draw even when idle is fairly high here since the 40nm GeForce GTX 675M is horribly inefficient when compared to 28nm based graphics solutions. With the graphics card and CPU simultaneously under load, the Series 7 Gamer draws a whopping 208w.
Powermark Professional Edition v1.1.1
Powermark is a benchmark utility developed by developers behind both 3D Mark as well as PC Mark. This benchmark is designed to test real world battery life in a variety of situations such as web browsing or gaming. For our testing today, the system power setting is set to "balanced", the screen is set to 100 nits of brightness, and the wireless is switched on.
Light Load
The productivity test includes the web browsing and word processing workloads, simulating a typical work use scenario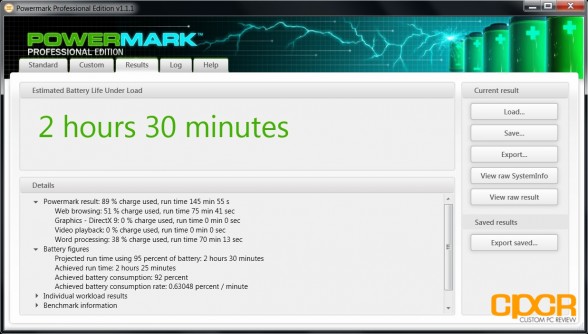 Medium Load
The balanced test uses an even split between the web browsing, word processing, video and gaming workloads.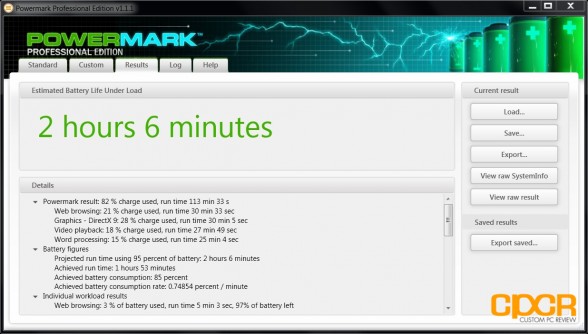 Heavy Load
The entertainment test includes the video and gaming workloads, simulating a typical recreational use scenario.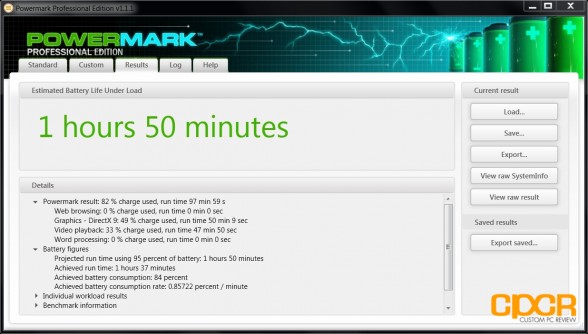 Performance Analysis
Since we've already seen the power draw figures for the Series 7 Gamer, it's no surprise that battery life is horrible. With a light load (mainly word processing and internet browsing), the Series 7 Gamer was only capable of a 2 hour 30 minute runtime while under heavy load, the notebook only lasted 1 hour and 50 minutes. That said, I'm quite certain that Powermark doesn't necessarily push the graphics card that hard, which is why the runtime difference between light and heavy load is only 40 minutes despite the notebook being capable of drawing a whopping 208w under 100% CPU/GPU load.
Samsung Series 7 Gamer Temperature and Noise Performance
Temperature testing is conducted by simultaneously running Prime 95 and Furmark in order to generate the maximum amount of heat possible. Temperatures are taken after a minimum of 20 minutes of testing.
Ambient Temperature – 22.1°C (Taken via Extech EA10 dual probe thermometer)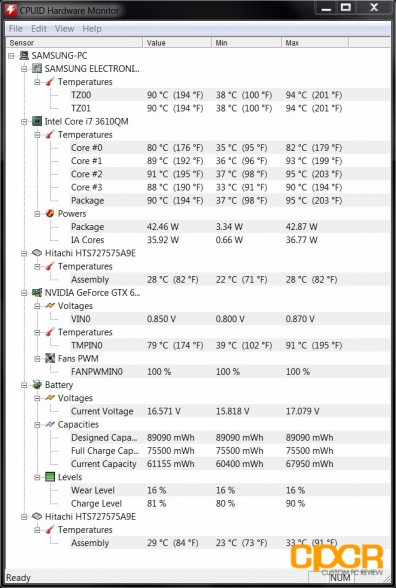 Both the CPU and the GPU definitely ran quite warm as they were able to hit the 90°C mark, but I didn't have any issues with the notebook overheating and crashing. You'll definitely want to make sure there's adequate space around the notebook however to prevent overheating.
In terms of noise performance, the Samsung Series 7 Gamer definitely makes itself known at higher loads. The notebook generates a ton of heat so it's expected. At idle however, the notebook is nearly silent and there's a "library mode" which reduces fan noise further.
[section label=9. LCD Performance]
Samsung Series 7 Gamer LCD Performance
The monitor included on the Samsung Series 7 Gamer is the Samsung 173HT02-C01. It's a TN panel, but in my testing I found the panel to be decent overall.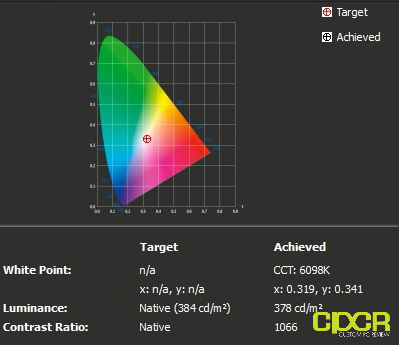 The screen on the Series 7 Gamer was able to achieve a contrast ratio of 1066 and a brightness of 378 nits. Not bad. The screen should be plenty bright even used in bright conditions. The screen is advertised at 400 nits.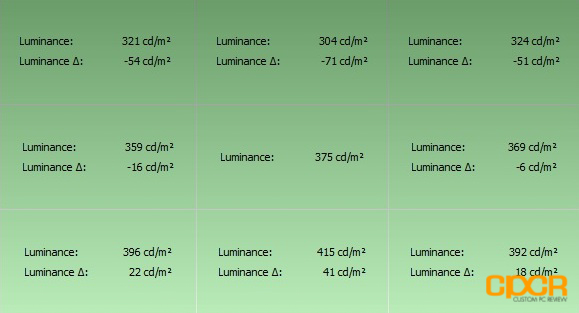 When set to maximum brightness, screen uniformity on the Series 7 Gamer wasn't that great. The bottom of the screen was able to hit upwards of 400 nits while the top of the screen was only able to get about 325 nits. That's a huge difference between the bottom and the top, which is not good.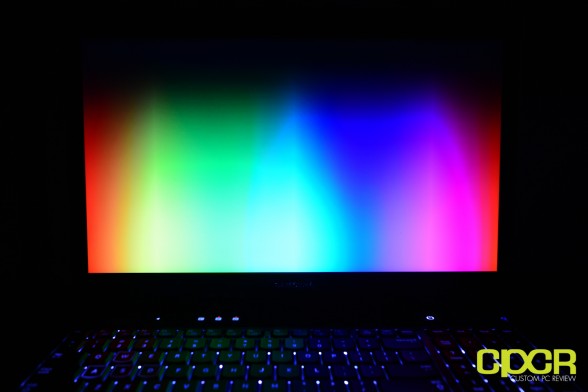 From a direct angle, colors were contrasty, bright and vibrant. The screen is glossy, but it looks a lot more like a matte screen than a glossy one since I found very little glare with the screen.
Horizontal viewing angles on the display were good for a TN panel, but there was definitely a good amount of washing out when moving to the extreme angles.
Vertical viewing angles were alright as well. Definitely a lot of washing out when moving to the extremes, but it's not as bad as some panels out there.
[section label=10. Conclusion]
Samsung Series 7 Gamer Conclusions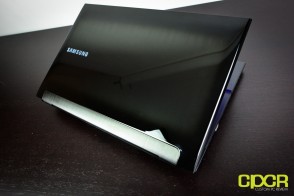 Alright, that was a ton of information, so let's conclude this thing. Since it's a gaming notebook, let's start with graphics performance. Overall performance of the GeForce GTX 675M on the Samsung Series 7 Gamer is very good despite the GTX 675M being a rebranded 40nm Fermi based GTX 580M. It's still perfectly capable of running the latest games on the market, even if it isn't capable of running them at max settings at 1920×1200. However, it would've been nice to see newer 28nm Nvidia Kepler or AMD GCN graphics in the form of the Nvidia GeForce GTX 680M, Nvidia GeForce GTX 675MX, or the AMD Radeon HD 7970M. This would not only allow for better performance, but lower power draw and lower temperatures as well.
CPU performance was as expected out of the Intel Core i7-3610QM. Single threaded performance was decent and multithreaded performance was fantastic. Despite being a 45w TDP notebook oriented processor, the Intel Core i7-3610QM is capable of performing on par with the 77w TDP desktop oriented Intel Core i5-3570K in multithreaded applications. While gaming isn't necessarily a very multithreaded task, those looking to do some video editing may find the i7-3610QM to be very useful to have.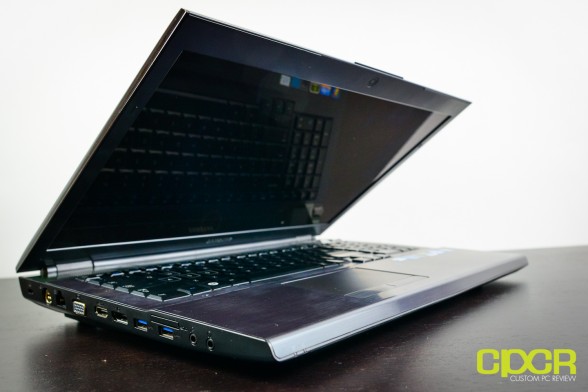 Design wise, it definitely felt like Samsung wanted to give the Series 7 Gamer a touch of class and I really like it. The glossy top panel with the single Samsung logo along with the grey finish stands out when compared to some of the gaming notebooks on the market with big flashy LEDs with alien logos plastered all over. I would've preferred a lot more matte or aluminum though. The finish is extremely fingerprint and dust friendly, so be prepared to either clean a lot or deal with a dirty looking notebook.
Screen performance was quite good as Samsung does tend to produce some pretty good screens. The screen is capable of a maximum of 400 nits although at max brightness the screen's brightness wasn't very uniform from top to bottom. Colors though were bright and vibrant, and should serve quite well for gaming. Those looking to do more critical work such as photo editing though should definitely find a notebook with an IPS display.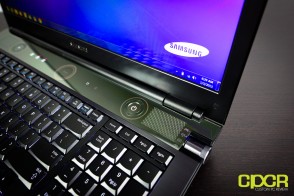 As far as complaints go, my biggest complaint here is the ridiculous storage solution Samsung decided to go with. An 8GB SSD express cache just doesn't cut it. Performance with the cache is incomparable to a real SSD and with dual 2.5″ bays available, I feel like Samsung should at least offer a SKU with a 128GB or 256GB SSD. A Samsung 830 or Samsung 840/840 Pro would be an easy upgrade and will greatly improve performance as well. For those looking to purchase the Series 7 Gamer, I'd highly recommend removing one of the 750GB Hitachi Travelstars onboard and dropping in a 256GB Samsung 840 Pro. It's way, way faster.
Also beware that while Samsung advertises 1.5TB of storage, you'll actually be getting two separate 750GB disks. If you were assuming that the disks would come from the factory in a RAID 0 configuration, it won't. So, despite having the opportunity to double disk performance, Samsung decided not to. Fantastic…
Anyway, pricing on the Samsung Series 7 Gamer NP700G7C-S02 is currently $1,599.00, which isn't bad for a powerful gaming notebook like the Series 7 Gamer. For those wondering why I'm quoting a different SKU notebook than the one I'm testing today, it's because it appears that Samsung is no longer shipping the SKU tested today, the NP700G7C-S01 and is instead shipping the NP700G7C-S02. The only differences between the two is that the NP700G7C-S02 ships with Windows 8 and includes an upgraded processor (Intel Core i7-3630QM) while the NP700G7C-S01 ships with Windows 7 and the Intel Core i7-3610QM. I still see a couple units of the older SKU online, but they generally cost significantly more than the new SKU due to scarcity at this point so it's not worth it.
Would I recommend the Samsung Series 7 Gamer? Sure. It's a great notebook and very few notebooks challenge it at the pricepoint it's currently sitting at. However, if you have an additional $200, I'd rather point you towards the MSI GT70 0ND-492US Gaming Notebook. It addresses my main complaint on the Series 7 Gamer – the slow SSD cache + 750GB hard drive + 750GB hard drive by replacing that with a real 128GB SSD + 750GB hard drive. This way there's still 750GB of storage and there's a blazing fast 128GB SSD for making the OS and applications snappy. What else? It's also using the 28nm Kepler based GeForce GTX 675MX graphics chip which is faster, less power consuming and runs cooler than the 40nm Fermi based GeForce GTX 675M on the Series 7 Gamer.
Hopefully Samsung will refresh the Series 7 Gamer in the next couple months to possibly make it the best gaming notebook out there. Today… well, it's just a close second. Not a bad start though I must say.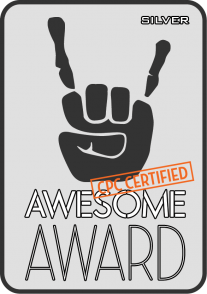 Sample provided by: Samsung
Available at: Amazon