[section label="Introduction"]
Back to Basics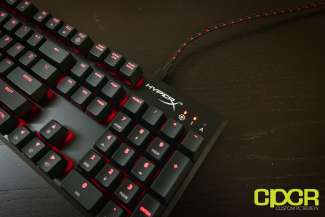 With mechanical gaming keyboards being all the rage, you'd be hard-pressed to find a gaming peripherals company without a mechanical gaming keyboard. One company that hasn't offered one until recently however, is Kingston's gaming brand, HyperX, which recently came out with their HyperX Alloy FPS gaming keyboard, officially marking their first entry into the mechanical gaming keyboard market.
Like many of their other gaming products, HyperX developed the Alloy FPS based on testing and feedback from the numerous eSports teams they currently sponsor. As a result, the Alloy FPS is a relatively basic keyboard without many of the "gamery" design and features you'd find on keyboards developed by companies who simply want the most gamer looking keyboard rather than one that is actually functional.
Is HyperX's first mechanical keyboard worth buying? Let's find out!
Specifications
| | |
| --- | --- |
| Manufacturer | HyperX |
| Model | Alloy FPS |
| Layout | US Layout |
| Switch Type | Cherry MX (Blue, Red, Brown) |
| Polling Rate | 1000Hz |
| Anti-Ghosting | Yes |
| Key Rollover | 6-key / N-key |
| Backlight | Red LED |
| Interface | USB 2.0 |
| Weight | 1049g (2.3lbs) |
| Size | 441.65mm x 129.38mm x 35.59mm (17.4″ x 5.1″ x 1.4″) |
[section label="A Closer Look"]
A Closer Look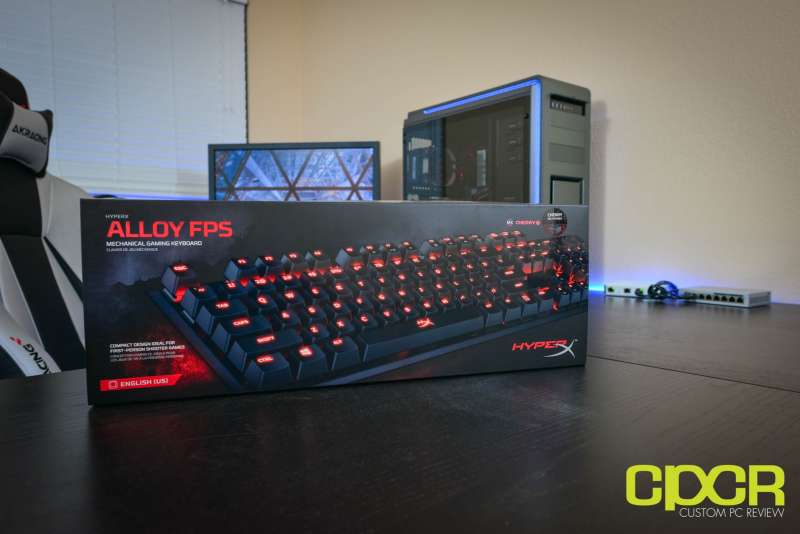 Here's a look at the packaging for the HyperX Alloy FPS.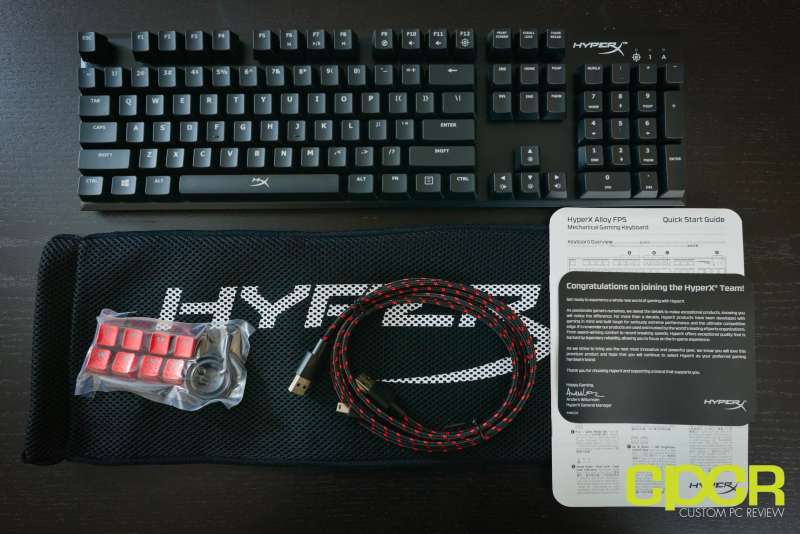 Included in the packaging is some documentation, a USB cable, eight red keycaps (1,2,3,4,w,a,s,d), a keycap puller, storage sleeve, and the HyperX Alloy FPS.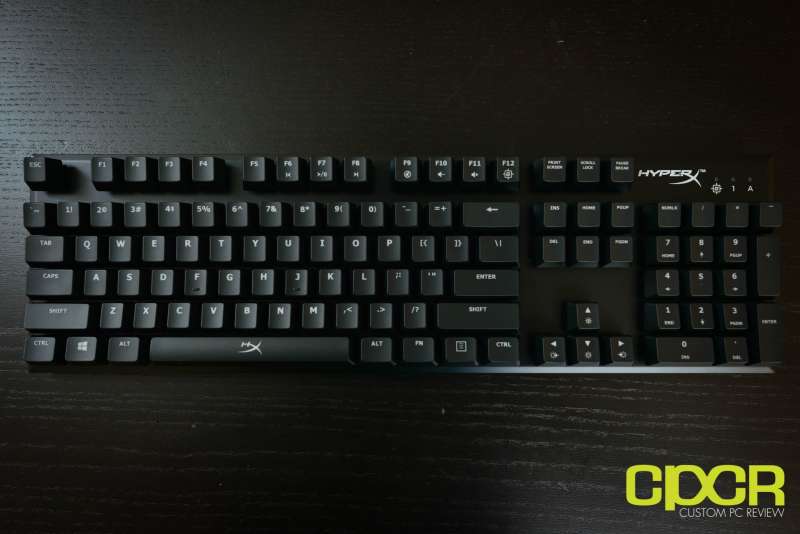 Here's a look at the HyperX Alloy FPS. HyperX has gone with a very minimal, caseless design which helps significantly reduce its overall size. Despite the metal enclosure and the internal metal backplate, the HyperX Alloy FPS is very light which makes it a good keyboard to take on the road.
At the bottom of the keyboard is four rubber feet in addition to two standoffs which helps raise the rear of the keyboard. However, since HyperX already includes rubber feet that stick out significantly, the standoffs don't actually raise the keyboard all that much.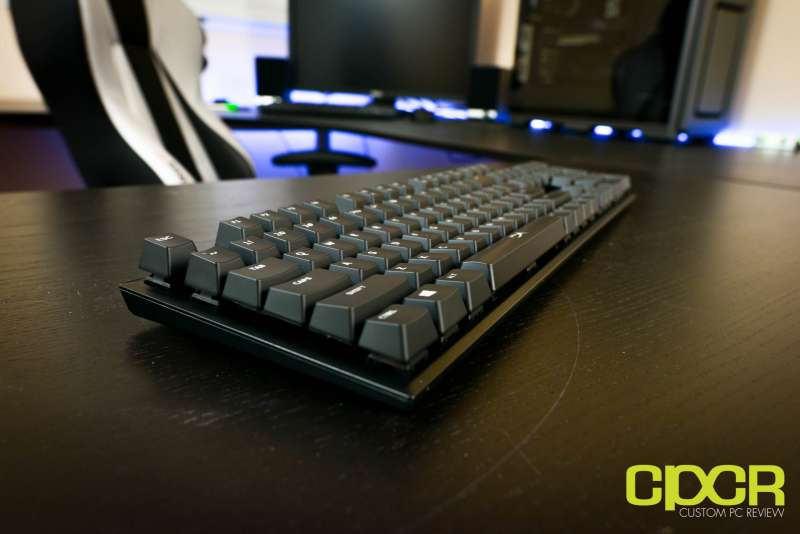 From the side, we can get a better look at the caseless design of the HyperX Alloy FPS. Since it's caseless, this gives the keys a "floating" look, which for most is a love it or hate it kind of design.
At the rear of the HyperX Alloy FPS is a microUSB port which is used to connect the keyboard to the PC. HyperX also includes an additional USB Type-A port strictly for charging or powering mobile devices. Unfortunately, it's a 5V, 1A port, so if you're charging stuff like smartphones or tablets, it'll be a very, very slow charging process.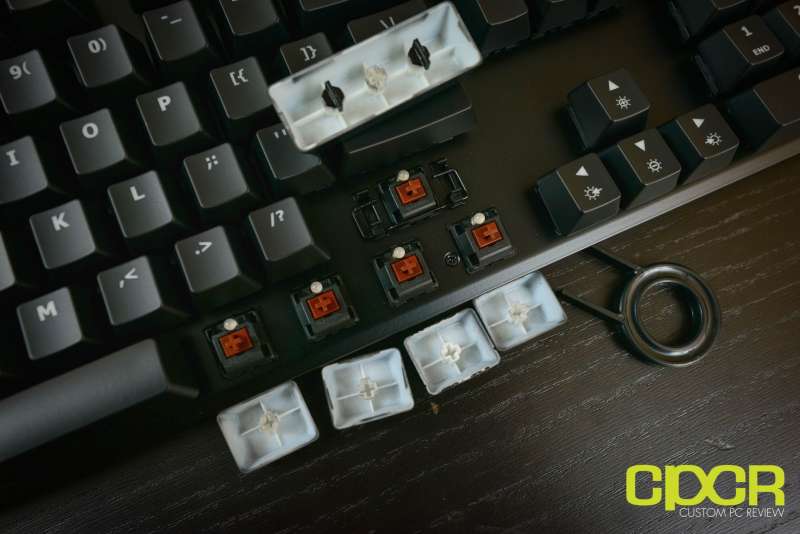 Removing some of the keycaps, we can see our HyperX Alloy FPS sample came with the Cherry MX Brown switches. HyperX also offers the Alloy FPS in Cherry MX Red and Cherry MX Blue as well. Removing the keycap for the longer keys, we can see that they are stabilized by Costar style stabilizers. Keycap quality is fairly average here with keycaps constructed of ABS plastic with laser etching.
Here's a look at the HyperX Alloy FPS once plugged in. For the Alloy FPS, HyperX has equipped the keyboard with a red only LED, which is a bit strange these days given the RGB craze, but I'm confident they'll likely release a RGB version as a more premium product down the road. For now, HyperX has added some interesting LED effects which include standard glow, breathing, wave, reactive, and gaming mode where only a certain few gaming oriented keys are backlit (w,a,s,d, space, etc).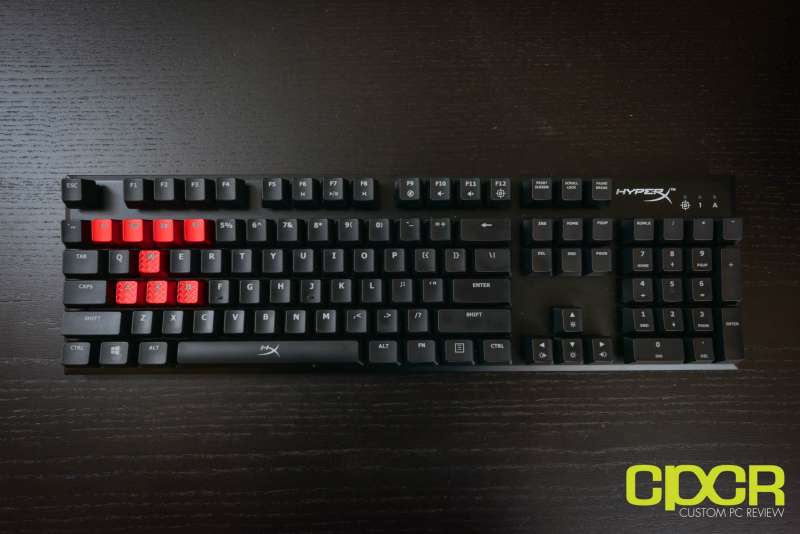 Here's a look at the HyperX Alloy FPS with the optional red 1,2,3,4,w,a,s,d keycaps.
[section label="Performance"]
Performance
As the HyperX Alloy FPS came equipped with the all-too-familiar Cherry MX Brown switches, there's very little to complain about in terms of performance. Cherry MX Brown switches are relatively quiet and tactile which make them excellent all-purpose switches that are not only excellent for gaming, but also typing as well.
NKRO/Anti-Ghosting Testing
To test the NKRO/anti-ghosting functionality of the HyperX Alloy FPS, I'll be using a web app developed by Microsoft's Applied Science Group. More information about the web app and the relationship between ghosting and NKRO can be found here.

Looking at the test results, we can see that the HyperX Alloy FPS's NKRO functionality works without issue. An interesting tidbit about NKRO functionality on the Alloy FPS is that NKRO isn't enabled out of the box. Instead, 6KRO is the default mode out of the box and NKRO needs to be enabled by pressing Fn+Del.
[section label="Conclusions"]
Conclusion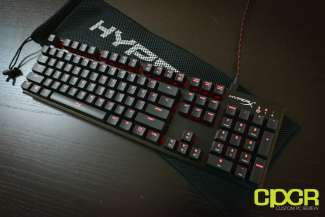 Ever since Kingston separated their HyperX brand to better cater towards gamers, I've had the opportunity to test quite a few of their new peripherals and despite HyperX getting into many of these product lines for the first time, most of their products have been excellent. The HyperX Alloy FPS is no exception.
What makes the HyperX Alloy FPS an excellent keyboard isn't that it's the most flashy or the most feature rich. Rather, it's just simply a great package that provides all the functionality that an average or even competitive gamer would need without all the extra fluff. Here, there's no extra software package to fiddle with, there's no pretty RGB LEDs, and there's no macro functionality; however, what you do get is a keyboard that simply works, is durable, is compact despite the full size design and is ready to travel with you on a moment's notice.
Currently, the HyperX Alloy FPS is available online for $99.99. While there are cheaper mechanical keyboards that have similar feature-sets, it's not common to find a full size keyboard that's compact, but also sturdy as well. This is where the HyperX Alloy FPS separates itself from the rest of the pack.
Overall, HyperX has done a stellar job with the Alloy FPS, building a functional, back to basics keyboard that any gamer could appreciate. Those looking for a new mechanical gaming keyboard to not only use at home, but when going to LAN parties and gaming tournaments, the HyperX Alloy FPS is an excellent choice. Now if only they'd only also release a tenkeyless version… Recommended!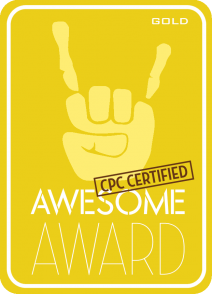 Sample provided by: HyperX
Available at: Amazon