[section label=1. Introduction]
Best Sub-$250 Speakers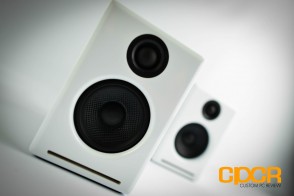 It's been almost a year since we last reviewed a product from Audioengine and when we found out about their recent release of some brand new speakers, it piqued our interest to say the least. Last year we received the opportunity to review the Audioengine A5+ speakers along with the Audioengine D1 USB DAC, and we were thoroughly impressed. Audio quality on the Audioengine A5+ was better than anything we've ever heard for a set of speakers designed for computer use – something we unfortunately don't see too often.
Today we're very excited to review the new Audioengine A2+, which is Audioengine's latest pair of powered desktop speakers. The Audioengine A2+ is actually an update to the older Audioengine A2 that's been on the market for quite a while. While we didn't have the chance to review the original Audioengine A2, we've been told that the sound characteristics on both the A2 and the A2+ is very similar with the differences being that the A2+ now also includes an integrated DAC, a variable output (for adding a subwoofer or additional speakers), upgraded speaker connections, a 1/4″ threaded insert for wall mounts, an upgraded power supply, and upgraded accessories. Beyond that though, this review should be able to cover both the Audioengine A2 and the A2+ as both speakers utilize the identical custom built boxes featuring Audioengine's 3/4″ silk dome tweeters and their 2″ Kevlar woofers.
Ready to see how they performed? Flip the page to find out!
Type
2.0 powered (active) multimedia desktop speaker system
Power Output
60W peak power total (15W RMS / 30W peak per channel), AES
Inputs
3.5mm stereo mini-jack, RCA, USB
Outputs
RCA variable line-out
Amplifier Type
Dual Class AB monolithic
Frequency response
65Hz-22kHz ±2.0dB
DAC
TI/Burr Brown PCM2704C
SNR
>95dB (typical A-weighted)
Input Bit Depth
up to 16 bits native
Input Sample Rate
up to 48KHz native
Dimensions
6"(H) x 4"(W) x 5.25"(D)
Weight (LEFT speaker)
1.6Kg/3.55lbs
Weight (RIGHT speaker)
1.4Kg/3.15lbs
Finish options

Satin Black
Hi-Gloss White

Materials and Construction

18mm thick MDF cabinets
3/4″ silk dome tweeters with neodymium magnets
2.75″ Kevlar woofers with advanced voice coils

Included Accessories

Speaker wire (16AWG), 2 meters (~6.5 feet)
Power supply
AC power cord
Mini-jack audio cable, 1.5 meters (~5 feet)
USB cable, 1.5 meters (~5 feet)
Microfiber speaker bags
Microfiber power supply bag
Microfiber cable bag
Setup guide
Product line brochure
[section label=2. A Closer Look (Exterior)]
A Closer Look at the Audioengine 2+ (A2+)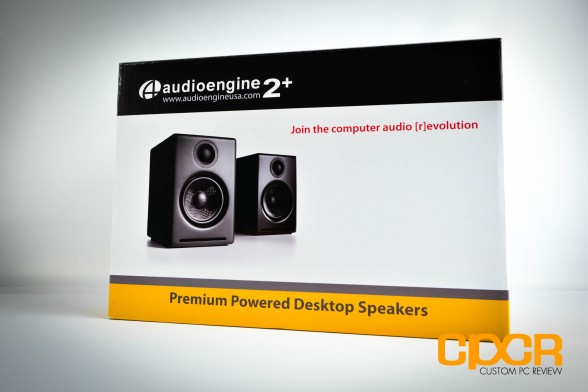 Here's a look at the packaging for the Audioengine A2+.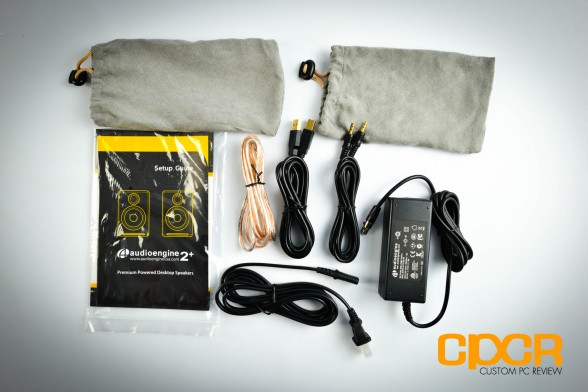 Included in two custom-made microfiber drawstring bags, we get some documentation, a power adapter, 16 AWG speaker wire, a 3.5mm to 3.5mm cable, and a USB type A to type B cable.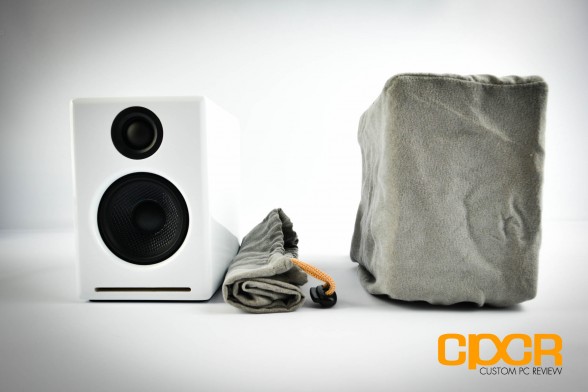 Of course, we also get the Audioengine A2+ speakers as well, also wrapped in custom-made microfiber drawstring bags.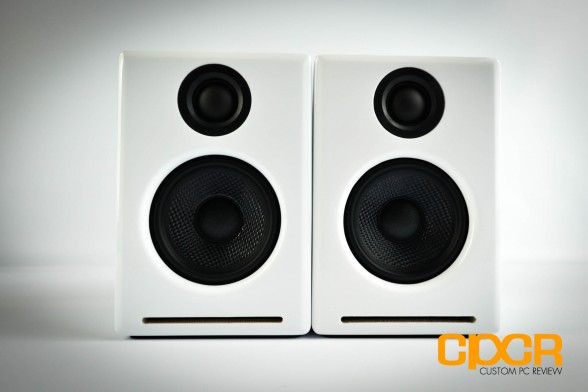 Here's a closer look at the Audioengine A2+ speakers. Audioengine is using a combination of 3/4″ silk dome tweeters and 2.75″ Kevlar woofers. At the bottom of the front, there's also an open slot as well which serves as a port for enhanced bass response. Since Audioengine is using durable Kevlar woofers, they've elected not to go with any protective speaker grille.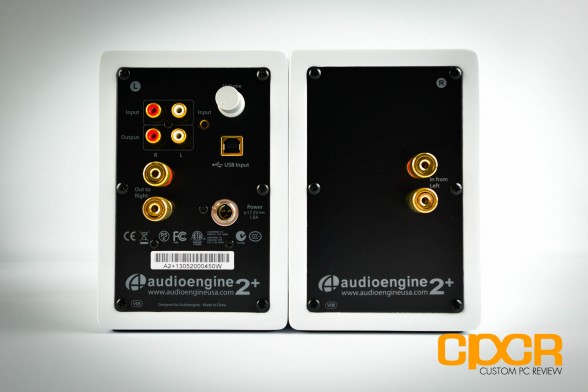 At the rear of the speakers, we get all the I/O connectivity options. The right speaker acts as just a passive speaker, so it only has two connections for left/right speaker wire. The left speaker contains all the DAC/Amp circuitry so it'll get RCA input, RCA output, 3.5mm input, a USB type B port, left/right speaker wire connectors, a power port, and a volume control knob that also acts as a power switch. The power input on the Audioengine A2+ is proprietary as it needs to be supplied with 17.5v /1.8 amps.
[section label=3. A Closer Look (Interior)]
A Closer Look at the Audioengine 2+ (A2+)
Removing the rear panel on the left speaker, we can take a closer look at the circuitry inside the Audioengine A2+. The Audioengine A2+ uses a dual class AB monolithic amplifier and unlike the Audioengine A5+, the heatsink is built on the inside of the rear panel. This shouldn't be a problem as the amplifier only needs to drive 15W RMS into each speaker with 30w peak per speaker (60w peak combined) so heat shouldn't be too big of an issue.
At the top of the PCB, there are two large JWCO capacitors. These capacitors are marked low ESR, but I've never heard of them before. Would've liked to see some Nichicon, WIMA, Rubycon, Sanyo, Chemi Con, etc. but that's probably pretty difficult in a $250 speaker set with included amp and DAC circuitry.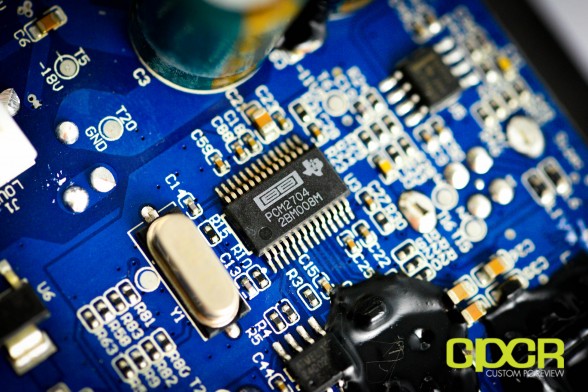 Speaking of DAC circuitry, Audioengine is using a TI Burr Brown PCM2704 DAC. The DAC has a maximum of 98dB SNR, sampling rate of 48kHz and a resolution of 16 bits. It's definitely a decent DAC for those currently running off integrated sound, but it's nowhere near as good as a high end internal sound card or even Audioengine's own D1 DAC.
Unfortunately, the rest of the PCB is glued together, so that's all we have.
The interior of the Audioengine A2+, is stuffed with a lightweight foam material. This is helpful in a number of ways such as it reduces standing waves, increases bass response and provides cleaner mids/highs.
Removing the foam material, we can see the tweeter, the woofer and the crossover. The interior is very clean and soldering is done very well. Unfortunately the capacitors on the crossover are wrapped so we don't have any idea what's being used here. When we reviewed the Audioengine A5+ a while back, I was told the crossovers used higher quality capacitors than what's found on the amp. Not sure if it's the same story on the A2+'s, but these capacitors are more directly in the audio path, so I'd imagine Audioengine would use some decent quality stuff here.
[section label=4. Performance]
Audioengine 2+ (A2+) Performance
Audioengine A2+ Speakers
Coming from a pair of Audioengine A5+'s that I use for day to day use, I didn't expect much from the Audioengine A2+'s. I literally chuckled for a second when I saw the A2+'s as they were about 1/3rd of the size of the A5+'s and seemed minuscule compared to its larger sibling.
However, once I hooked up the A2+'s, I was pleasantly surprised. For a lot of the music I started out playing, the Audioengine A2+ had very similar sound characteristics as the Audioengine A5+. For example, I started off with "Intro" by The XX along with George Winston's "Variations on the Canon" and I had to double check to make sure that I wasn't playing the songs straight off the Audioengine A5+'s. Carrying the exact same 3/4″ tweeter found on the Audioengine A5+, the A2+ exhibited warm mids along with crisp and clear highs, very similar to what you'll get with the A5+'s. In fact, I ended up enjoying the A2+'s more than the A5+'s for this type of light instrument/female vocal heavy music as the lighter bass characteristics on the A2+'s seem to give the A2+'s the feeling of a wider, more open soundstage.
That said, once I starting playing some bass heavy tracks, the story does change a bit. The Audioengine A5+'s with its relatively giant 5″ woofers definitely puts out a whole lot more punch compared to the Audioengine A2+'s 2″ woofers. Playing Contiez's "Trumpsta – Djuro Remix", the Audioengine A2+ sounds noticeably small, weak and thin during the bass heavy beats, which sound a lot more powerful and a lot more accentuated on the Audioengine A5+. Of course, it's expected for a speaker of this size and to be perfectly honest, I found that the Audioengine A2+ are definitely capable of a lot more power than you'd expect off something so small. In fact during testing, I didn't really even notice that I had the Audioengine A2+ hooked up rather than the A5+ except for those times when I'm playing music where 75% or more of the song is a bass beat or bass drop. As long as the music doesn't do that, the Audioengine A2+ should have more than enough low end punch for the task.
For those looking to use the Audioengine A2+ for room filling sound, it'll definitely pump out the mid and high end with little distortion all the way up to 100dB at 6ft away. However, when you crank up the volume, the low end doesn't go very far before it begins to cut off. Since the Audioengine A2+ has small woofers, it simply can't produce very, very loud, very, very deep level of bass. To prevent the bass from getting muddy and the drivers from getting overworked, it's obvious that Audioengine has decided that it'd be better to cut off the bass at a certain point. Personally I'd say the Audioengine A2+ is best suited for desktop use and those looking for something to fill larger rooms should definitely look into something like the Audioengine A5+ instead.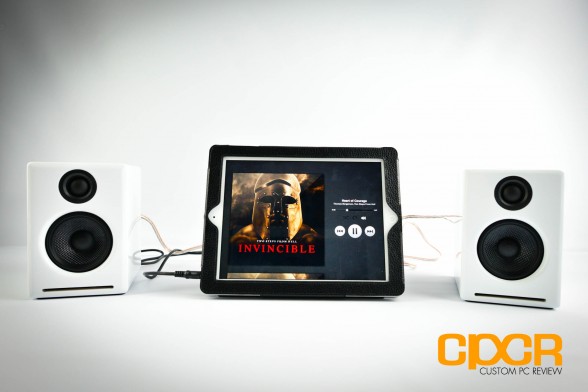 Integrated DAC (TI Burr-Brown PCM2704)
For this review, I also switched between a number of different input sources including the Creative Sound Blaster ZxR soundcard's RCA outputs, the Audioengine D1 DAC's RCA outputs, the USB input off the Audioengine A2+ itself, and my desktop's Realtek ALC898 integrated audio. The reason for this is because unlike most speakers on the market, the Audioengine A2+ includes not only an internal amplifier, but also an internal DAC making it a truly plug and play solution for high quality audio.
In comparison to the integrated Realtek ALC898 audio included on my desktop PC, a huge difference in clarity is immediately detectable. Additionally, the PCM2704 also seems to give the Audioengine 2+ speakers a better dynamic range and a warmer sound in comparison to the integrated Realtek ALC898.
In comparison to the Sound Blaster ZxR and the Audioengine D1, the PCM2704 performed quite comparably to the other high end sources putting out clean and crisp audio, a high level of detail, and good audio separation. While the TI Burr-Brown PCM2704 DAC on the Audioengine 2+ is substantially weaker on paper compared to the Sound Blaster ZxR and the Audioengine D1, I think Audioengine specifically matched the PCM2704 DAC to what the Audioengine 2+ speakers were capable of in terms of performance, making the two a perfect combination that's capable of producing the same sound quality as more expensive solutions available on the market. Sure it's possible to hook up higher end DAC units to the Audioengine 2+ speakers, but the difference in actual sound quality will be indiscernible for most of us.
[section label=5. Conclusion]
Audioengine 2+ (A2+) Conclusions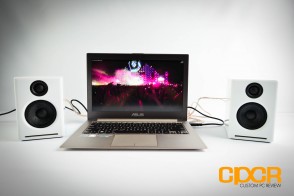 Audioengine is just one of those companies that you don't necessarily hear from all too often, but when you do you know they've got an awesome product to show you. The Audioengine A2+ is certainly one of those products.
Unlike many companies out there who have written off the high end computer audio market to focus on the higher volume sub-$100 market, Audioengine has always been committed to high quality audio and the Audioengine 2+'s performance is a good testament to their original focus. The Audioengine 2+ performed extremely well for its size and those listening to audio that primarily features female vocals, light instruments, etc. will find that the Audioengine 2+ is one of the highest performing computer speakers you can get on the market. As I mentioned earlier, the 3/4″ silk dome tweeter is identical to the larger Audioengine A5+ speakers and performs exceptionally well in the mids and the highs.
As for the bass response on the Audioengine A2+, I found it to be very powerful for a speaker about the size of your hand and for most types of music, it should be plenty. However, those who truly want powerful, room rumbling bass should look into larger speakers such as the Audioengine A5+ or a subwoofer such as the Audioengine S8. As for the sound profile, the Audioengine A2+ is tinted ever so slightly to favor a bit of bass, but I didn't find this distracting at all given that the tweeter and the woofer seems so well balanced here. It almost makes me wish the A5+'s had larger tweeters to match the larger woofer, but that's a subject for a different for a different article.
Fit, finish, and presentation is also done extremely well with the Audioengine A2+. Our sample came with a beautiful milky white glossy finish that's done very well. Each speaker and every speaker accessory came in microfiber bags that scream premium and the speakers themselves feel heavy and solid (18mm thick MDF cabinets) with no rattles and perfect fitment all around. That said, for full disclosure my first A2+ sample I received came with one speaker that contained an off-center woofer. Within days of letting Audioengine know, Audioengine implemented a new CNC routing program with tighter tolerances for the A2+, which is expected to resolve any future issues relating to this. My second sample obviously did not have any such issues.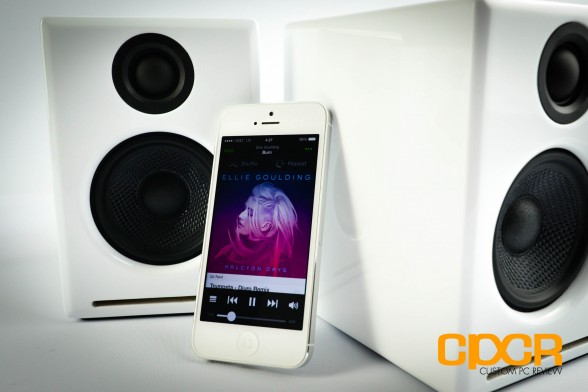 Pricing on the Audioengine 2+ (A2+) is currently $249 and it's available in both black and white models. It's relatively expensive for computer speakers, but when you look at the quality of these speakers, the amount of components you get, and the quality of sound, the $249 is much more palatable. Being both a computer hardware reviewer and an audio enthusiast, I'd have to say that I've had a lot more than my fair share of disappointments when it comes to quality computer audio. Unfortunately companies nowadays are more interested in sourcing producing the cheapest, high margin China made room rumblers rather than focus on what's most important – sound quality. While I'm certain there's plenty of market for cheapo speakers, there's also those of us who find listening to music an incredibly satisfying experience when we close our eyes, recline in our chairs, and listen to that opening riff in "Crazy Train" by Ozzy Osbourne. There's simply nothing like it and fortunately for us, we have companies like Audioengine who have stepped in to produce speakers with a level of quality that could give us that experience.
Sure I could go out and buy a dedicated DAC, a dedicated amp, and some great speakers, but when you've got three monitors, a full tower PC, and a ton of stuff already hanging out on your desk, do you really need to add more? On the same token, do you really want to spend the extra money on an amp and a DAC for an almost indiscernible amount of difference in audio quality? With the Audioengine A2+, Audioengine makes everything a simple, one piece, plug and play package. The Audioengine A2+ is exactly what you'd expect from your typical desktop speakers. You get a stylish modern design, standard RCA, 3.5mm or USB inputs, and audio quality that could easily compete with speaker setups two, three, four, or five times its pricetag. Highly recommended!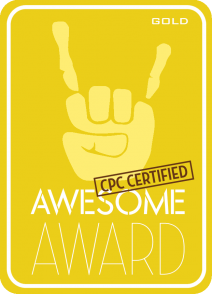 Sample provided by: Audioengine
Available at: Amazon