Audioengine 5+ (A5+) Speakers and D1 DAC Review
Audio Bliss and Just a Little Bit More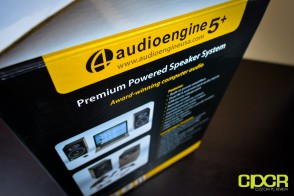 As someone who's constantly on YouTube, there's one thing I frequently notice. Good audio is just as important if not more important than great video. Think about the last time you watched a video on YouTube where the creator obviously shot the video off a pretty high end DSLR, but decided to use the integrated microphone for the audio. How was that? Probably pretty terrible, right?
Yup, and because audio is so important to our computing experience, that's why today we'll be reviewing the Audioengine 5+ speakers and the Audioengine D1 DAC. For those unfamliar with Audioengine, Audioengine is a relatively new player in the computer audio industry, but the guys behind the name are definitely not new to the audio industry itself. After spending many decades developing high end studio monitors, the founders of Audioengine decided to create a speaker with studio monitor level quality for the home audience at a reasonable price. Those interested in learning more about Audioengine, be sure to check out their website here.
Meet the Audioengine 5+ (A5+)
Let's talk a little about the Audioengine 5+. The Audioengine 5+ is Audioengine's flagship powered speaker which Audioengine claims will "deliver audiophile-quality sound and features at a price that continues to set the standard for affordable high-quality audio."
The Audioengine A5+ includes Audioengine's custom designed 5″ Kevlar woofers, 20mm silk dome tweeters and custom 2.5″ MDF cabinets. It also features a fully custom class AB 50w RMS per channel amplifier so those looking for a high end pair of speakers for their computers won't need to go out and purchase an additional amplifier just to use those speakers.
Audioengine 5+ (A5+) Specifications
Type
2.0 powered (active) bookshelf-style speaker system
Power Output
150W peak power total (50W RMS / 75W peak per channel), AES
Inputs
1/8″ (3.5mm) stereo mini-jack, RCA L/R
Outputs
RCA L/R audio (full-range, adjustable), USB Type A (power/charging)
Amplifier Type
Dual Class AB monolithic
Frequency response
50Hz-22kHz +/-1.5dB
Dimensions
10.75″ (27cm) x 7″ (18cm) x 7.75″ (20cm)
Weight (LEFT speaker)
15.4 lbs (7 kg)
Weight (RIGHT speaker)
9.6 lbs (4.4 kg)
Finish options

Satin Black
Hi-Gloss White
Solid Carbonized Bamboo

Power Consumption

Idle: 10W
Mute: 6W
Sleep: 4W

Materials and Construction

25mm thick MDF cabinets
20mm silk dome tweeters with neodymium magnets
5″ Kevlar woofers with advanced voice coils
Torroidal power transformer

Included Accessories

(1) Remote control
(1) Speaker wire (16AWG), 3.75 meters (~12.3ft)
(1) Detachable power cord
(1) Mini-jack audio cable, 2 meters (~6.5ft)
(1) RCA to RCA audio cable, 2 meters (~6.5ft)
(2) Cloth speaker bag
(1) Cloth cable bag
(1) Setup Guide
(1) Product line brochure
Meet the Audioengine D1
As music in a computer is digital, you'll need something to convert the digital signal into an analog signal so speakers such as the Audioengine 5+ can play the audio associated with the signal. This is where a DAC, or Digital Audio Converter, comes into play. Now most if not all computers have DACs, which come in the form of integrated audio, but these DACs are typically poor quality components that are extremely susceptible to crosstalk and various other electrical signals running through a computer motherboard's PCB.
With the Audioengine D1, the entire device is outside of the computer and connected via USB only, which means less interference from other electrical devices. In addition, Audioengine has dropped in a lot of high end audio processing components such as the well known AKM4395 digital to analog converter and an integrated headphone amp based off the TI NE5532, which is an excellent amp capable of driving higher end, higher resistance headphones as well.
Audioengine D1 Specifications
DAC type
Dual Mode USB and Optical (SPDIF)
Inputs
USB/Optical (SPDIF)
Outputs
RCA stereo/3.5mm headphone
D/A converter
AKM4396
Optical receiver
CS8416
USB controller
TI1020B
USB
Type 1.1 or above
Full-scale output
2.0V RMS (RCA and Headphone)
Output impedance
47 ohms RCA, 10 ohms headphone
Power source
USB 5V
Power requirements
200mA
USB power filtering
2-stage redundant regulation
SNR
>110db
THD+N
<0.002%
Crosstalk
<-85db
Frequency response
10Hz – 25KHz +/- 0.5db
Input bit depth
up to 24 bits
Input data rate
up to 192KS/s (optical), 96KS/s (USB)
Product dimensions
3.5x4x1″
Included accessories

USB cable, 2ft
Setup Guide
Microfiber bag