[section label=1. Introduction]
Updating GCN for the Mid-Range Segment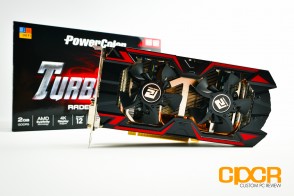 Late last year, AMD introduced the Hawaii based Radeon R9 290/290X along with the Bonaire based Radeon R7 260/260X which utilized AMD's updated GCN (Graphics Core Next) architecture. AMD's updated GCN architecture, which we'll refer to GCN 1.1, supported new features such as improved compute performance, on die audio processing, and improvements to AMD's PowerTune technology to offer a faster, more power efficient chip than its GCN 1.0 cousins.
Unfortunately, AMD's GCN update didn't cover the mid-range GCN 1.0 based GPUs such as the Radeon R9 270/R9 270X or the Radeon R9 280/280X, which meant gamers who wanted the GCN 1.1 architecture had to choose between the Radeon R7 260/260X or the Radeon R9 290/290X – cards that differed massively in both price and performance. At the time, AMD simply didn't offer a middle ground.
This is where AMD's latest Radeon R9 285 codename Tonga GPU comes in.
Today we'll be reviewing the PowerColor Radeon R9 285 TurboDuo 2GB graphics card – a PowerColor's custom implementation of the Radeon R9 285. PowerColor's Radeon R9 285 TurboDuo features a custom power delivery system as well as a custom dual fan cooler along with the obligatory mild factory overclock to 945MHz, a mere 27MHz above reference specs. It seems like AMD isn't offering reference designs on this model, which makes sense considering custom designs generally perform better anyway.
| GPU | AMD Radeon R9 270X | AMD Radeon R9 280 | AMD Radeon R9 285 | AMD Radeon R9 280X | AMD Radeon R9 290 |
| --- | --- | --- | --- | --- | --- |
| Codename | Curacao XT | Tahiti Pro | Tonga | Tahiti XT | Hawaii Pro |
| Fabrication | 28nm | 28nm | 28nm | 28nm | 28nm |
| Core Frequency | 1.05GHz | 933MHz | 918MHz | 1GHz | 947MHz |
| Architecture | GCN 1.0 | GCN 1.0 | GCN 1.2 | GCN 1.0 | GCN 1.1 |
| Stream Processors | 1,280 | 1,792 | 1,792 | 2,048 | 2,560 |
| Texture Units | 80 | 112 | 112 | 128 | 160 |
| Rasterizers | 2 | 2 | 4 | 2 | 4 |
| Tessellation Units | 2 | 2 | 4 | 2 | 4 |
| ROPs | 32 | 32 | 32 | 32 | 64 |
| Memory Configuration | 2GB GDDR5 | 3GB GDDR5 | 2GB GDDR5 | 3GB GDDR5 | 4GB GDDR5 |
| Memory Interface | 256-bit | 384-bit | 256-bit | 384-bit | 512-bit |
| Memory Frequency (Effective) | 5.0 GHz | 5.0 GHz | 5.5 GHz | 6.0 GHz | 5.4 GHz |
Tonga Has Arrived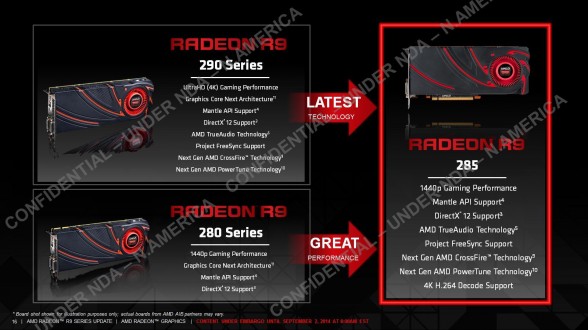 Before we get into taking a closer look at the PowerColor R9 285 TurboDuo, let's first talk about the architecture behind the new Radeon R9 285.
Nearly three years ago, AMD revealed their GCN (Graphics Core Next) architecture for the first time along with the introduction of their Tahiti based graphics cards. The new GCN architecture would feature a SIMD (Single Instruction Multiple Data) architecture rather than the traditional VLIW architecture which would give GCN huge improvements in compute performance without sacrificing graphics performance. Following the first generation GCN architecture in Tahiti, GCN 1.0, AMD made some improvements to the GCN 1.0 architecture late last year releasing the Hawaii and Bonaire GPUs which took advantage of an updated GCN architecture, GCN 1.1. GCN 1.1 includes improved compute performance, but also includes on die audio processing as well as updates of AMD's PowerTune technology.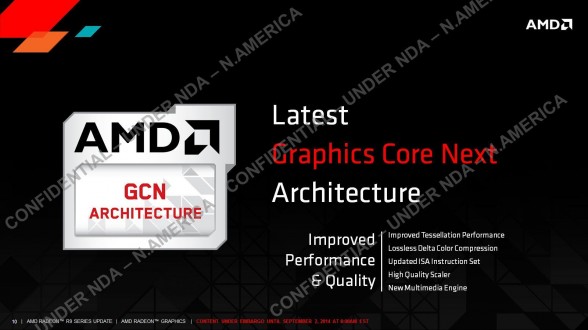 This then leads us to AMD's latest Tonga GPU which is yet another updated GCN which we'll refer to as GCN 1.2. GCN 1.2 offers several updates to the GCN 1.1 architecture which should improve performance, power efficiency and cost.
One of the big features is that GCN 1.2 now uses an updated instruction set which includes new 16-bit floating point and integer instructions, data parallel processing instructions, and improved compute task scheduling. This new instruction set is designed to improve low power GPU compute, media processing, parallel processing performance, and power efficiency.
Speaking of power efficiency, AMD is making some adjustments to PowerTune which is likely where most of the additional power efficiency will come from. Considering the Radeon R9 285 Tonga GPU is rated at 10w lower than the Radeon R9 280, but offers performance improvements over its predecessor, that's a very good thing. Once AMD shifts to a new process node, we should see even bigger power savings than ever.
With the Tonga GPU, AMD is also using lossless color compression on frame buffer which they claim will improve bandwidth efficiency by as much as 40%. By doing so, AMD can outfit the Radeon R9 285 with a less expensive 256-bit memory interface with a 2GB frame buffer despite the fact that it will offer substantially less memory bandwidth than the Radeon R9 280's 384-bit memory interface and 3GB frame buffer. AMD is also improving tessellation performance on the Radeon R9 285 by doubling the amount of tessellation units from the Radeon R9 280, which should allow it to better compete with Nvidia's GeForce GTX 760.
Additionally, the Radeon R9 285 also supports all the features introduced with GCN 1.1 such as XDMA CrossFire which allows CrossFire via PCIe only, TrueAudio on die audio processing, FreeSync support, and Mantle API support. New for GCN 1.2 is also support for 4K video encoding/decoding via the internal UVD (Unified Video Decoder) and VCE (Video Coding Engine).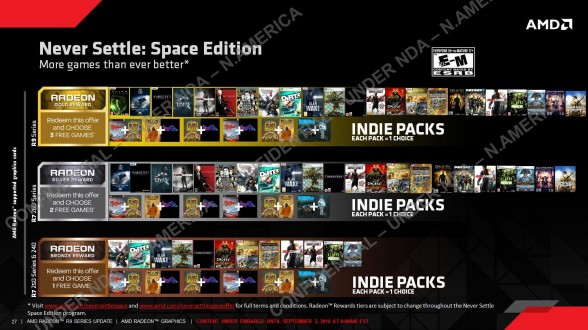 AMD is also updating the Never Settle bundle which they're calling Never Settle: Space Edition. AMD is basically adding Star Citizen, Alien: Isolation, Habitat and Space Run to its catalog of games that gamers can get for free with the purchase of an AMD graphics card. The purchase of a Radeon R9 285 entitles you to a Never Settle Gold code, which gives you three games. More info on the Never Settle bundle can be found here.
With that said, let's take a closer look at the PowerColor Radeon R9 285 TurboDuo.
[section label=2. A Closer Look]
A Closer Look at the PowerColor Radeon R9 285 TurboDuo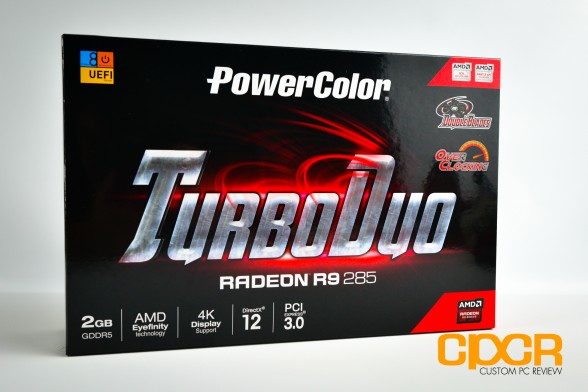 Here's a look at the packaging for the PowerColor Radeon R9 285 TurboDuo.
Included in the packaging, there's no accessories aside from a quick installation guide. This is likely a pre-production model, so there might be additional accessories (included when it goes to retail.
Here's a closer look at the PowerColor Radeon R9 285 TurboDuo. I've never seen the TurboDuo cooler prior to this, but the red/black color scheme definitely looks quite nice on the full metal cover. It's also a two fan, double blade design which should improve both noise and performance. PowerColor claims up to 13% reduction in noise levels and 15% reduction in temperatures although they didn't really specify what they're comparing to.
In terms of size, the PowerColor Radeon R9 285 TurboDuo is two slot card and the cooler doesn't hang out much past the length of the PCB. This allows the card to come in at just under 8.5″ long, which means it'll fit in even some of the smaller mATX or mITX cases out there.
Video outputs on the PowerColor Radeon R9 285 TurboDuo include DVI, HDMI and Displayport. The card requires two 6-pin power connectors and has a TDP of 190W.
Removing the heatsink, we can take a closer look at the PCB. First thing you'll notice is that it has way too much thermal paste, which might be bad for thermal performance. Such is the problems of modern mass manufacturing. Those having issues with the card's thermal performance are encouraged to reapply TIM (Thermal Interface Material), but only if you know what you're doing.
Looking at the back of the TurboDuo cooler, we can see that it uses 2x 8mm heatpipes and 1x 6mm heatpipe to bring heat away from the GPU. The base is made of pure copper as well.
Here's a closer look at the Radeon R9 285 GPU. PowerColor also has 2GB of Elpida GDDR5 running off a 256-bit memory interface.
Here's a look at the VRM array on the PowerColor Radeon R9 285 TurboDuo. PowerColor is using a 5+1+1 phase power delivery system along with PowerPAK SO-8 mosfets. PowerColor is also using a SVI2 green power controller, which helps save power by dynamically adjusting clock speeds and voltage to improve power efficiency.
[section label=3. Testing Setup]
PowerColor Radeon R9 285 TurboDuo Gaming Performance
Testing Setup
Haswell Test Bench
Special thanks to CyberPowerPC, MSI, Kingston, Corsair, Seagate and HSPC for sponsoring our test bench!
Initial Boot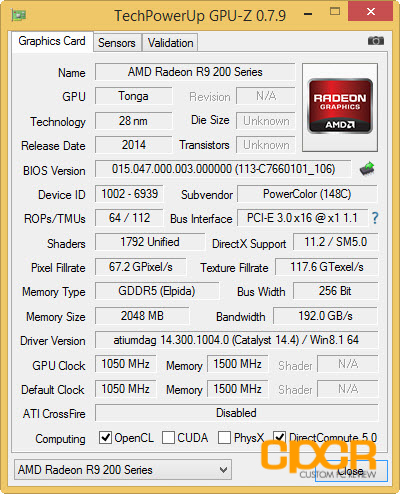 [section label=4. 3D Mark]
PowerColor Radeon R9 285 TurboDuo Performance
3D Mark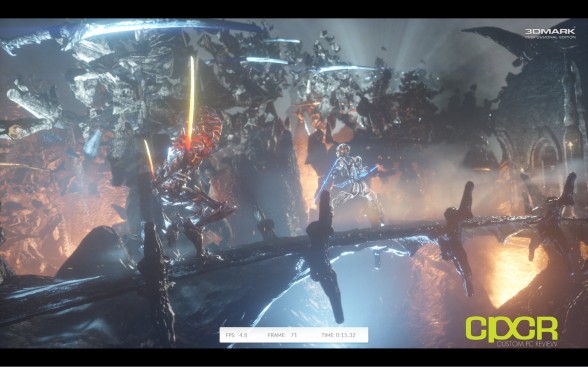 The new 3D Mark, now referred to as just 3D Mark, is Futuremark's latest update to the popular 3D Mark series of benchmarks. The updated 3D Mark now includes multiple benchmarks for cross platform support as well as updated graphics to push the latest graphics cards to their limits.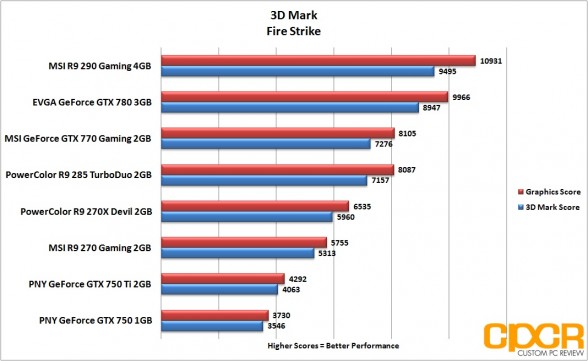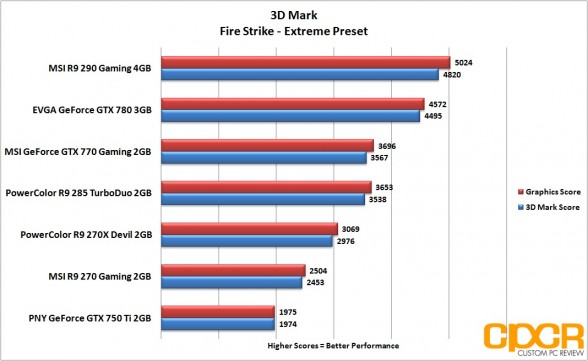 [section label=5. 3D Mark 11]
PowerColor Radeon R9 285 TurboDuo Performance
3D Mark 11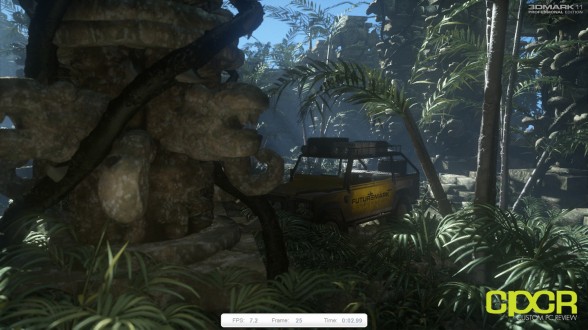 3D Mark 11 is an extremely popular benchmark designed by Futuremark for the sole purpose of stress testing a system's graphics performance. Trusted by hardware enthusiasts and gamers world wide, 3D Mark 11 uses the latest features of DX11 to stress test graphics performance with consistent loads which simulate in game performance.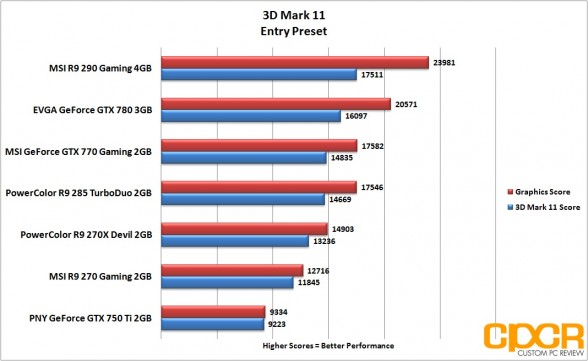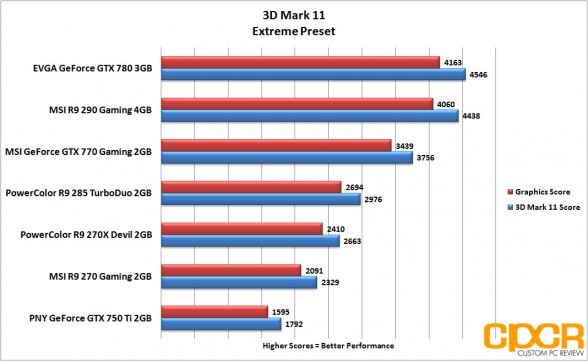 [section label=6. Unigine Heaven]
PowerColor Radeon R9 285 TurboDuo Performance
Unigine Heaven v4.0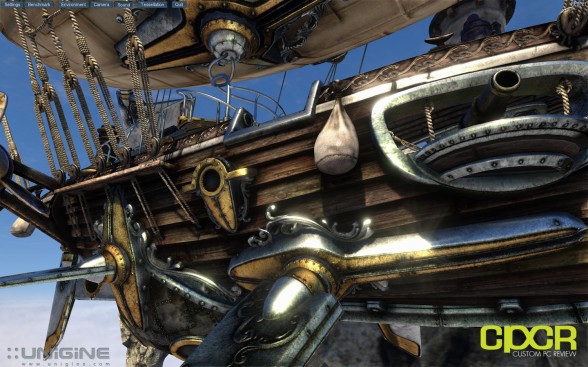 Unigine Heaven is another DX11 benchmark that stresses the graphical processing capabilities of the GPU using the advanced UNIGINE engine.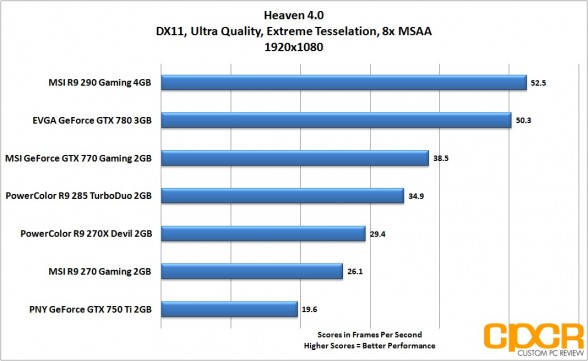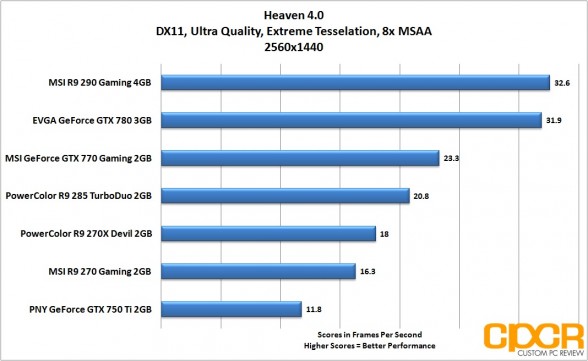 [section label=7. Shogun 2: Total War]
PowerColor Radeon R9 285 TurboDuo Performance
Shogun 2: Total War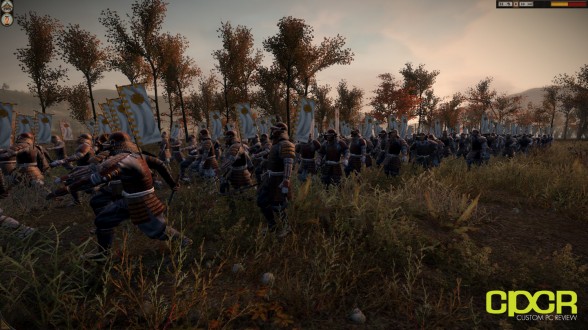 Shogun 2: Total War is the most recent installment of the long running Total War series. Capable of using DX11's features, it's the perfect benchmark to test for the gaming performance. For our testing today, we'll be using the Shogun 2: Total War benchmark utility.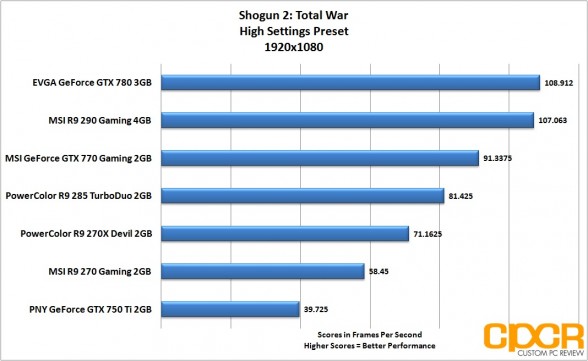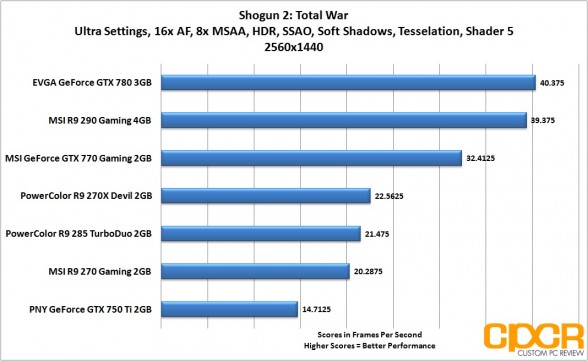 [section label=8. Metro Last Light]
PowerColor Radeon R9 285 TurboDuo Performance
Metro Last Light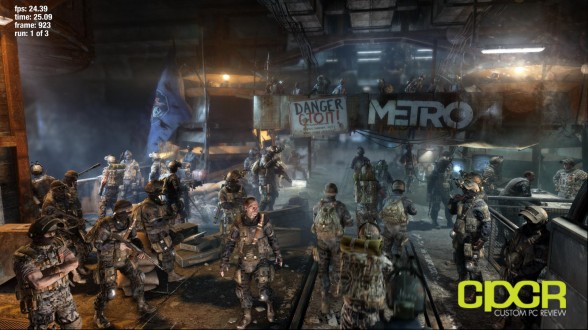 Metro 2033 was a staple of our graphics card reviews for some time due to its extremely demanding graphics engine. The game was one of the first to make heavy use of many DX 11 features such as DOF, tessellation and high res textures which brought even the most powerful graphics cards to its knees. Metro Last Light continues that tradition with an even more improved 4A engine further raising the bar on PC graphics.
Today, we'll be benchmarking Metro Last Light's D6 scene using Metro Last Light's included benchmarking utility.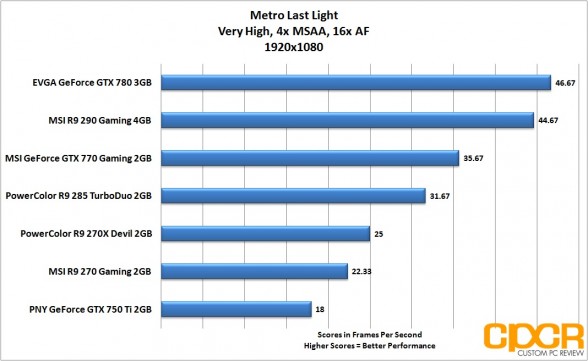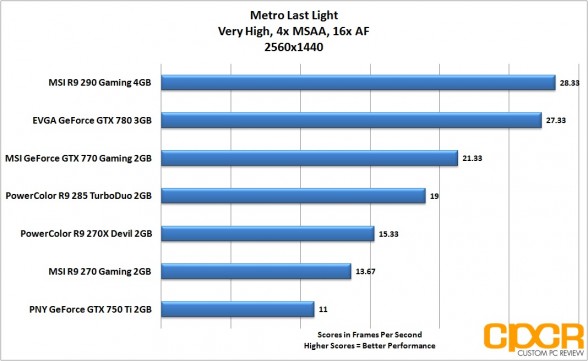 [section label=9. Bioshock Infinite]
PowerColor Radeon R9 285 TurboDuo Performance
Bioshock Infinite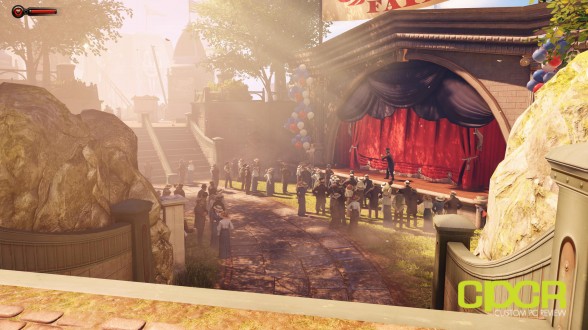 The Bioshock series has always been among our favorite games for its amazing story and beautiful visual effects. Released in early 2013, Bioshock Infinite became the third game in the Bioshock franchise and is the first of its kind to take advantage of the PC's next generation graphics capabilities. Despite being a port, Bioshock Infinite makes full use of DX11 on the PC through its use of a modified version of Unreal Engine 3 supporting high res textures, dynamic shadows, depth of field and ambient occlusion.
Today, we'll be benchmarking Bioshock Infinite using the Adrenaline's Action Benchmark Tool.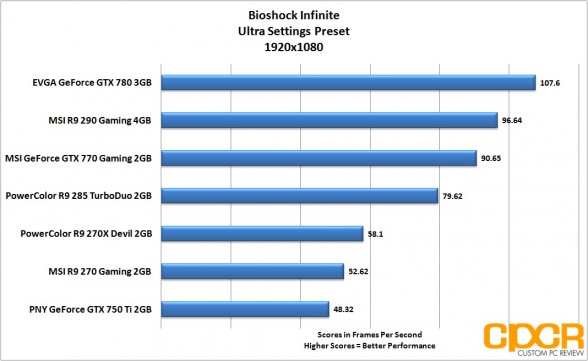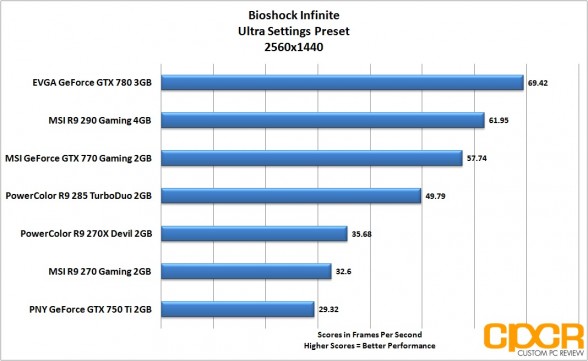 [section label=10. Tomb Raider]
PowerColor Radeon R9 285 TurboDuo Performance
Tomb Raider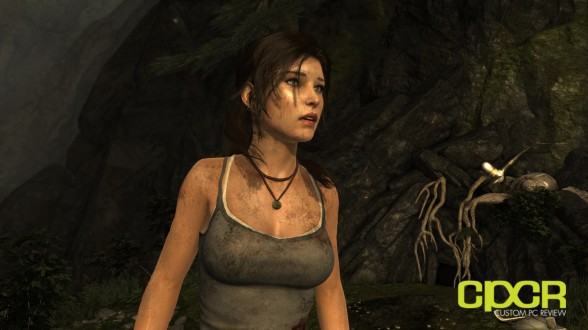 When Tomb Raider was first showed off at E3 2012, the game quickly became one of the most highly anticipated games of the year. It had been quite some time since the last Tomb Raider game and given the popularity of the franchise, nobody could really resist a reboot of franchise especially when you've got Square Enix and Crystal Dynamics at the helm.
Despite the game ultimately being a multi-platform game, Tomb Raider turned out to be a fantastic port featuring numerous DX11 features such as depth of field, ambient occlusion, tessellation, etc. Even AMD pitched in as well helping developers with their TressFX real-time hair physics engine giving Lara Croft more realistic hair than ever before.
Today, we'll be benchmarking Tomb Raider using the Adrenaline's Action Benchmark Tool.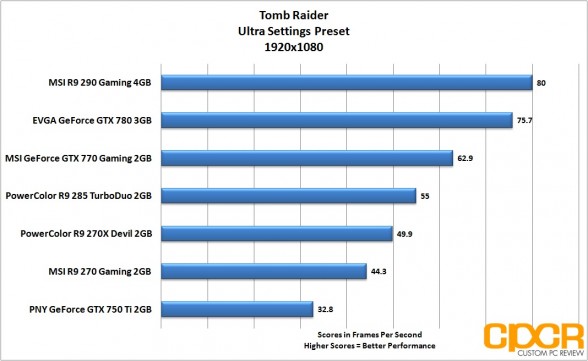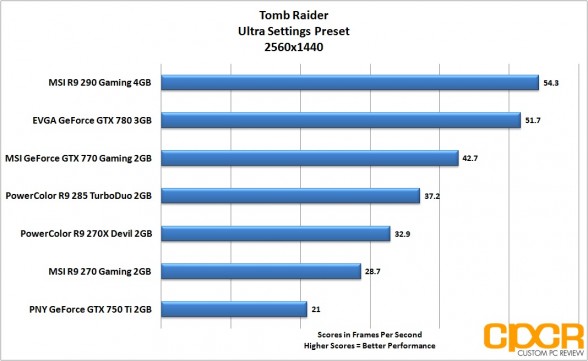 [section label=11. Hitman: Absolution]
PowerColor Radeon R9 285 TurboDuo Performance
Hitman: Absolution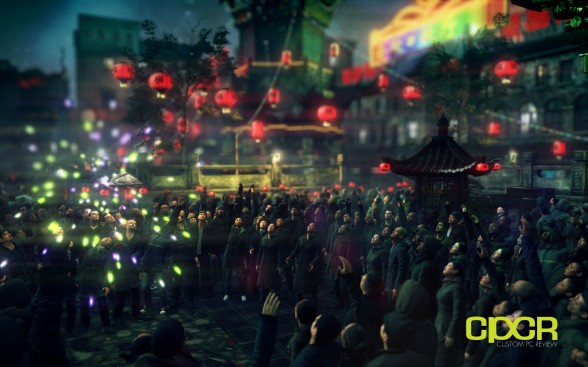 Hitman: Absolution is a action adventure game released in late 2012 which focuses on the hitman, Agent 47, and his assassination missions. After a 6 year hiatus, the Hitman series is back in full force with updated graphics based off the developer, Square Enix/IO Interactive's Glacier 2 engine. The Glacier 2 engine makes heavy use of DX11 features such as tessellation, global illumination, etc.
For our benchmarking today, we'll be using Adrenaline's Action Benchmark Tool.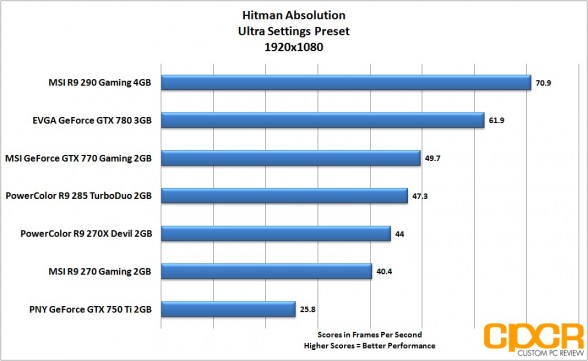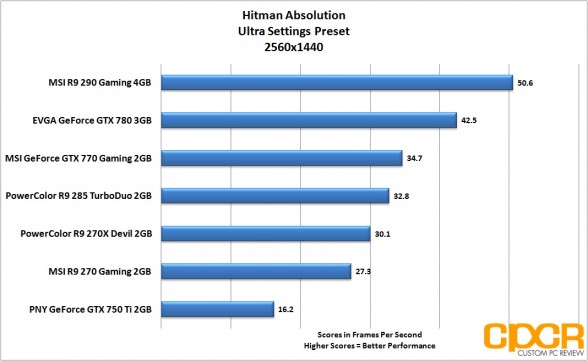 [section label=12. Battlefield 4]
PowerColor Radeon R9 285 TurboDuo Performance
Battlefield 4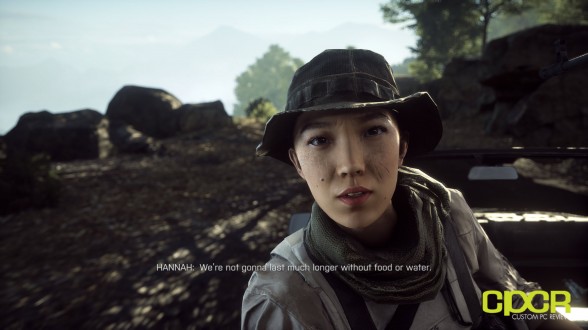 Only a year after the initial release of Battlefield 3, the team at DICE went back to the drawing board to introduce their latest and greatest modern combat shooter, Battlefield 4. Based off DICE's all-new Frostbite 3 engine, Battlefield 4 brings a new level of realism to the world of PC and console gaming with an unparalleled level of visual immersion, realistic character animations, and physics driven dynamic environments.
For our benchmarking, we'll be doing a benchmark on a 60 second run of the game at the beginning of the Tashgar mission. While this scene doesn't involve any firefights, it's a very graphics intensive scene that involves a fast moving drive through the hills of Tashgar, which makes heavy use of the Frostbite 3's motion blurring, depth of field, particle effects, and real time lighting engine.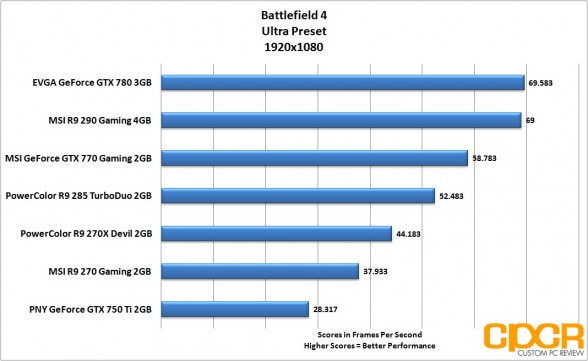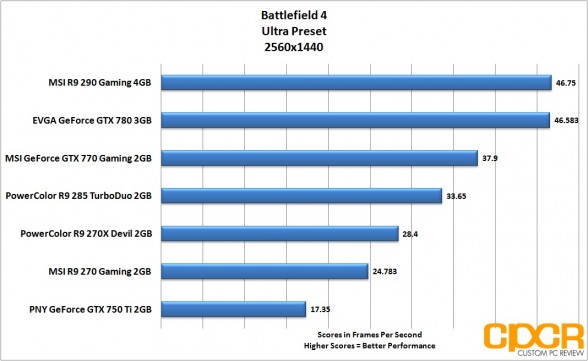 [section label=13. Power Consumption and Temperatures]
PowerColor Radeon R9 285 TurboDuo Performance
Power Consumption
For power consumption testing, we'll be measuring full system power while idle along with full system power with the graphics card running at full load using Furmark. All power consumption measurements will be measured with the Extech 380801 Power Analyzer.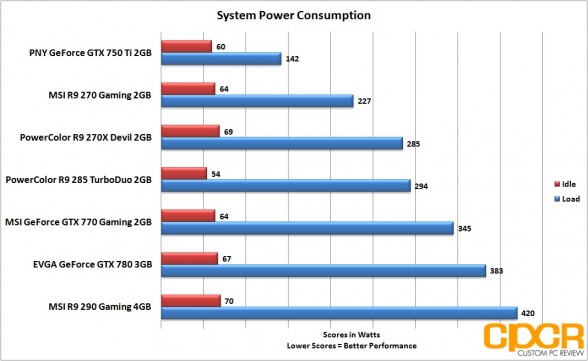 Temperature Testing
For temperature testing, we'll be measuring both graphics card temperatures when the graphics card is idle for 5 minutes after a cold boot. Load temperatures are taken after a full 30 minute burn using Furmark.
While some of you aren't huge fans of Furmark as it creates an ultra heavy, unrealistic load on the graphics card, we feel like it's a more useful tool as it differentiates between graphics cards that have extremely well designed coolers and ones that simply have cooling solutions that simply pass the test, if you will. Most games these days generally don't create enough of a load/heat to even exceed temperatures where the fans would spin up on most custom coolers so it's difficult to adequately rank cooling solutions without using a tool like Furmark.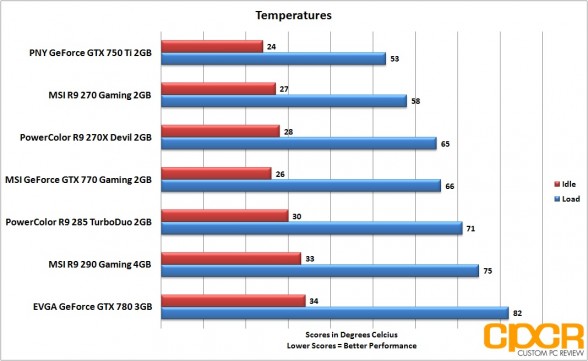 [section label=14. Overclocking]
PowerColor Radeon R9 285 TurboDuo Overclocking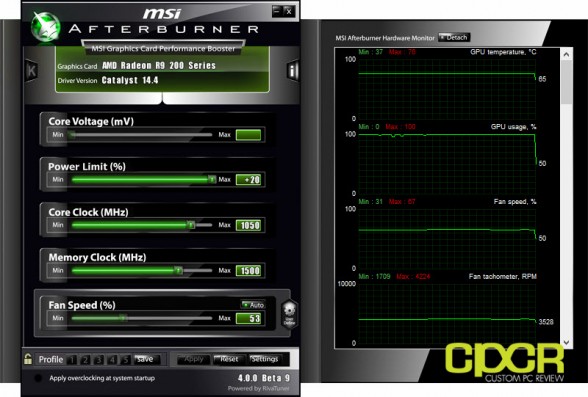 For overclocking, we used MSI's latest Afterburner, version 4.0.0. Unfortunately, voltages were locked, so we simply bumped up the power limit, core clock and memory clocks. Our card maxed out at 1050MHz core and 1500MHz memory (~6.0GHz effective), which is a decent ~11% increase in core clocks and 9% increase in memory clocks. Considering the voltages are locked, this is a decent amount of overclocking headroom.
3D Mark Performance – Fire Strike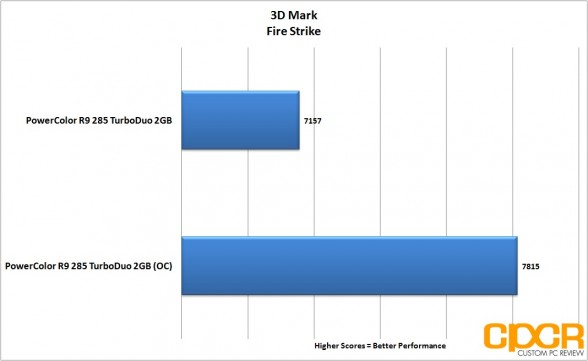 Power Consumption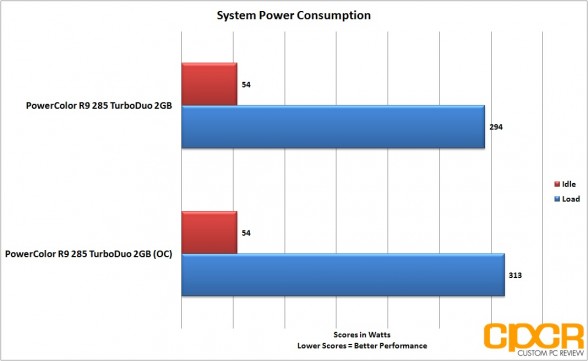 Temperatures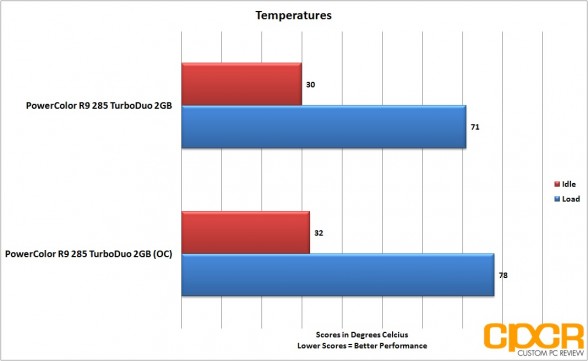 [section label=15. Conclusion]
PowerColor Radeon R9 285 TurboDuo Conclusions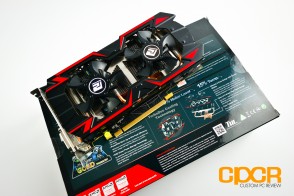 After AMD made their big announcement on GCN 1.1 based GPUs equipped with new features, better performance, and lower power consumption last year, it was ultimately a bit disappointing to see that a big chunk of their lineup was still going to be GCN 1.0 based. Given that a lot of the gamer market falls between the Radeon R9 270 and R9 280X, it makes a lot of sense that AMD is trying to capitalize on the holiday shopping season by bringing in a mid-range graphics card with GCN 1.2.
Despite this, my feelings are a bit mixed with the new Radeon R9 285. I really wanted to see a bit more from AMD in terms of additional performance improvements or a new lineup of cards before the end of the year, but I think AMD probably wants to make as many improvements to the current GCN architecture before moving to a new process followed by a subsequent complete refresh of the lineup, so it does make sense. However, I feel like AMD is unnecessarily causing customer confusion by selling GCN 1.0, GCN 1.1 and GCN 1.2 products in the same R9 2xx naming pattern. Then again, on the flip side it's nice to see that AMD isn't sitting idly by without making any new improvements to the architecture.
Performance on the Radeon R9 285 is pretty good overall and for gamers playing at 1080p, there should be no problem cranking up the settings. AMD claims that the Radeon R9 285 is designed for resolutions higher than 1080p and in our 1440p testing, most framerates were perfectly playable as well. In some instances we did see some of our benchmarks under the 30FPS range, but for the most part 1080p and 1440p were perfectly playable even at the highest settings possible. I think gamers who recently bought into the cheap 27″ or 30″ Korean panels will find that the Radeon R9 285 would be a perfect fit in terms of performance although in some instances AA may need to be slightly turned down for that buttery smooth gaming experience.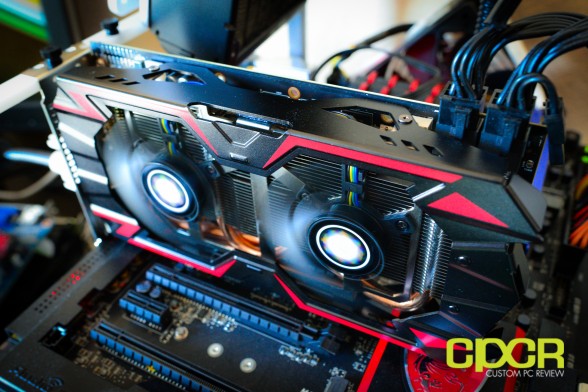 With that out of the way, let's talk a little bit about PowerColor's specific implementation of the Radeon R9 285, the PowerColor R9 285 TurboDuo. With this latest iteration of the TurboDuo cooler, I think PowerColor took a lot of design cues from their flagship Devil series coolers, which are undeniably some of the best looking coolers on the market. The red and black color combination looks great and it's really nice to see that PowerColor is sticking to the same all-metal heatsink assembly found on the Devil 13 rather than switch to a plastic cover that you see in most cooler assemblies these days. Thermal performance was also decent as well which kept the GPU was kept comfortably under 78ºC, even while overclocked. As for noise, the fans do make themselves heard under load, but they're fairly silent while idle, which is a good thing.
Overclocking was decent as well well which netted us ~10% performance boost, but it's nothing too special. Personally I would've liked to see some unlocked voltages on this card and a beefier VRM setup. There's plenty of temperature headroom and I feel like with a couple more volts, we can definitely get some pretty good overclocks. Hopefully PowerColor goes back into the pipeline and releases a Devil version of the card with an even beefier power delivery system, cooling and unlocked voltage. I'm quite curious to see how far the Radeon R9 285 can be pushed.
Pricing on the PowerColor Radeon R9 285 TurboDuo is $249.99 MSRP, which is generally the appropriate price point where you're gonna see cards that can handle modern games at 1080p at the highest possible settings. I think if you've only got a 1080P, 1440P, or 1600P monitor or less, the Radeon R9 285 from any AMD AIB partner would be an excellent choice. That said, until the Radeon R9 280's are phased out, they're a pretty good deal at sub-$200 prices, so that'd be a great option as well for those who really just want to game at 1080p.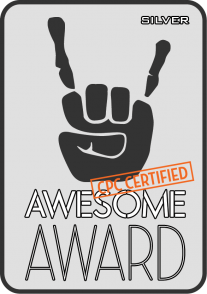 Sample provided by: PowerColor

Available at: Newegg