[section label=1. Introduction]
X Marks The Spot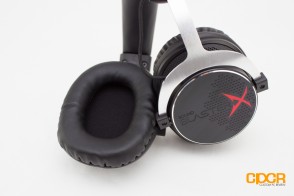 I had to do a double take when I first saw the Creative Sound BlasterX H5. The red "X" marked on the side of the ear cups looked eerily similar to another headset I'd previously reviewed.
Moving past the initial identity mashup, the Creative Sound BlasterX H5 is a mid-tier gaming headset in Creative's H series gaming headsets designed to offer good audio performance for the money without all the extra bells and whistles typically associated with the higher end gaming headsets.
| | |
| --- | --- |
| Manufacturer | Creative |
| Model | Sound BlasterX H5 |
| Drivers | 50mm Neodymium Full Spectrum Custom Tuned Drivers |
| Impredance | 32Ω |
| Sensitivity | 118dB/mW at 1Khz |
| Microphone | Uni-directional with Noise Reduction, 100Hz-15kHz Frequency Response |
Glancing over the spec sheet, the Sound BlasterX H5 certainly looks like a decent headset. Powering the unit is a set of 50mm full spectrum drivers seated in memory foam-lined earcups secured on a sweet looking aluminium and steel chassis. There's also a detachable uni-directional microphone and an in-line remote as well.
Will these features be enough to justify its $129 price tag? Let's find out!
[section label=2. A Closer Look]
A Closer Look at the Creative Sound BlasterX H5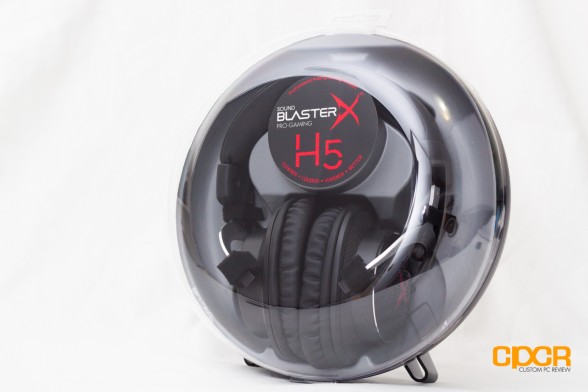 I must admit, Creative did a fantastic job with the packaging of the Sound BlasterX H5. Out is the traditional box and in is the new circular, transparent plastic shell. It presents the actual product in full view and the glass-like feel adds some premium shine to the product. All of these factors help it gain presence when sitting on the shelf. Lifehack: the transparent half doubles as a poor man's candy bowl.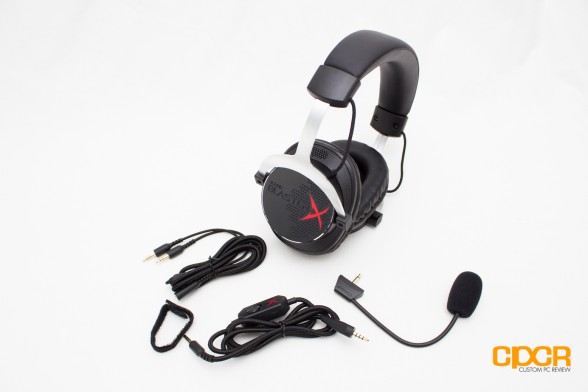 The Creative Sound Blaster H5 doesn't come with many extras other than a few plain-jane cables and a mic. It includes a 3-bar to dual 2-bar splitter cable, a 3-bar to 3-bar cable, and a detachable microphone.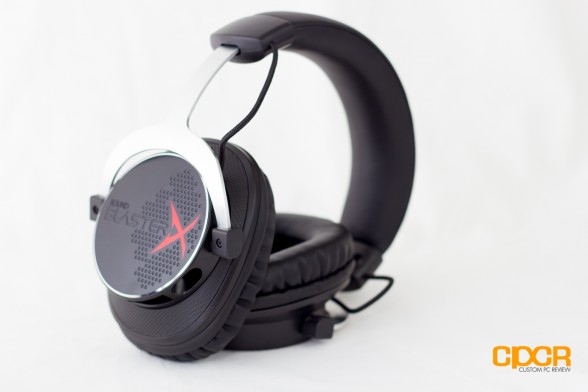 Initial impression – the headset is sexy. The flat back of the driver housing and the sharp glints of the aluminium trim exhibit a certain aura of prestige.
The metal isn't just for show. Creative boasts that the Sound Blaster H5 features a "reinforced steel headband and aluminium architecture". I'm not an expert in metallurgy, so I can't tell you what the aluminium to steel ratio is. The most I can tell you is that the headband is indeed metal. The headband and the exposed metal parts are very well polished and surprisingly flexible.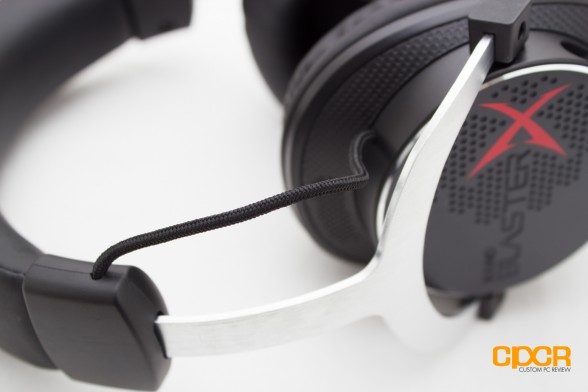 Snaking through the headband are braided cables that send signals to the ear cups. Unlike traditional rubber housing, braided cloth (when done right) is far less stretchy and less prone to tearing. Creative also secured the hell out of the ends – there's very little give when I tugged on them.
Because it's going to be pinching your noggin for hours on end, Creative has lined the ear cups with pleather-covered memory foam. The ear cup cutouts are so large and deep which should make it comfortable even for those with larger ears.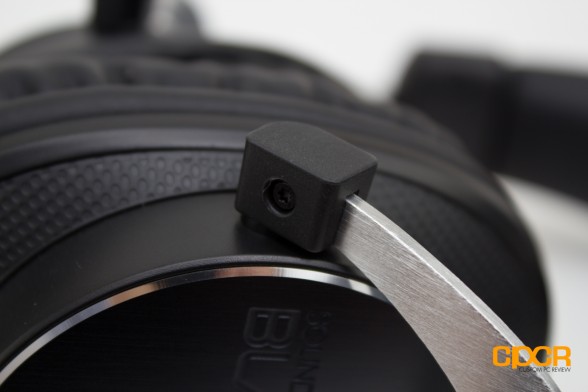 Here's a look at the hinge. While the headband is beastly durable, I can't help but feel that it can be compromised by the pair of tiny screws and the plastic pieces that hold the ear cups onto the headband. Then again, I could have just been spoiled by all the metal thrown in my face, so we'll see how they hold up over the long term.
The ports for the cables are safely tucked away inside cutout areas in the ear cup. The input cable attaches to the smaller hole on the right side while the microphone can be attached to either ear cup. Both cables are removable for easy storage.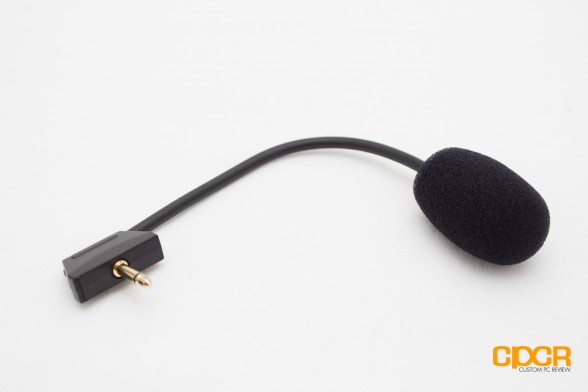 Alas! The final piece to the Sound BlasterX H5 is its detachable tadpole microphone. The mic arm is easy to manipulate but keeps its shape well when left alone. It also includes a windscreen which should help prevent mouth-breathers from pissing off their teammates.
Wait, I lied, the final piece is actually the cable that connects the headphone to the output device. The ends of the 3-bar cable are gold plated. Aside from the awesome braided cloth cable sheath, there's an in-line remote as well. The remote can be used to adjust volume, enable/disable the microphone, and even answer/pause calls when connected to a phone.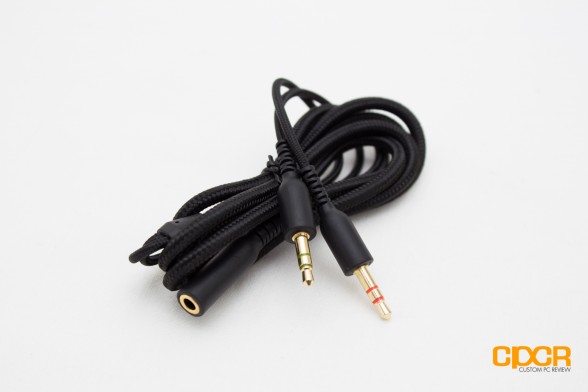 But wait, there's more! The final FINAL piece is the splitter cable used for connecting the headset to your PC. The downside is that you must use both the primary cable mentioned above as well as the splitter cable to connect it to the PC, resulting in a long strand of cable that's slightly annoying to manage.
Software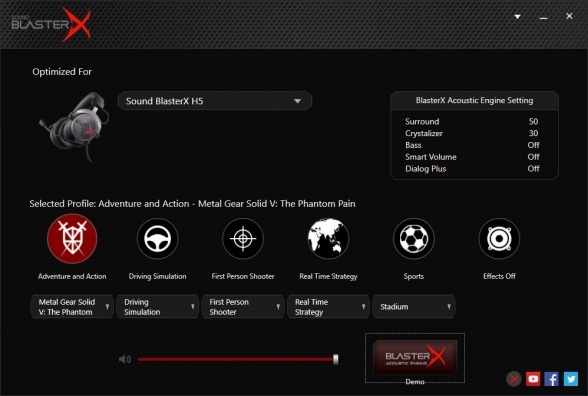 You need the Creative BlasterX Audio Engine installed on your PC to get the most out of the Sound BlasterX H5…or so it seems. The "Lite" edition of the Creative Blaster X Audio Engine I received didn't come with an equalizer but instead some pre-set audio profiles tuned for a handful of titles. In addition to being borderline useless for the Sound BlasterX H5, it was a real quest just setting it up. You first have to sign up with your email on Creative's product page and then go to the download link in the confirmation email. After that, you must activate it using a serial key included in the email and possibly agree to sell your soul (I didn't read the terms). All this for a handful of skimpy pre-sets and a surround sound demo? I think I found the reason why Creative said this is optional.
[section label=3. Performance]
Creative Sound BlasterX H5 Performance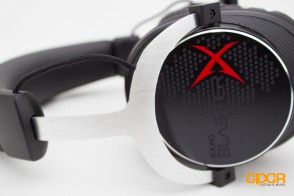 My headset testing comprises of  two parts: physical quality and audio quality. Physical quality is tested by playing a persistent low frequency sound that attempts to rattle the earcups. Audio quality is evaluated using a combination of music, games, and movies to cover the widest spectrum of sounds possible. The music test is comprised of a variety of genres including classical, rock, and jazz to cover most sound ranges.
Quality Testing
As mighty as I tried in this test, I couldn't break the Creative Sound BlasterX H5. I cranked up the volume to max and played a file that output bass from 10-50Hz. The Creative Sound BlasterX H5 stood unfazed and easily managed to get through testing without rattle or buzz.
Real World Testing
EA's Battlefield 4 was my game of choice for the gaming portion of my test. But before I even joined a match, the warmness of its sound jumped out at me. It carried a certain mellowness to it, which was different and surprisingly pleasant.
Throughout my matches with the Sound BlasterX H5, I felt like it didn't try to focus on any ranges in particular. All the sound ranges harmonized quite well without any one area being particularly overpowering. Because of this, all the effects sounded flat in general. Heavy effects such as explosions that were supposed to blow me away sounded dull, while ambient effects were a little too quiet. The detail was there though; each sound effect was clearly discernible from one another. What was hard to discern, however, was positional audio. Because the headset lacks virtual surround sound, trying to determine my enemies' exact locations gave me a headache.
Music testing was up next. The sweet, sweet notes that poured through the earcups of the Creative Sound BlasterX H5 were quite something else. Similar to the gaming test, the output was very detailed and clean. The flat frequency response topped off by the warm analogue tone produced a flattering experience when it came to vocals and small orchestras. With that said, bassy music felt slightly subpar. While listening to electro dubstep, the oomph factor many listeners crave just wasn't there.
The Creative Sound BlasterX H5 performed similarly in the theatrical test. Because it lacked decent surround sound capabilities, the amazingly recorded DTS 5.1 surround sound track in Pacific Rim made little difference. The bass was again lacking, but dialogue was prominent and clear. Higher sound ranges sounded a little flat as well. Its saving grace was that the detail and clarity were still excellent, which provided me with an experience enjoyable enough to sit through the entire movie.
Noise isolation was superb thanks to the thick layer of memory foam applied to the earcups. And as with any padding lined with leather/pleather, my ears were grilling after a few of hours of gaming. The headband also did an amazing job padding the top of my head, thought it ruined my hairdo.
You won't be using it to record your fantastic singing with the included microphone, but it did a good job at isolating noise. Skype calls in loud environments weren't very noticeable to my listeners on the other end.
[section label=4. Conclusion]
Creative Sound BlasterX H5 Conclusions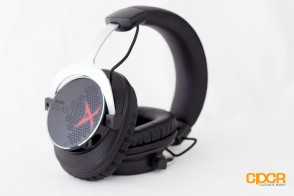 High five to the design team at Creative for making the Sound BlasterX H5 such a handsome beast. I dig the subtle aluminium trims and the flat earcups. The aluminium headband looks as beautiful as it is sturdy. With that said, there's nothing else notable about the way it looks. That's not a bad thing though. In the end, simplicity and functionality trumps flashiness. I initially had some durability concerns about the screws used to attach the headset to the headband, but after using it for a week I feel confident enough to say that there's nothing to worry about.
As one may come to expect of a headset that's lined with a great deal of memory foam, the Creative Sound BlasterX H5 is incredibly nice to have pressing against your head and face. The shape-forming memory foam does an excellent job at creating a perfect seal and keeping the pesky traffic noise out of your head when gaming. This is critically important since the Creative Sound BlasterX H5 is being marketed as a professional gaming headset so it must be able to at least block out external noise such as your mom. Calling from downstairs. Unfortunately, you can't wear it all day unless you like getting your ears roasted. While the combination of pleather and memory foam does a pretty good job of noise isolation, it also does a pretty good job of keeping heat trapped.
The Creative Sound BlasterX H5 is the first headset I've tested in a long time that didn't go overkill on bass. Plenty of headsets we've reviewed had overwhelming bass that cuts into other ranges like a screaming Chewbacca. For this reason, I appreciate the flat frequency response of the Creative Sound BlasterX H5.  Also worth appreciating is its output quality. There were no distortions or parasitic buzz detected throughout testing. With that said, I feel like it undercuts the bass just a tad too much. While its sound ranges had more segregation in the music test, its bass lacked power and sounded fairly shallow. I personally don't mind the lack of bass, but dubstep listeners may not share my tastes. Luckily (or unluckily), this isn't its greatest flaw, that title belongs to the driver software.
Yep, the driver software. If you're the type who believes that everything in life must be obtained with hardship, then you'll LOVE the Creative BlasterX Audio Engine software. This is the first driver suite I've ever seen that needed a signup and a serial key to activate and install. You'd think that for all your troubles, you'd get a feature rich, elegant, and light weight utility that puts all others to shame. Well what you really get is a few pre-set sound profiles and a surround sound demo, that's literally it. What's more impressive is that the Sound BlasterX H5 is a stereo headset that lacks any surround sound emulation features, so even the surround sound demo is useless. The silver lining here is that you don't actually need it for the headset to work. Thank freaking god.
Aside from the atrocious software and the shallow bass, there're no bones to pick with the Creative Sound Blaster X H5. For an asking price of $129.99, it's well worth considering. Creative's slogan for the Sound BlasterX H5 is "Clearer, Louder, Harder, Better", and I think it has nailed this one on the head.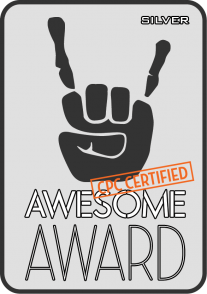 Sample provided by: Creative
Available at: Amazon