Review: Crucial MX100 512GB SSD
Crucial MX100 Revisited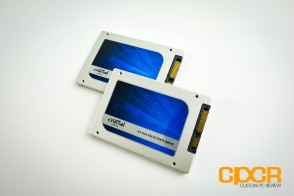 Two months ago, we had the opportunity to be one of the first reviewers to take a look at the Crucial MX100 SSD. At the time, we came away very impressed with the drive as it delivered great performance, great features and is backed by Crucial's fantastic track record for reliability while still being one of the least expensive SSDs on the market.
Unfortunately, Crucial only sent us the 256GB version of the MX100 at the time, which is a lower performing drive than the 512GB version of the product. While were more than happy to review the more commonly purchased 256GB capacity, the smaller capacity drive is at a substantial disadvantage when we compared to 480GB/512GB drives from competitors.
This is why today we'll also be taking a look at the Crucial MX100 512GB SSD as well.
Crucial MX100 Specifications
| | | | |
| --- | --- | --- | --- |
| Manufacturer | Crucial | Crucial | Crucial |
| Model | MX100 | MX100 | MX100 |
| Form Factor | 7mm, 2.5″ SATA | 7mm, 2.5″ SATA | 7mm, 2.5″ SATA |
| Capacity | 128GB | 256GB | 512GB |
| Controller | Marvell 88SS9189 | Marvell 88SS9189 | Marvell 88SS9189 |
| NAND | 16nm Micron Synchronous MLC | 16nm Micron Synchronous MLC | 16nm Micron Synchronous MLC |
| Sequential Reads | 550 MB/s | 550 MB/s | 550 MB/s |
| Sequential Writes | 150 MB/s | 330 MB/s | 500 MB/s |
| 4K Random Read | 80,000 IOPS | 85,000 IOPS | 90,000 IOPS |
| 4K Random Write | 40,000 IOPS | 75,000 IOPS | 85,000 IOPS |
| Interface | SATA 3 6GB/s | SATA 3 6GB/s | SATA 3 6GB/s |
| Warranty | 3 Years, 72TBW | 3 Years, 72TBW | 3 Years, 72TBW |
Since I'm not going to waste time re-writing a previous review, I'll go ahead and direct you to the review for the Crucial MX100 256GB for more details on the specifications and the features of the drive.
With that out of the way, let's take a closer look at the Crucial MX100 512GB.
A Closer Look at the Crucial MX100 512GB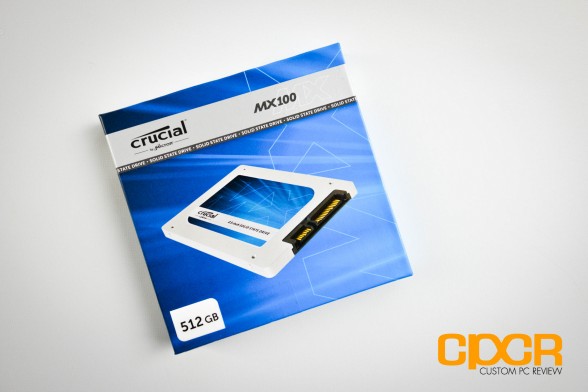 Here's a look at the packaging for the Crucial MX100 512GB SSD.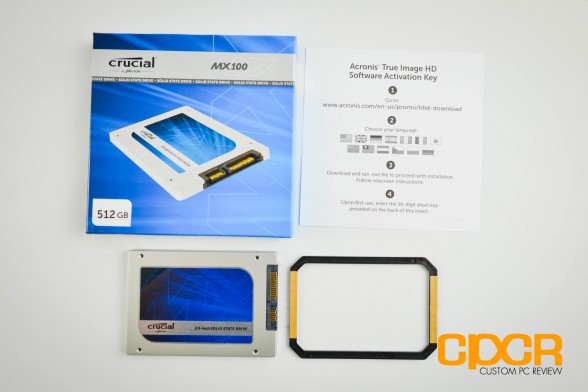 Included in the packaging we get a software key for Acronis True Image HD, a 2mm riser, and the Crucial MX100 512GB SSD itself.
Here's a closer look at the Crucial MX100 512GB. The drive comes in the 2.5″, 7mm form factor, but it also includes a 2mm riser for those with notebooks that only accept 2.5″, 9mm drives.
The drive is held together via eight screws – four for the casing and four for the PCB. We can also see that we've got quite a packed PCB despite the fact that drive is using Micron's high density 128Gb NAND.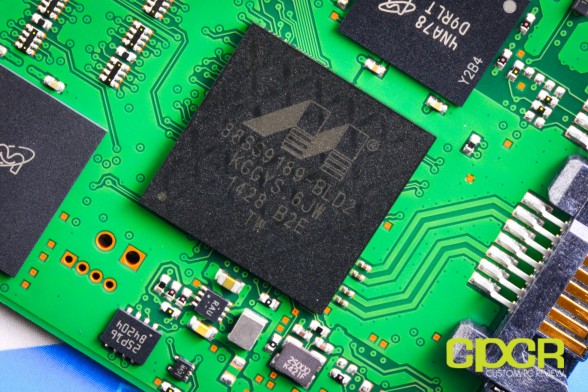 Powering the Crucial MX100 512GB is the Marvell 88SS9189-BLD2, which is a fairly new controller we first saw on the Crucial M550. The Marvell 88SS9189 is the successor to the well known Marvell 88SS9187 which is something we've seen quite a bit in the past. The Marvell 88SS9189 controller uses an 8-channel design and the Crucial MX100 also carries Crucial's in-house firmware.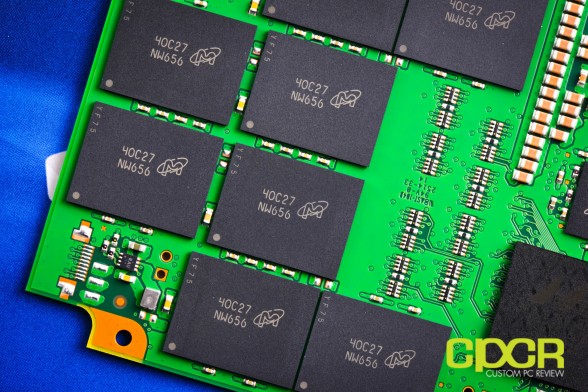 NAND onboard the Crucial MX100 512GB is parent company Micron's latest 16nm 128Gb Synchronous MLC. Surface mounted on the PCB is 16 NAND packages (FBGA #NW656) carrying two dies each, giving the drive a grand total of 512GiB total NAND capacity from 32 dies. Because of the increased amount of dies, the 512GB capacity is capable of doing more writes in parallel, resulting in higher write performance compared to the 256GB or 128GB drives.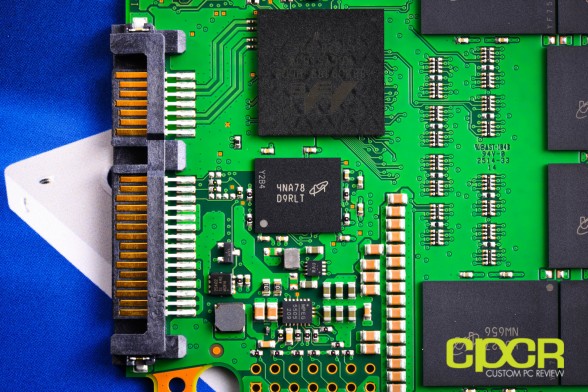 Here we also get a 512MB Micron LPDDR2 DRAM buffer (FBGA #D9RLT) which gives us ~1MB per GB of NAND.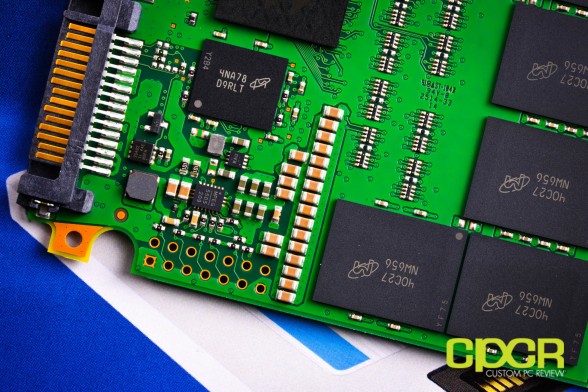 Finally, we also get an array of capacitors which provide partial onboard power loss protection – a feature we first saw on Crucial's client SSDs with the Crucial M500 several years back. This ensures that data at rest will be protected in the event of sudden power loss although this does not protect against data in flight. Complete data path power protection for both data at rest and data in flight is only available in parent company Micron's enterprise drives.
Haswell Test Bench
As of October 5, 2013, we've upgraded our storage testing system to a Z87/Haswell testing platform. All SSDs used for comparison here have been updated to the latest firmware as of October 2013. Performance tests from storage reviews prior to that date should not be compared to our latest reviews.
Special thanks to CyberPowerPC, Kingston, OCZ Technology and HSPC for sponsoring our test bench!
Crystal Disk Info
Crucial MX100 512GB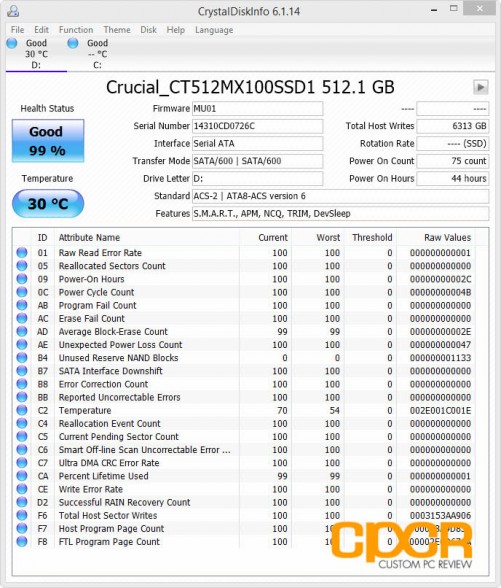 Today we'll be reviewing the Crucial MX100 512GB SSD with the MU01 firmware. This is the exact same firmware that shipped with the Crucial MX100 256GB we reviewed several months back. As usual of Crucial SSDs, the drive supports all the modern features such as SMART monitoring, Advanced Power Management, Native Command Queuing, TRIM and DevSleep.
The Crucial MX100 also supports a variety of hardware encryption options such as AES-256 bit encryption along with Self Encrypting Drive (SED) features such as TCG Opal 2.0 and IEEE-1667. This will allow utilities such as Windows Bitlocker to take advantage of hardware encryption to encrypt the drive without introducing a significant decrease in performance.
Crucial MX100 512GB Performance
ATTO Disk Benchmark v2.46
ATTO Disk Benchmark is one of the industry's oldest and most popular benchmarks for testing disk read/write speeds. This benchmarks allows read and write testing using predefined block sizes and gives us a good idea of read/write speeds with different sized files. Most SSD manufacturers prefer using this benchmark when advertising SSDs as it tests using compressible data, which tends to yield best performance.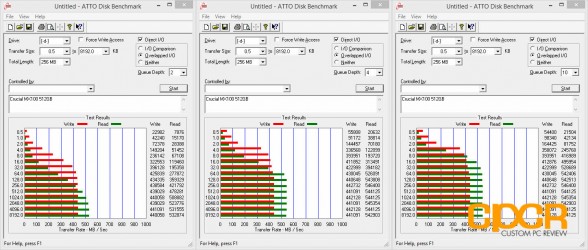 Performance Analysis
In ATTO Disk Benchmark, we get a maximum performance of up to ~545 MB/s reads and ~442 MB/s writes. This is fairly typical for mainstream SSD performance, but is significantly faster than the 256GB Crucial MX100 which was only capable of achieving ~347 MB/s sequential writes.
AS SSD Benchmark
AS SSD is a very commonly used benchmark used to measure SSD performance in a number of categories. Here, tests are run using incompressible data at QD1. It also outputs a final score at the conclusion of the test based off the read and write performance of the drive.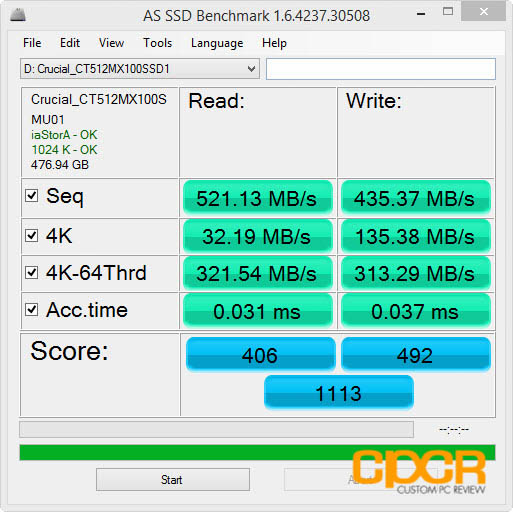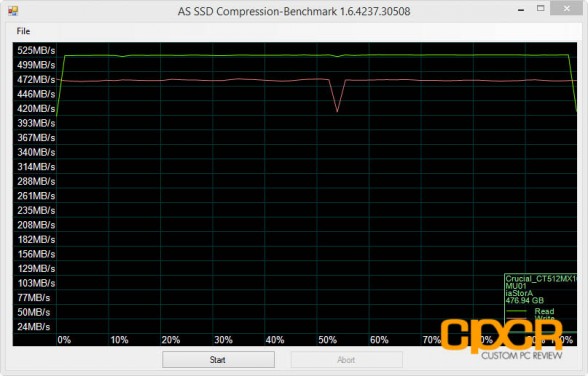 Performance Analysis
In AS SSD, we get some decent performance especially in 4K random read/write. Again, the 512GB Crucial MX100 significantly outperforms the 256GB drive by a fair margin in sequential write performance.
Crystal Disk Mark 3.0.1 x64
Crystal Disk Mark is another popular benchmark which allows us to measure both sequential read/write speeds as well as random read/write speeds. With this benchmark, tests can be run using both random fill (incompressible data) and 0 fill (compressible data). Realistically in typical computer usage scenarios, data being transferred will consist of a mixture of both incompressible and compressible data.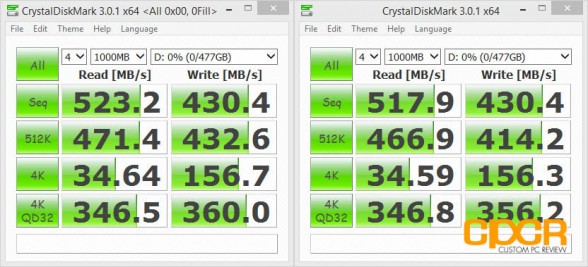 Performance Analysis
Crystal Disk Mark at QD4 tested quite well in both sequential and random data workloads. Aside from the lower sequential write performance, the drive looks almost like an enthusiast drive rather than something designed for the mainstream.
Angelbird SSD wrk 512GB Performance
PC Mark 7 Storage Benchmark
The PC Mark 7 storage benchmark evaluates the SSD under many different real world environments such as gaming, multimedia editing, etc. This closely represents the SSD's performance under real world situations.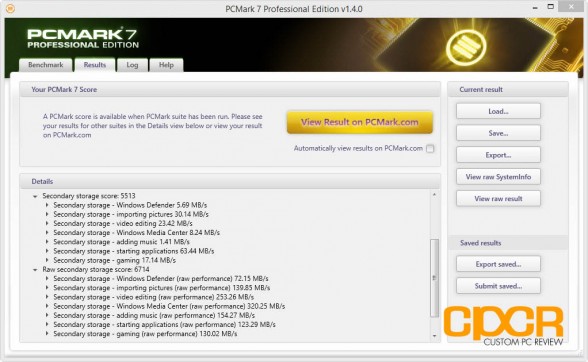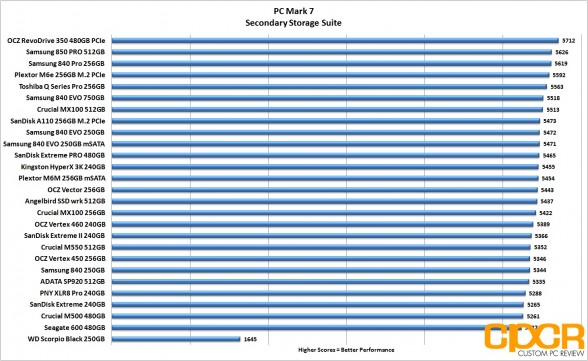 Performance Analysis
In PC Mark 7, Crucial MX100 512GB did quite well, coming in at just under some of the top SSDs on the market such as the Samsung 840 Pro and the Samsung 850 PRO.
PC Mark 8 Expanded Storage Benchmark
With the introduction of PC Mark 8 2.0.228, Futuremark added the option for an Expanded Storage Benchmark which is literally designed to bring any storage system its absolute limits. The new PC Mark 8 Expanded Storage Benchmark takes around 24 hours to run and for our purposes, we'll be using the consistency test which measures performance consistency, degradation tendency, and recovery speed of a storage system.
Consistency Test
Full details on the consistency test can be found in the PC Mark 8 Technical Guide here. For the more simplified version, the test is basically a near 24 hour, five phase benchmark – three of which we'll be reporting on in our results below.
Phase 1 is a precondition phase designed to "dirty" the drive with random data. The entire drive is filled twice to the capacity of the drive.
Phase 2 is a degrade phase where the drive is hammered with tons of random data followed by a performance test run. This is done 8 times.
Phase 3 is the steady state phase where the drive is once again hammered with tons of random data followed by a performance test run. This is done 5 times.
Phase 4 is the recovery phase where the drive is given 5 minutes to rest followed by a performance test run. This is done 5 times.
Phase 5 is the clean up phase where the drive is simply secure erased.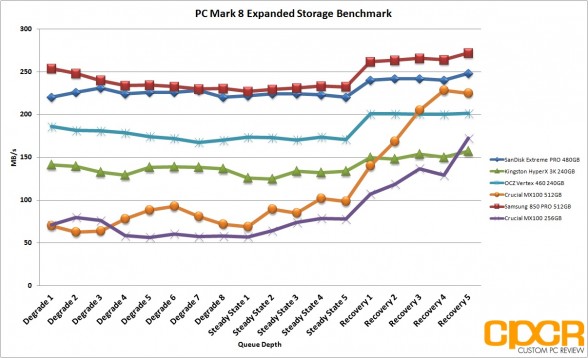 Performance Analysis
Looking at PC Mark 8's Expanded Storage Benchmark, we can see that the Crucial MX100 512GB is extremely well suited for lighter workloads. In the recovery phases where the drive is given room to breathe after each benchmark run, the Crucial MX100 was even able to outperform the Barefoot M10 powered OCZ Vertex 460 and the SandForce SF3700 powered Kingston HyperX 3K. It was also able to significantly outperform the 256GB Crucial MX100 thanks to the additional dies onboard.
That said, when we put the MX100 through a serious workload, performance dropped drastically in both the 512GB and 256GB versions of the drive placing it squarely in the bottom of our charts in the degrade and steady state phases of the benchmark.
Crucial MX100 512GB Performance
FIO (Flexible I/O Tester)
FIO, which stands for Flexible I/O Tester, is basically what its name says – a flexible I/O tester / I/O workload generator. Whereas all the benchmarking tools we've used previously are fantastic, easy to use benchmarking tools that provide a good snapshot of SSD performance, they do lack a lot of versatility, especially for more complex and in-depth operations such as custom queue depths, block sizes, test run times, etc. While the testing that follows may not pertain to typical consumer usage, they do help give us a much more in-depth look at each individual product's strengths and weaknesses when they're pushed to the limits.
FIO – FOB (Fresh Out of the Box) Testing
When SSDs are brand new and Fresh Out of the Box, they're generally able to perform at or outperform their advertised speeds, but unlike traditional hard drives, performance on SSDs begin to degrade over time as they become more and more used. This is because while SSDs are new, all bits on the SSD are empty, so they can instantly be programmed with data. However, once data gets programmed in, even if it's deleted in the filesystem the actual data will still stay programmed on the NAND itself unless some sort of garbage collection routine comes in to wipe the data. Unfortunately, in order to write new data onto "dirty" NAND, the NAND needs to go first through an erase cycle to erase the old data before a program cycle can happen to program new data, which as you may imagine takes more time than just a simple program cycle. As this only happens when writing new data onto the SSD, you'll generally see less performance degradation on reads and more performance degradation on writes.
For our FOB testing, we run a secure erase on the SSD then run each test sans any preconditioning. This will provide us with the highest level of performance the SSD is capable of and is likely never to be seen ever again once the SSD goes into a used state.
Our testing will include 4K read testing, 4K write testing, and 4K 70/30 read/write mix testing at queue depths of 1,2,4,8,16,32,64,128,256. The reason we've also included 4K 70/30 read/write mix testing is simply because most real world workloads will always fall somewhere between 0% write and 100% write rather than one or the other. Since client usage is much more read heavy, we'll be using the 70/30 read/write mix.
For general client usage, performance will fall somewhere between queue depths of 1-4 whereas servers and other enterprise applications will easily see queue depths of 32 or greater.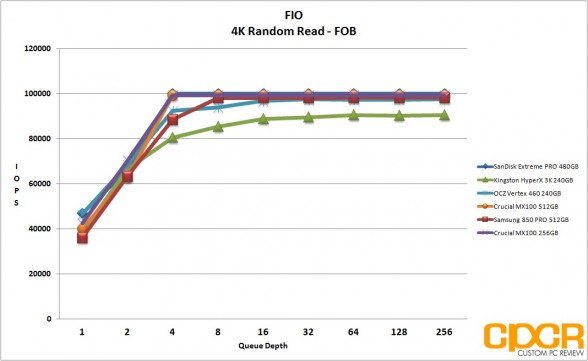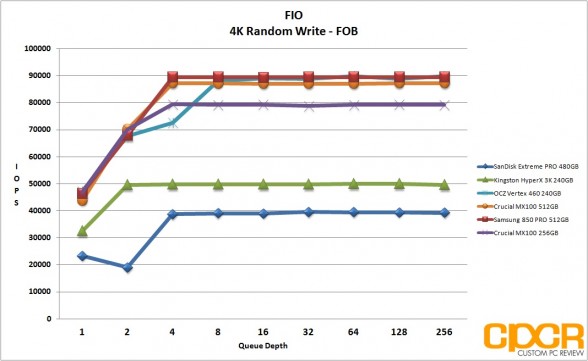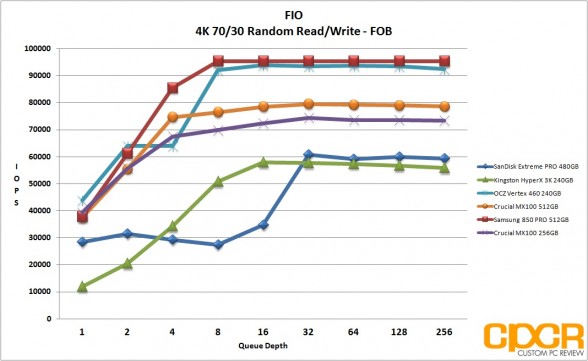 Performance Analysis
Fresh out of the box, performance on the Crucial MX100 512GB is very good. 4K random read performance was just shy of 100,000 IOPS and 4K random writes reached a maximum of 87,000 IOPS – a very respectable figure just slightly lower than what we see from the fastest enthusiasts SSDs on the market today. Mixed workload performance was decent as well with 70%/30% read/write mix performance coming in at just under 80,000 IOPS.
Crucial MX100 512GB Performance
FIO – Steady State Testing
After prolonged use of an SSD, it will reach "steady state" where performance levels off to a minimum level. The FOB state is the "best case scenario" for SSD performance while "steady state" is going to be your worst. Here, we ran the exact same set of benchmarks we just completed in the FOB state; except this time around, we'll be preconditioning the drive by filling 100% of the drive's LBAs with two sequential passes of 128k data followed by hammering the drive for six hours with 4K random data prior to actual testing.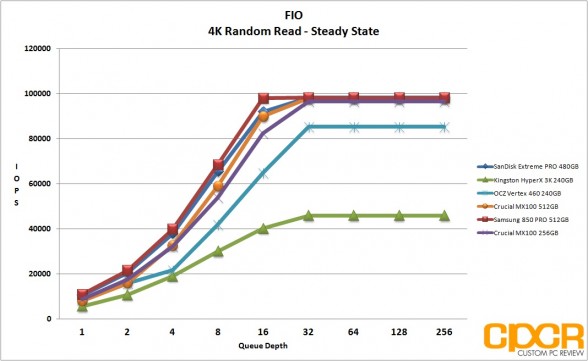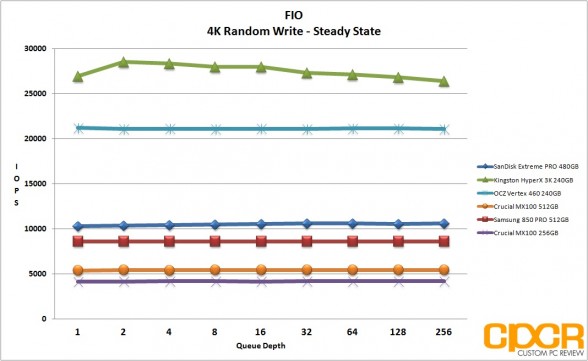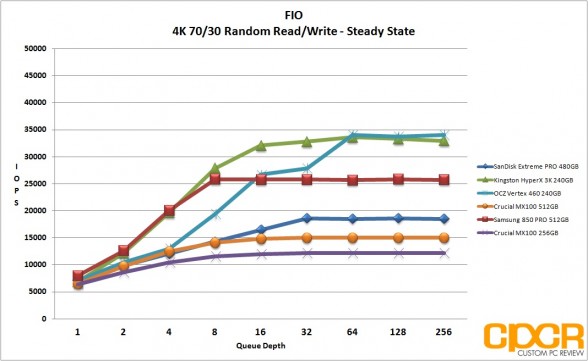 Performance Analysis
Like the Crucial MX100 256GB, the Crucial MX512GB performed very well with a 4K random read workload in steady state. The 512GB drive easily pulled a maximum of ~98,000 IOPS which is even slightly faster than the 256GB version of the drive which tops out at ~96,000 IOPS. Unfortunately, the Crucial MX100 simply isn't designed for a sustained write workload and the drive struggled in 4K random write workloads, coming in just short of ~6,000 IOPS. Mixed workload performance was slightly better with the drive pulling a maximum of ~15,000 IOPS, but it still trails behind the rest of our SSDs tested today.
Crucial MX100 512GB Performance
FIO 4K Random Write Consistency Testing
Another one of the benefits of testing with FIO is the flexibility of running consistency tests, which is one of the most important metrics when considering SSDs going forward. Looking at the results of our benchmarks such as ATTO Disk Benchmark and Crystal Disk Benchmark, we can see that practically every top tier SSD is capable of saturating SATA 6Gb/s in the FOB state. However, what really differentiates these SSDs is their ability to hold a certain level of performance even after extended periods of use.
For our consistency testing, we used a fairly standard method, which includes both filling up 75% of capacity as well as 100% capacity twice with sequential 128k data followed by the actual test itself, which is simply running 4K random writes at a queue depth of 32. By recording the IOPS every second for 2,000 seconds, we're able to get a good look at what kind of performance can be expected when the drive is relatively new, when it's heading towards steady state, and when it's actually in steady state.
Performance Analysis
In 100% fill, the Crucial MX100 is fairly consistent although performance is fairly low as well. After all blocks are filled, the drive's performance drops to a meager ~4,500 IOPS although performance does recover a bit after being continuously hammered. At 75% fill, the drive is extremely inconsistent with performance that can easily range from ~56,000 IOPS to ~4,000 IOPS.
Crucial MX100 512GB Performance
FIO 4K Random Write Latency Testing
Another metric that's becoming increasingly important in SSDs is its ability to keep latency low despite being subjected to a heavy workload. Even if a SSD were capable of ultra high and ultra consistent IOPS performance, if latency were high, users would still feel that the drive is slow. Ideally, SATA SSDs should always be capable of latencies under 50ms, even during heavy workloads.
For latency testing, we'll be using the exact same testing parameters as IOPS consistency testing, except instead of recording IOPS every second, we'll be recording latency.
Performance Analysis
Although latency isn't very consistent at all, Crucial's firmware does ensure that the MX100 keeps itself under the ideal 50ms mark.
Crucial MX100 512GB Performance
FIO 128K Random Write Consistency Testing
In addition to testing 4K random write consistency, we'll also begin to test for 128K random write consistency to see how well a SSD is able to hold itself to a level of performance when getting hammered with larger file transfers.
For 128K random write consistency testing, we won't be preconditioning the drive with two sequential passes of 128K data like in our 4K random write consistency testing since 128K data can easily fill up the drive well within our 2,000 second run.
Performance Analysis
128K random write performance is somewhat similar to what we saw with 4K random writes. Performance is fairly consistent at 100% fill although performance levels off an abysmal ~17MB/s. At 75% fill, performance is extremely inconsistent with performance ranging from ~17MB/s to ~270MB/s.
Crucial MX100 512GB Power Consumption
Previously, our power consumption analysis only tested for idle and maximum load power consumption, but we felt that this was a bad way to accurately measure power consumption. The reason for this is because SSDs tend to be bursty while in operation and will spike in power usage, but only for very short periods of time. As such, many of our SSDs appeared to have even higher power consumption than traditional hard drives, which is untrue.
In order to better represent a drive's power consumption, our solution was to run a test closer to the real-world and record a trace of the exact power consumption during testing. Since PC Mark 7 has been recognized by the industry as a fantastic real-world benchmark, we'll be recording the drive's power consumption while running the benchmark.
All tests below are measured by our B&K Precision 5491B Bench Multimeter tapped directly into the 5v line running from the power supply to the drive. All testing here is conducted with "HIPM (Host Initiated Power Management)/DIPM (Device Initiated Power Management)" enabled and "AHCI Link Power Management – Adaptive" set to 0 milliseconds for maximum power efficiency.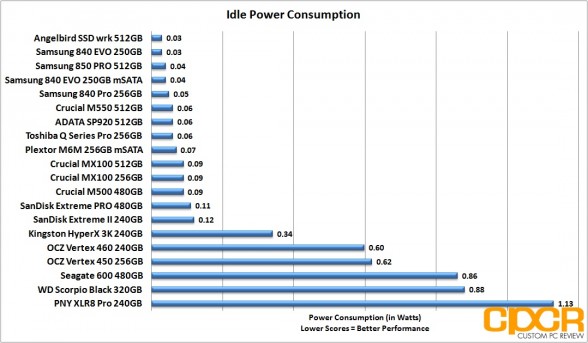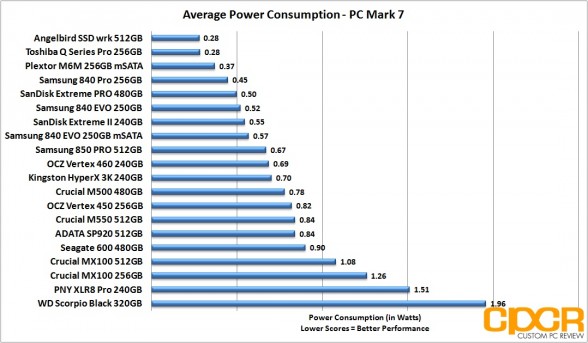 Performance Analysis
Like the Crucial M550 before it, idle sleep power consumption on the Crucial MX100 is decent, but once the drive is kicked into gear, power consumption rests at just above 1w, which is relatively high in comparison to most modern SSDs on the market. Despite the fact that the maximum load power draw isn't very high, the drive constantly sits at just above 1w in active idle mode which made the drive one of our worst performers in average power draw.
Crucial MX100 512GB Conclusions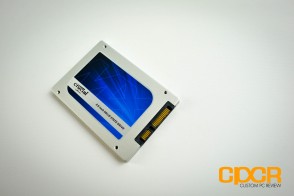 For those who've read our previous review of the Crucial MX100 256GB, you can stop here. If you've read the performance results, the 512GB version of the MX100 is the same drive as the 256GB version except with better write performance and obviously more capacity.
Performance on the Crucial MX100 512GB is decent, but it's not really anything to write home about. The mainstream segment is really about price and reliability rather than performance, and Crucial has always done a great job meeting the needs of this segment. That said, Crucial has still done a commendable job optimizing the MX100 for high burst performance and quick recovery, which is generally what you'd see in typical client workloads. As for the difference between the 512GB and 256GB drives, you get better random and sequential writes, which is worth the upgrade for anyone who can afford to go with the 512GB capacity drive.
| | | | |
| --- | --- | --- | --- |
| Manufacturer | Crucial | Crucial | Crucial |
| Model | MX100 | MX100 | MX100 |
| Capacity | 128 GB | 256 GB | 512 GB |
| Street Price | $77.77 | $112.99 | $209.99 |
| Price/GB | ~$0.61 | ~$0.44 | ~$0.41 |
| Check Price | Click Here | Click Here | Click Here |
The Crucial MX100 512GB can generally be found online for ~$209.99, which translates to ~$0.41/GB. This is obviously an absolute incredible value for any SSD, let alone one from a top tier SSD manufacturer. Crucial is really taking advantage of the cost savings provided by their move to the 16nm process and consumers are definitely benefiting because of it. Hopefully as production continues to scale, we'll see some more price reductions to bring these drives into the $0.30/GB range by the holidays.
Overall the Crucial MX100 is the hands down one of the best drive on the market for those looking for an entry level SSD. For those who can afford to splurge, the 512GB capacity is definitely the way to go.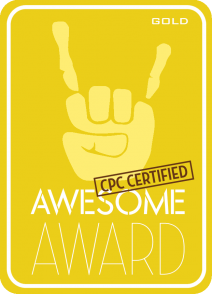 Sample provided by: Crucial

Availability: Amazon