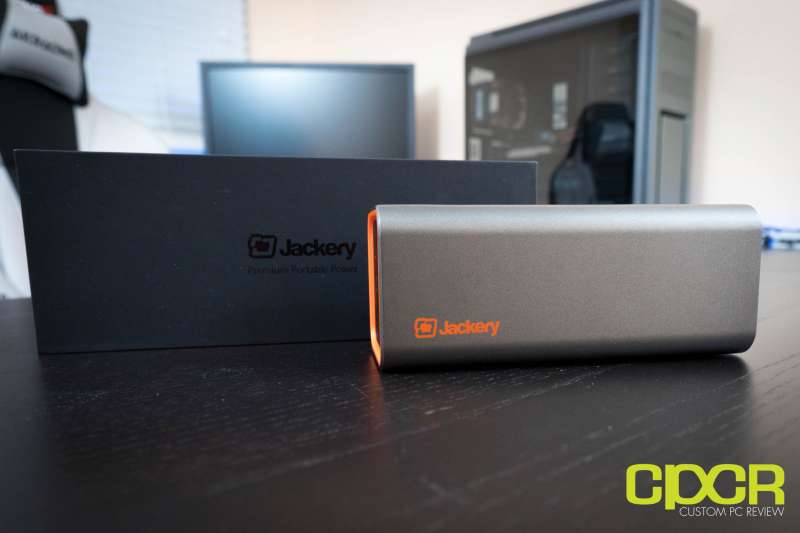 As portable devices have become more prevalent, power banks have become the must have for anyone who spends any time away from an electrical outlet. Typically power banks offer a microUSB or a USB Type-C port for charging and while many devices have now adopted microUSB or USB-C, many devices still require AC power, which is a problem if your power bank only supports USB charging.
One innovative company looking to make power banks a bit more versatile is Jackery, which recently launched an Indiegogo campaign on their new PowerBar power bank. Over the past month, Jackery was kind enough to let us test one of the early units, so let's take a look!
The Jackery PowerBar is a pylon shaped device that's a bit larger than the typical 20,000 mAh power bank. On one end of the power bank is two USB Type-A, one USB Type-C, an on/off switch for the AC power port, and a LCD battery status display. The other end of the power bank is one NEMA 5 AC power port. Construction of the device is largely plastic, but the construction is relatively sturdy, so it shouldn't have any issues withstanding the typical wear and tear from getting thrown around.
Specfications
Manufacturer
Jackery
Model
PowerBar
USB Ports
2x Type-A (1x Quick Charge 3.0, 1x 5V/2.4A)
1x Type-C (Input 5V/3A, Output 5V/2.4A)
AC Ports
1x NEMA 5 (110V/60Hz, 85W/100W Peak)
Capacity
20,800 mAh / 77Wh
Battery Type
18650 Lithium Ion
Lifecycles
500+
Dimensions
6.5×2.5×2.5 in
Weight
1.5lbs
Included is a quad 16850 battery array which provides the PowerBar with its 20,800 mAh battery or 76.96Wh capacity. Thanks to the sub-100Wh size of the battery pack, the PowerBar should have no issues when traveling on flights, at least in the US.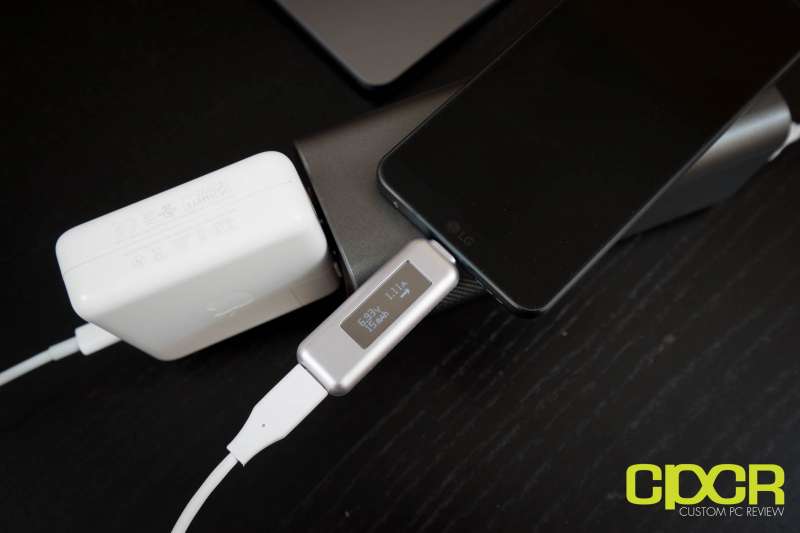 When charging my LG G6 smartphone (3,300 mAh battery), the PowerBar was able to fully charge the phone between 5-6x which is about expected for a power bank this size. The PowerBar does support Quick Charge 3.0, which is convenient as it does help supported devices charge much faster than a standard 5V/2.4A charger.
That said, Quick Charge 3.0 is only available on one of the USB Type-A ports rather than the USB Type-C port. As a result, this forces those who own USB Type-C devices to carry an additional cable to take advantage of Quick Charge 3.0. In future revisions, it would be nice to have a USB Type-C Quick Charge 3.0 port especially as newer smartphones have all begun adopting the standard.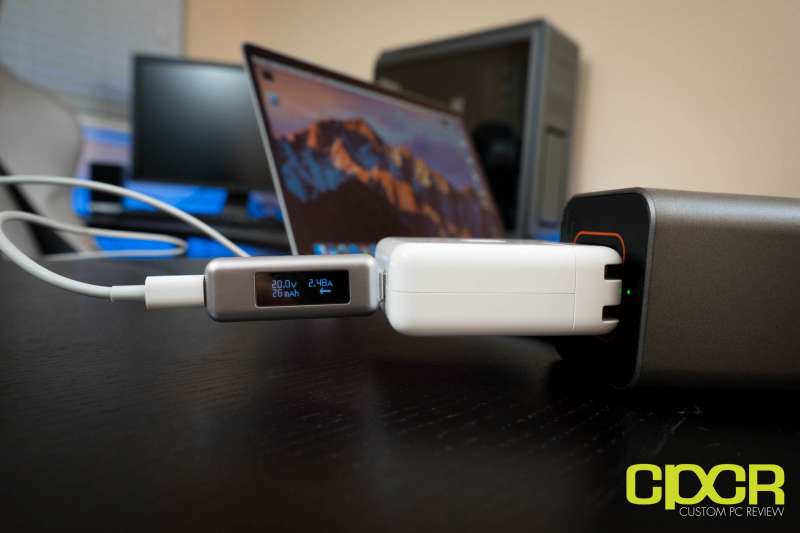 As for using the internal inverter, the PowerBar performed as expected. Charging my 13-inch MacBook Pro (Late 2016), the PowerBar was easily able to provide a full additional charge with about 20% additional to spare. Unfortunately as the PowerBar's USB Type-C port only provides up to 2V/2.4A and doesn't support PD output, it was unable to charge the MacBook Pro directly through the USB Type-C output. Those looking to just carry the power bank and a USB Type-C cable are unfortunately out of luck on this one.
For those looking to power higher power devices on the PowerBar such as a gaming laptop for example, keep in mind that the PowerBar's maximum power output is 100W at which point the AC output will automatically shut off to protect itself.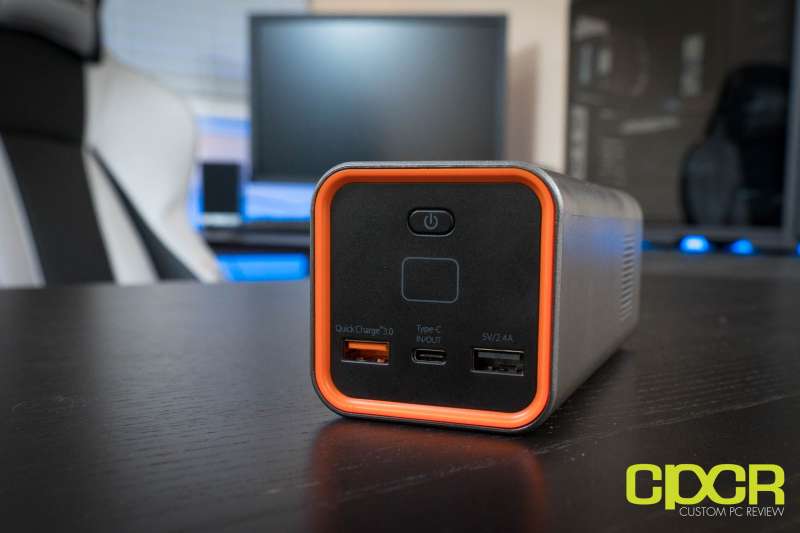 In terms of performance issues, there weren't any I experienced during testing. However, there are a couple things that I'd like to see changed which could significantly improve the product. First is to change the shape of the PowerBar to a more flat design rather than its current pylon shape. The reason for this is that the pylon shape isn't pocketable like flat designs such as the [easyazon_link keywords="Omnicharge" locale="US" tag="cupcre06-20″]Omnicharge[/easyazon_link] which makes the PowerBar pretty useless without a bag. Another change is that the fan that cools the unit while the AC inverter is in operation is fairly loud. While the sound isn't going to burst your eardrums, it sounds a bit like a laptop fan running at full throttle which makes it quite annoying when used for extended periods of time.
Overall, the Jackery PowerBar is an excellent power bank that's about as versatile as battery packs get. Jackery has currently launched an Indiegogo campaign on the device where early backers can get their hands on the PowerBar for as low as $129. The Jackery PowerBar is expected to begin shipping in November at which point the PowerBar is expected to retail for $199.
Sample provided by: Jackery