HP ENVY 4 TouchSmart (ENVY 4-1102xx) Ultrabook Review
Great Ultrabook, One Flaw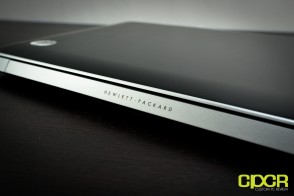 Years ago when HP/Voodoo first unveiled the ENVY, it was one the best looking ultraportable notebooks on the market. It had a full carbon fiber chassis topped off with a high gloss layer and boasted an ultra thin profile even before Ultrabooks were cool. Now years after that first introduction, HP has fully incorporated the ENVY line into their lineup of notebooks, so let's see what HP has done with their latest iteration of their finest ultraportables.
Today we'll be reviewing the HP ENVY 4 TouchSmart (ENVY 4-1102xx) Ultrabook. As suggested by its name, the ENVY 4 TouchSmart will include a touchscreen, which has gotten more and more popularity lately with the rise of smartphones and tablets. Additonally, since the ENVY 4 TouchSmart is an Ultrabook as well, we can also expect that it'll be thin, it'll have a long battery life, and it'll have an Intel processor.
Ready to find out more? Let's flip the page!
HP ENVY 4 TouchSmart Specifications
| | |
| --- | --- |
| Notebook | HP ENVY 4 TouchSmart (ENVY 4-1102xx) |
| CPU | Intel Core i5-3317U 1.70 GHz (2.60GHz Turbo) 3M Smart Cache |
| Motherboard | Intel Panther Point HM77 Chipset Motherboard |
| Memory | 4GB (1x4GB) DDR3-1600 Samsung SODIMM Memory |
| Graphics | Intel HD 4000 Integrated Graphics |
| Storage | 1x500GB 5400 RPM HDD + 1x32GB mSATA SSD Cache |
| Optical Drive | N/A |
| Display | 14″ HP TouchSmart LED Multitouch Glossy Display (1366×768) |
| Sound | Built-in Stereo Speakers (Beats Audio) |
| Networking | Built-in 10/100/1000 Mbps + Wireless a/b/g/n + Bluetooth v4.0 |
| Keyboard | Built-in Keyboard |
| Mouse | Built-in Touchpad |
| Battery | 4-Cell Li-Ion Battery Pack 3400mAh |
| Webcam | Built-in HP TrueVision HD 720p Webcam |
| I/O | Ethernet, HDMI, Headphone, Microphone, Kensington Lock; 2x USB 3.0, 1x USB 2.0 |
| Operating System | Microsoft Windows 8 Pro (64-bit Edition) |
| Dimensions | 13.38″ x 9.28″ x 0.78″ |
| Weight | 4.77 lbs |
| Warranty | 1-Year Limited Warranty |
| Check Pricing | Click Here |
Here's a look at the specifications for our specific sample. Since the unit is an Ultrabook, we've got an Intel Core i5 3317U, which is a 17W TDP Ultrabook oriented processor based off the Ivy Bridge architecture. We've also got 4GB of DDR3 1600MHz memory, a 500 GB 5,400 RPM hard drive paired with a 32GB caching SSD, and a 14″ 1366×768 multi-point touchscreen.
While the unit isn't necessarily large in size, it's important to note that the unit is quite hefty coming in at 4.77 lbs. This is largely due to the touchscreen as the non-touch edition of the ENVY TouchSmart 4, the ENVY 4 (4t-1200), weighs in at 3.98 lbs, approximately 0.79 lbs lighter.
A Closer Look at the HP ENVY TouchSmart 4 (Exterior)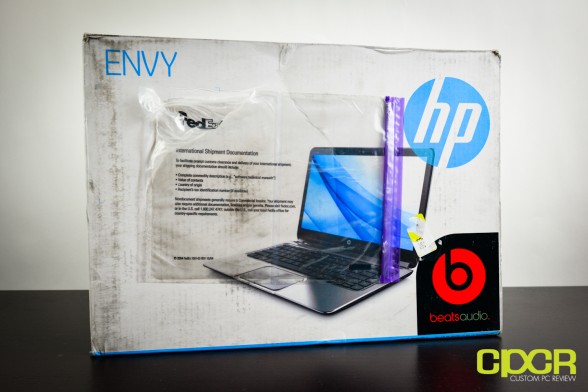 Here's a look at the packaging for the HP ENVY TouchSmart 4. It's a little beat up since it's been in the hands of many reviewers before me.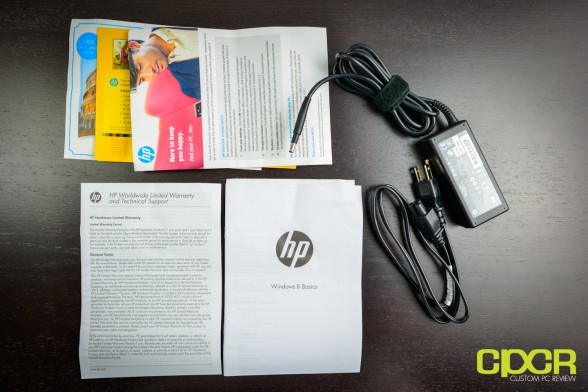 Included with our sample is some documentation along with a power adapter. The power adapter is a HP branded 65w power adapter.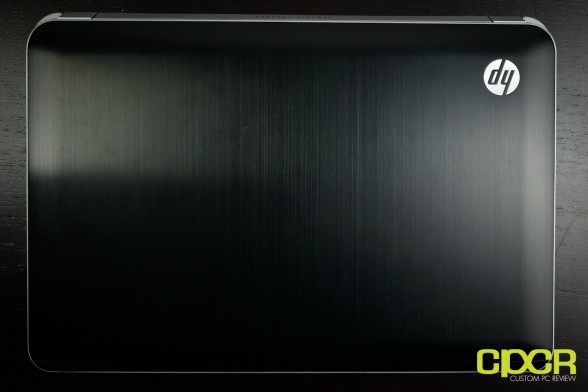 Here's a look at the top of the ENVY 4 TouchSmart. For aesthetics, the lid is finished in a beautiful brushed aluminum.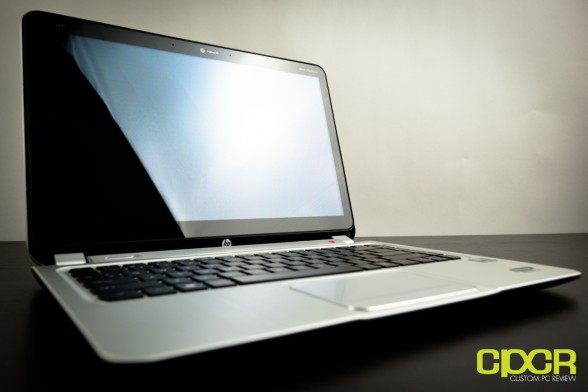 Here's a look at the screen. HP is using a 14″ multitouch LED glossy display here. Because Windows 8 is heavily optimized for touch, having the touchscreen makes a lot of sense here. Unfortunately, HP is using an incredibly glossy display here which is quite difficult to photograph.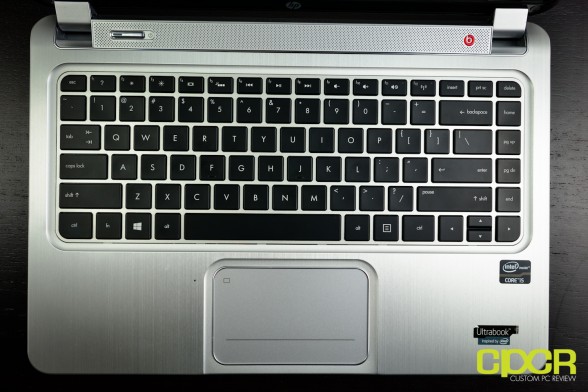 Here's a look at the keyboard and touchpad on the ENVY 4 TouchSmart. The keyboard is the typical sized Ultrabook membrane style keyboard. Fortunately, the keyboard has very little flex, so it doesn't feel too terrible to type on. HP has also included a fairly large sized multi-touch touchpad. The touchpad is placed right in the center of the unit below the keyboard.
For styling, HP went with a beautiful black key/brushed aluminum finish. At the top of the keyboard there's also two integrated speakers powered by Beats technology. In addition to the two speakers up here, there's also a speaker inside the unit as well that acts as a subwoofer to give the unit a bit of low end performance.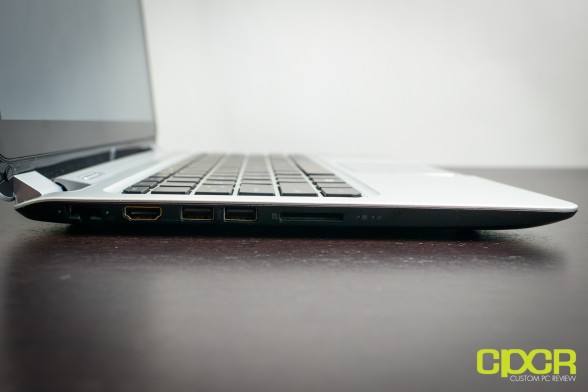 On the left side of the unit we get Ethernet, HDMI, two USB 3.0, and a combo card slot.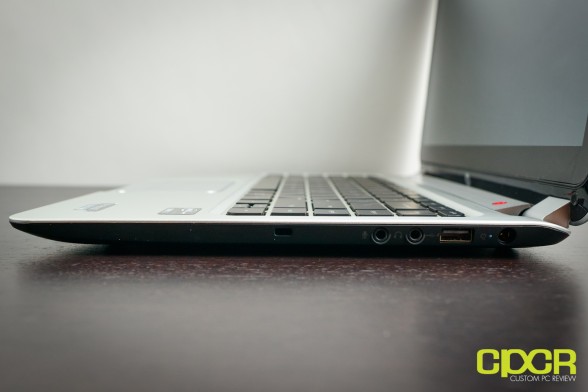 On the right side of the unit we get a power port, USB 2.0, headphone, microphone, and a Kensington lock slot.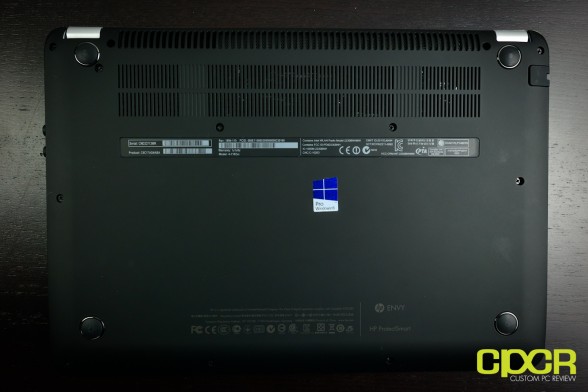 Here's a look at the bottom of the ENVY 4 TouchSmart. The bottom of the unit contains several large vents for better ventilation as well as four rubber feet to raise the notebook off the table. Although the bottom of the unit is constructed of plastic, HP has given the ENVY 4 TouchSmart the soft touch treatment, which as you may expect gives it a softer feel than the hard plastic found in most notebooks on the market.
On our particular sample, it seems like someone misplaced the Windows 8 logo, which should be near the Intel Core i5 and Intel Ultrabook logos underneath the keyboard.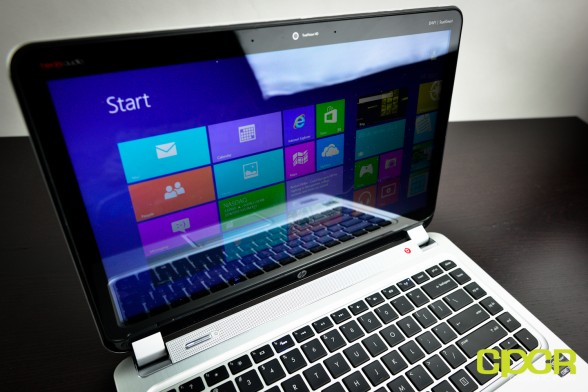 As mentioned previously, the screen is extremely glossy as seen from the clear reflection of the keyboard.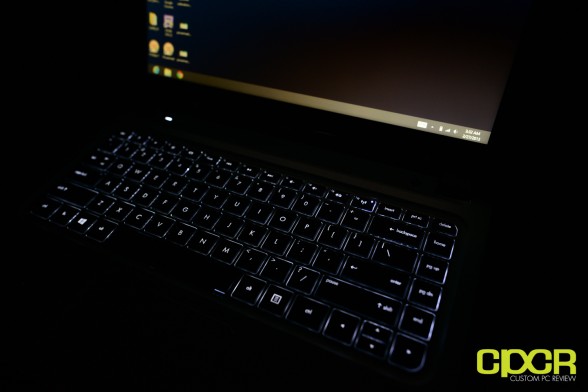 As an additional $20 add-on, HP also gives you the option of a backlit keyboard. Nice touch. Don't know why it's not standard though.
A Closer Look at the HP ENVY TouchSmart 4 (Interior)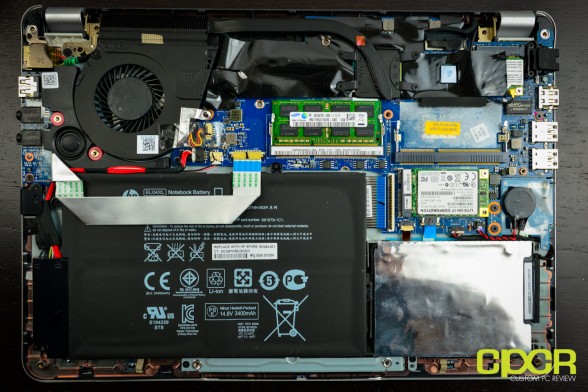 Opening up the ENVY TouchSmart 4, we can see that it's quite easy to access most of the components onboard. This is nice as it makes the ENVY 4 TouchSmart one of the most user customizable Ultrabooks on the market.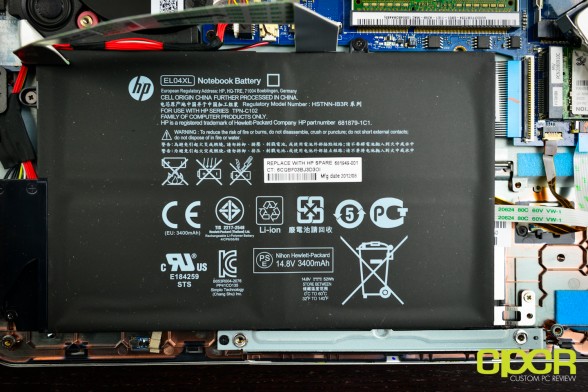 Here's a look at the battery included with the ENVY 4 TouchSmart. The battery is an HP EL04XL 3400mAh Li-Ion battery. HP also conveniently includes a part number on the battery as well, so it's easily user replaceable.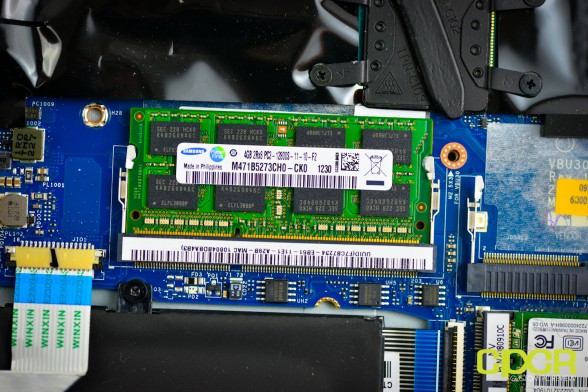 While there are two DIMM slots on the ENVY 4 TouchSmart's motherboard, HP has only included a single 4GB Samsung DDR3 1600MHz SO-DIMM (Model #M471B273CH0-CK0) with our sample. These are standard SO-DIMM slots, so it's quite easy to replace or upgrade the memory.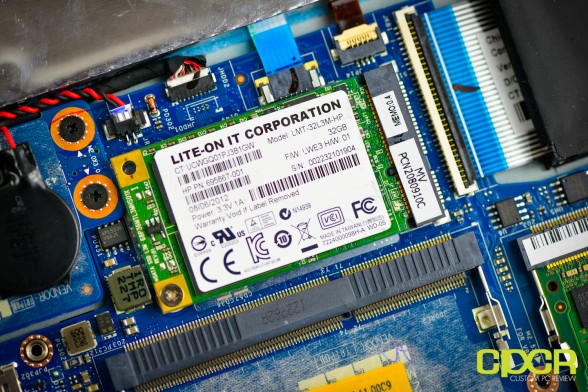 Attached to one of the mSATA slots onboard, we get a LITE-ON LMT-32L3M-HP 32GB MLC SSD. HP is using this SSD as a caching solution for the hard drive. This allows the notebook to achieve SSD-like speeds without the cost and capacity limitations of a full SSD.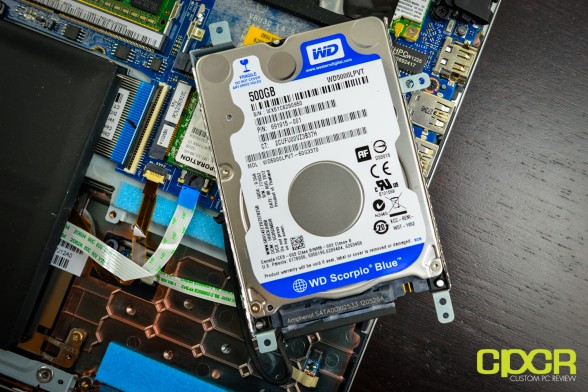 Behind the SSD is a 500GB WD Scorpio Blue 5,400RPM 2.5″ hard drive. Since it's a 5,400RPM hard drive, it's quite slow; however, with the 32GB SSD cache, the ENVY 4 TouchSmart for the most part doesn't feel like it has a 5,400RPM drive at all.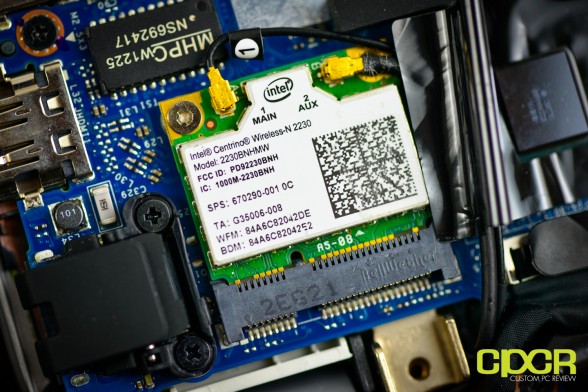 Here's a look at the onboard wireless card. We get an Intel Centrino Wireless N 2230 which features Wireless B/G/N and Bluetooth 4.0.
HP ENVY TouchSmart 4 Initial Boot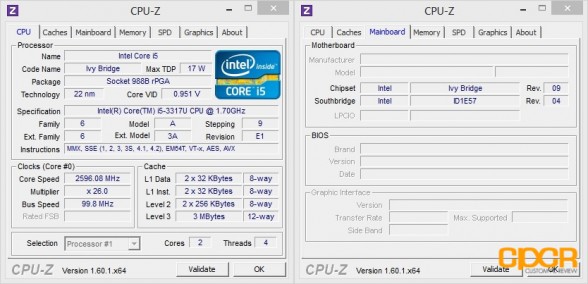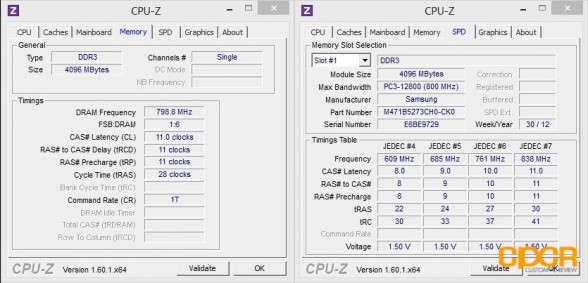 Here's a look at the CPU, motherboard and memory configuration. The CPU is a 17W TDP Intel Core i5 3317U dual core, Hyper Threading enabled processor with a stock clock of 1.7GHz and a turbo clock of 2.6GHz. The motherboard on this notebook is an Intel HM77 based motherboard with a very neutered custom HP UEFI BIOS. The memory included with our sample is a single stick of Samsung 4GB DDR3 1600MHz CAS 10 memory.
It's also important that you update the UEFI BIOS to the latest version as well. Our unit shipped with an older UEFI BIOS which provided slightly slower performance than the latest version. HP has an update utility pre-installed, but updates may also be downloaded via HP's support website as well.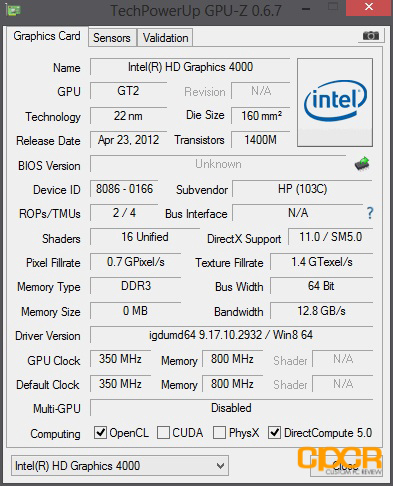 Since the ENVY 4 TouchSmart isn't a gamer oriented Ultrabook, we get the usual integrated Intel HD 4000 graphics.
HP ENVY TouchSmart 4 CPU Performance
SuperPi 32M
SuperPi is a single threaded benchmarking tool which for our purposes simply calculates pi for us and records the time to calculate 32 million digits after the decimal point.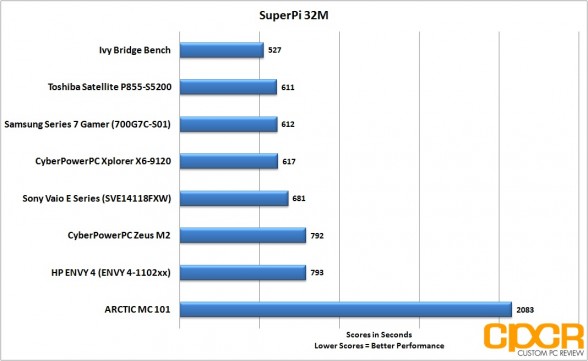 WPrime 32M
WPrime is a multi-threaded benchmarking tool which for our purposes simply calculates pi for us and records the time to calculate 32 million digits after the decimal point.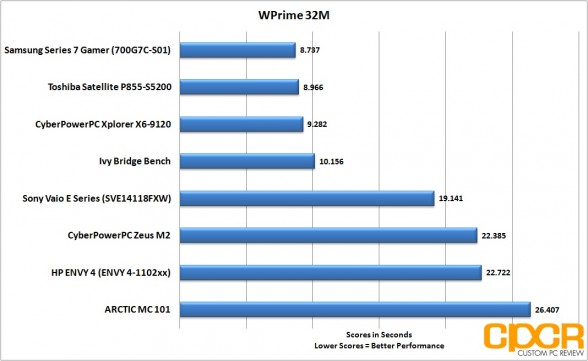 x264 HD Video Benchmark v5.0.1
x264 HD video benchmark tests how fast the system can encode a 1080p video into a high quality x264 video file. The most recent 5.0.1 release includes a more advanced benchmark script to better stress test newer multi-core processors.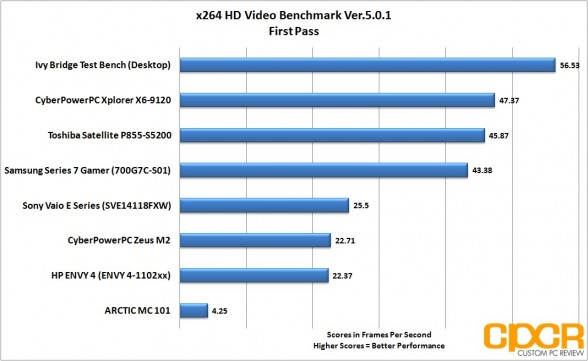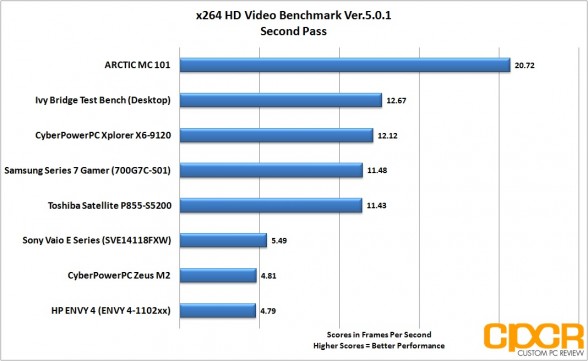 Cinebench v11.5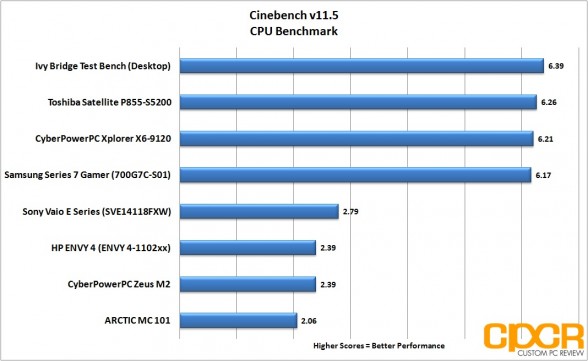 Performance Analysis
Previously, we've had some experience with the Intel Core i5 3317U in the CyberPowerPC Zeus M2, which is why the performance of the ENVY 4 TouchSmart so closely resembles that of the CyberPowerPC Zeus M2. The Zeus M2 does come out slightly on top in terms of performance here simply because it's a better spec'd system with more memory.As far as the performance on the Intel Core i5 3317U, it's fairly poor as it's still limited to a 17W TDP, but should suffice for most office and productivity applications.
HP ENVY TouchSmart 4 Performance
System Performance
PC Mark 7
PC Mark 7 is a full system benchmark designed to test real world system performance.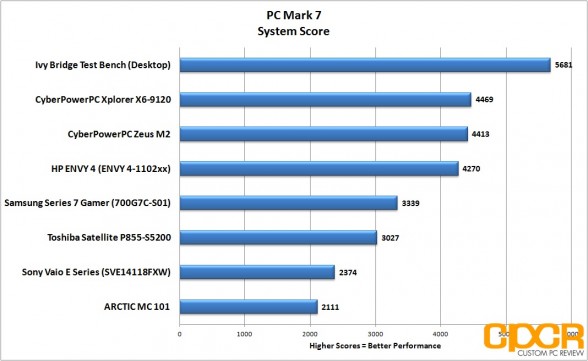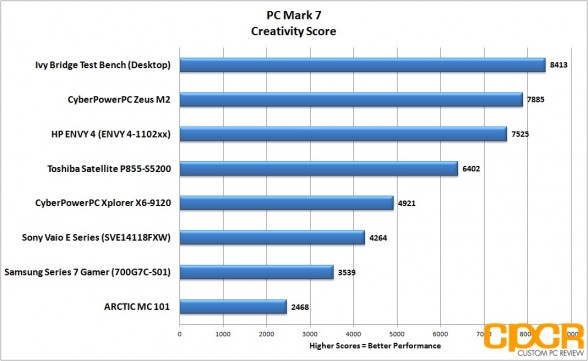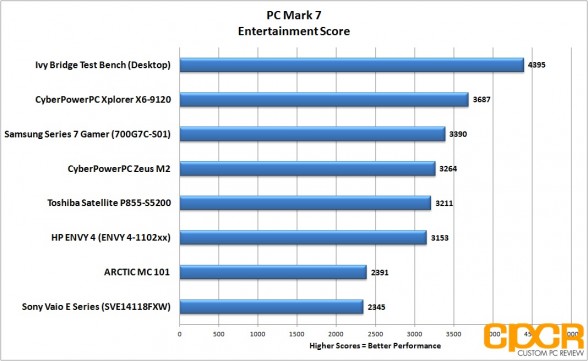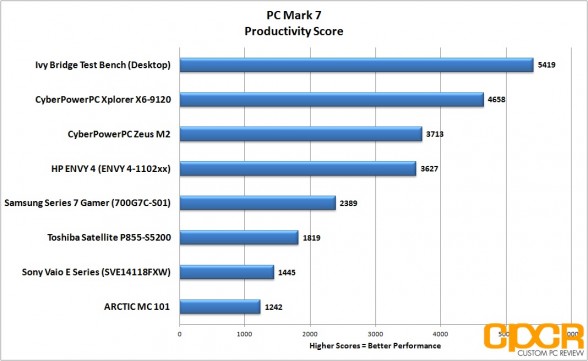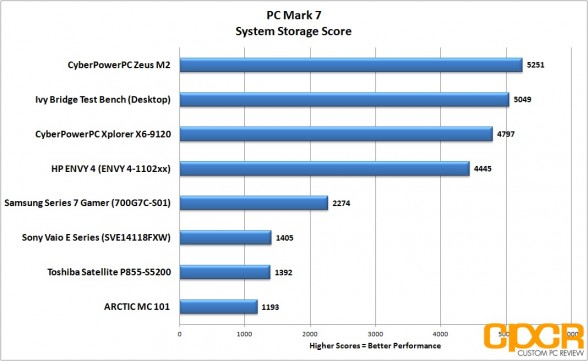 Performance Analysis
Overall the HP ENVY 4 TouchSmart does quite well in our PC Mark 7 testing as PC Mark 7 weighs quite heavily on system storage and the SSD cache does a lot to improve performance in this regard. However, we can see that the CyberPowerPC Zeus M2 still comes out on top as the SSD cache + HDD still isn't quite up to par in terms of performance as a full on SSD.
Graphics Performance
3D Mark 11
3D Mark 11 is an extremely popular benchmark designed by Futuremark for the sole purpose of stress testing a system's graphics performance. Trusted by hardware enthusiasts and gamers world wide, 3D Mark 11 uses the latest features of DX11 to stress test graphics performance with consistent loads which simulate in game performance.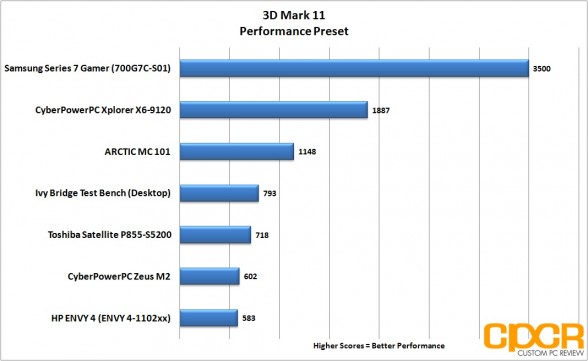 3D Mark (Cloud Gate)
3D Mark is Futuremark's latest benchmark utility used widely by gamers, enthusiasts, and overclockers to benchmark system performance and stability under consistent graphics loads. Since this benchmark is very, very new we don't have a huge database of benchmark scores yet, but we'll be using the new 3D Mark from here on out for future testing.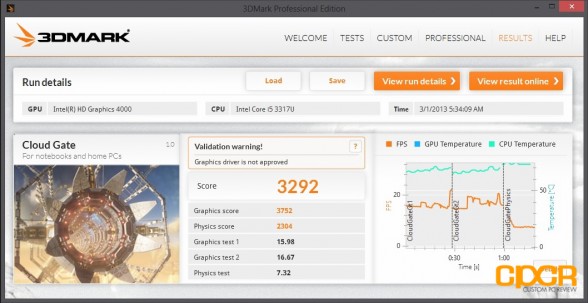 Performance Analysis
Since the ENVY 4 TouchSmart is running off Intel HD 4000 integrated graphics, we won't really be recommending the notebook for gamers looking to play any sort of graphically intensive games.
HP ENVY TouchSmart 4 Performance
Disk Performance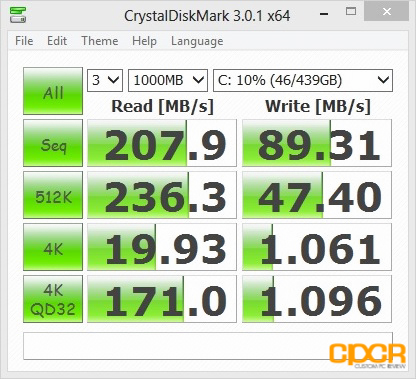 Disk performance on the ENVY 4 TouchSmart is interesting as the performance here doesn't quite cut it as a full SSD, but the performance is significantly better than what you'd normally find on a traditional HDD. This is because the ENVY 4 TouchSmart uses a 32GB SSD cache to help accelerate the slow 500GB 5,400RPM hard drive by caching the most commonly used files.
The most important aspect here is the fact that the SSD cache is able to accelerate 4K reads quite well. This allows for more responsive OS performance during typical use.
USB 3.0 Performance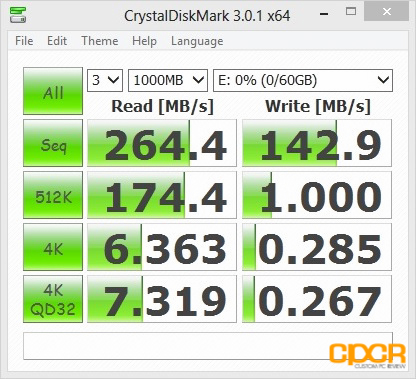 Here's a look at USB 3.0 performance with the Kingston HyperX USB 3.0 flash drive. Since these are native Intel USB 3.0 ports, performance here is about the same as other Ivy Bridge based notebooks on the market.
HP ENVY TouchSmart 4 Power Consumption
Here we'll be testing the maximum power consumption of each of the test systems shown below. Idle power consumption is taken after the notebook is left idle for a minimum of 5 minutes. For load power consumption numbers, both Prime95 and Furmark are run simultaneously for a minimum of 5 minutes before the final results are taken. If possible, the battery is removed for a more accurate reading of power consumption. Power consumption readings are taken using a Extech 380801 Power Analyzer connected via a Tripp-Lite LCR2400 Line Conditioner.
For our testing below, the notebooks are set to "balanced" power mode with the screens at 200 nits of brightness. The ARCTIC MC101 and the Ivy Bridge Bench are not notebooks and have been included for reference purposes only.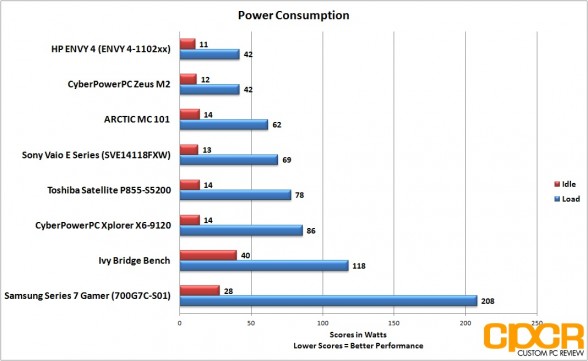 One of the benefits of having an Ultrabook is the low wattage processor, and since the Core i5 3317U on the ENVY 4 TouchSmart is rated at only 17W, it has the lowest power draw of any notebook we've tested to date. That said, our testing protocol calls for the notebooks to be tested at 200 nits of brightness and the ENVY 4 TouchSmart tops out at only 132 nits of brightness.
Powermark Professional Edition v1.1.1
Powermark is a benchmark utility developed by developers behind both 3D Mark as well as PC Mark. This benchmark is designed to test real world battery life in a variety of situations such as web browsing or gaming. For our testing today, the system power setting is set to "balanced", the screen is set to 100 nits of brightness, and the wireless is switched on.
Light Load
The productivity test includes the web browsing and word processing workloads, simulating a typical work use scenario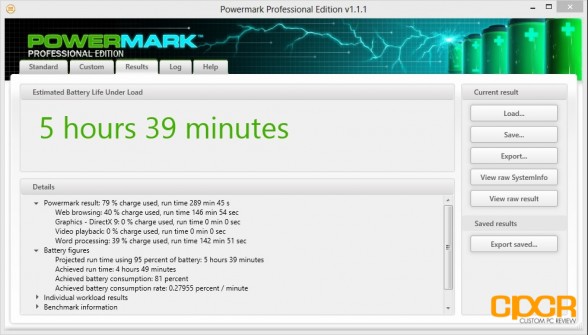 Medium Load
The balanced test uses an even split between the web browsing, word processing, video and gaming workloads.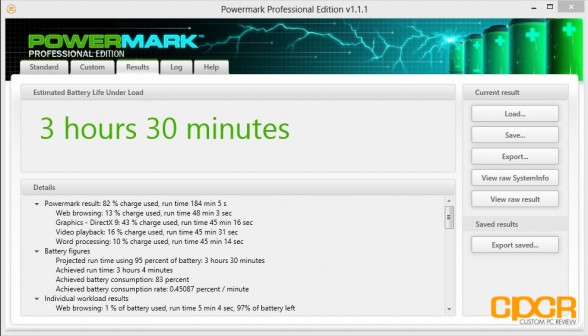 Heavy Load
The entertainment test includes the video and gaming workloads, simulating a typical recreational use scenario.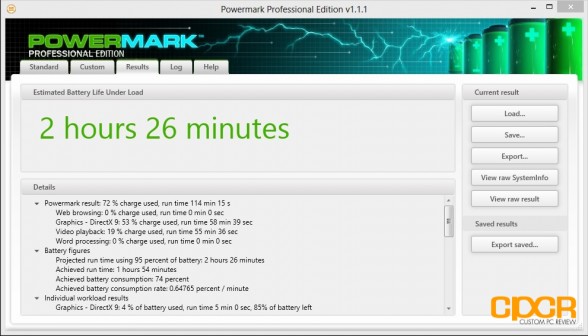 Given the low TDP of the ENVY 4 TouchSmart, battery life on the Ultrabook is fantastic with it being able to stay alive for a whopping 5 hours and 39 minutes under light load, the typical usage scenario for this notebook. Under heavy use, the notebook is still capable of about 2 hours and 26 minutes, which will be enough to watch an HD movies on the go.
HP ENVY TouchSmart 4 Temperature and Noise
Temperature testing is conducted by simultaneously running Prime 95 and Furmark in order to generate the maximum amount of heat possible. Temperatures are taken after a minimum of 20 minutes of testing.
Ambient Temperature – 23.2°C (Taken via Extech EA10 dual probe thermometer)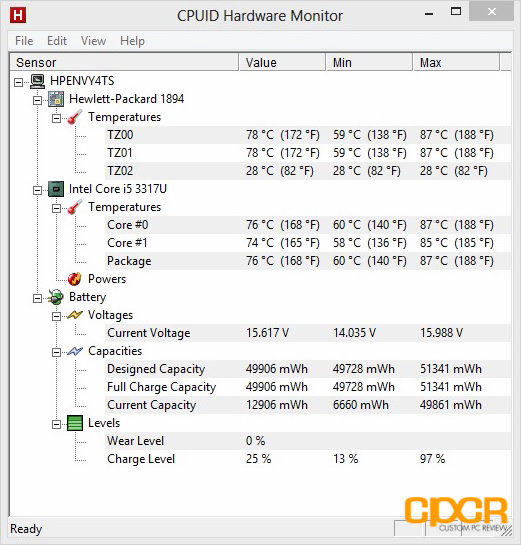 Despite the low wattage CPU onboard, the ENVY 4 TouchSmart reaches a very warm 87°C under full load. Since mobile processors are generally designed to run warmer than their desktop counterparts, there isn't much concern here.
That said, the main reason for why the system runs a bit warm though is that HP is trying to keep fan speeds low on the ENVY 4 TouchSmart, which means it's fairly quiet even under full load.
HP ENVY TouchSmart 4 LCD Testing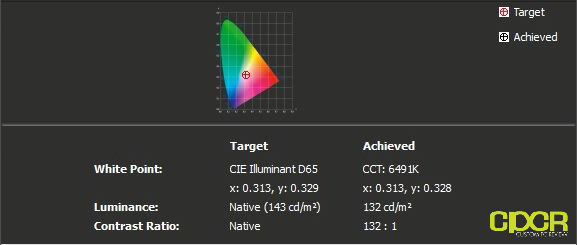 Here I've calibrated the screen based on its native specs. Unfortunately, the screen is quite poor with a maximum brightness of only 132 nits and a contrast ratio of 132.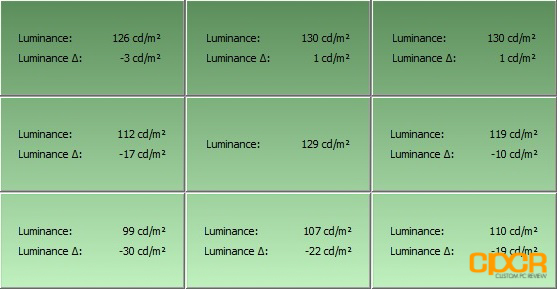 Here's a look at the screen's backlight uniformity. Overall the bottom of the screen looks like it's a bit darker than the top, but the screen is fairly uniform for the most part.
Viewing Angles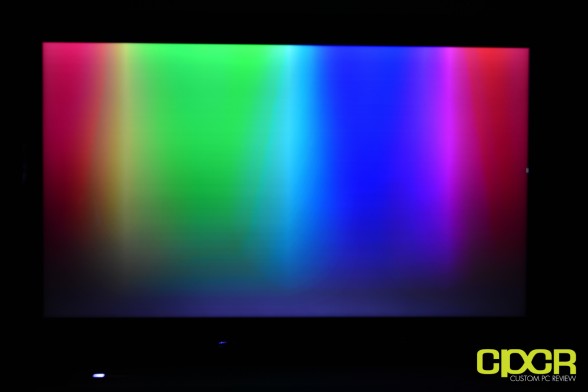 Let's take a look at the screen at the optimum viewing angle – front and center. When in a dark room, the screen looks poor even for a TN panel. Colors are washed out, the screen doesn't go very bright at all and there's glare even from the faintest light sources behind you.
Horizontal viewing angles aren't very good. Colors are washed out, the contrast ratio is terrible, and despite taking these pictures in a pitch black room, the backlit keyboard reflects off the panel.
Vertical viewing angles bad as well. None of the colors look like they should and the entire screen is washed out.
HP ENVY TouchSmart 4 Conclusions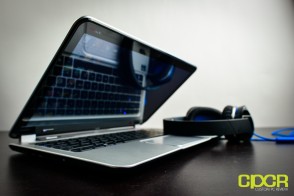 Overall performance on the HP ENVY TouchSmart 4 is decent for its purposes, but it's definitely lacking some horsepower for those looking to use it for more CPU/GPU intensive applications such as gaming or video editing. For its intended purpose of word processing and internet browsing however, I think the ENVY TouchSmart 4 will do quite well. HP does have multiple configurations of the ENVY TouchSmart 4; however, that's mostly limited to the amount of memory rather than being able to upgrade the CPU, GPU, or the storage configuration.
In terms of design and aesthetics, I think HP did a good job with the ENVY TouchSmart 4. The black brushed aluminum cover along with the silver trim looks extremely classy and the soft touch plastic at the bottom of the unit makes it comfortable to use on the lap. The touchscreen is very responsive as well, and with Windows 8, I truly think that having a touchscreen makes the whole experience just that much better. Additionally for those comfortable repairing and upgrading laptops, HP has made the ENVY TouchSmart 4 one of the easiest Ultrabooks to work on so upgrading memory, replacing the battery, replacing the hard drive, etc. can be done quite easily.
Beats by Dre speaker performance on the ENVY TouchSmart 4 was decent as well with these speakers outperforming what we'd generally find on Ultrabooks. While the speakers can't compare to a dedicated speaker or a pair of headphones, they get the job done in a pinch and are comparable to speakers on much larger 15″ or 17″ entertainment oriented notebooks. Battery performance was quite good too with the notebook pushing 5 hours and 39 minutes on the light load battery testing, which should be good for a day's worth of work.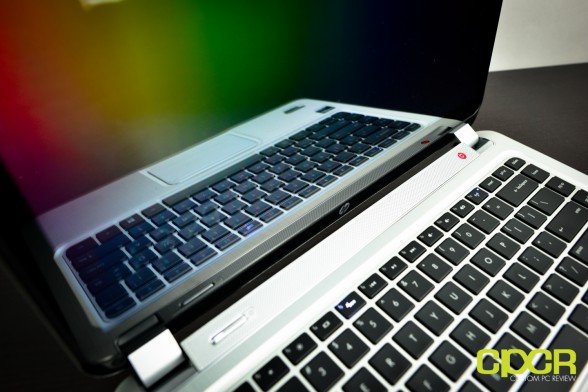 While HP did a lot of things right with the ENVY TouchSmart 4, one thing I found extremely wrong was the screen. At maximum brightness, I tested the screen at only 132 nits, which I think is only acceptable for use in dimly lit rooms. The dim screen in addition to the high gloss glass in front of the screen makes the ENVY 4 TouchSmart very, very uncomfortable to use in brightly lit rooms and outdoors. Additionally, because of the poor color range and poor contrast ratio, those looking for an ultraportable primarily for photo editing may want to look elsewhere too.
Unfortunately, our particular sample of the ENVY 4 TouchSmart is already out of date and a new revision of the ENVY 4 TouchSmart is already available at HP's website. Pricing on the comparable and updated version of our HP ENVY TouchSmart 4 sample is about $894.99, but HP included Windows 8 Professional with our sample, which includes a number of features such as Windows Server domain support, file system encryption, Hyper-V, etc. that's pretty useless for non business users. By changing the configuration from Windows 8 Professional to Windows 8, the price drops $70 to only $824.99, which I think isn't too bad. HP also runs promotions from time to time as well, which could make the ENVY 4 TouchSmart a bargain depending on what kind of discount is offered.
The HP ENVY 4 TouchSmart has got great battery life and has more than enough horsepower for general web browsing, word processing, HD video playback, etc. As long as the poor screen performance isn't much of a problem for you, the ENVY 4 TouchSmart is still a great Ultrabook at a reasonable price.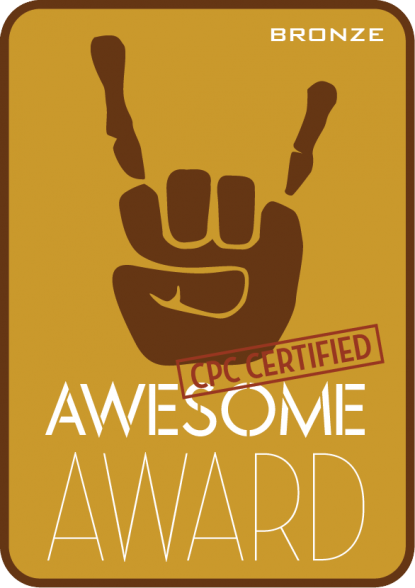 Sample provided by: HP
Available at: HP