CyberPowerPC Zeus-M2 Ultrabook Review
Sleek Design, Good Performance, Reasonable Price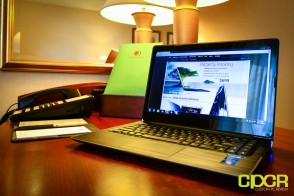 Ever since Intel's Ultrabook push in late 2011, Ultrabooks have become quite popular in the notebook market and today we'll be taking a look at the newest offerings from our friends over at CyberPowerPC. Now, since this is our first Ivy Bridge Ultrabook review, let's first discuss what an Ultrabook is and what can be called an Ultrabook.
The first Ultrabooks that were released in 2011 prior to the release of Ivy Bridge CPUs had their own set of Ultrabook specifications, but with the release of Intel's Ivy Bridge processors (sometime during Computex 2012 in June), Intel also released a new set of requirements manufacturers had to meet in order to call their product an "Ultrabook". Let's take a look at this set of requirements…
Intel Core Family Processor – Obviously…
Thin – 18mm thick or less with displays of 14″ or less and 21mm thick or less with displays of 14″ or more.
Long Battery Life – Minimum 5 hour battery life
Responsive – S4 sleep to wake in 7 seconds or less
Secure – Must include Intel's Anti-Theft technology and Intel Identity Protection technology
Fast I/O – Ivy Bridge (3rd Generation Intel Core Processor) Must have USB 3 or Thunderbolt technology
This then leads us into the topic for our review today, the CyberPowerPC Zeus-M2 Ultrabook. Recently unveiled only about a couple months ago, the Zeus-M series Ultrabooks is CyberPowerPC's first entry into the Ultrabook segment. Currently, CyberPowerPC is offering the Zeus-M Series Ultrabooks in three flavors – the Zeus-M, Zeus-M2, and the Zeus-M3. The difference between the three? The amount of onboard memory and the capacity of the SSD.
Zeus-M2 Specifications
| | |
| --- | --- |
| Manufacturer | CyberPowerPC |
| Model | Zeus-M2 Ultrabook |
| CPU | Intel Core i5-3317U Ivy Bridge Dual Core Processor – Integrated on MB 17W |
| Motherboard | Mobile Intel®HM77 Chipset |
| Memory | 16GB (8GBx2) DDR3-1600 Corsair Vengeance SODIMM Memory |
| Graphics | Intel HD 4000 Integrated |
| Storage | 120GB Intel 520 SSD |
| Optical Drive | N/A |
| Display | 14.1″ 1366×768 LED Backlit Display |
| Sound | Built-in two stereo speaker with chamber |
| Networking | Built-in 10/100/1000 Mbps + Wireless b/g/n + Bluetooth v3.0 |
| Keyboard | Built-in Frame Keyboard |
| Mouse | Built-in Multi-gesture Touchpad |
| Battery | 8 Cell Li-Ion Polymer Battery 3320mAh |
| Webcam | Built-in 1.3 Mega Pixel Webcam |
| I/O | HDMI, 2x USB 3.0, 1x USB 2.0, Ethernet, Multi-card Reader, 3.5mm Headphone/Microphone Combo Jack, Kensington Lock |
| Operating System | Microsoft® Windows 7 Home Premium (64-bit Edition) |
| Dimensions | 13.15″ x 9.25″ x ~0.704″ (344mm x 235mm x 17.9mm) |
| Weight | < 3.97 lbs (< 1.8kg) |
| Warranty | 1-Year Limited Warranty with Lifetime Technical Support |
As we can see from the specifications here, the specific laptop we'll be taking a look at today is the Zeus-M2, which contains an i5-3317U, 16GB of DDR3 memory, and a 120GB Intel 520 SSD.
**Update 11/26/12**
Per reader request, I've acquired a small food scale in order to accurately measure notebook weight. The Zeus-M2 as reviewed here weighs in at 3.41 lbs.