SanDisk Extreme Portable SSD Review
Ruggedized Portable SSD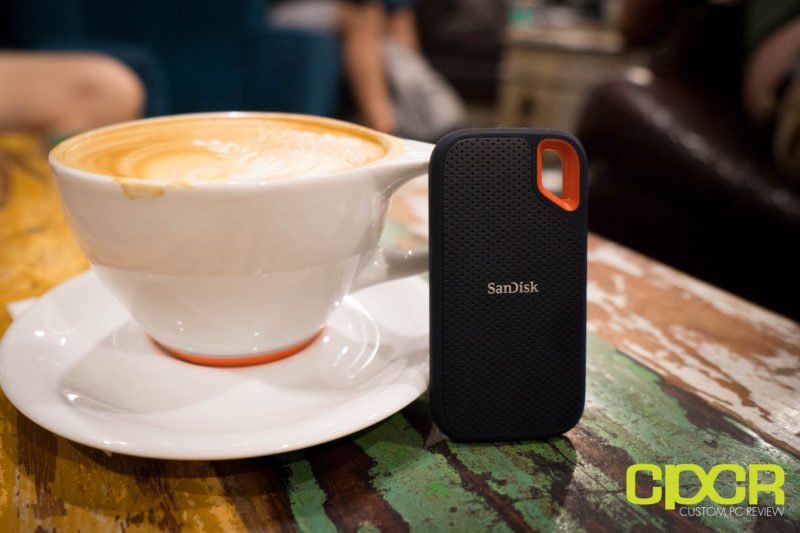 If you need more storage capacity than a flash drive, but you also need more speed, portability and durability than an external hard drive, the easy solution is to pickup an external SSD. One of the top manufacturers of external SSDs is SanDisk, which recently launched their new SanDisk Extreme Portable SSD which we have in for review today.
The new SanDisk Extreme Portable SSD is designed for those who need fast, high capacity storage, yet also want something rugged to travel with. The Extreme Portable SSD features SanDisk's latest 3D BiCS NAND technology which greatly increases capacity of the drive up to 2TB yet still allows it to maintain a compact form factor that'll fit in the palm of your hand. Let's take a closer look.
SanDisk Extreme Portable SSD Specifications
| | |
| --- | --- |
| Manufacturer | SanDisk |
| Model | Extreme Portable SSD |
| Capacity | 250GB, 500GB, 1TB, 2TB |
| Interface | Type-C USB 3.1 (Gen 2), USB 3.0, USB 2.0 |
| Transfer Speed | Up to 550MB/s |
| Encryption | N/A |
| Dimensions | 8.85 mm x 49.55 mm x 96.20 mm |
| Weight | 38.9 g |
| Warranty | 3 Year Limited |
The SanDisk Extreme Portable SSD sports both the older USB Type-A and USB Type-C connectors operating on the USB 3.1 Gen 2 interface. The drive features transfer speeds up to 550 MB/s, suggesting that the internal drive used here is an mSATA based SSD.
What's unique about the SanDisk Extreme Portable SSD is that it's designed for more "extreme" environments. According to the drive specifications, it sports an IP55 dust and water protection rating, 1500 G shock rating, 5 gRMS vibration rating, and operational temperatures between 32 to 113 degrees. The drive also sports a three year warranty and pricing starts at $99.99 for the 250GB base model.
A Closer Look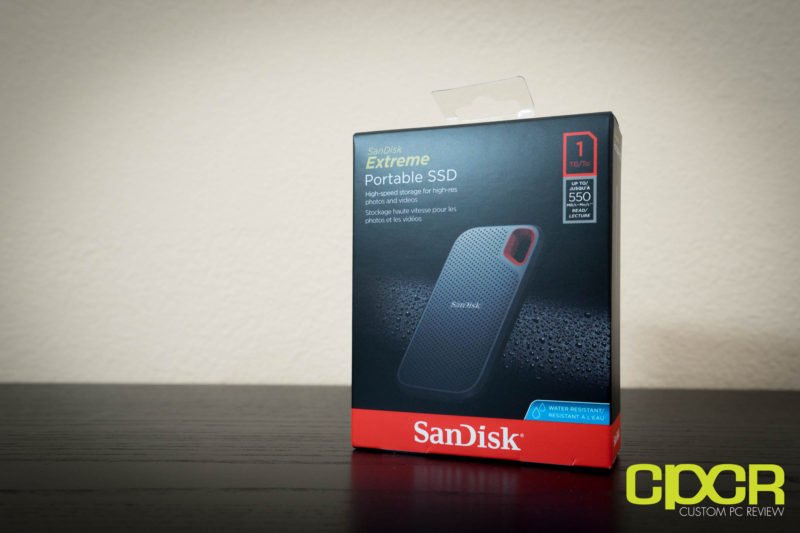 Here's a look at the packaging for the SanDisk Extreme Portable SSD 1TB.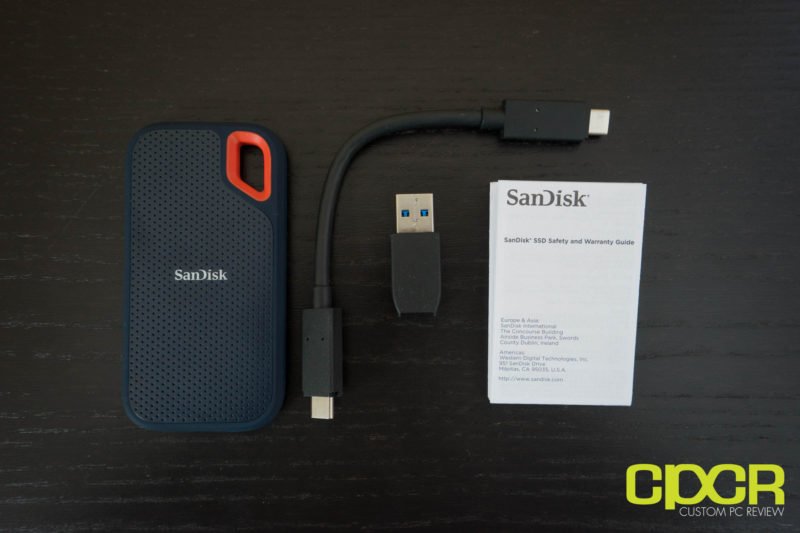 Included in the packaging is a quick start guide, the SanDisk Extreme Portable SSD, a USB Type-C to USB Type-C cable, and a USB Type-C to USB Type-A adapter.
Here's a look at the SanDisk Extreme Pro SSD 1TB. It's a relatively small device measuring under 10mm thin and palmable in your hand. It's also extremely light weighing in at just 38.9 g. The entire exterior of the unit is covered in a rubberized material to protect against shock and the sides are wrapped in hard plastic.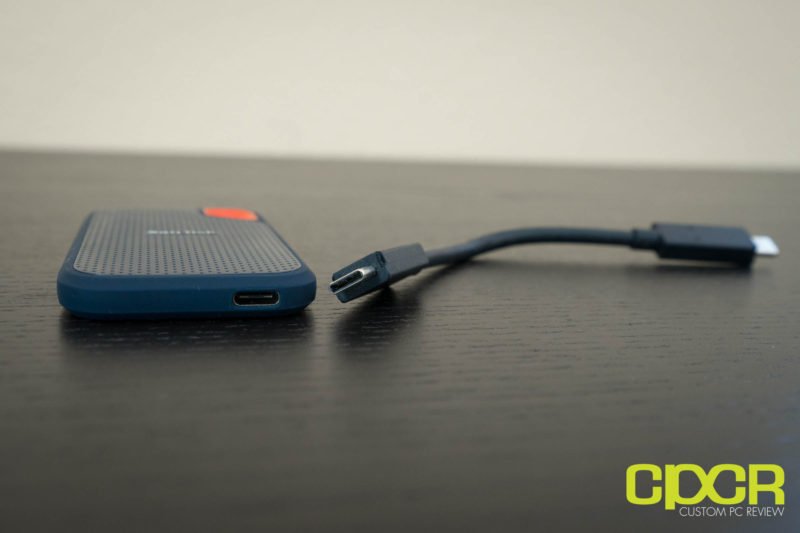 There's only a single I/O port on the SanDisk Extreme Portable SSD, which is the USB Type-C port at the bottom of the drive. For a drive marketed as ruggedized, I do however wish the port were covered to prevent water, dust, dirt, etc. from entering.
Performance
SanDisk Extreme Portable SSD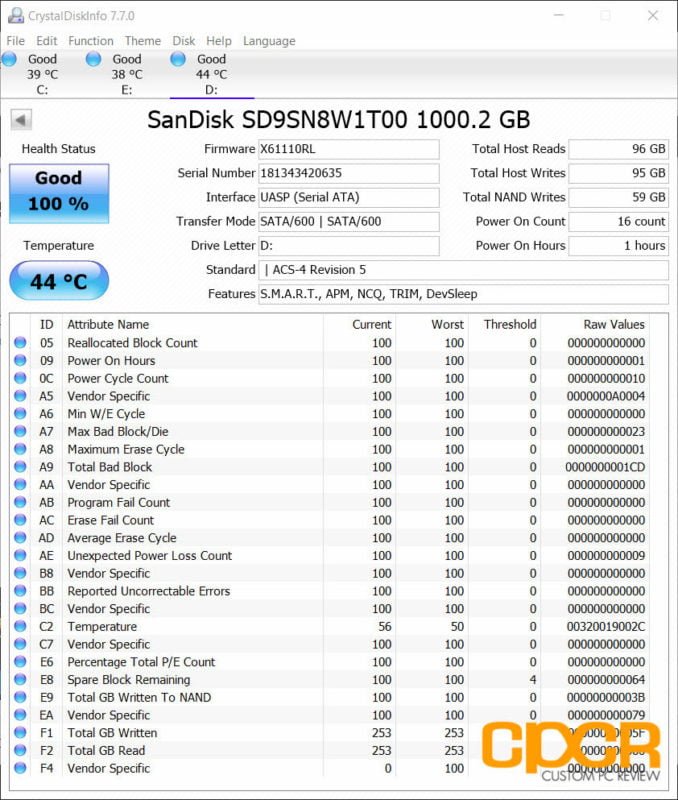 Today we'll be testing the SanDisk Extreme Portable SSD 1TB running firmware X61110RL.
ATTO Disk Benchmark v2.46
ATTO Disk Benchmark is one of the industry's oldest and most popular benchmarks for testing disk read/write speeds. This benchmark allows read and write testing using predefined block sizes and gives us a good idea of read/write speeds with different sized files. Most SSD manufacturers prefer using this benchmark when advertising SSDs as it tests using compressible data, which tends to yield best performance.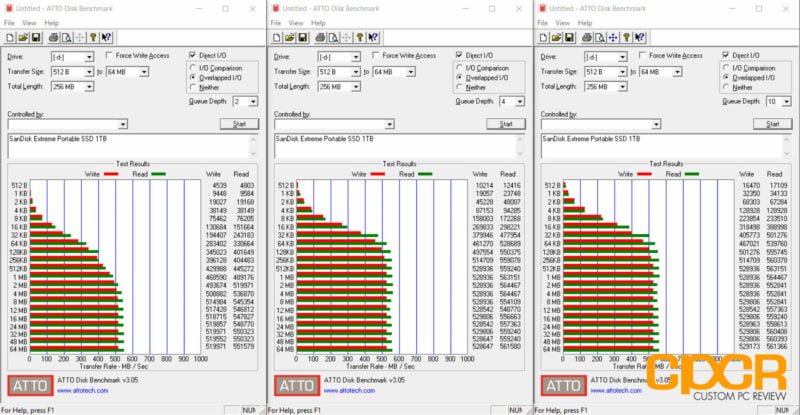 Crystal Disk Mark 5.1.2 x64
Crystal Disk Mark is another popular benchmark which allows us to measure sequential read/write speeds, 512K random read/write speeds, 4K random read/write speeds, and 4K QD32 random read/write speeds. With this benchmark, tests can be run using both random fill (incompressible data) and 0 fill (compressible data). Realistically in typical computer usage scenarios, data being transferred will consist of a mixture of both incompressible and compressible data.
Blackmagic Design Disk Speed Test
Blackmagic Design Disk Speed Test is a MacOS benchmarking utility for testing disk speeds for use with Blackmagic Design video production software. The benchmarking utility provides an easy to read interface that tells users which video formats can be supported based on the drive's performance and provides quick and easy information on the disk's read and write performance.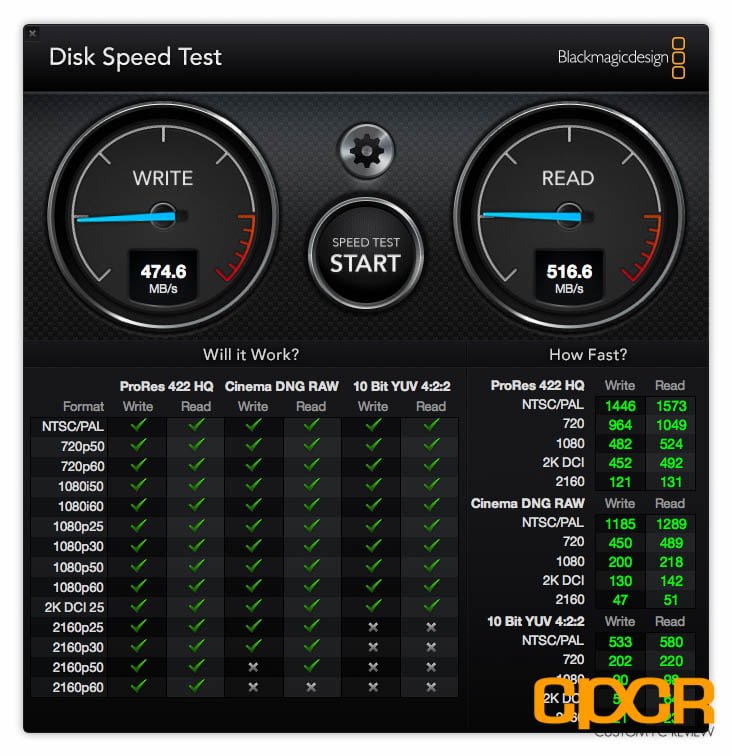 Real World Testing
Since it's difficult to translate what 450 MB/s, 250 MB/s, 120 MB/s, etc. means in minutes and seconds in real world applications, we've also prepared several real world testing scenarios transferring files to and from the drive, and recording the amount of time necessary to complete the operations.
In this test, we'll be transferring four different sets of files:
ISO – Single 1x Windows 7 x64 ISO totaling 2.2GB
Music – 1,007x MP3's totaling 5.0GB
Photo – 443x Sony ARW RAW pictures totaling 10.0GB
Video – 44x x264 1080p MP4 videos totaling 12.0GB
Copy From
In our copy from test, we'll be copying our filesets one at a time from our test drives to an OCZ RevoDrive 350 to reduce any chance of the host bottlenecking performance. The OCZ RevoDrive 350 is a PCIe Gen 2 x8 SSD capable of up to 1,800 MB/s sequential reads and 1,700 MB/s sequential writes.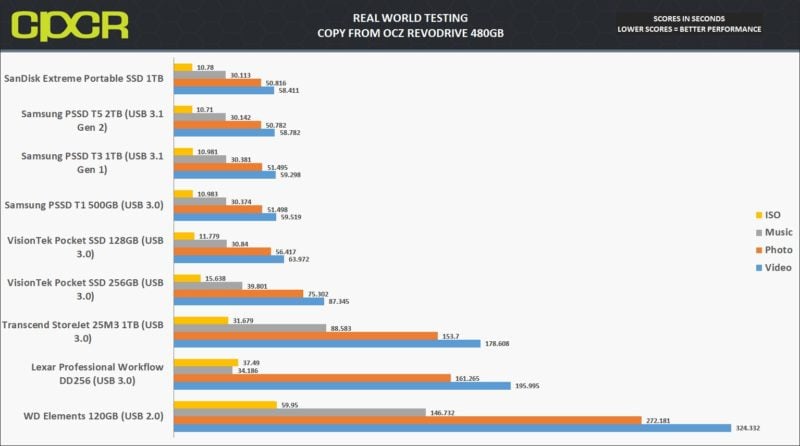 Copy To
In our copy to test, we'll be copying our filesets one at a time from the OCZ RevoDrive 350 to our test drives.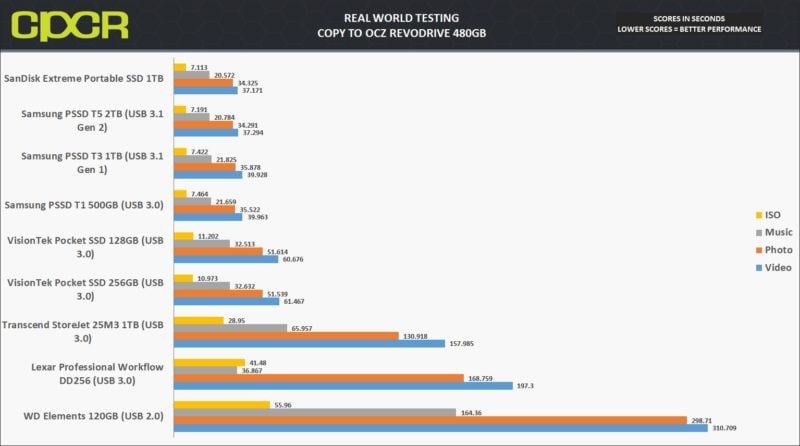 Performance Analysis
The SanDisk Extreme Portable SSD and the Samsung T5 were neck and neck as the top performers in the pack.
Software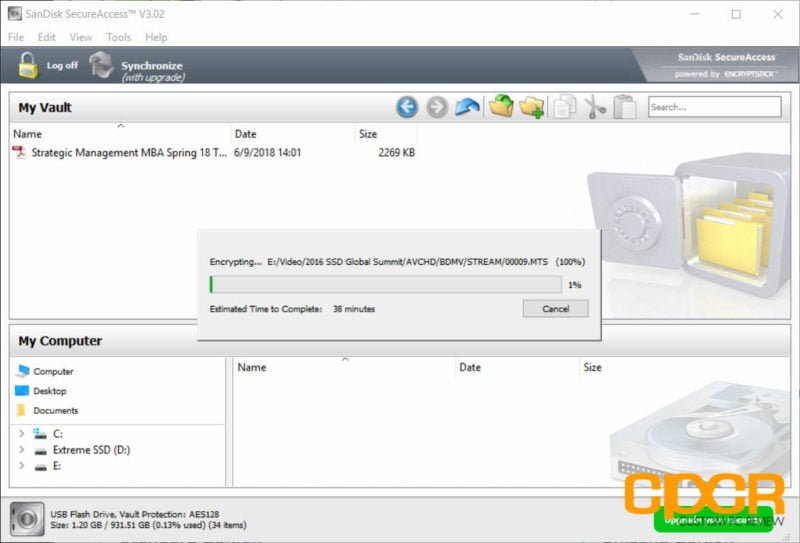 The only software SanDisk included is one called SanDisk SecureAccess which will allow you to software encrypt contents on the drive. Unfortunately as it's a software based encryption, it's slow and largely dependent on your computer's CPU performance compared to Samsung's solution which is a hardware based encryption .
Conclusions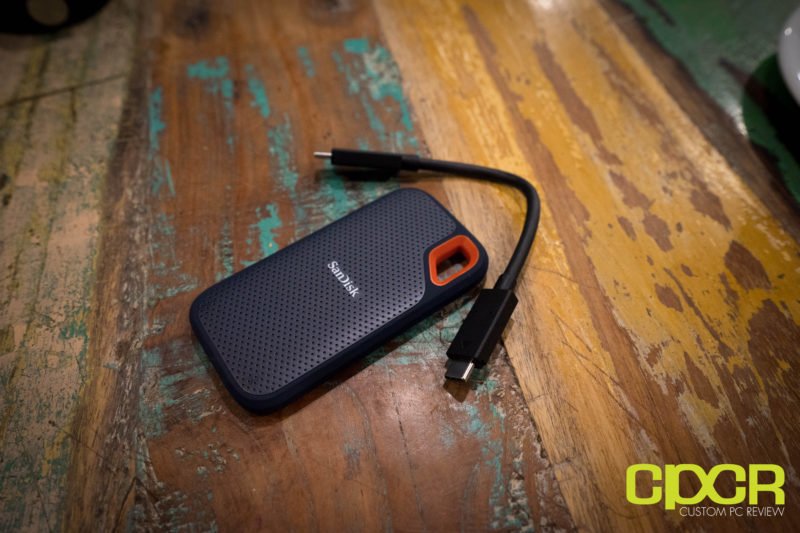 SanDisk has always been known to be one of the market leaders in portable flash drives and the SanDisk Extreme Portable SSD extends SanDisk's leadership to the portable SSD market as well. In our testing, the SanDisk Extreme Portable SSD was able to reach 550MB/s making it one of the fastest portable SSDs on the market right alongside another one of our favorites, the Samsung T5 Portable SSD, which we reviewed several weeks ago.
What really sets apart the SanDisk Extreme Portable SSD however is the ruggedized features. Frequent travelers, photographers, videographers, and all others that may be hard on their storage gear will appreciate the more ruggedized yet still perfectly compact design. That being said, SanDisk did unfortunately leave out full hardware disk encryption which I think is a critical feature especially for a drive that's designed for travelers in mind.
Manufacturer
SanDisk
Model
Extreme Portable SSD
Capacity
250GB
500GB
1TB
2TB
MSRP
$99.99
$169.99
$349.99
$599.99
Price/GB
~$0.40
~$0.34
~$0.35
~$0.30
Pricing for the SanDisk Extreme Portable SSD starts at $99.99 for the 250GB model and ranges up to $599.99 for the 2TB model. The 1TB model as reviewed today carries an MSRP of $349.99. At ~$0.30/GB to ~$0.40/GB, SanDisk's Extreme Portable SSD is priced at quite a competitive price point against the Samsung T5.
The SanDisk Extreme Portable SSD is an excellent portable SSD that's easily one of the best external drives available today. Those who need something rugged, fast, and portable, but are willing to overlook full drive encryption will find the SanDisk Extreme Portable SSD an excellent purchase!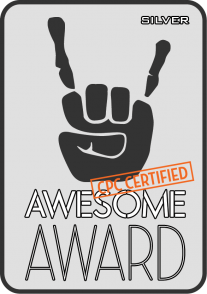 Sample provided by: SanDisk
Available at: Amazon