[section label=1. Introduction]
USB 3.0 Portable Hard Drive for $81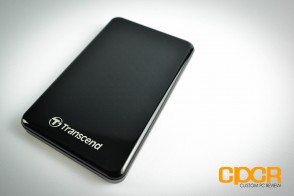 I'll be honest here. We have a love affair with solid state drives here at Custom PC Review, and as SSDs have become higher capacity and more price competitive with traditional hard drives, we've started to see increasing demand for external SSDs, especially from those who've been exposed to the benefits of SSD technology in their main desktops or notebooks.
However, let's not forget about external, portable spinning hard-drives. Having survived the days of the dreadfully slow USB 2.0 standard with its crippling performance, USB 3.0 hard-drives are finally able to take full advantage of the spinning hard drive's rated performance. With larger platter densities and lower manufacturing costs, hard-drives still win out in price to capacity – especially for those still hesitant in taking the financial leap toward SSD technology.
With all these factors in mind today we'll be doing a review on the Transcend StoreJet 25A3 1TB USB 3.0 External Hard Drive. If you follow our reviews here at Custom PC Review or have went out shopping for a memory card lately, the Transcend name should sound very familiar. The Transcend 25A3 is a variant of the StoreJet 25M3 we reviewed earlier this year, but unlike the 25M3, the 25A3 focuses on sleek elegance rather than military ruggedness. Coming in at just $81 for a whopping 1TB of storage capacity, we'll see if the new Transcend 25A3 can hold up against the competition.
Transcend StoreJet 25A3 Specifications
| | Transcend StoreJet 25A3 | Transcend StoreJet 25A3 | Transcend StoreJet 25A3 |
| --- | --- | --- | --- |
| Model # | TS500GSJ25A3K | TS750GSJ25A3K | TS1TSJ25A3K |
| Capacity | 500GB | 750GB | 1TB |
| Interface | USB 3.0 | USB 3.0 | USB 3.0 |
| Warranty | 3 Years | 3 Years | 3 Years |
| Price Check | Click Here | Click Here | Click Here |
[section label=2. A Closer Look]
A Closer Look at the Transcend StoreJet 25A3 1TB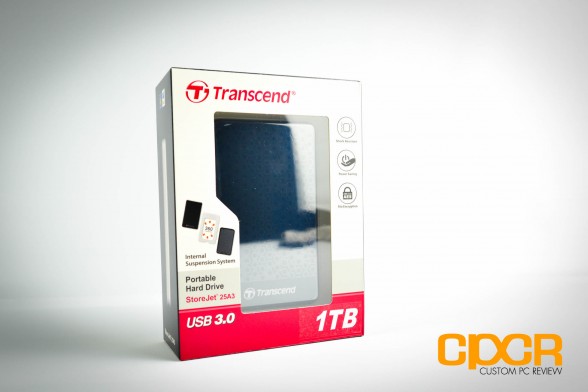 Packing for the Transcend StoreJet 25A3 1TB looks essentially the same as the one accompanying the Transcend 25M3, and comes in the same 500GB, 750GB, and 1TB flavors. However, the Transcend StoreJet 25A3 also comes in a white variant as well.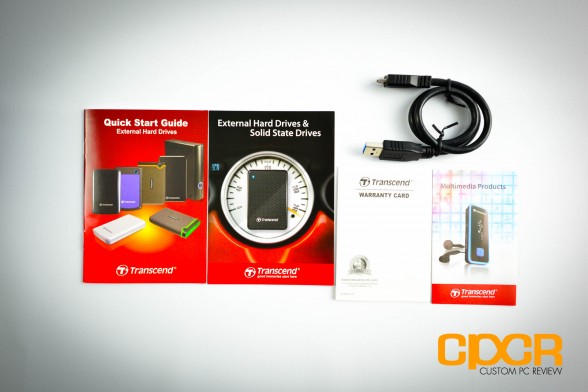 Included, we get the StoreJet 25A3 itself, a quick-start guide, warranty card, brochures of Transcend's multimedia and SSD products, and a SuperSpeed USB 3.0 micro-B cable. The micro-B is a two-pronged header that allows the Transcend 25A3 to function using a single USB 3.0 port without the need of an external power supply.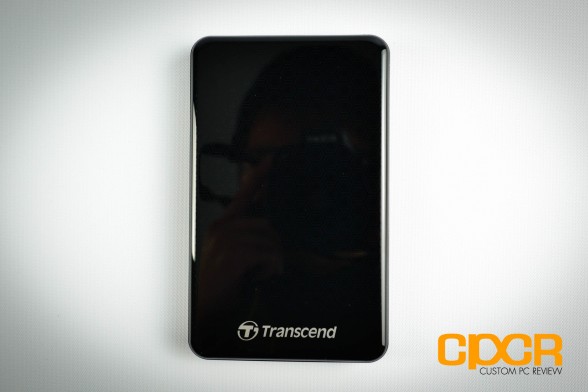 Whereas the Transcend 25M3 had a more robust rubber coated design, the StoreJet 25A3 is way more stylish. The front sports the Transcend logo on a glossy black exterior that is underlain by a honeycomb pattern.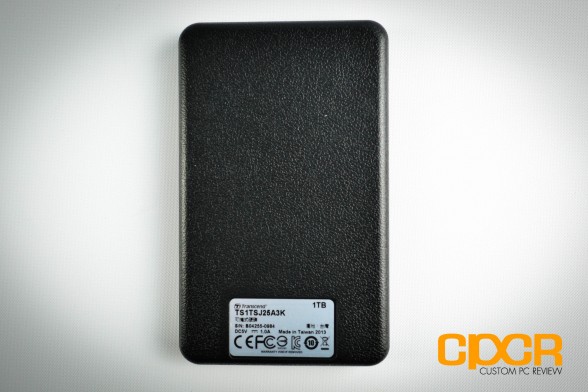 The bottom of the unit loses the glossy frame and is replaced by a normal plastic shell for added traction. We also have a small list of specs, such as the size and model number.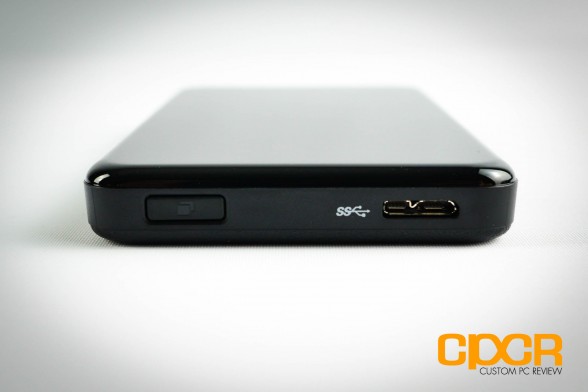 At the top of the StoreJet 25A3 is a single micro-B USB 3.0 port alongside a dedicated backup button.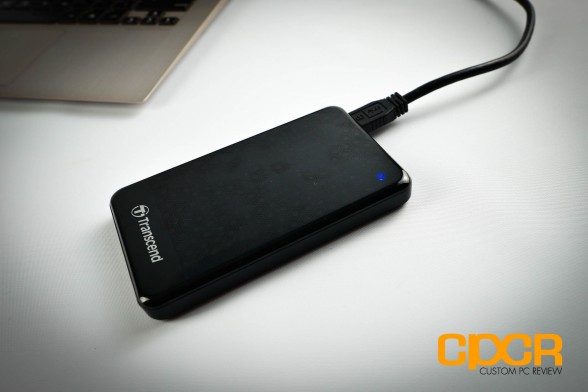 When plugged in, a blue LED light turns on at the top right of the device.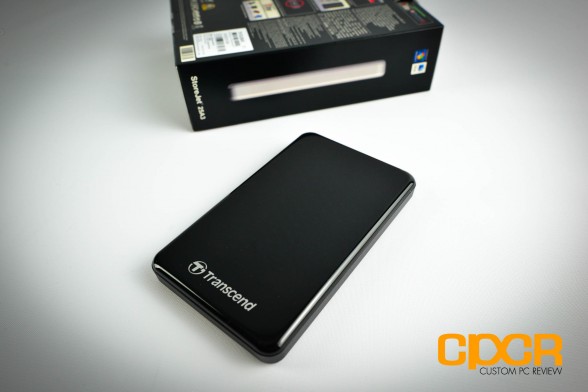 Unfortunately we were unable to open the StoreJet 25A3 without destroying the device as the enclosure seems to be held together with a series of clips. Transcend has told us that the Storejet 25A3 uses the same protection mechanism as the StoreJet 25M3. The only major difference is that the other shell isn't protected with a rubber layer.
The hard drive included in the StoreJet 25A3 is the Toshiba's 1TB MQ01ABD100 series hard-drive. We'll discuss this in a little bit.
[section label=3. Software]
Transcend StoreJet 25A3 1TB Software
Before getting to the benchmarks, let's take a look at the software. The entire suite comes pre-loaded onto the drive itself or can be downloaded from Transcend's website here.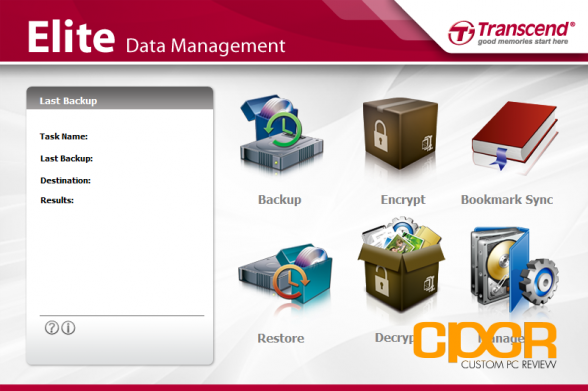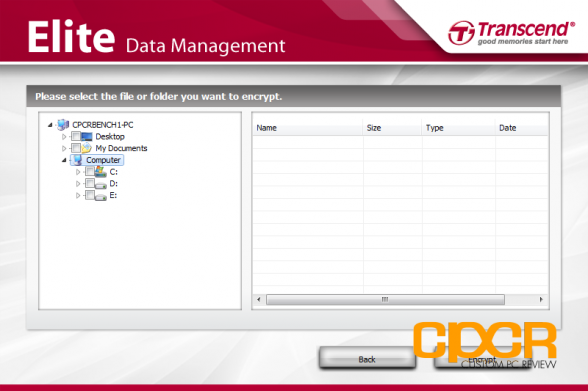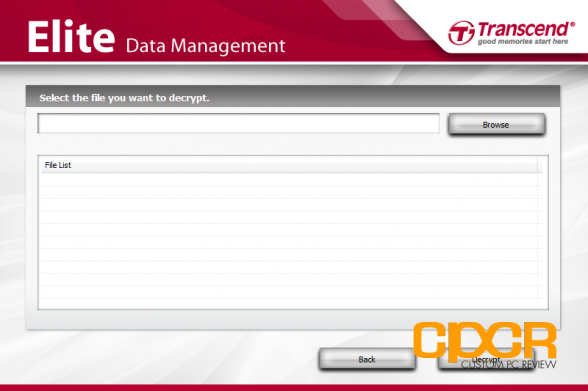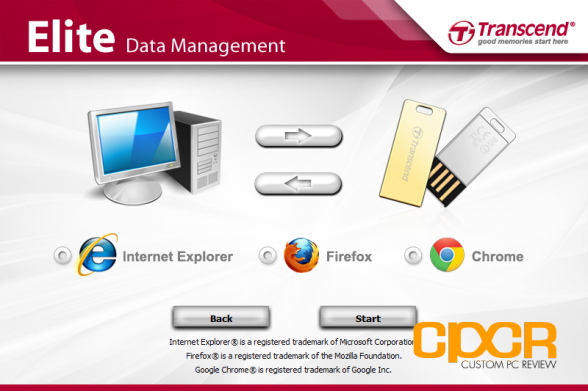 The first piece of software here is the Transcend Elite data management utility. This allows for setting up backups, encrypting and decrypting of the drive, restoring, bookmark syncing, and misc. management options.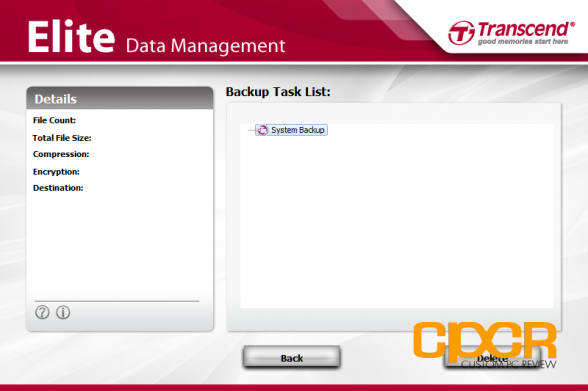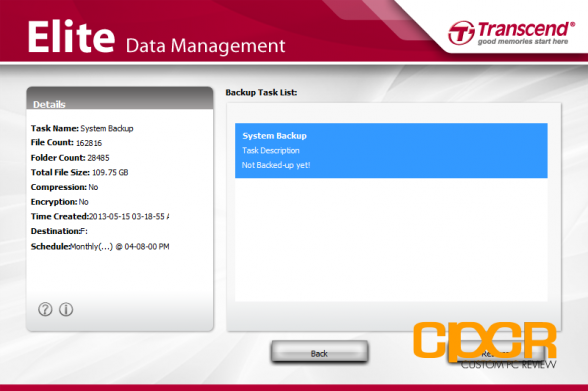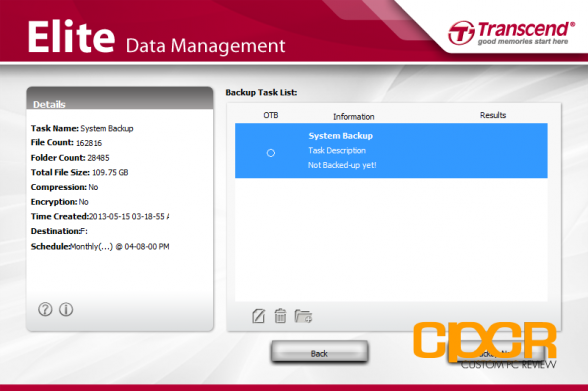 Thanks to the dedicated backup button on the drive itself, backup and restores on the Transcend StoreJet 25A3 is pretty easy once you get it setup in the software. The details are nicely laid out and a plethora of options allow for customization.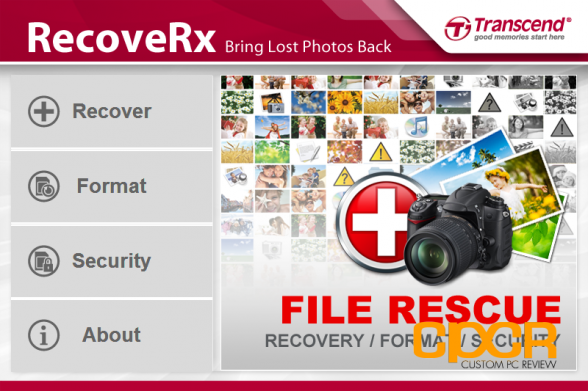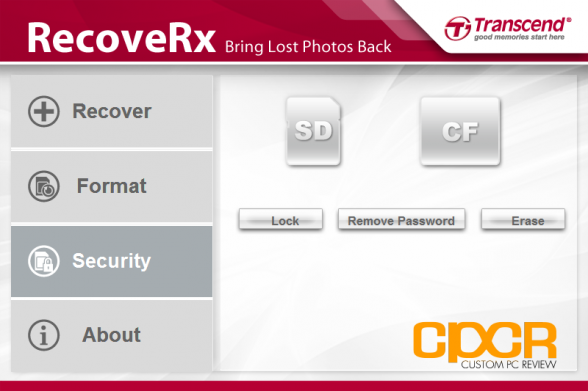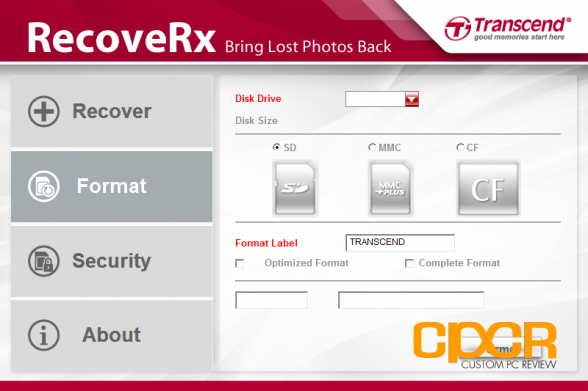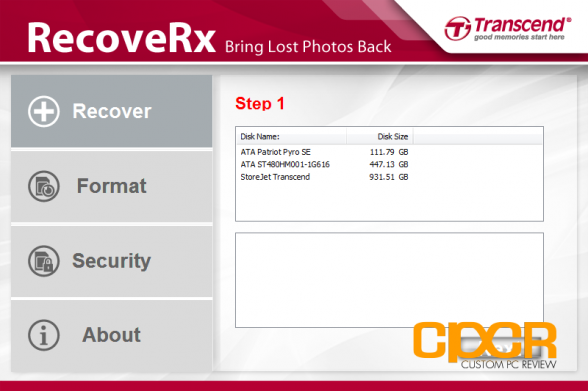 Transcend's RecoveRx data recovery software makes its return with compatibility for the StoreJet 25A3. As with the StoreJet 25M3, it does a decent job of recovering lost files. It's not the best recovery utility our there, but considering it's free there is literally no reason to complain.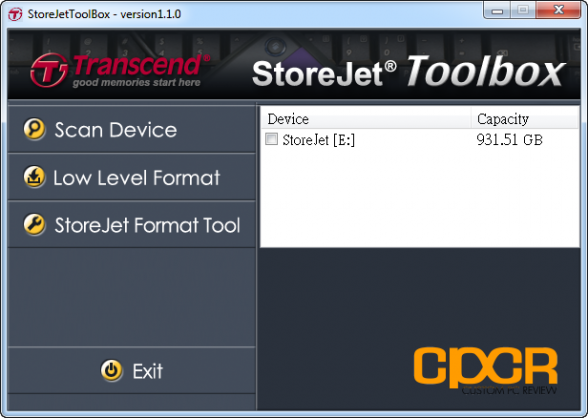 Here's a look at the StoreJet Toolbox. This application is a simple one as all is does is allow for easy formatting of the drive.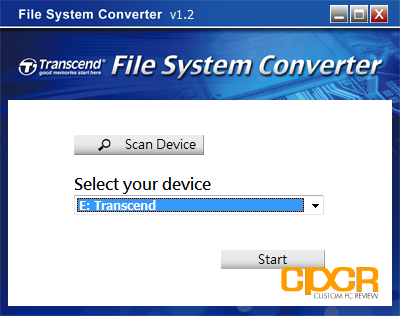 Of course, similar functions are available right through the command line of both the Windows and Mac OS, but sometimes USB devices are finicky when converting between NTFS and FAT32. For that process Transcend created a simple File System Converter utility.
[section label=4. Performance]
Haswell Test Bench
Special thanks to CyberPowerPC, Kingston, OCZ Technology and HSPC for sponsoring our test bench!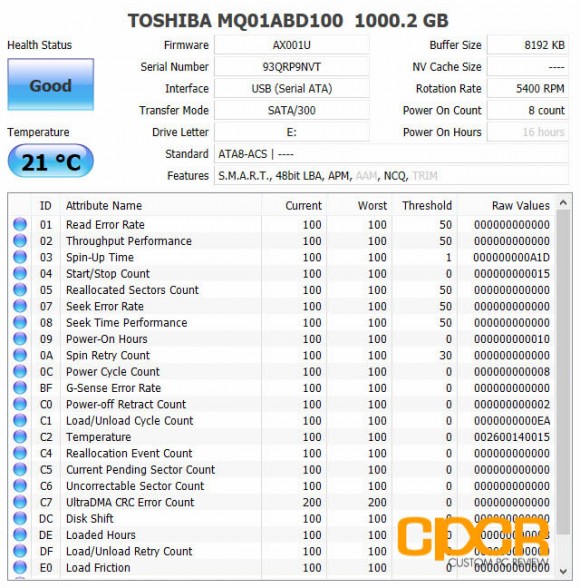 As mentioned previously, the Transcend StoreJet 25A3 uses the 1TB Toshiba MQ01ABD100, which is a 2.5″ hard-drive with a 8MB cache, running at 5400 RPM on the SATA 3Gbps interface. We wish Transcend had opted for a 7200 RPM drive instead as we can see from the cool 21°C there would have been no overheating issues despite the 25A3 using a locked enclosure; however, it may slightly drive up the cost for slightly better 4k performance.
Transcend StoreJet 25A3 1TB Performance
ATTO Disk Benchmark v2.46
ATTO Disk Benchmark is one of the industry's oldest and most popular benchmarks for testing disk read/write speeds. This benchmark allows read and write testing using predefined block sizes and gives us a good idea of read/write speeds with different sized files.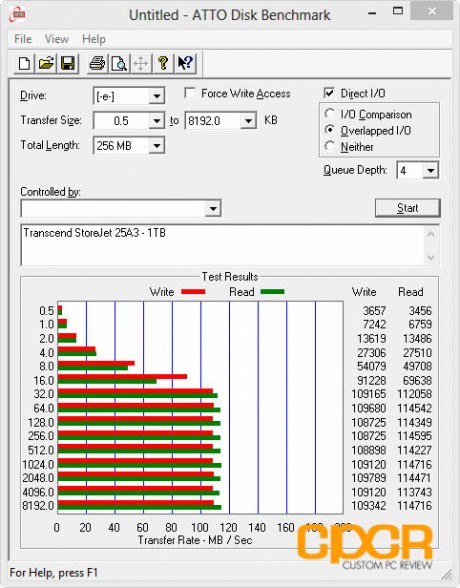 Crystal Disk Mark 3.0.1 x64
Crystal Disk Mark is another popular benchmark which allows us to measure both sequential read/write speeds as well as 4K and 512K read/write speeds.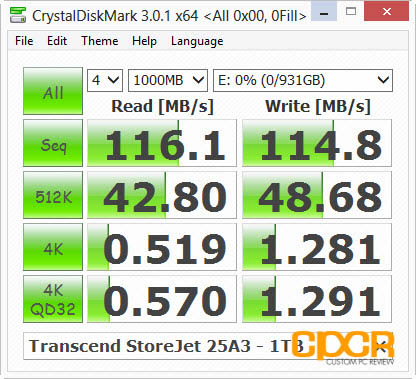 Performance Analysis
Taking a look at performance here, we can see that performance for the drive tops out at around 116 MB/s sequential writes and 114 MB/s sequential reads with 4k reads/writes topping out at 0.519 MB/s reads and 1.281 MB/s writes, which is generally about the top performance found on a 5400RPM notebook hard drive. USB 3.0 is rated at up to 5Gbps, which is roughly around 400 MB/s after accounting for some encoding overhead, so it's more than capable of handing the maximum performance of the hard drive.
[section label=5. Conclusion]
Transcend StoreJet 25A3 1TB Conclusions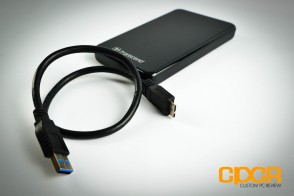 The Transcend StoreJet 25A3 is a pretty decent external hard drive. The fact that the drive is bus-powered and does not require any external power makes it a true mobile companion as the user is not forced to carry around a power supply. Unfortunately, this is the case with mostly older and some newer, higher capacity external hard-drives which, unlike the StoreJet 25A3, make them terrible choices for those looking for a external hard drive to take on the go. Performance is much better than what we are/were forced with USB 2.0 thanks to the StoreJet 25A3 supporting 5Gbps USB 3.0. Hitting speeds if 116 MB/s read and 114 MB/s writes, 5,400RPM StoreJet 25A3 has no problems with performance, and more importantly staying cool and quiet. That said, you'll definitely need to plug the drive into a USB 3.0 port on your computer to get USB 3.0 performance; otherwise, you'll be stuck with USB 2.0 or 1.1 performance if you plug the drive into a USB 2.0 or 1.1 port.
There are a few caveats though. Despite the excellent cooling, the StoreJet 25A3 still uses a slower spinning 5,400 RPM hard-drive, which translates to slightly slower 4K performance making it a less than ideal device for applications such as installing a Linux distro. Since it isn't a flash-based SSD product, it is also susceptible to failure if dropped or subjected to physical harm – something that doesn't happen with SSDs. The entire device is also shut pretty tightly together, so opening the enclosure will likely void your warranty and destroy the enclosure.
With everything said however, the Transcend StoreJet 25A3 is ultimately a decent USB 3.0 portable hard drive for only $80.99. A 1TB SSD (if it exists) would be nowhere close to that price-point, and $81 is the general price-point for most USB 3.0 1TB hard drives. Competitors include the Seagate Expansion 1TB USB 3.0 ($67.95), the WD My Passport 1TB USB 3.0 ($69.99), and even the Transcend 25M3 1TB USB 3.0 ($74.99) although prices do tend to fluctuate on these types of things. That said, the Transcend StoreJet 25A3 has decent performance, is decently priced, is decent looking, and it has a 3 year warranty. If it's priced right, I can't see a reason not to pick one up.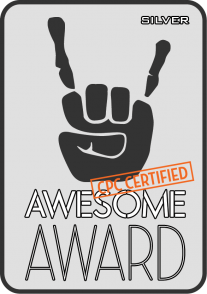 Sample provided by: Transcend
Available at: Amazon