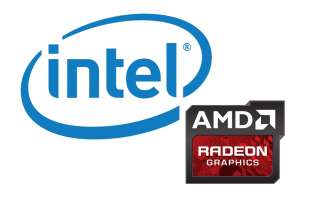 In a recent report from tech publication, Fudzilla, Intel is now confirmed to be dropping their graphics licensing agreement with Nvidia and will instead license graphics technology from AMD. This confirms previous rumors that Intel was expected to drop Nvidia as their graphics licensing partner after their previous six year, $1.5 billion licensing agreement ended.
While Intel and AMD seem like unlikely partners, it does make quite a bit of sense. Intel's integrated graphics technology infringes on graphics technology held by Nvidia, which ultimately led to Nvidia suing Intel, leading to the previous six-year, $1.5 billion licensing deal as a part of the final settlement. By licensing graphics IP from AMD, Intel is able to avoid future lawsuits and get out of their partnership with Nvidia. AMD on the other hand needs cash and a licensing deal bringing a consistent amount of revenue over many years is a good way to achieve this even if this helps Intel compete with AMD.
No additional details about the licensing agreement such as royalty fees or terms have been revealed at this time. Shares of AMD stock rose by 11.65% following the report.
Source: Fudzilla