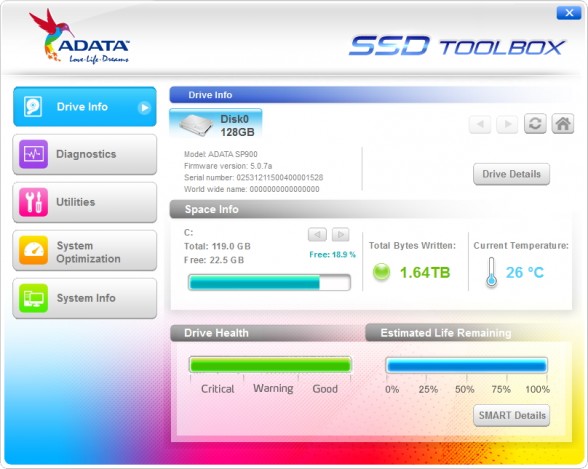 If you've got an ADATA SSD and you've been desperately waiting for years for a SSD software suite, it's time to rejoice as ADATA has recently launched their very own SSD Toolbox Software!
"ADATA SSD Toolbox allows for the monitoring of drive health and remaining life through Self-Monitoring, Analysis and Reporting Technology (S.M.A.R.T.) attributes. It also lets the user keep track of the current operating temperature, capacity, and total space used. The drive utilities include SSD security erase, which wipes all data from the drive and restores the drive to its factory default, firmware update, and SSD Toolbox update. For achieving best performance with the drive and the operating system, the software supports both system (SSD) and OS optimization functions. Supported operating systems include Windows 7 (32 & 64-bit), Windows 8 (32 & 64-bit), and Windows 8.1 (32 & 64-bit) versions."
So far the ADATA SSD Toolbox looks quite promising and given that it's a free download for all users who own ADATA SSDs, is a huge value add as well. Owners of ADATA SSDs can download the ADATA SSD Toolbox here.