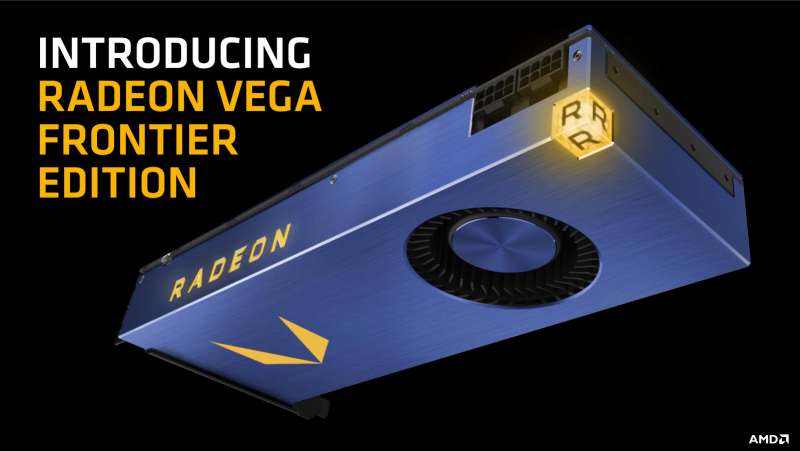 AMD unveiled its first purchasable Vega GPU during its Financial Analyst Day meeting. The AMD Vega Frontier Edition is aimed at professionals requiring heavy compute performance: data scientists, engineers, and product designers. This move is undoubtedly to steal some thunder from the newly announced Nvidia Tesla V100 graphics card and to gain market share in the machine learning and data science sector.
The Vega Frontier Edition packs 64 Next-Gen Compute Unit, dubbed nCU. In total, they carry 4,096 SMPs. As promised, the card also comes with 16GB of HBM2 memory, which means that it will have four stacks 4GB memory chips on its interpose. Whether or not this feature will trickle into the consumer versions is unknown, but the possibility is low.
At CES this year, AMD revealed that Vega's compute units can double its performance when switched from FP32 to FP16, now we get a sense of how much. AMD touts that the new card can achieve 3 times higher FP16 performance and 1.5 times FP32 performance as Fury X, AMD's current flagship graphics card. Performance is rated at around 12.5 TFLOPS for FP64 and 25 TFLOPS for FP16.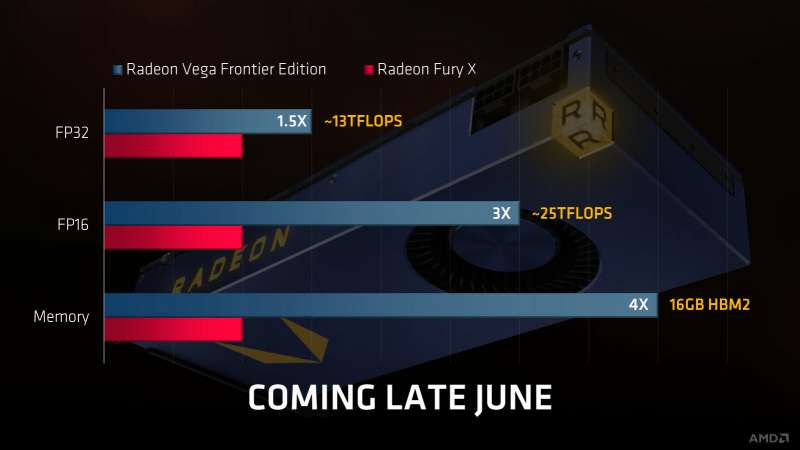 Of course, the Vega Frontier Edition supports Virtual Cache, capable of addressing up to 256TB of virtual memory. AMD's Virtual Cache allows the GPU to address external storage space as well as onboard cache to house working data. The first card to use this technology is the AMD Radeon FirePro SSG workstation graphics card equipped with 1TB of SSD storage within the card itself.
In the presentation, the Vega card was shown to lead the Nvidia P100 by 30% in DeepBench.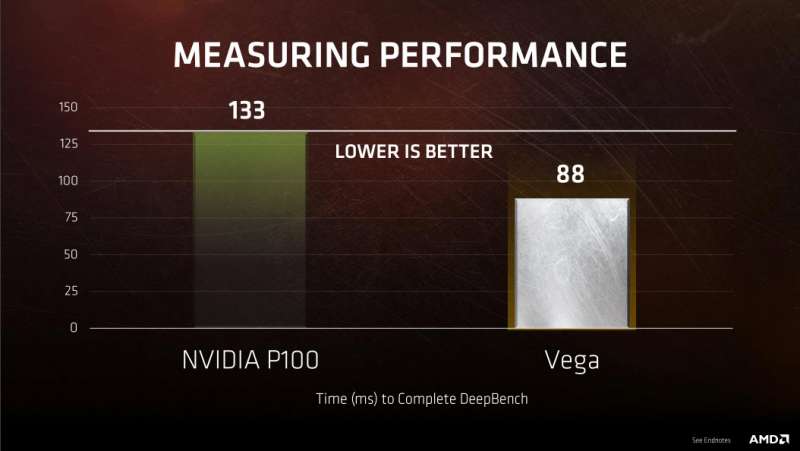 The card has also been spotted to use two 8-pin power connectors, meaning they may draw around 300W of power or more.
Besides the information included above, AMD has kept everything else hush-hush. The card is expected to ship in later parts of June for early adopters. An interesting spin is that the Vega Frontier Edition will be available in a hand-crafted golden shroud upon release. A water cooled version will launch alongside the air-cooled version.
Source: AMD