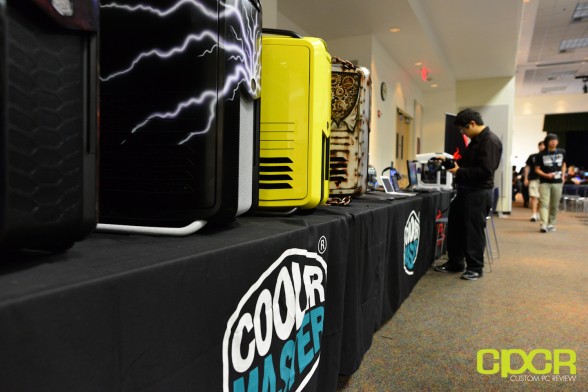 Today's the kickoff day for GESL (Gigabyte Esports LAN), and those who attend will get a glimpse of some of Cooler Master's newest offerings along with a chance to test them as well!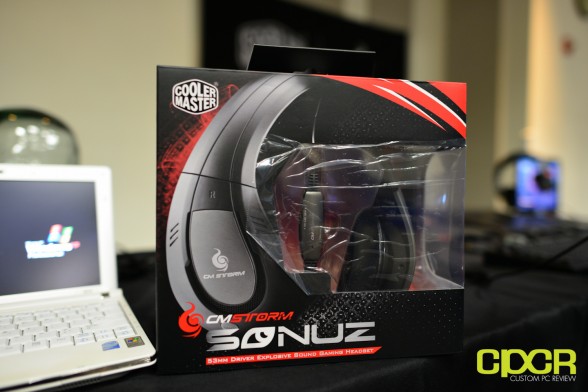 The first product of interest at the Cooler Master booth is their new CM Storm Sonuz gaming headset, which was announced a little less than a month ago.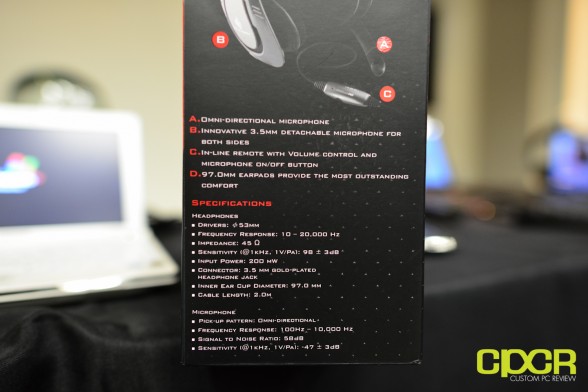 Looking at the spec sheet here, the headphones will feature two massive 53mm drivers, a frequency response of 10-20,000 Hz, and an impedance of 45 ohms. Along the cord, we also get a pretty standard in line volume control as well as a microphone on/off switch. At the end of the cord, the Sonuz includes 3.5mm microphone/audio jacks as well so those sporting high end sound cards will probably benefit from these headphones.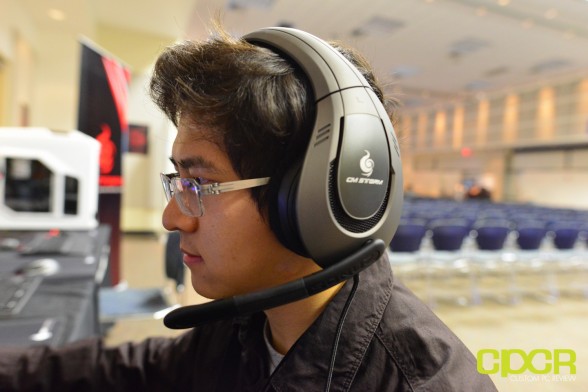 Here's a shot of a demo unit on display. As you can see, the Sonuz is quite large and carries some pretty heavy duty materials which is reminiscent of the CM Storm Sirus, which was the first headset introduced in the CM Storm line of headsets. As shown here, the Sonuz has the microphone attached, but it may be detached as well for when you aren't using it. Additionally, the demo unit also had cloth earpads as well, which made the headset quite comfortable overall despite the fact that it's a tad bit on the heavy side. Unfortunately, I wasn't able to get a test on the sound quality, but I'm definitely expecting great things from this headset given the spec sheet.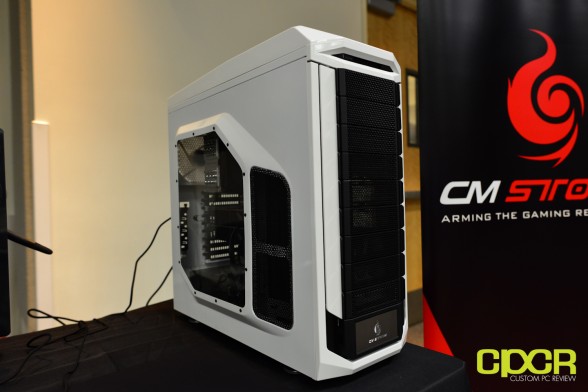 For those who've visited the Cooler Master website lately, you'll see a huge countdown timer (~10 days left) with the word "Stryker" in front. For those who attend GESL, you'll get a sneak peek at the upcoming gaming case from Cooler Master. Overall, first impressions of the case were definitely good as this seems like a white edition of the excellent CM Storm Trooper gaming case, which has been available for purchase for some time now. The case Cooler Master has on display also includes a window on the sidepanel.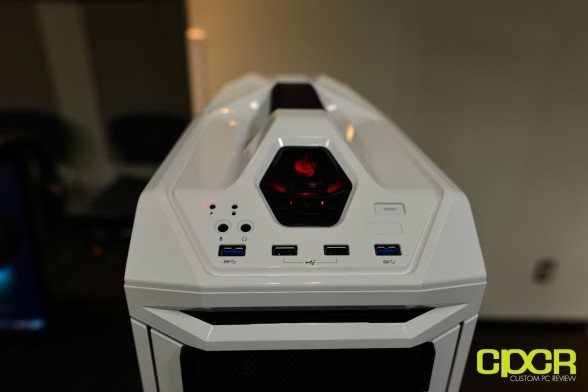 Up top we're looking at all the inputs, which is pretty standard. As you can see we've got some USB 3.0, some USB 2.0, headphone/microphone jacks, power, reset, fan controller, LED lighting, and all that great stuff.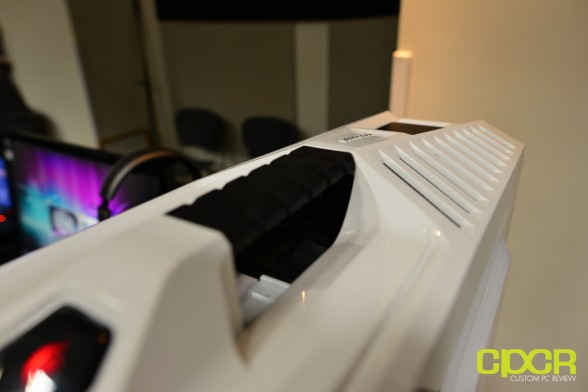 Moving around the side, we can see that this case, like the CM Storm Trooper has a handle, which should make carrying it around much easier. This will be great for those looking for a system to bring to a LAN party or something.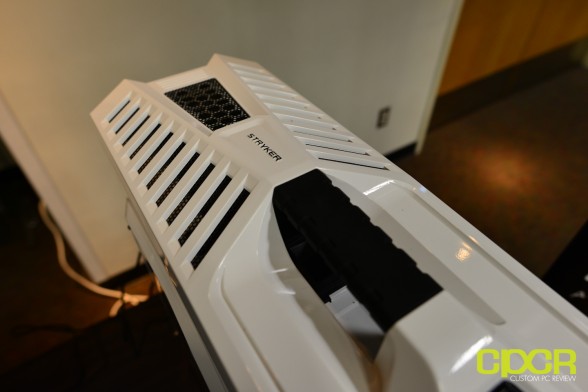 Up top we can see a pretty interesting rear vent design, which sorta looks like something out of Alien vs. Predator. There's also a cool looking STRYKER logo so people know what's up. Additionally, as you can see, there's also a pretty high quality dust filter underneath the vents as well.  In fact, this case is fully dust filtered. Win!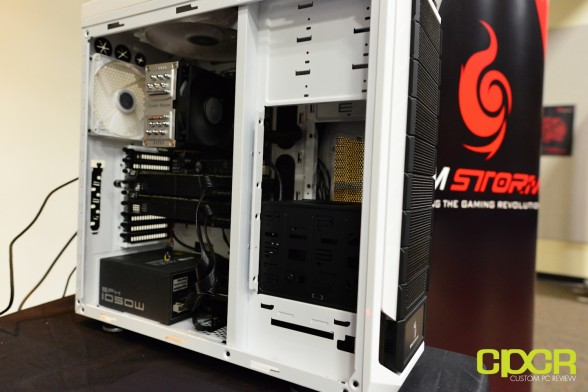 Taking a peek inside the case, we can see that the Cooler Master CM Storm Stryker is actually quite roomy with plenty of space for whatever hardware you decide to drop into it. As shown here, Cooler Master has stuck a pair of SLI'd Nvidia graphics cards (Don't exactly remember which ones), but you can see that there's still plenty of room to spare. My best guess is that this case should fit up to XL-ATX motherboards, but I'm not so sure about eATX as a wider board will probably run into the cable management grommets in the right.
Anyway, Cooler Master also included a couple more of their products as well such as the new TPC812 cooler, which features vertical vapor chamber cooling technology. For power, Cooler Master has dropped in a massive Silent Pro Hybrid 1050w PSU.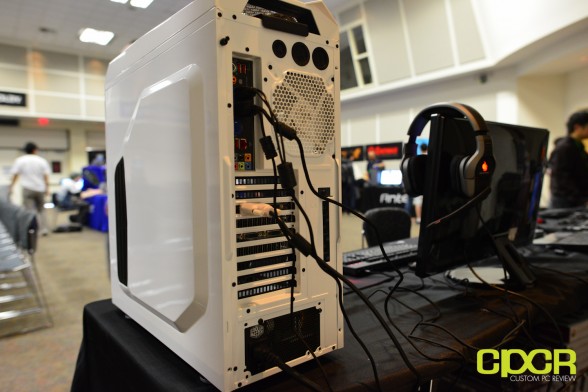 Finally moving around the back, we can see that the case itself has 9 expansion slots, so it'll definitely be in full tower territory. The fan (not sure if that's the included fan) is a 140mm fan, but mounting holes are included for 120mm fans as well if you decide to use one.