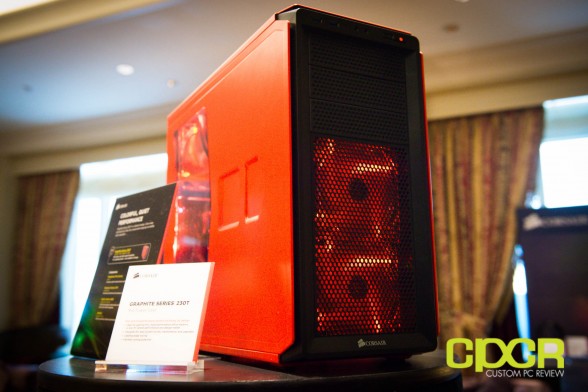 Before we left CES, we also had a chance to talk to Corsair about some of their latest cases.
One of Corsair's main attractions for CES 2014 was the Corsair's Graphite 760T full tower case, which is the full tower brother to the Graphite 600T. The main feature on the Graphite 760T is the dual full size windowed swing-out side panels. The panels are constructed of acrylic, with one side being transparent and the other opaque to "highlight the internal components". Of course, it's not just beautifully designed on the outside as its roomy interior has 9 expansion slots, 4 tool free 2.5″ side mounted SSD drive cages, and six 3.5″/2.5″ bays (with room for 6 more). Most of the expansion slots are tool-less in the usual Corsair fashion for easy installation.
For users who prefer a more modest look, Corsair will also be releasing the Graphite 730T. The Graphite 730T is virtually identical to the Graphite 760T except it has windowless steel side panels and comes without a fan controller.
The Corsair 760T will be available around the February time-frame for around $179.99 for the black edition and $189.99 for the arctic white edition. The Graphite 730T will be available around the February time-frame as well for around $139.99.
The Corsiar Obsidian 250D is the newest addition to Corsair's famous Obsidian line of cases, and it's the smallest Corsair case to date. Designed for the mini-ITX crowd,The Obsidian 250D measures only 290mm x 277mm x 351.2mm. Despite its small size, it still accepts high-performance hardware such as full sized ATX power supplies, dual slot graphics cards (290 mm internal clearance), and up to a 240mm radiator on the side. Aside from the thumbscrew side panel, the Corsair Obsidian 250D is completely tool-less with many tie down points for tidier builds.
The Corsair Obsidian 250D is expected to retail for $89.99 and is available now.
http://www.youtube.com/watch?v=r_DF0u1cTVM