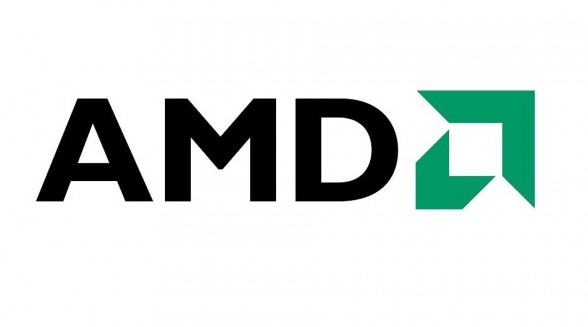 As many of you may heard, the largest announcement to come out of CES 2014 from the AMD side is AMD's recent launch of their Kaveri desktop APUs. Carrying on from their belief that APU technology is the future, AMD hopes to regain their position from Intel's grasp in the mainstream/mobile computing market.
For those unfamiliar with AMD's Kaveri APU, it's AMD's next generation APU which succeeds the Richland APUs which were announced last year. Among Kaveri's improvements include a die shrink down to 28nm (from Richland's 32nm), improved graphics performance based off of AMD's GCN technology and compute performance through the use of AMD's Steamroller architecture. Let's talk about some of these new features.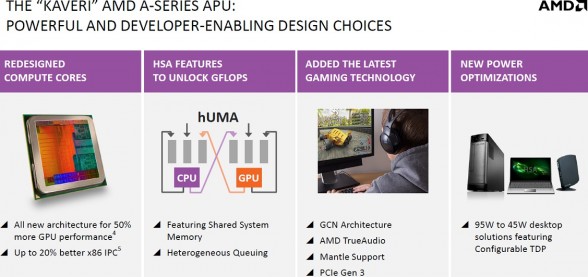 First and fore most, the new Kaveri is now being built on the Streamroller architecture using the 28nm process. The Steamroller architecture places an even heavier emphasis on parallelism performance than the previous Piledriver architecture while at the same time improving single threaded IPC. This should result in higher CPU performance and reduced power consumption.
AMD has always played on their strengths when it comes to APU technology and given GCN's performance, it comes as no surprise that AMD has integrated their GCN (Graphics Core Next) technology into their latest APU.  Each GCN core carries 64 stream processors, so the flagship AMD A10-7850K receives a whopping 512 stream processors. Aside from boosted graphics performance, GCN also brings features such as Mantle, True Audio, and Eyefinity to the APU. AMD's claim is that once Battlefield 4 is updated to support the Mantle API, it can be played on the AMD A10-7850K at full 1080p. Unfortunately, no specific time frame has been announced when Battlefield 4 would receive Mantle support although AMD believes it will be sometime in the very near future.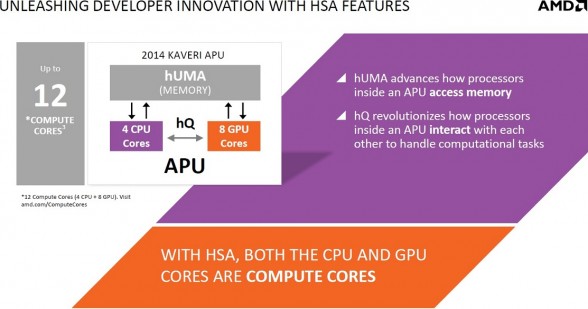 Perhaps the biggest feature with the Kaveri platform is its support for hUMA (Heterogeneous Uniform Memory Architecture). Previously with older APUs, the GPU and CPU had their own dedicated memory pools, but with Kaveri's hUMA, the memory pools are unified by adding in a second bus to the IMMOU and  system-level atomics. This synchronizes the workload between the CPU and GPU, and allows them to view a complete memory map of each other, which eliminates tedious copying/transferring between memory pools when shifting between CPU/GPU, making their work more efficient.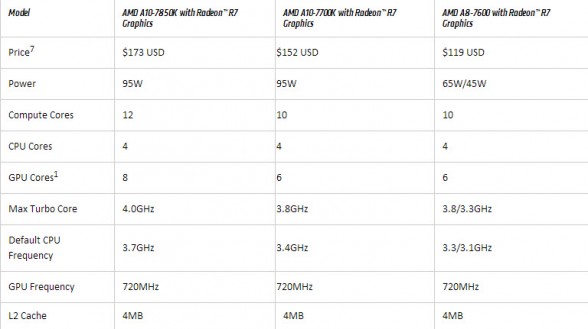 The A10-7800K and A10-7700K MSRPs for $173.99 and $153.99 respectively and AMD is also promising a copy of Battlefield 4 with the purchase as well. No word on whether or not the A8-7600 will get the same deal.