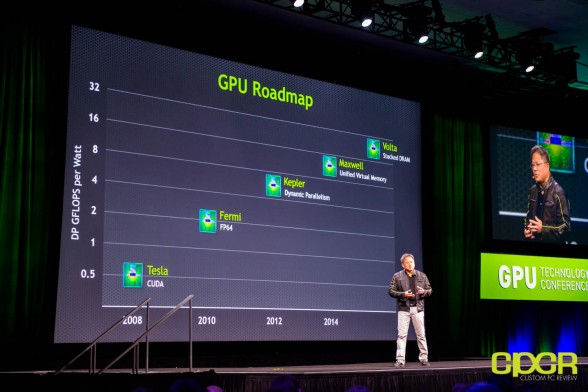 Nvidia will be unleashing their first Maxwell architecture based GPU, the GeForce GTX 750 Ti, as soon as February 18. While specific details are still unknown at this point, Maxwell's first introduction will be based off current generation TSMC 28nm process with future iterations coming in at the TSMC 20nm process, which should be ready Q1 this year.  While this is a bit different than Nvidia's traditional high end first product launches, this makes sense as it allows Nvidia to test the waters with the new architecture while at the same time give TSMC time to ramp up production of 20nm ICs.
For those unfamiliar with Nvidia's Maxwell architecture, Maxwell is Nvidia's next generation GPU architecture which will succeed the current generation Kepler architecture. Among other benefits of Maxwell architecture, the major benefit will be in its ability to support Unified Virtual Memory, which allows both the CPU and GPU to share the same address space. This will offer Maxwell based GPUs better performance, better resource allocation and better programmability.
Maxwell based GPUs may also come with an onboard 64-bit ARM processor based off Nvidia's Denver architecture. This will allow the GPU to rely even less on the CPU and should further reduce resource consumption. Unfortunately, it's not clear whether Denver will be included in all upcoming Maxwell based GPUs or only some of the GPUs (or not at all).
Given that Nvidia's roadmaps have confirmed a 2014 launch for Maxwell back at GTC 2013, it's definitely plausible that a Maxwell GPU could be launching as early as mid-February.
Source: Sweclockers