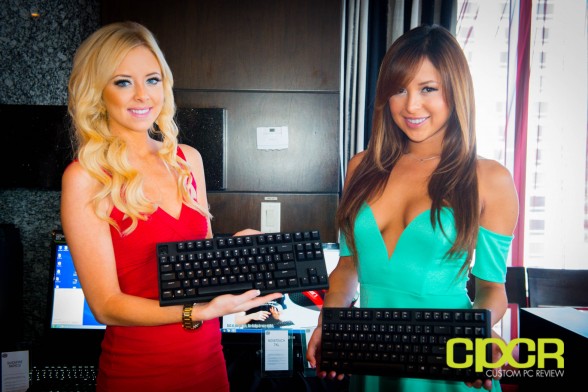 Everyone seems to be getting in on the gaming peripherals game, but very few do right like Cooler Master. At CES 2014, Cooler Master showed off a number of promising mechanical gaming keyboards and gaming mice.
While Cooler Master had several new keyboards on display, one in particular caught our eye. Dubbed the Cooler Master NovaTouch TKL, it uses  deviates from the rest by using what Cooler Master calls a "Japanese Hybrid Capactitive Switch".
For those who actively follow mechanical keyboards, the switches here look and feel like Topre switches, which are a rare switchtype that's currently generally associated with higher end typist keyboards, although it seems Cooler Master has modified the switches to be compatible with Cherry MX keysets. Unlike Cherry MX or ALPS style switches, Topre switches have the tactile bump at the beginning of the keypress rather than at the middle. Similar to Cherry MX switches, they have varying resistance, but the NovaTouch TKL Cooler Master had on display felt a bit like Cherry MX Blues in terms of actuation force. The Cooler Master NovaTouch TKL seems to be the first gaming oriented keyboard that uses Topre style switches.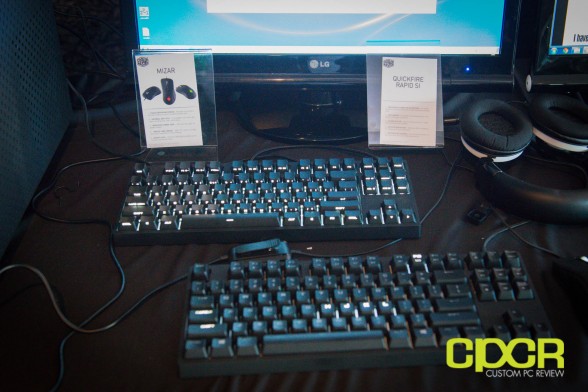 Additionally, Cooler Master also showed off an intelligent version of the QuickFire Rapid. Dubbed the QuickFire Rapid SI (I for intelligence), this new 10 keyless keyboard features everything from the highly successful QuickFire Rapid with the addition of backlighting and an on-board 32 Bit ARM processor which gives it some nifty features such as reactive lighting.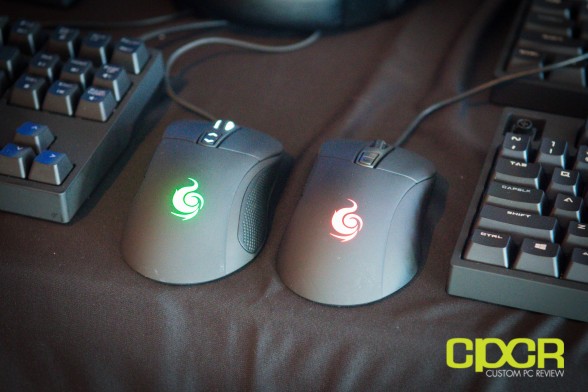 On the mice front, Cooler Master seems to be focusing on simplicity and function with their latest Myzar and Alcor gaming mice. The two are built with the same simple old-school design that appeals to FPS gamers who likes the classic style of gaming mice. To settle the discrepancy between laser or optical, Cooler Master is giving the Myzar a 8200DPI laser sensor (presumably the Avago ADNS-9800), and the Alcor the Avago ADNS-3090 optical sensor.
Cooler Master hasn't given us much information on pricing or availability, but they're stressting that they want feedback on all their upcoming products. If you'd like to help Cooler Master with their next generation gaming peripherals, feel free to leave a comment in the comments below and we'll make sure someone at Cooler Master sees it.